Breakfast, lunch, or dinner… Now you can have waffles whenever you'd like with these freezer-friendly, Crispy Grain-Free Waffles.
This post was created in partnership with our friends at King Arthur Flour.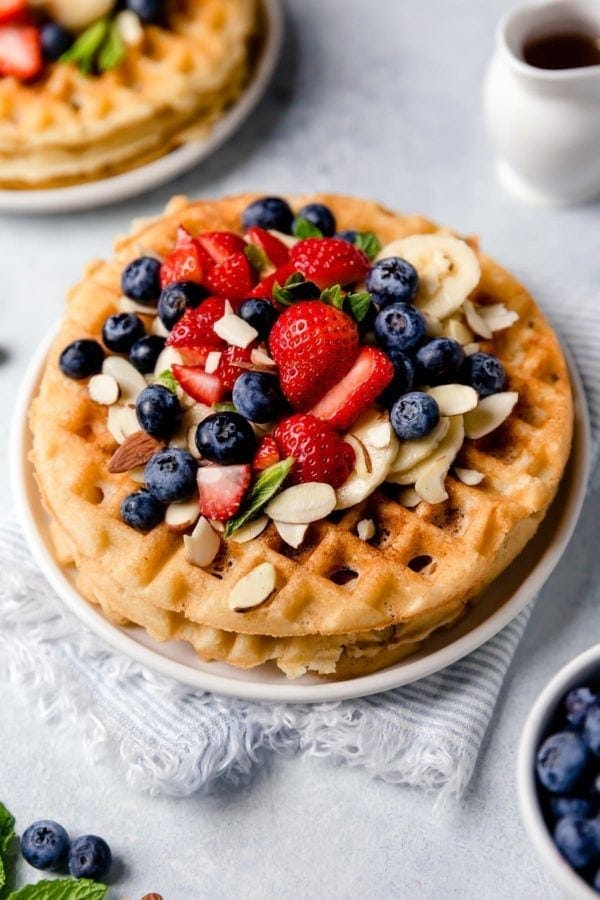 Leggo that Eggo and make yourself these Crispy Grain-Free Waffles instead.
It's true that frozen toaster waffles are convenient and they get the job done when you want a quick breakfast or snack, but let's be honest, they're not the BEST waffles. Their texture, especially the gluten-free ones, can range from gummy to cardboard-like. And their flavor, well, let's just say they're convenient and leave it at that, shall we?
It's also true that I'm a waffle snob. Growing up, my dad refused to buy frozen waffles, citing their lackluster taste and texture and the high price tag for what you get. Wait, what? I guess the apple didn't fall too far from the tree.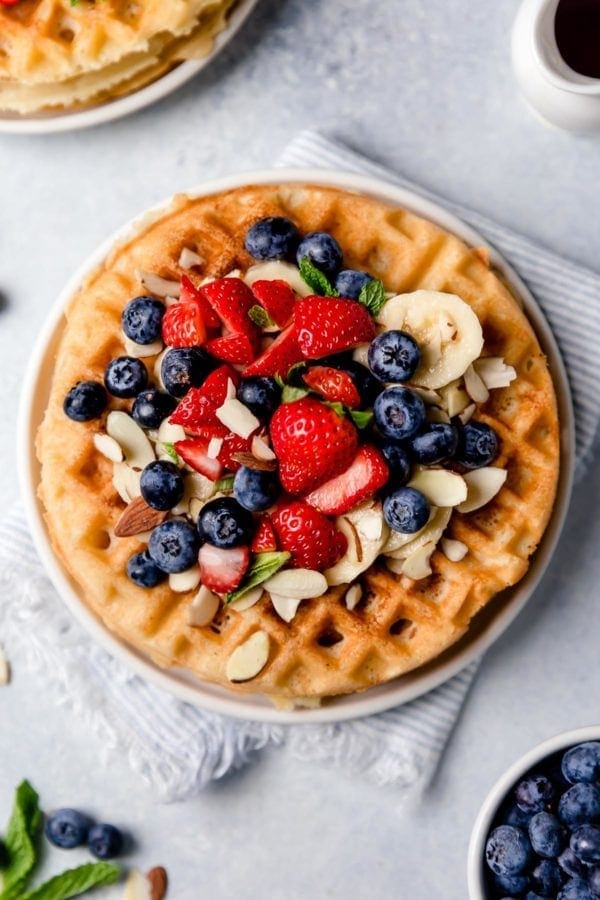 In all seriousness though, he's to blame for my waffle snobbery. While all of my friends enjoyed frozen toaster waffles in front of the television on Saturday mornings, my dad had me in the kitchen making sourdough waffles and overnight yeasted waffles with him. As steam billowed from the sides of the waffle iron, he'd lean over it and say "Free facials!" while inhaling deeply and wrinkling his nose in a way that always made me laugh. He loved making waffles and I loved our time in the kitchen, so it's no surprise that I have a very special connection to waffles – specifically these Crispy Grain-Free Waffles.
Why these waffles? Because even though they're free of gluten, grains, dairy, and eggs, they're every bit as good as the ones I grew up with. After years of 'healthy waffle fails,' I finally perfected the recipe and now I'm in the kitchen with my own kids on the weekend offering up free facials.

These waffles are a grain-free game-changer. 
Seriously, you just have to make these waffles. And once you do, I guarantee you'll never buy another waffle-d cardboard disk in a cardboard box again. Because these are what waffles are supposed to taste like.
Crispy on the outside, light and fluffy on the inside. The smell of vanilla and almond, while they're baking, is utterly intoxicating. A smell that's un-mistakenly 'waffle'.
Crispy on the outside, light and fluffy on the inside, these vegan Crispy Grain-Free Waffles are everything (and more!) #sponsored @kingarthurflour
Click To Tweet
Thanks to the super-fine texture of King Arthur Grain-Free Almond FlourKing Arthur Grain-Free Almond Flour, these are the grain-free waffles you've been looking for. No more sad, soggy coconut flour concoctions trying to pass as a real waffle.
Their fine-textured, certified gluten-free ground almond flour seamlessly blends into sweet and savory baked goods. It's full of protein, fiber, and healthy fats from blanched almonds and has a pleasant almond flavor that makes these Crispy Grain-Free Waffles absolutely irresistible.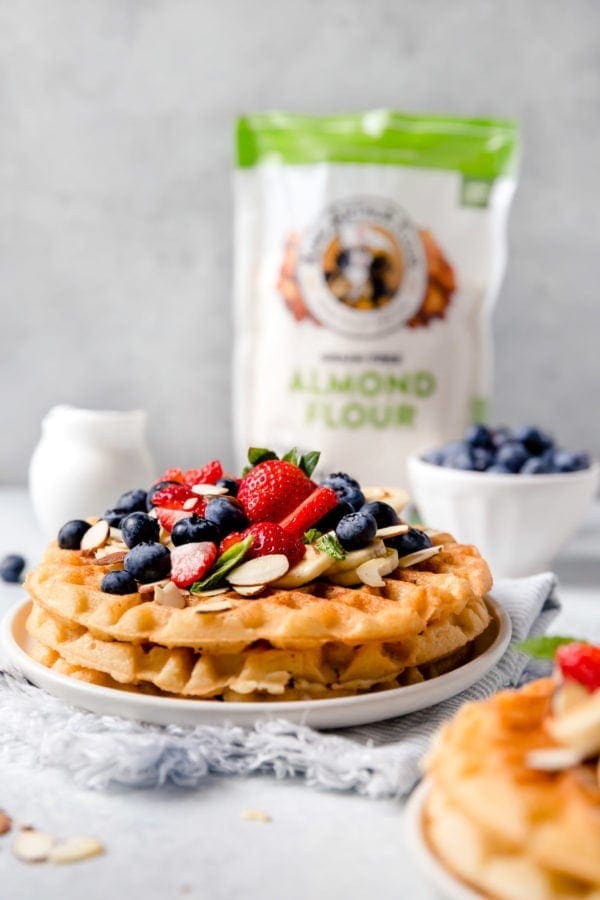 Cook once, eat (at least) twice!
While this recipe already makes a pretty big batch of waffles (about eight) don't be afraid to double the recipe to make extras. Having a stash on hand in the freezer means you can say goodbye to those waffles in a box and hello to homemade waffles whenever the mood hits – breakfast, lunch, or dinner.
Once completely cooled, they can be frozen in a single layer on a baking sheet before being transferred to a freezer-safe bag or container for storage.
To reheat them, simply pop them back into the preheated waffle iron, toaster, or toaster oven. You can use a microwave but you won't get that nice crispy exterior that makes these Crispy Grain-Free Waffles so amazing.
Ready, Set, Serve
Here's the best part. The part where you get to choose your own topping adventure. Pure maple syrup is always a winner, but might I also suggest:
Fresh berries or peaches in the summer
Thinly sliced pears or sautéed apples in the fall and winter
Apple or pumpkin butter and toasted pecans
Sliced bananas, toasted walnuts, and chocolate chips any time of year
Peanut butter and jelly (maybe go all out and make it a waffle PB&J)
Whipped cream and sprinkles for a special birthday treat
Pure maple syrup when you just want to keep it simple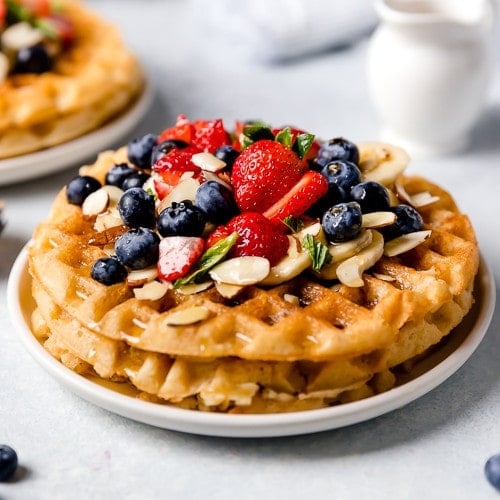 Recipe
Crispy Grain-Free Waffles
These are the grain-free waffles you've been waiting for. Light, crispy and perfectly golden brown. Top with pure maple syrup and fresh fruit for the most heavenly breakfast you can imagine.
Prep:
10 mins
Cook:
20 mins
Total:
30 mins
Ingredients
2 cups

King Arthur Flour Almond FlourKing Arthur Flour Almond Flour (

172 grams

)

1 cup

tapioca starch

(113 grams)

1 Tbsp

. +

1 tsp

. baking powder

2 Tbsp

. flax meal* +

6 Tbsp

. water

1 cup

almond milk (or other non-dairy milk of choice)

2 tsp

. apple cider vinegar

¼ cup

maple syrup

1 tsp

. pure vanilla extract

½ cup

coconut oil, melted
In a small bowl, whisk together flax meal and water to make the 'flax eggs'. Set aside for 5 minutes while the mixture thickens. Skip this step if you're using regular eggs. 

In a measuring cup, combine the almond milk and apple cider vinegar and allow this rest until slightly thickened (about 15 minutes, depending on the milk you are using).

Preheat waffle iron according to manufacturer's directions.

In a large bowl, combine almond flour, tapioca starch, and baking powder. Whisk or stir to combine well.

To the dry ingredients, add the almond milk and apple cider vinegar mixture, flax eggs (or eggs, if using), maple syrup, vanilla, and melted coconut oil. Whisk just until batter is smooth. 

Using a ¼ cup scoop (or size recommended by waffle iron manufacturer), pour batter into the preheated waffle iron and cook until golden brown and steam is no longer coming from the waffle iron. NOTE: It's important to wait for the steam to stop before attempting to open the waffle iron. Opening it too soon will cause the waffles to stick. 

Serve with pure maple syrup, if desired.
Last Step! Please leave a review and rating letting us know how you liked this recipe! This helps our business thrive so we can continue providing free recipes and high-quality content for you.
Notes
*May also be labeled tapioca flour – May substitute  Arrowroot starch or Potato Starch (not potato flour) for the tapioca starch
**May substitute 2 large eggs for the flax meal + water, for a non-vegan version if desired
**Note: number of waffles made will depend on the size of the waffle iron you use.
Stored cooled waffles in a covered container or in a sealed zip-top bag on the counter for up to 2 days. May also be frozen for longer storage. Reheat frozen waffles in a waffle iron set to low heat.
Nutrition Information
Serving Size:

1 large waffle

Calories:

340

Fat:

25g

(Sat Fat:

12g

)
Sodium:

280mg

Carbohydrate:

23g

(Fiber:

3g

Sugar:

7g

)
Protein:

5g
Dietary
What's your favorite waffle toppings? Let it all hang out and share your most loved toppings in the comments below.
Pin it now & make 'em later!
---
This post was made possible by our friends at King Arthur FlourKing Arthur Flour. Although we received compensation for this post, the opinions expressed here are – as always – 100% our own. Thank you for supporting the great companies we work with thereby allowing us to continue creating great recipes and content for you.
Photo Credit: The photos in this blog post were taken by Jess of Plays Well with Butter.