Breakfast just got better with these 5-ingredient Blackberry Sage Breakfast Sausage Patties. No fillers and no preservatives – just flavor.
This post was created in partnership with our friends at Driscoll's and The FeedFeed.
It's not what we put in them, it's what we didn't.
Really, the name – Blackberry Sage Breakfast Sausage – pretty much says it all. There are no fillers, no preservatives and no added sugars in these babies. Just a little thyme, garlic and salt and pepper to round out the recipe. They're about as clean and pared down as you can get for a breakfast sausage and still deliver great flavor and convenience. When it comes to ingredient lists, we think less is always more.
We also believe that to get the best outcome you need to start with the best ingredients. So when our friends at Driscoll's – growers of finest berries – reached out to us to create the perfect recipe for Mother's Day brunch using their blackberries, we knew right away that these Blackberry Sage Breakfast Sausage patties had to happen.
This Blackberry Sage Breakfast Sausage makes brunch more memorable! #BerryTogether
Click To Tweet
They're a simple, make-ahead recipe that has just the right balance of sweet and savory but without any added sugars, fillers or preservatives. A recipe that's equally at home on the special brunch spread as it is on a busy weekday morning.
Did you know?
Each Driscoll's berry begins with natural breeding through cross-pollination, a technique that has been used for thousands of years by breeders worldwide. Driscoll's Research and Development teams pick out the elite parent plants and match the best berries to create even better offspring. Bottom line: Driscoll's berries are never genetically modified. 
Blackberries and spice make everything nice
Is it just us or does it sometimes seem as though strawberries, blueberries and raspberries get most of the attention and more real estate in the produce section? Why is that?! Blackberries are sooooooo good and we believe that they deserve more love so that's why we're featuring them is these 5-ingredient breakfast sausage patties. We also love them for their health benefits and here's why:
Blackberries are a great source of vitamin C and bioflavonoids
Bioflavonoids are plant pigments that are largely responsible for the color of many fruits and plants. These compounds enhance the antioxidant effect of vitamin C, protect against cellular oxidation and free radical damage and prevent the formation of oxidized cholesterol which decreases the risk for cardiovascular disease and cancer.
High in fiber
One cup of blackberries provides a whopping 8 grams of dietary fiber and just 14 grams of carbohydrate making them a satisfying, low-sugar snack option. Try a cup of berries with a small handful of nuts or seeds for a blood sugar-stabilizing on-the-go snack that will keep you satisfied (and deliciously contented).
Roughly 85% of the fiber in blackberries is insoluble fiber with the remaining 15% coming from soluble fiber (mostly in the form of pectin). Both types of fiber are essential for healthy digestion and elimination. Soluble fiber soaks up water and turns to a gel (think chia seeds). This helps dampen blood sugar spikes and causes food to leave the stomach more slowly – thus keeping you fuller longer and stabilizing blood sugar for more consistent energy and fewer craving. Soluble fiber also adds bulk to your stool which helps prevent constipation which is why most fiber supplements are made of soluble fiber.
Unlike soluble fiber, insoluble fiber does not attract water and form a gel but rather contributes to healthy digestion by adding bulk to food and speeds up the passage of food and waste from the digestive tract (again, lessening the chances of constipation).
In general, women should aim for a total of 25 gram total fiber per day (38 grams for men). It's pretty to safe to say that most people get only have the recommended amount when they're consuming a diet that's high in processed grains and low in fruits and vegetables. Don't be that person, okay? Eat your veggies and treat yourself to some beautiful blackberries soon – either straight up, in a smoothie, tossed in a salad or in some Blackberry Sage Breakfast Sausage. Your digestion (and taste buds) will thank you!
100% snackable (and shareable!)
Hands down, fresh blackberries are our favorite fruit for snacking. There's just something about those big, plump berries and their complex, floral notes that makes them just so irresistible – and they're even better when you share them with others you love! It's these little moments in an otherwise busy but ordinary day that make life so special. Which is why we're proud to partner with Driscoll's and support their #BerryTogether message which you can learn more about here.
Berry season is here!
Blackberries typically begin to appear at farmers markets in North America in May (or mid-June for those in the more northern parts), peaking in July and lasting through mid-August/September so be on the lookout for them. However, thanks to Driscoll's you can enjoy the sweet, complex flavor of our favorite berry year round. Blackberries are perfect for snacking, adding to your favorite cocktail or mocktail, baking into a dessert or yup, you guessed it, adding to your next batch blackberry sage breakfast sausage patties and of course, sharing with others.
Pro Tip: The original package that your Driscoll's berries come in was specifically designed to optimize air circulation to keep your berries as fresh as possible. Keep your berries refrigerated in their original package between 32 – 34 degrees F.
Tips for the berry best Mother's Day Brunch
Mother's Day is the perfect time to get #BerryTogether with those you love. Every mom deserves to be celebrated and taking a day off from cooking is a great way to show her how much you care (because let's be honest, feeding a family is no small feat!). To help you make brunch a breeze, we've pulled together some of our favorite tips:
Keep it simple! Choose just a few dishes that you know you can easily handle and get on the table at the same time so everything is nice and hot — just because we mamas eat a LOT of cold meals it doesn't mean we enjoy cold food. 
Start with something hearty and savory as the focus of the meal. Oftentimes this is an egg bake or quiche or just a platter of eggs cooked to her liking — if she likes them scrambled and you prefer them poached, remember that this is her day. 
Mix up a batch of this Blackberry Sage Breakfast Sausage either the day before and refrigerate until ready to cook or fully prepare them for an easy reheat and eat addition to your meal — while you're at it…maybe double the recipe and stash a few  of the cooked patties in the freezer to make her life easier later on (you know, the gift that keeps on giving!)
Serve up a big green salad and toss in a few Driscoll's organic berries for color and sweetness. Make the dressing up to three days ahead so all you have to do is dress, toss and sprinkle with berries, sliced avocados and some toasted nuts. Voila! Look at you go!
Then to round it all out with a big bowl of berries for nibbling (because who can resist their sweet sun-ripened goodness) and don't forget something to wash it all down with! Coffee, tea, a glass of sparkling water with berries and fresh mint or try this kombucha mimosa swapping out wintery pomegranate arils for big, juicy blackberries instead!  Now you're really winning!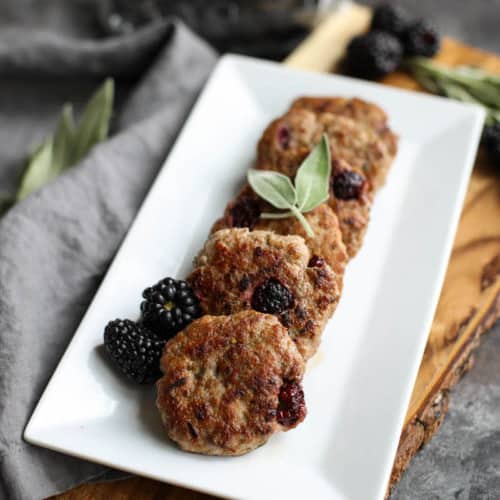 Recipe
Blackberry Sage Breakfast Sausage
These savory pork sausage patties studded with fresh blackberries are amazing. They can be made ahead for an easy weekday breakfast, made to order on a lazy weekend morning or served up for a special brunch with friends.
Prep:
5 mins
Cook:
10 mins
Total:
15 mins
In a large bowl, mix together all ingredients except blackberries and oil.
Gently add the blackberries and shape mixture into 8 (2 oz.) patties. Tip: It works best to shape the patties first then gently press a few berries into each one.
Heat a large skillet over medium heat, add 1 tsp. fat/oil and allow to melt.
Place patties in the pan, being careful not to crowd them. Cook 2 – 3 minutes on each side or until browned and cooked through.
Remove from pan to a paper towel-lined plate and repeat with remaining patties.
Store leftover patties in a covered container in the fridge up to 4 days or freeze for longer storage.
Last Step! Please leave a review and rating letting us know how you liked this recipe! This helps our business thrive so we can continue providing free recipes and high-quality content for you.
Notes
All photos and content are copyright protected. Please do not use our photos without prior written permission. If you wish to republish this recipe, please rewrite the recipe in your own unique words and link back to the source recipe here on The Real Food Dietitians. Thank you!
Nutrition Information
Serving Size:

1 patty

Calories:

150

Fat:

12g

Sodium:

245mg

Carbohydrate:

1g

(Fiber:

1g

Sugar:

)

Protein:

10g
Dietary
Looking for more protein-packed breakfast sausage with a short ingredient list? Check out our Turkey Apple Sausage Patties!
Pin it now & Make it later!
---
This post was made possible by our friends at Driscoll's and The FeedFeed. Though we received compensation for this post, the opinions expressed here are  – as always -100% our own. Thank you for supporting the great companies we work with thereby allowing us to continue creating great recipes and content for you.
This post may contain affiliate links which won't change your price but will share some commission.
SaveSave