A 2-Week Healthy Meal Plan featuring flavorful, simple, and family-friendly recipes.This meal plan is FREE to everyone and includes a grocery list for each week.
What Is The 2-Week Healthy Meal Plan #4?
The 2-Week Healthy Eating Meal Plan is just like it sounds – 2 weeks of healthy recipes planned for you and created by registered dietitians. The meal plan consists of 4 healthy dinners each week (with weekly grocery lists) plus suggestions for breakfast, lunch, and snacks.
This meal plan is meant to be flexible in order to fit your lifestyle and preferences. We leave breakfasts, lunches, and snacks open for you to plan because we know that many individuals have their go-to's when it comes to these meals. For example, you may enjoy a smoothie or baked oatmeal for breakfast every morning or maybe a big salad or leftovers for lunch. We want this plan to work for you so we've keep it flexible and easy.
Our ultimate goal with this meal plan is that it is realistic for you to follow and that it doesn't require you to make a new recipe for every meal of the day. That being said, we decided to focus on what tends to be the biggest pain point when it comes to meal planning – dinners.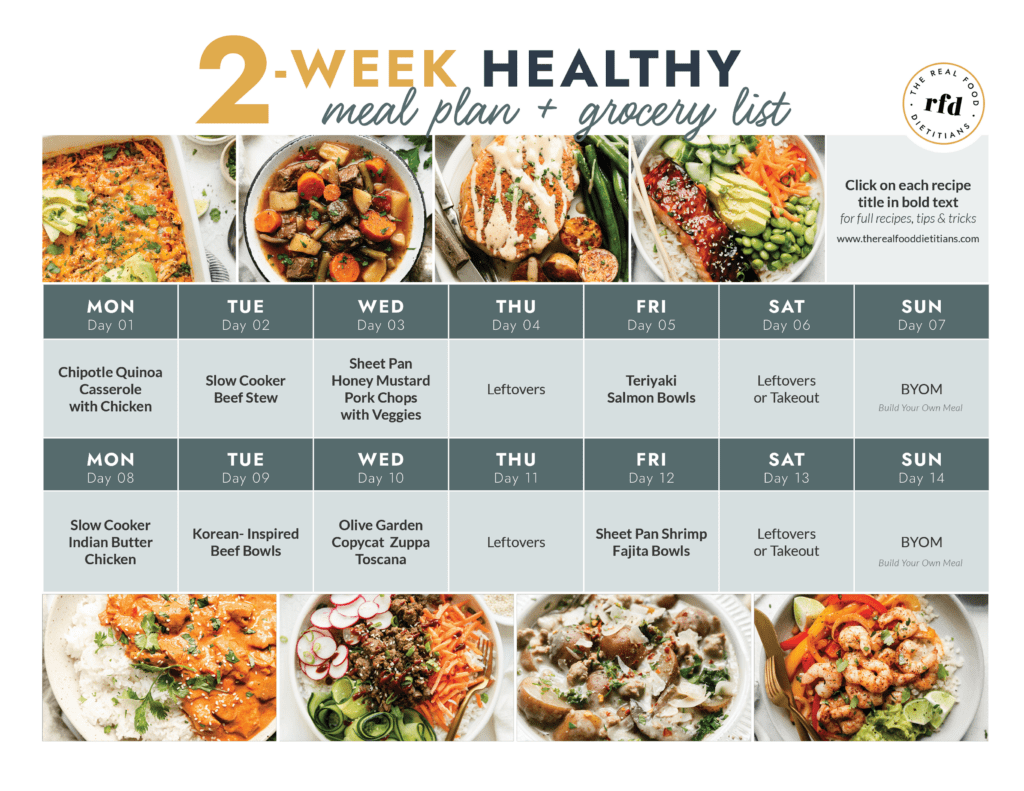 What's Included in the healthy meal plan:
With the 2-Week Healthy Meal Plan you'll get:
4 delicious, family-friendly dinner recipes each week – to make in whatever way works best for you – whether that's weekend batch-cooking, prepping the ingredients ahead so they're ready when you are, or making the recipe start to finish each of the four days.
Weekly grocery shopping list 
Suggestions for Breakfasts, Lunches, and Snacks each week
Flexibility – we've built in days for using leftovers, making your own favorite recipes, or even getting takeout or delivery (because we all like a break from cooking once in a while). Feel free to move days around, double a recipe or two so you have more leftovers, or swap out some of the recipes altogether to use your family's favorites.
BYOM – On Sunday's it's a "Build Your Own Meal (BYOM)" . We encourage you to use what you have on hand or what needs to be used up from the week.
All recipes are gluten-free and have suggestions for other dietary modifications
Who Is The Meal Plan For?
This healthy eating meal plan is for anyone who wants to take some of the guesswork out of healthy meal planning.
Our recipes are designed to be short on ingredients but big on flavor and easy enough for anyone to make. All of the recipes are gluten-free and we give suggestions for making them dairy-free whenever possible – but feel free to make your own ingredient swaps to suit your needs or use what you have on hand.
We're not here to make healthy eating hard – we're here to make it doable and fun – and this 2-Week Healthy Meal Plan is the perfect way to help you feel better inside out and on your way to achieving your wellness goals whatever they may be.
How Does The 2-Week Healthy Meal Plan #4 Work?
This free meal plan is designed to work for you and fit into your life as easily as possibly. Simply download the resources here and start whenever you'd like. Need to move the recipes around to fit your schedule better? You can do that!
Start by downloading the free two-week meal plan PDF right here.
Click on each recipe image to be taken to that recipe post. If you prefer print-outs of the recipes, you can print each recipe from its blog post page.
Check off the items you already have from the grocery list and pick up the remaining items you need from your local grocery store. There is a separate grocery list for each week in this two-week meal plan.
Decide which recipes you'll make for dinner each day of the week, and if you'll use our suggested breakfast, snack, and lunch recipes, too.
Prepare your meals and enjoy two weeks of nutritious and delicious dinners.
Healthy Meal Plan #4 Week 1
Monday (Day 1) – Chipotle Quinoa Casserole with Chicken | Total Time: 1 hour 15 minutes | Serves: 8 | Serve with your favorite toppings and fixings | Prep ahead for an easy reheat-and-eat meal
Tuesday (Day 2) – Slow Cooker Beef Stew | Total Time: 8 hours | Serves: 8 | Serve with Garlic Cheddar Biscuits | Instant Pot instructions included
Wednesday (Day 3) – Sheet Pan Honey Mustard Pork Chops with Veggies | Total Time: 40 minutes | Serves: 4
Friday (Day 5) – Teriyaki Salmon Bowls | Total Time: 40 minutes | Serves: 4 | Don't care for salmon? Substitute chicken
Saturday (Day 6) – Leftovers or Takeout
Sunday (Day 7) – BYOM (build your own meal) or make your favorite recipe
Healthy Meal Plan #4 Week 2
Monday (Day 8) – Slow Cooker Indian Butter Chicken | Total Time: 7 hours | Serves: 6 | Serve with rice of cauliflower rice, naan, chopped fresh cilantro, lime wedges, and/or toasted sesame seeds
Tuesday (Day 9) – Korean-Inspired Ground Beef Bowls | Total Time: 40 minutes | Serves: 4
Wednesday (Day 10) – Slow Cooker Olive Garden Copycat Zuppa Toscana | Total Time: 8 hours minutes | Serves: 6
Friday (Day 12) – Sheet-Pan Shrimp Fajita Bowls | Total Time: 40 minutes | Serves: 4 | Serve with your favorite fixings and toppings
Saturday (Day 13) – Leftovers or Takeout
Breakfast, Lunch & Snack Recipes
If you're looking for meal suggestions for Breakfast, Lunch and Snack, look no further! Here's some inspiration: