Baked oatmeal is a warm, comforting breakfast option that can be made ahead when there is spare time and then reheated throughout the week. It saves time and comes in handy when the morning doesn't go as planned.
What are some ingredients in a basic baked oatmeal recipe? Some of the ingredients we love to incorporate into our baked oatmeal recipes include rolled oats, chia seeds, mashed bananas, pure vanilla extract, and spices like cinnamon and nutmeg.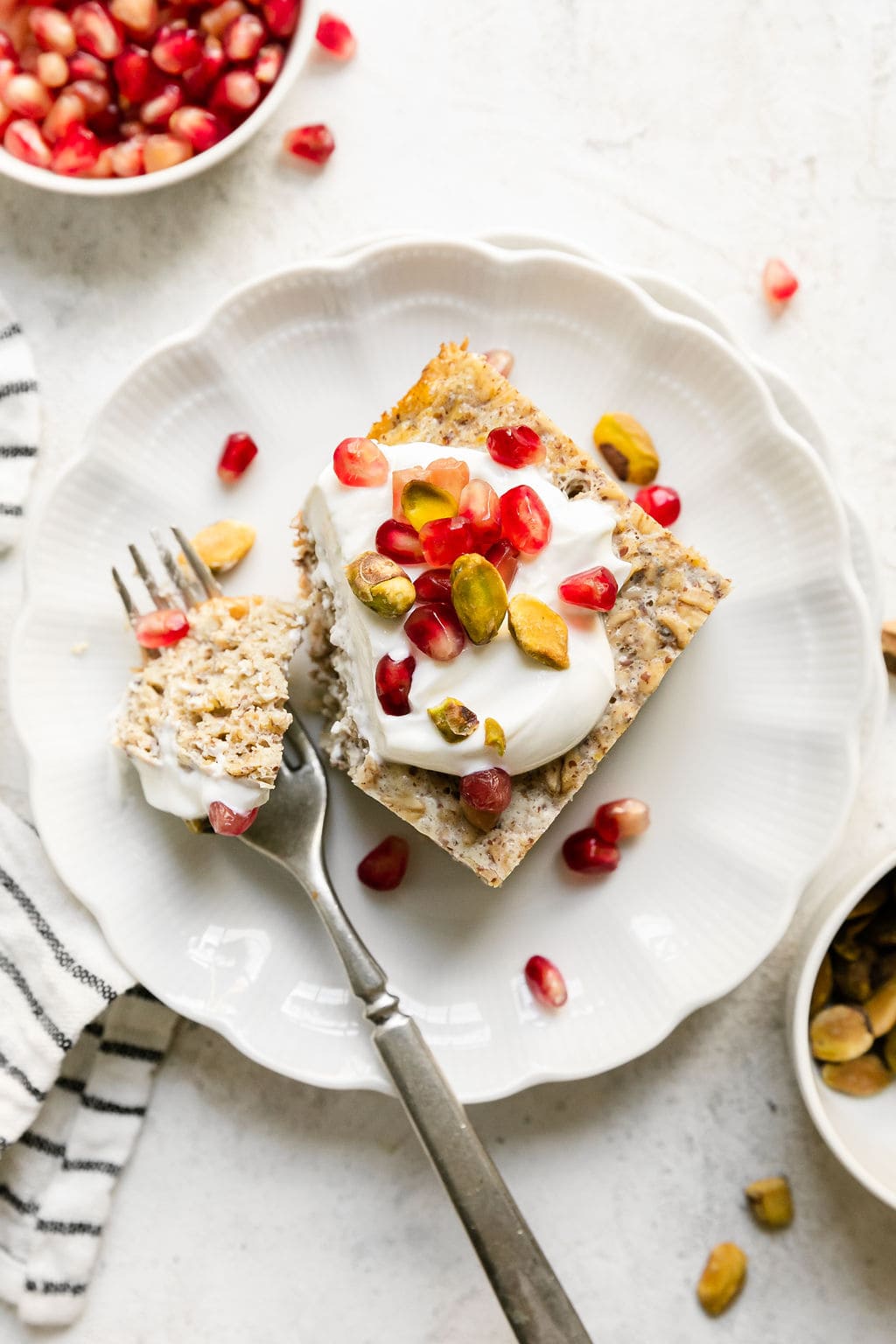 Baked Oatmeal Highlights
There is a reason why we have so many baked oatmeal recipes: They're just the best for a quick, easy, healthy breakfast! Baked oatmeal has become a go-to for us because they are:
Versatile — It's so easy to add your own twist or customize for your needs. You can use mix-ins like fresh fruit or dried cranberries, swap in almond milk or coconut milk, or walnuts in place of pecans. It is really up to your taste buds in the end. 
Affordable — Rolled oats are a budget-friendly buy. On average, oats cost about half of what a box of cereal costs per ounce. When you're feeding a whole family, that adds up.
Nutritious — Oats are full of vitamins and minerals, and the complex carbohydrates help you stay full longer. 
Time-Saver — Baked oatmeal can be made ahead and then cut into individual portions for meal-prep or grab-and-go snacks on the way to work or school. 
Tasty — It doesn't matter which of the following recipes you make because they're all wholesome and yummy. You can adjust the sweetness (we've swapped typical sweeteners like brown sugar for maple syrup, for example), to make it just the way you like.
Health Benefits of Baked Oatmeal
Breakfast is usually the first thing to get nixed when the morning routine gets away from you. Skipping breakfast can result in poor concentration and loss of productivity due to hunger and low blood sugar, costing you more time in the end.
Our healthy baked oatmeal recipes offer a quick, nourishing breakfast solution. Oats are a highly nutritious whole grain with a variety of health benefits, including:
Being an excellent source of important vitamins and minerals, including manganese, copper, iron, magnesium, potassium, thiamin (vitamin B1), and zinc.
They're a great source of soluble fiber. Soluble fiber helps lower LDL and total cholesterol levels, improves digestion by way of bulking stools, and promotes the growth of beneficial bacteria in your microbiome. Eating oats also helps control blood sugar and reduces the severity of insulin spikes.
The avenanthramides in oats can help to reduce blood pressure.
They are naturally gluten-free (if you have celiac disease, look for oats that are certified gluten free to avoid cross-contamination that could occur at processing facilities)
Choosing the Right Type of Oats
When it comes to the oats in your baked oatmeal, we usually use rolled oats, or old-fashioned oats. These oats are steamed and rolled flat to cook faster than steel-cut oats. Quick oats are similar to rolled oats, but they've been cut into smaller pieces. You can use quick oats, but the texture will be softer and creamier.
Avoid instant oats for these healthy breakfast recipes. They are the most processed type of oat. They are pre-cooked, rolled extremely thin, and cut into small pieces. The end result will have a very mushy texture. 
Also, we do not recommend that you use steel-cut oats, as they will not get soft enough during the baking time. Stick with old-fashioned rolled oats for the best outcome in our baked oatmeal recipes. 
9 Recipes To Help You Love Breakfast Again
Our healthy baked oatmeal recipes will have you looking forward to breakfast. Each recipe includes suggestions for toppings, but feel free to get creative and use what you like or what you have on hand.
What are some recipes for baked oatmeal? We've put together a list of our favorite healthy baked oatmeal recipes below. If you make one of these baked oatmeal recipes, snap a photo to share on Instagram and tag us @therealfooddietitians so we can see what you're making!
Save Big on Pantry Essentials
How To Make Baked Oatmeal Recipes Ahead of Time
This recipe is perfect for meal prep and make-ahead breakfasts. You can make the recipes and store them for future use in the refrigerator or freezer. Alternatively, if you have a brunch or luncheon the next day and want the baked oatmeal to be fresh out of the oven, you can prep the ingredients for the oatmeal mixture ahead of time.
First, you'd mix all the dry ingredients, like the baking powder, oats, chocolate chips, and other goodies, together in a large bowl, cover and store on the counter or in the cabinet. Then, mix all the wet ingredients in a different mixing bowl. This bowl should be stored in the refrigerator until you're ready to combine both of the bowls.
Please note: If the recipe you're making calls for melted butter, you may need to let the wet ingredients come to room temperature and give this bowl a good stir before you combine it with the dry oat mixture. Also, if you are using frozen fruit, wait until you're ready to bake to add in any frozen ingredients.
Make It Your Way
Egg-Free
When a baked oatmeal recipe calls for large eggs, you can swap them out with a flax egg. Just mix 2 tablespoons of flax meal with 6 tablespoons of water. After it sits for 5-10 minutes, it can be added to the recipe.
Dairy-Free
Any milk works for these baked oatmeal recipes. You can also swap out unsalted butter for coconut oil for any cups milk in the recipes above.
Gluten-Free
While oats are a gluten-free grain, they may be cross-contaminated with gluten depending on the processing facility. Pay attention to the labels to make sure you are getting certified gluten-free oats.
Added Protein
Boost the protein in any of our baked oatmeal recipes by stirring in your favorite protein powder (see our recommendations for whey protein powder and plant-based protein powder). Our protein baked oatmeal is an easy recipe to follow that's already boosted with protein powder, otherwise you can add protein powder to any of the recipes above. To do so, we recommend that you reduce the oats by ¼ cup and add a scant ⅔ cup of protein powder (measure out ⅔ cup then remove 1 tablespoon).
Every one of our baked oatmeal recipes (and in fact, all of our recipes) come with complete nutrition information. Scroll to the bottom of the recipe card to see information about serving sizes, calories (kcal), total fat, saturated fat, carbohydrates, fiber, sugars, sodium, cholesterol, and more.
Make Oatmeal Cups For On The Go
These baked oatmeal recipes can be made in muffin tins instead of baking dishes for portioned out, ready-to-eat, oatmeal cups. It is also a way to make baked oatmeal more fun for the littles! 
Give these Zucchini Banana Baked Oatmeal Cups a try!
Storing Baked Oatmeal
Leftover baked oatmeal can be stored in an airtight container in the refrigerator for up to 4 days. For longer storage, we suggest freezing leftovers. See the Frequently Asked Questions above for directions for freezing.
How To Reheat Baked Oatmeal
To reheat from refrigerated or thawed: Place the desired portion on a plate and microwave for 60-90 seconds, checking halfway through, until hot throughout.
To reheat from frozen: Place the desired portion on a plate and microwave for 1-2 minutes, checking halfway through, until hot throughout.
Reheating an entire baking dish: Preheat your oven to 350, cover the baked oatmeal with foil, and heat until warm, no longer than 20 minutes.
FAQs
Frequently Asked Questions
Is baked oatmeal healthy?
Yes! Our baked oatmeal recipes are packed with wholesome, nutritious real-food ingredients including oats, eggs, and flax seeds, and sweetened naturally with fresh fruit or pure maple syrup.
Can I double the recipe for baked oatmeal?
Absolutely! We are huge believers in 'cook once, eat several times'. Our baked oatmeal recipes are easy to double. Just use a 9×13-inch pan and add a little extra baking time. The exact amount will depend on which recipe you're making.
Are these baked oatmeal recipes freezer-friendly?
They sure are! To freeze baked oatmeal, allow it to cool to room temperature, then transfer to the refrigerator to cool completely. Slice into the desired number of portions (or leave whole if you plan to freeze the entire pan). Wrap portions (or the pan) tightly with foil or place in a reusable zip-top bag or other freezer-safe container and place in the freezer. Enjoy within 3 months.
What is the difference between baking and boiling oatmeal?
When oatmeal is baked, the end result is a warm breakfast casserole that holds its shape and has a firmer texture (after cooling you can even pick them up, like a soft oat bar). Boiling oatmeal on the stovetop or in the microwave leaves you with more of a porridge-like consistency. Both share the same nutritional benefits and yummy taste.
Pin Now to Make Them Later!
For ultimate success, we highly recommend reading the tips in the full blog post above. All photos and content are copyright protected. Please do not use our photos without prior written permission. If you wish to republish a recipe, please rewrite the recipe in your own unique words. Link back to the source recipe here on The Real Food Dietitians. Thank you!