If you find yourself short on time in the morning, these healthy baked oatmeal recipes will definitely come in handy. Baked oatmeal can be made ahead on the weekend and reheated throughout the week saving you precious time and energy.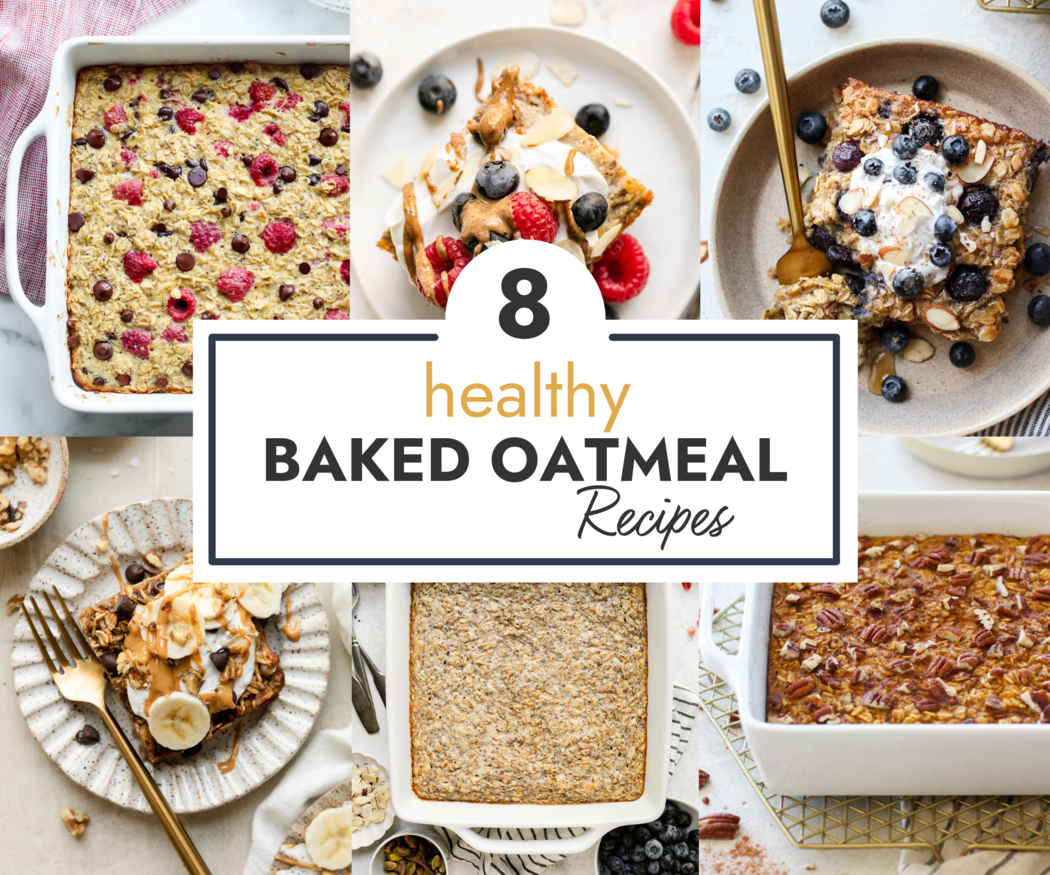 Baked Oatmeal is an easy and convenient way to start your day
We know that not every morning goes as planned and that some are more hectic than others and that often the first thing to get nixed from the list in the effort to make up lost time is breakfast. While it seems like a timesaver in the moment, poor concentration and loss of productivity due to hunger and low blood sugars as a result of skipping breakfast end up costing you even more time in the end. This is why we love a good make-ahead breakfast like these healthy baked oatmeal recipes. They can easily be made ahead and reheated in the morning or even enjoyed cold with a couple hard boiled eggs for an ultra-quick meal on the go.
With eight flavors to choose from, including one that's high in protein, there's something for every taste and every season.
Nutrition Spotlight: Oats
Rolled oats, also called old-fashioned oats, are incredibly versatile, budget-friendly, and nutritious and can be incorporated into baked oatmeals,  muffins, cookies, hearty oat porridges and more. Here are a just a few health benefits associated with oats of all kinds:
Excellent source of manganese, copper, and zinc.
Good source of magnesium and thiamin (vitamin B1)
Excellent source of soluble fiber which can help lower LDL and total cholesterol levels, improve digestion by way of bulking stools and promoting growth of beneficial bacteria, and reduce blood sugar and insulin spikes after a meal that includes oats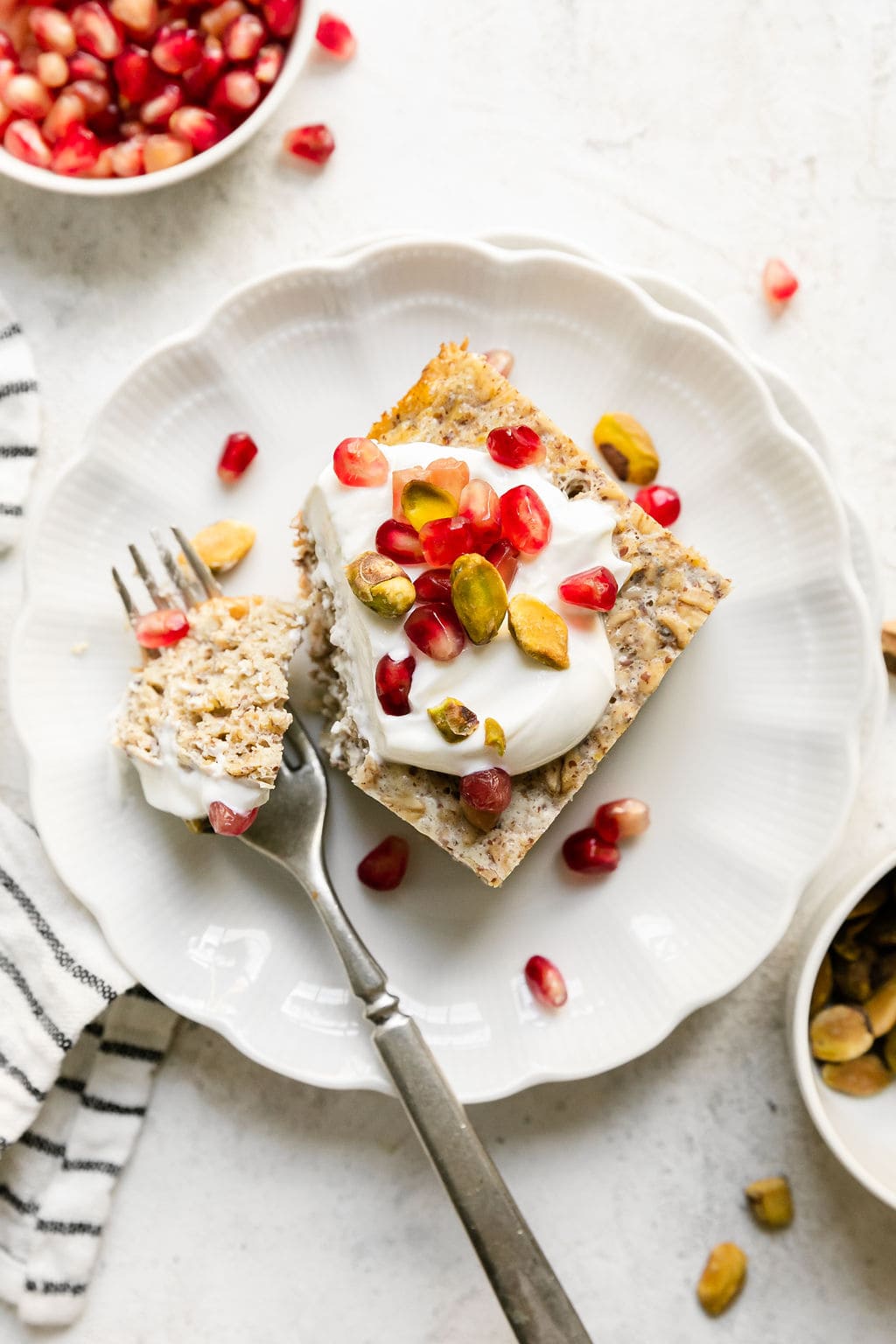 8 Reasons to love breakfast again
These healthy baked oatmeal recipes will have you looking forward to breakfast. Each recipe includes suggestions for toppings but feel free to get creative and use what you like or what you have on hand.
If you make one of these baked oatmeal recipes, snap a photo to share on Instagram and tag us @therealfooddietitians so we can see what you're making!
Frequently Asked Questions
Are oats gluten-free?
Oats are naturally gluten-free however, there is a very high probability of cross-contamination with gluten during processing so if you need to a follow a strict gluten-free diet, we recommend choosing oats that are certified gluten-free such as Bob's Red Mill Gluten-Free Rolled Oats, One Degree Sprouted Rolled Oats or Thrive Market Gluten-Free Rolled Oats.
Is baked oatmeal healthy?
Yes! Our baked oatmeal recipes are packed with wholesome, nutritious real food ingredients like oats, eggs, flax seeds, and sweetened naturally with fresh fruit or pure maple syrup.
Can I double the recipe for baked oatmeal?
Absolutely! We are huge believers in 'cook once, eat several times'. Our baked oatmeal recipes are easy to double. Just use a 9×13-inch pan and add a little extra baking time. The exact amount will depend on which recipe you're making.
Are these baked oatmeal recipes freezer-friendly?
They sure are! To freeze baked oatmeal, allow it to cool to room temperature then transfer to the refrigerator to cool completely. Slice into desired number of portions (or leave whole if you plan to freeze the entire pan). Wrap portions (or the pan) tightly with foil or place in a reusable zip-top bag or other freezer-safe container and place in the freezer. Enjoy within 3 months.
Save Big on Pantry Essentials
How to Store Baked Oatmeal
Leftover baked oatmeal can be stored in an airtight container in the refrigerator for up to 4 days. For longer storage, we suggest freezing leftovers. See the Frequently Asked Questions above for directions for freezing.
How to Reheat baked oatmeal
To reheat from refrigerated or thawed: Place the desired portion on a plate and microwave for 60-90 seconds, checking halfway through, until hot throughout.
To reheat from frozen: Place the desired portion on a plate and microwave for 1-2 minutes checking halfway through, until hot throughout.
Pin Now to Make Later!