Whether you're a long-time lover of veggie-filled meals or simply trying to eat more plant-centric dinners in your home, this free vegan meal plan is here for you! You don't need to eat 100% vegan in order to reap the benefits of plant-based eating. Use this free 2-week vegan meal plan (which you can start at any time) to kick off healthy eating in your home and feel refreshed. Our free plant-based meal plan comes complete with grocery lists and easy recipes. It's all right here for you.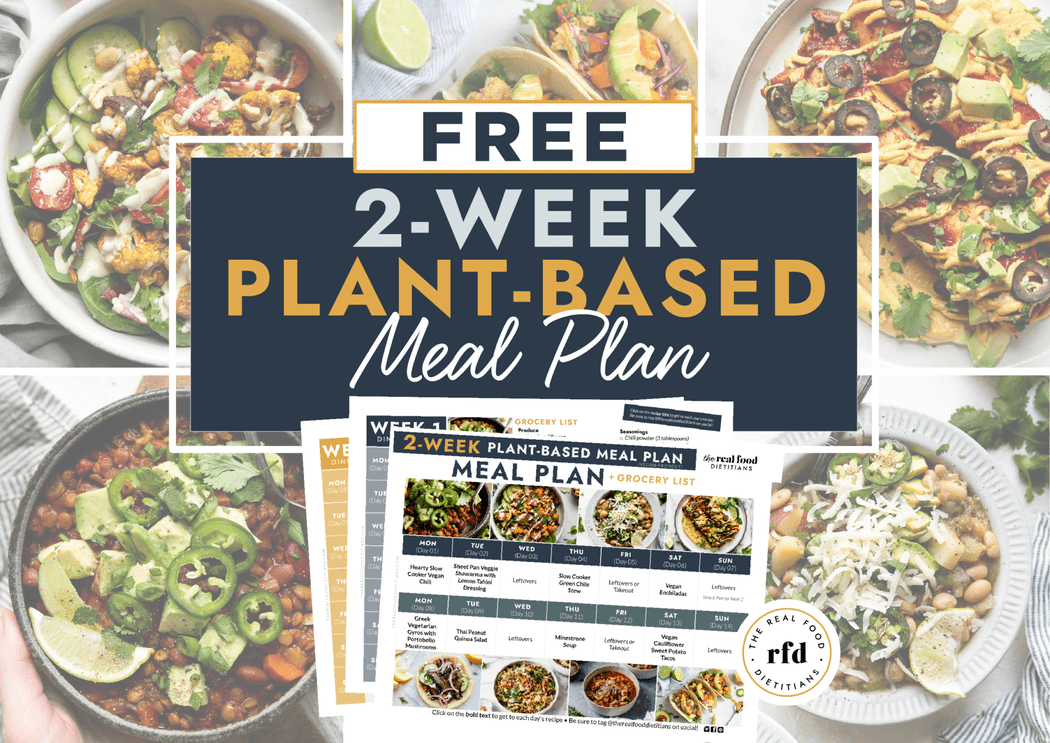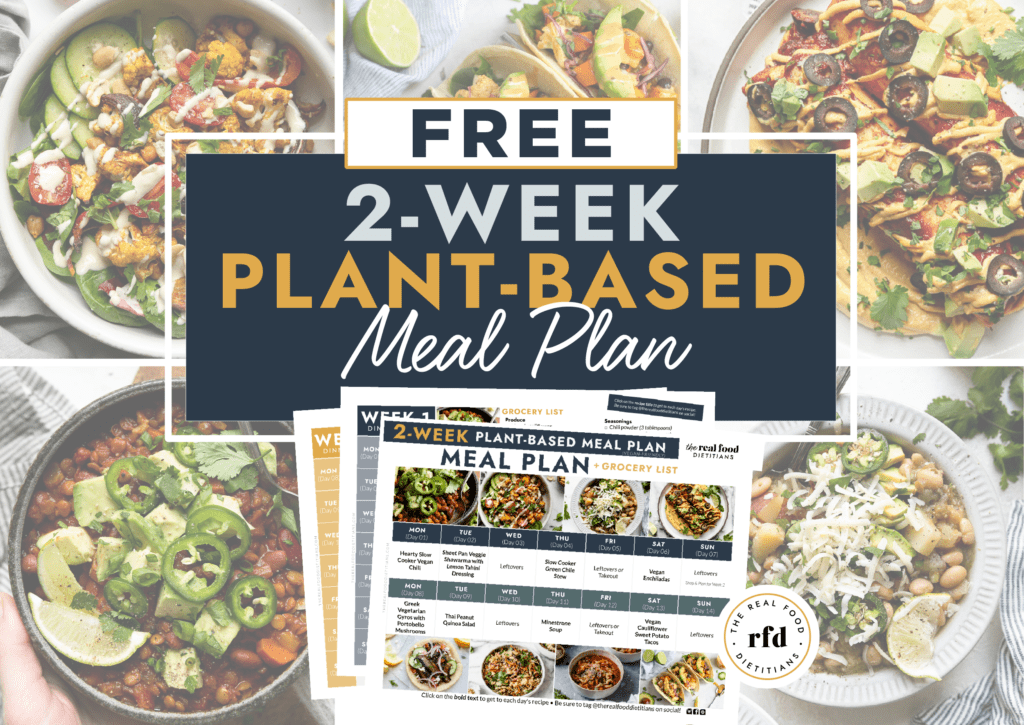 What Is a Two-Week Vegan Meal Plan?
Our two-week vegan meal plan provides you with everything you need to try plant-based eating. Whether you're trying to cut back on animal products or just curious about plant-based eating in general, this meal plan is a great introduction to vegan, vegetarian, and flexitarian eating. Simply follow the meal plan to eat two weeks of vegan dinners.
If vegetarian (and not 100% vegan) is more your style, feel free to add garnishes, such as cheese, sour cream, or even an egg for breakfast, where you'd like. More of a flexitarian eater (meaning that you emphasize mostly plant-based foods but still eat meat and dairy)? Then this plan can work for you, too. Simply eat your breakfasts and lunches as you typically would (and maybe they include yogurt, chicken, or tuna), and then use this vegan meal plan for all of your dinners. That way, your plates will still be mostly filled with plant-based foods.
Click on the image below to download
the 3-page Meal Plan PDF + Grocery Lists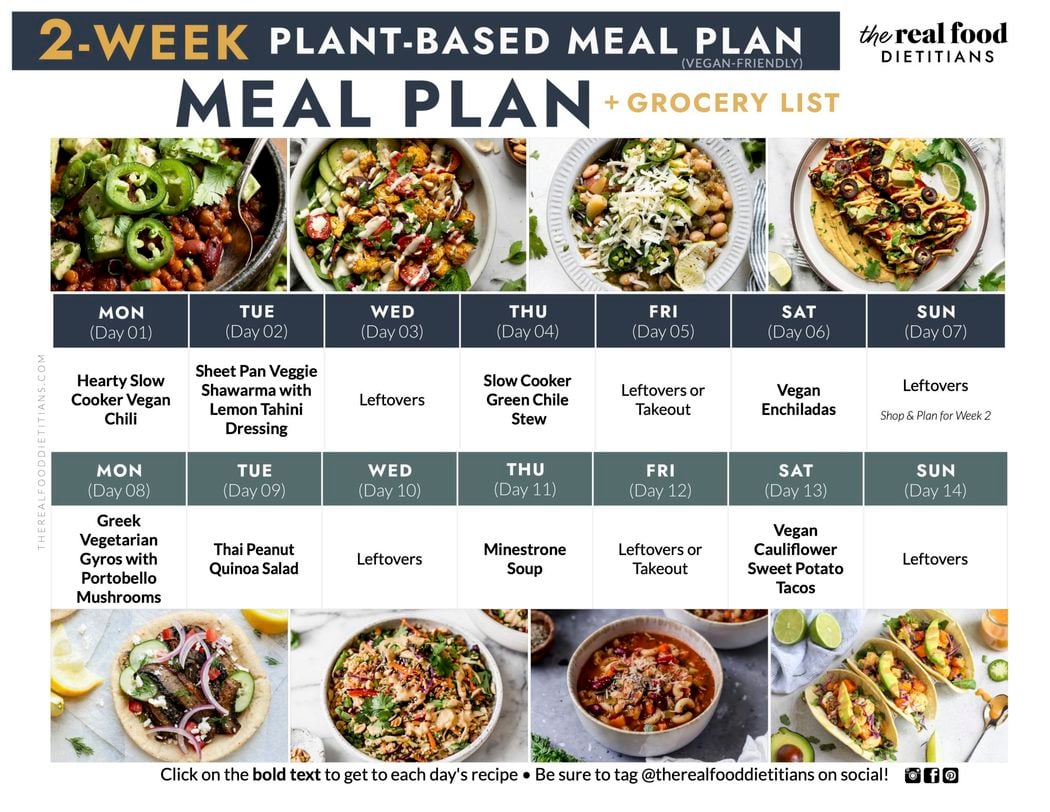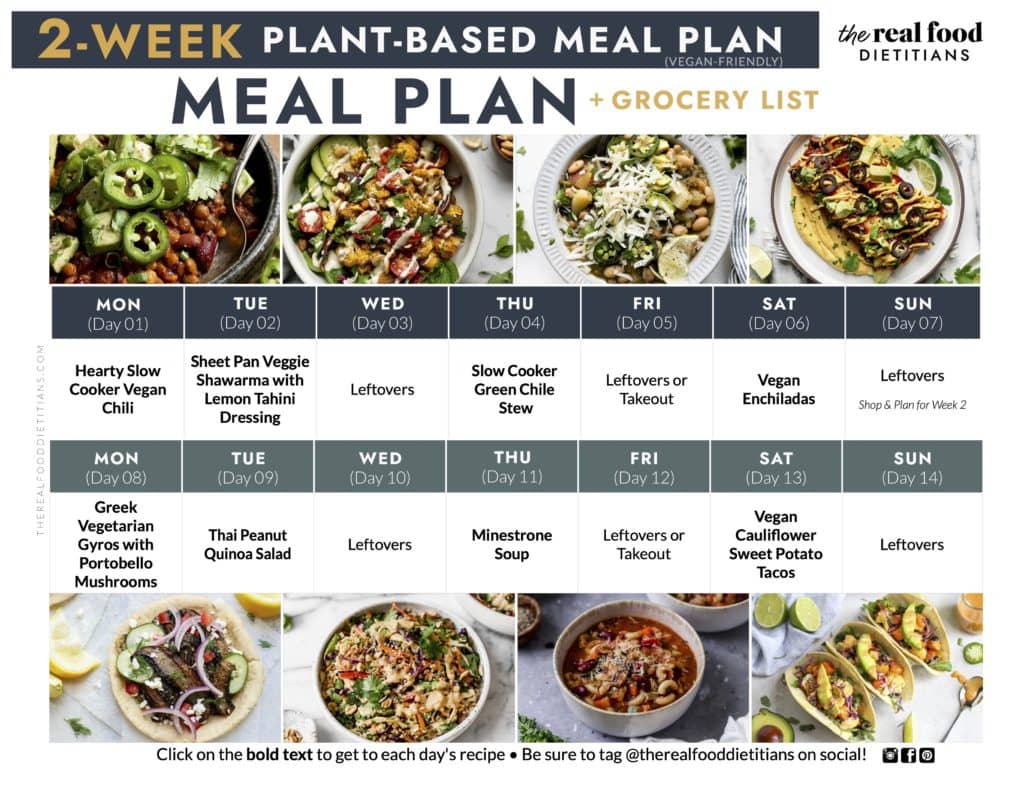 What's Included in the 2-Week Vegan Meal Plan
This vegan meal plan includes the recipes and all grocery items that you'll need in order to eat two weeks worth of vegan dinners. Here's everything you get in the plan.
Done-for-you 2-week vegan meal plan (what dinners to make on what days)
4 delicious, successful, fully tested and approved plant-based dinners for each week
Complete grocery lists (easy to check off the items you'll need for each week)
Support along the way – join us on Instagram as we follow along for this two-week vegan meal plan in our own homes. We'll be preparing the recipes and linking to every thing you need right from our social media Instagram stories. Also, we encourage you to grab a friend and do this plant-based meal plan together.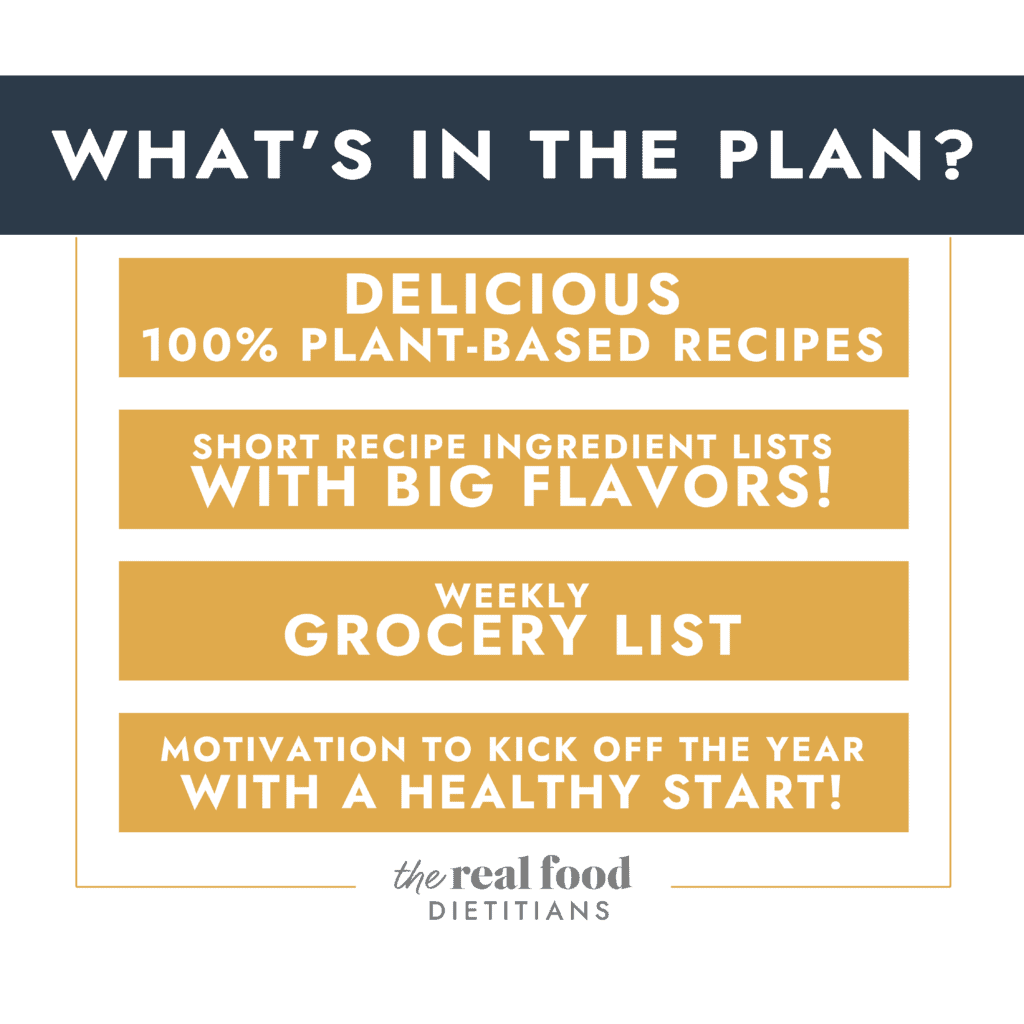 Week 1 of Plant-Based Eating: Recipes for Week 1
For Week 1 of our plant-based meal plan, we have four delicious 100% vegan recipes for you to make for your dinners.
Recipes for Week 1 of the 2-Week Vegan Meal Plan
Week 2 of Plant-Based Eating: Recipes for Week 2
This 100% vegan dinners in week 2 won't leave you hungry or disappointed. Rather, you'll see how plant-based eating can be satisfying and make you feel energized, fresh, and ready to tackle whatever comes your way.
Recipes for Week 2 of the 2-Week Vegan Meal Plan
How Does The 2-Week Vegan Meal Plan Work?
This free vegan meal plan is designed to work for you and fit into your life as easily as possibly. Simply download the resources here and start whenever you'd like. Don't feel ready for two weeks of plant-based eating? You can just do one of the weeks. Need to move the recipes around to fit your schedule better? You can do that, too!
Start by downloading the free two-week vegan meal plan PDF right here.
Click on each recipe image to be taken to that recipe post. If you prefer print-outs of the recipes, you can print each recipe from its blog post page.
Check off the items you already have from the grocery list and pick up the remaining plant-based items you need from your local grocery store. There is a separate grocery list for each week in this two-week plant-based meal plan.
Decide which recipes you'll make for dinner each day of the week, and if you'll use our suggested breakfast, snack, and lunch suggestions, too.
Prepare your plant-based meals and enjoy two weeks of nutritious and delicious vegan dinners.
What is plant-based Eating?
What do we mean when we say plant-based eating? We mean that the majority of the foods on your plate come from plants. Plant-based foods include:
vegetables
fruits
nuts and seeds, including nut and seed butters
grains
plant-based oils (ie: avocado oil, olive oil, coconut oil)
beans and legumes
spices, herbs, and seasonings
Learn more in this Healthline article: A Beginner's Guide to Plant-Based Eating
what are the benefits of plant-based eating?
The good news about plant-based eating is that no single nutrition topic has been studied more than the impact on human health of vegetables, fruits, grains, nuts and other plant-based foods (and diets with stable intake of these). And consistent evidence supports a whole food, plant-based diet as one of the most important factors associated with a long, healthy life while minimizing disease risk. Science shows that people who eat plenty of plant-based foods every day have
lowered risk of heart disease
reduced risk of type 2 diabetes
lowered bodily inflammation
reduced risk of certain cancers
increased life expectancy
Click on the image or button directly below to download the 3-page
Plant-Based Meal Plan PDF with links to every recipe + grocery lists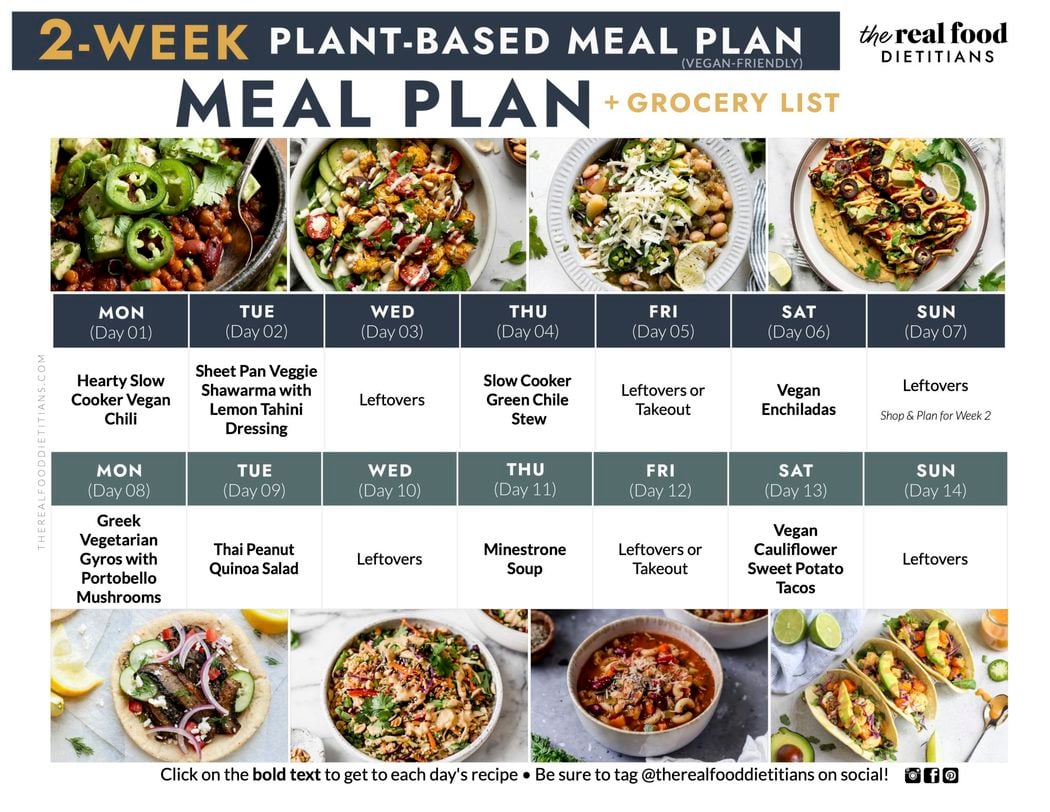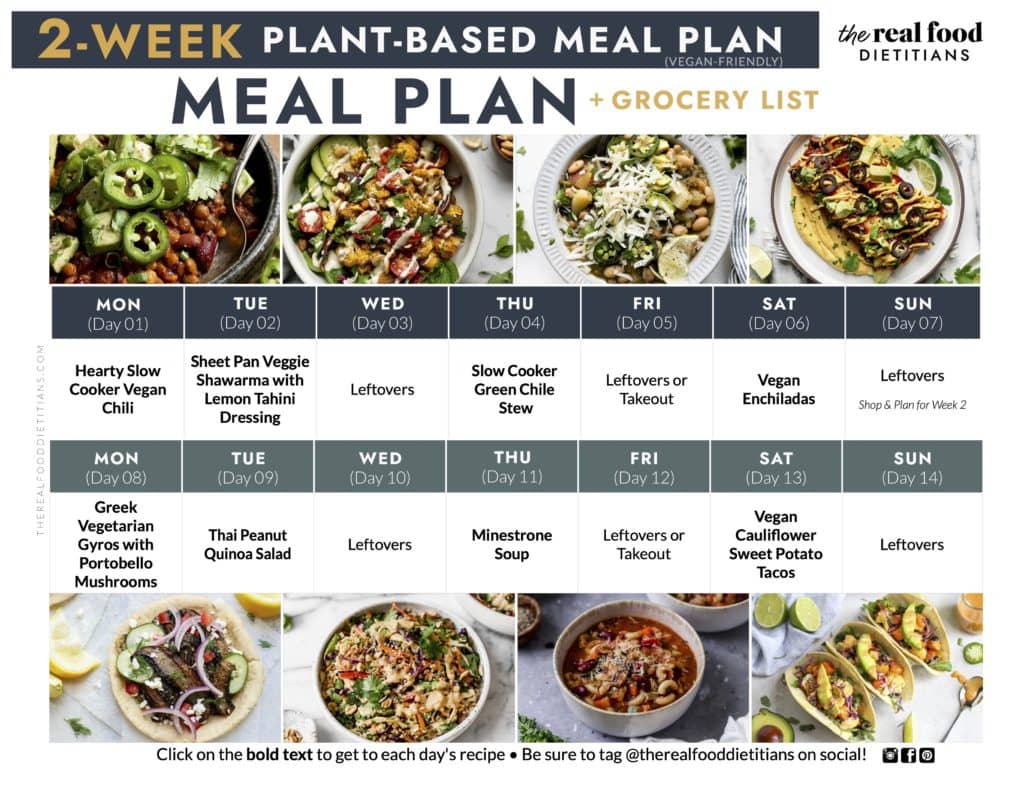 Top 10 Tips For Achieving Your Wellness Goals
Start small – Choose one goal to work on at a time. For example, aim to eat regular meals and snacks instead of grazing. Or, aim to workout 3 days a week rather than setting an unrealistic goal of 5 days a week.
Make simple swaps – If you normally start your day with 2 slices of toast (low in protein and nutrients), try replacing one of the slices with a cup of fresh fruit. You also can add an egg or a piece of string cheese to bump up the nutrition. The key is to make simple swaps instead of overhauling your habits at once, which can be overwhelming.
Aim for progress, not perfection – Consistency is key. Small behaviors, such as filling half of your plate with plant-based foods at every meal. Or, having a quality source of protein with every meal. Or, setting aside 30 minutes a day to move your body, when done consistently will add up over time.
Get enough sleep – Aim for 7-8 hours of sleep each night while also aiming for sleep consistency (going to bed and waking at the same time each day)
Find an accountability partner and/or involve the family – We all know how helpful it can be to have someone to remind you of why your goals are important to you. Enlist a friend (or several) and your family members to join you in the challenge. Eating healthier and moving more benefits everyone!
Have a plan – It's true that failing to plan is planning to fail so we encourage you to take a little time each week to make a plan for the week ahead whether that's making a grocery list, doing the grocery shopping, or getting a jump start on meal prepping by chopping and prepping ingredients to help you get meals on the table faster.
Make it sustainable – This piggybacks on the idea of starting small but it's probably one of the most important things to consider when you decide which habits or changes to work on first. The best habits to have are the ones that you can easily do and do for the long haul. True change, when it comes to your health, comes with consistency so developing habits that are sustainable are key.
Don't rely on motivation – Motivation (aka: your willpower) can only get you so far. When it's gone, it's hard to find it again so our tip is to rely on discipline rather than motivation. When you make meal planning a habit, you're more likely to do it even when you don't 'feel like it'.
Set performance goals – While it may be tempting to set a goal of 'losing weight,' that kind of goal is ambiguous and often leads to quitting, while also creating mental stress and fatigue. We recommend setting performance goals instead. Some examples include, "Doing 10 push-ups from my toes", "Running a mile without stopping". "Completing a 10-mile hike", "Completing a Workout Plan from Nourish Move Love", etc.
Show yourself some grace – While it's great to have a plan and strategies to make it all happen, sometimes the unexpected happens. Your week gets ridiculously busy at work, your kids get sick … you get it. Resist the temptation to throw in the towel, and instead recognize that this is just a hiccup. Show yourself the kind of grace and compassion you would show a friend or family member. And then just pick up where you left off.
What about breakfasts, lunches, and Snacks?
We've included 100% plant-based breakfast, lunch, and snack suggestions for each week in this meal plan. Please note, the ingredients for these breakfast, lunch, and snack recipes are not included in the grocery lists. The grocery lists include just the items you will need to make the four plant-based dinners for each week. Here's a look at the vegan breakfast, lunch, and snack recipes you can add to the plan if you'd like more suggestions for what to eat at other meals:
Try These Plant-Based Breakfasts
Here are some Plant-Based Lunches
And Delicious Plant-Based Snacks
Ready to Start the 2-Week 100% Vegan Meal Plan?
Click here to download the PDF that includes everything you need:
The 2-Week Vegan Meal Plan
A complete Grocery Lists for each week
Links to every Plant-Based Recipe you need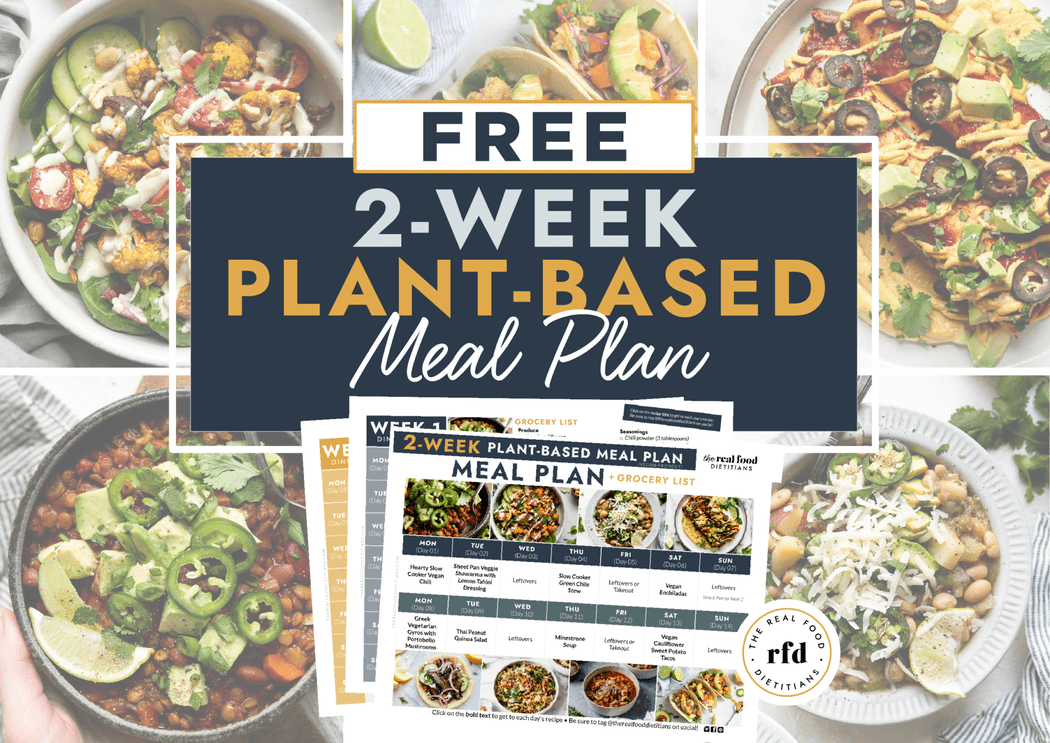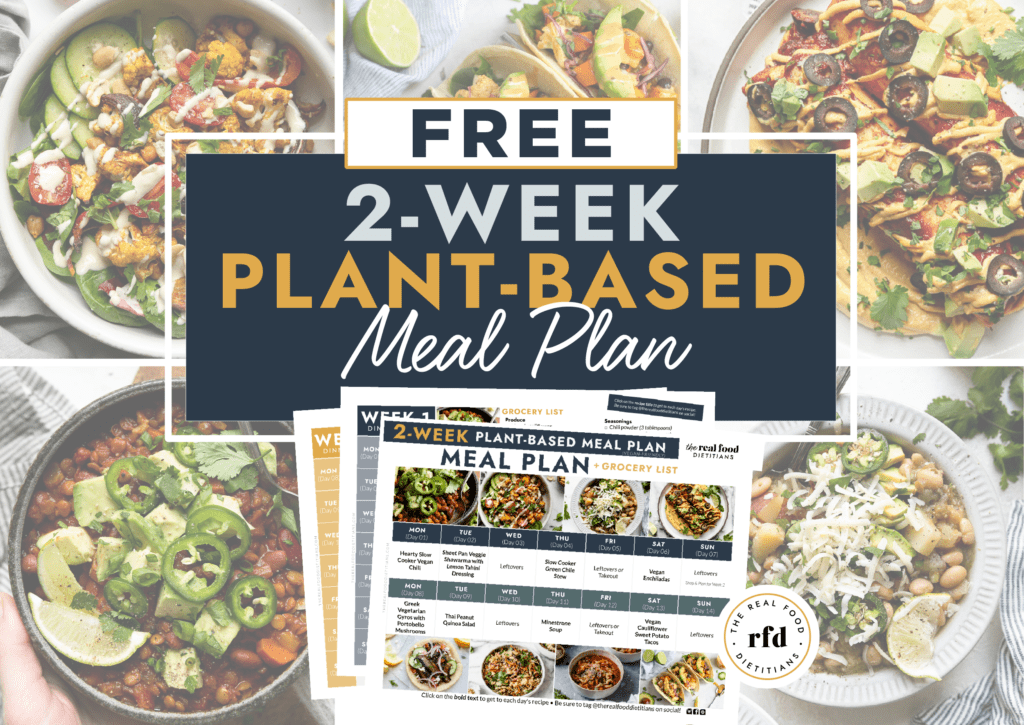 Grab a friend and choose a start date for this 2-Week Vegan Meal Plan to kick off healthy eating and to give plant-based eating a try in your home!