These 14 Sheet Pan Chicken Recipes are healthy, easy, and perfect for weekly meal prep or busy weeknights when you need to get dinner on the table fast. Featuring a variety of options, each recipe uses wholesome ingredients to create irresistible bold flavors. Try them all, or pick your favorite for a meal the whole family can enjoy!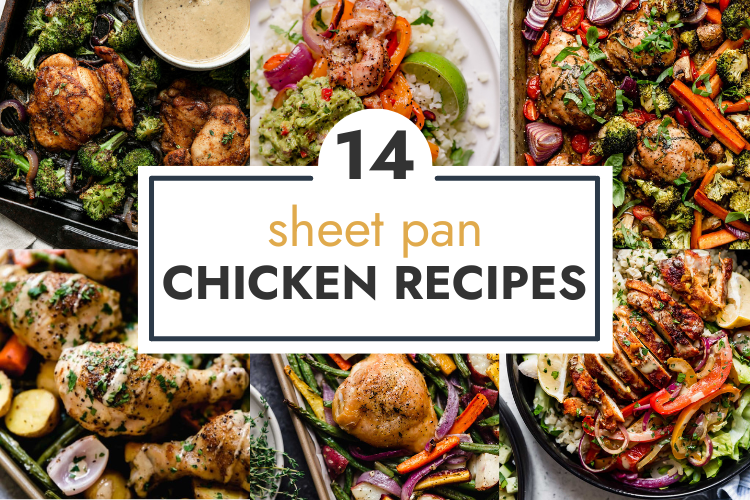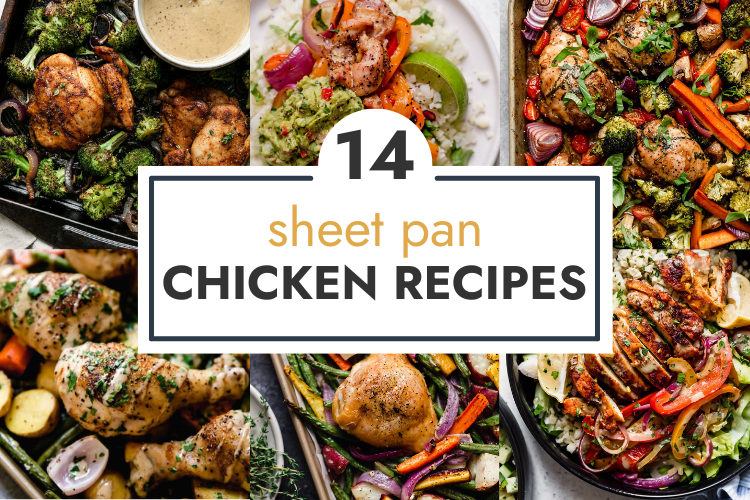 Nutrition Spotlight: Chicken
Budget-friendly and versatile, chicken comes in several different cuts and has a fairly neutral flavor making it a great option for a variety of meals including sheet pan chicken recipes, casseroles, soups, slow cooker meals, and more. However, that's not the only reason why we love it.
Chicken is an excellent source of complete protein and is particularly rich in B vitamins along with some additional minerals. As a result, consuming chicken can help with:


Muscle building and repair

Enhancing feelings of satiety after eating

Supporting immune function

Improving bone health

Sheet Pan Chicken Recipes You'll Make Again and Again
These sheet pan chicken recipes are so convenient. They're budget-friendly and quick to prepare, and incredibly easy to clean up, too, since everything cooks right on one pan. Even better, the leftovers are great for packed lunches or quick meals the following day. Needless to say, we're big fans of sheet pan chicken dinners and incorporate them into our dinner rotation often. As a result, we have quite a few favorites to share.
Frequently Asked Questions
How do you prevent sheet pan chicken recipes from drying out in the oven?
There are many different techniques that can be applied to prevent chicken from drying out as it bakes. However, a tip that can be applied to most sheet pan chicken recipes is to bake them at a lower heat and to let the chicken rest in order to redistribute its juices once it is finished.
What oven temperature should I use for sheet pan chicken recipes?
We give specific baking instructions and temperatures for each recipe, but in general, you want to bake chicken between 350° F and 450° F.
Is it best to cook chicken in the oven covered or uncovered?
Unless a recipe specifically states otherwise, there is no need to cover chicken as it bakes.
How to Store
Depending on the ingredients used, each recipe will have a different timespan for storage. So, be sure to take a look at the recipe card of the meal you're making for specific instructions. However, in general, once cooled, sheet pan chicken recipes can be transferred to an airtight container and stored in the refrigerator for up to 4 days. Or, if you want to plan ahead of time or cook in bulk, place them in the freezer for up to 3 months.
How to Reheat
When you're ready to eat, let any frozen leftovers thaw in the fridge overnight. Then, warm them in the microwave. Or, arrange them in an even layer on a greased sheet pan, and place them back in the oven at 350º F until your desired temperature is reached.
When to Serve Sheet Pan Chicken Recipes
Personally, we don't think there's ever a bad time to whip up one of these sheet pan chicken recipes. However, we're particularly fond of them when it comes to quick, nutritious weeknight meals and easy meal prep! Whether you're feeding your own family or hosting a post-practice feast, they're guaranteed to fit the bill providing exactly what you need.
Pin Now to Make Later!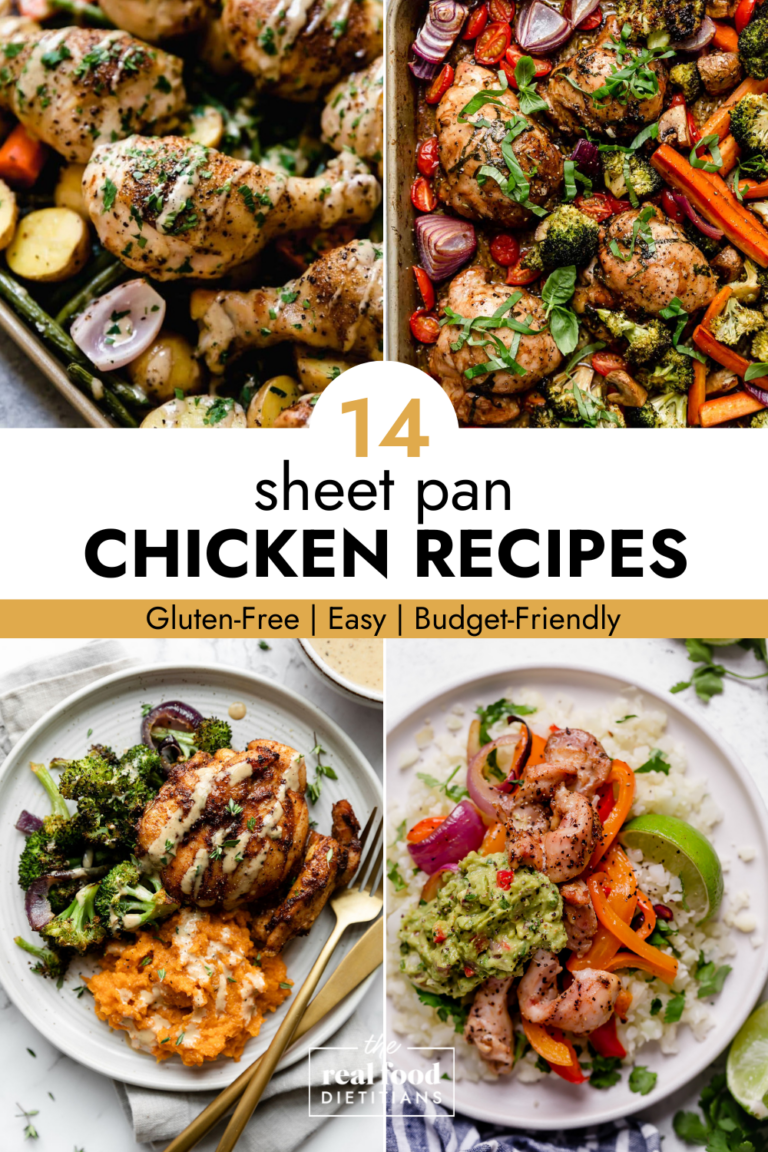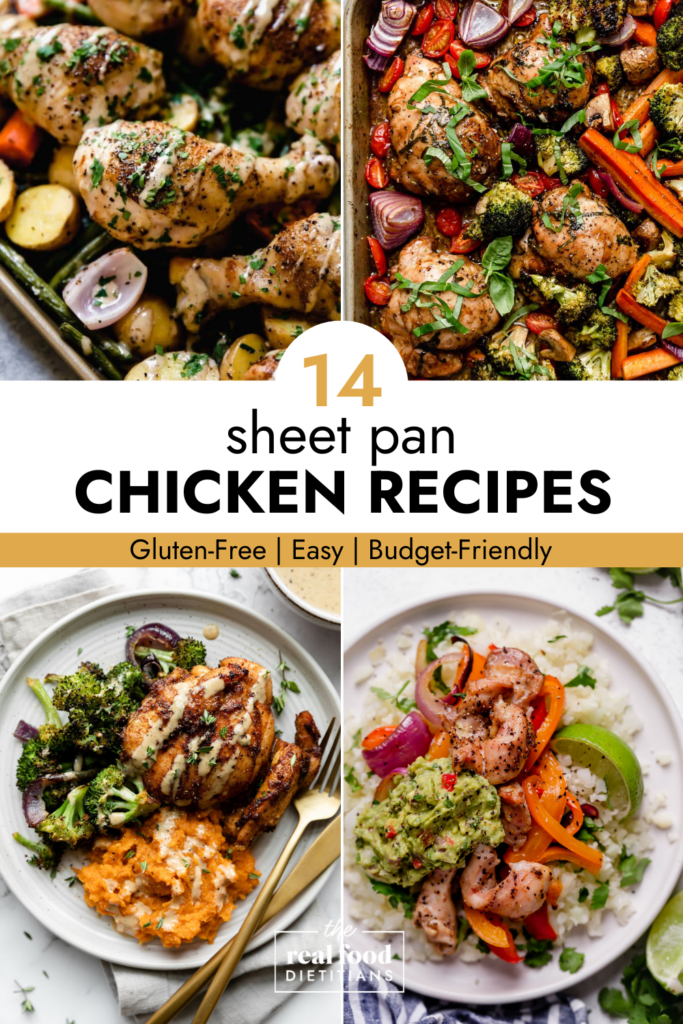 For ultimate success, we highly recommend reading the tips in the full blog post above. All photos and content are copyright protected. Please do not use our photos without prior written permission. If you wish to republish a recipe, please rewrite the recipe in your own unique words. Link back to the source recipe here on The Real Food Dietitians. Thank you!