Whether you need some lunchbox additions, after-school options, or on-the-go energy boosters, this collection of Healthy Snacks for Kids has many easy recipes that are full of real-food nutrition. As a team of Registered Dietitians and real-life Moms, we know how important it is to have healthful options within reach when your kids are hungry! This post includes options for bars, bites, muffins, breads, and more that kids will love (and you can feel good about giving to them). We know because our own kids love them, too! The next time you're in search of some healthy kid's snacks to make, try some of these!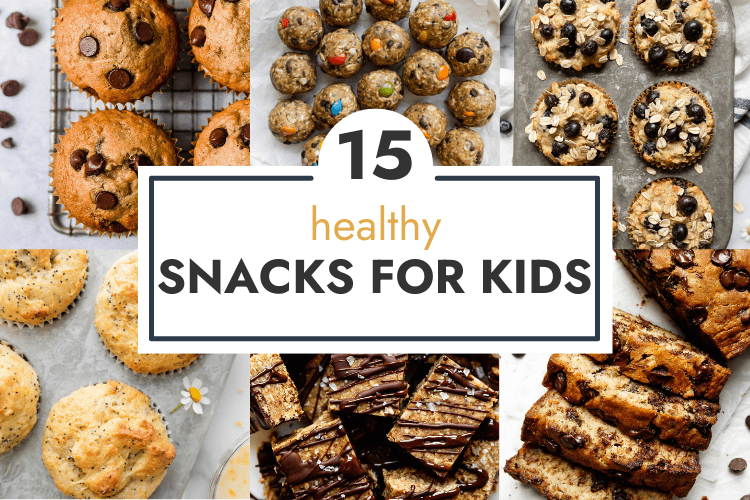 Healthy Back to School Snacks for Kids
Sometimes if feels like summer has just started, then all of a sudden we're buying back-to-school supplies and perusing healthy kids snacks to send in lunchboxes. Our hope is that this round-up of Back to School Snacks for Kids will give you some delicious, healthy, easy, and quick options. Click on any image below to view that recipe blog post, including printable recipes. And if your kids love helping you in the kitchen, be sure to include them in the recipe-making fun! Kids love to measure, dump, and mix, and we often find that they are even more excited to eat a healthy snack when they've helped make it themselves!
---
Kid-Friendly Muffin Recipes and Breads
Total Time: 35 mins | Gluten Free | Nut Free | Egg Free
Everyday ingredients like vanilla yogurt, oats, blueberries, and applesauce come together to create scrumptious, easy, and nutritious Blueberry Oatmeal Muffins for a healthy kids lunchbox snack or after-school nourishment. These muffins are tender, flavorful, gluten-free, and made with less sugar.
Total Time: 30 mins | Gluten Free | Dairy Free | Nut Free
When life blesses you with overripe bananas, make these simple and scrumptious Banana Muffins with Chocolate Chips! Freezer-friendly, perfect for meal prep, and they make a great addition to lunchboxes and healthy snacks for kids (and adults, too). Easily make them gluten-free and dairy-free with our ingredient suggestions.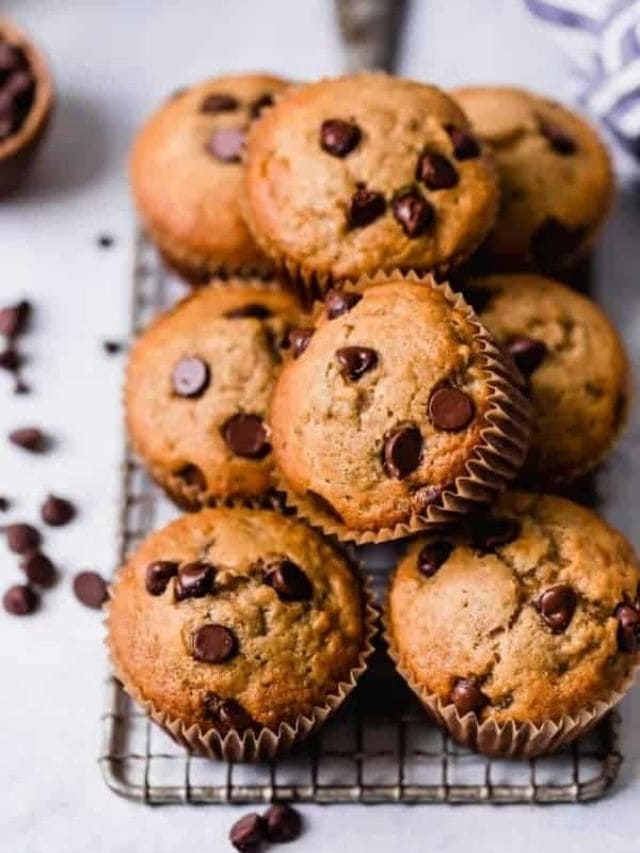 Total Time: 30 mins | Gluten Free | Nut Free
A delicious, moist pumpkin protein muffin recipe without the gluten and with added nutrition from protein powder. This kid-friendly muffin recipe is a nutritious addition to on-the-go breakfast or a healthy kids snack. The flavor and texture are so good, these muffins taste just like Starbucks' pumpkin bread, just in muffin form and with a lot less sugar.
Total Time: 26 mins | Gluten Free | Nut Free
Bursting with lemony flavors from fresh lemon zest and juice, these light and moist Lemon Poppy Seed Muffins are the perfect breakfast addition or back-to-school kids snack. Made with no refined sugar, these muffins are tender and fresh – just the thing to make kids smile when they open their lunch box or step off the bus.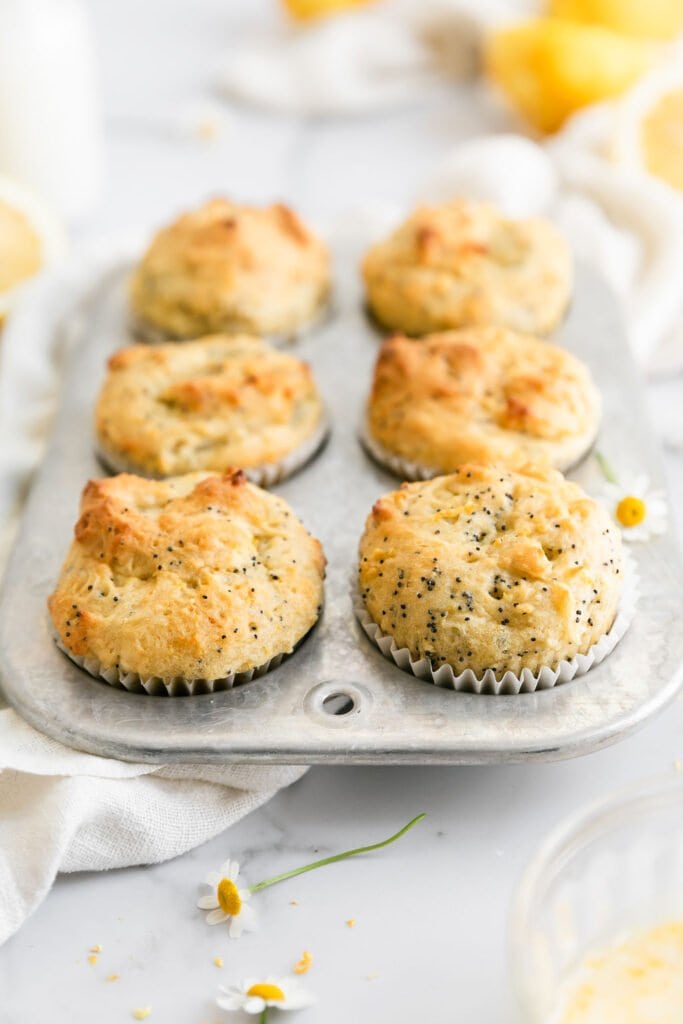 Total Time: 35 mins | Gluten Free | Dairy Free
Shredded zucchini, mashed ripe banana, dark chocolate morsels, and chopped walnuts are all packed into these delicious muffins! These Chocolate Chip Zucchini Muffins are a great way to sneak in (or use up) zucchini and they're made with less sugar. Bonus: This is one healthy snack for kids that you can make all in one bowl!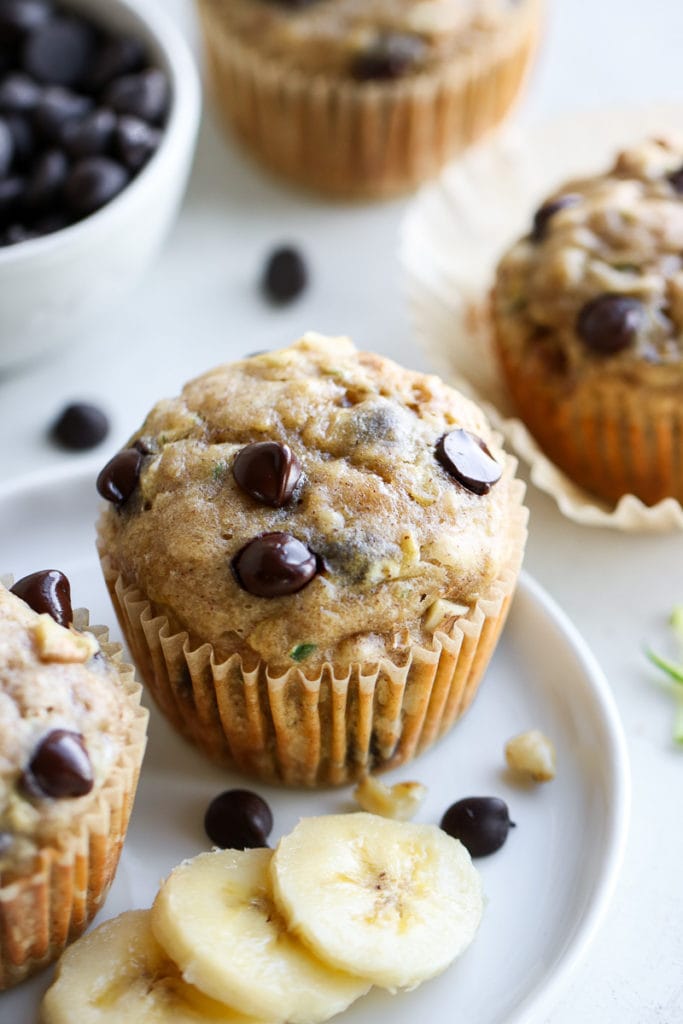 Total Time: 1 hour, 5 mins | Gluten Free | Nut Free
Fresh blueberries and lemons are a Kids and adults will love this glorious combination of fresh blueberries and bright lemon. When baked into a loaf of bread and drizzled with a lemon glaze, those flavors make for an eye-opening breakfast or snack bread that you'll be so glad you made as healthy kids snacks in your home.
Total Time: 1 hour, 5 mins | Gluten Free | Dairy Free | Nut Free
Made with less sugar and those overripe bananas you want to use up. We love to serve this banana bread as part of a healthful breakfast with yogurt and berries, before sending the kids off to school or as a part of their lunchbox meal. We even love to serve up a slice as an after-school snack when toasted and topped with a smear of their favorite nut butter.
Total Time: 1 hour | Gluten Free | Dairy Free
This classic zucchini bread recipe is elevated with our secret ingredient (pssst … it's molasses!) that makes each slice soft, moist, fluffy, and extra delicious. Whether your garden is giving you a plethora of fresh zucchini, you've grabbed a few at the farmer's market, or you have frozen zucchini stashed in your freezer (such a clever one you are!), this recipe is a great way to use up that zucchini bounty and serve up one of our favorite healthy snacks for kids at the same time.
---
Kid-Friendly Granola Bars and Energy Bites
Total Time: 30 mins | Gluten Free | Dairy Free
These Peanut Butter Protein Bars come with a nice crunch thanks to the crisp rice cereal, and are drizzled with just enough melted dark chocolate to create the sweet and salt combination that kids and adults love: chocolate and peanut butter.
Total Time: 20 mins | Gluten Free | Dairy Free
Five ingredients are all you need to make a batch of these easy Homemade Peanut Butter Granola Bars. These homemade granola bars are gluten-free, soft-baked, studded with chocolate chips, and perfect for healthy kids snacks. You'll never buy store-bought granola bars again!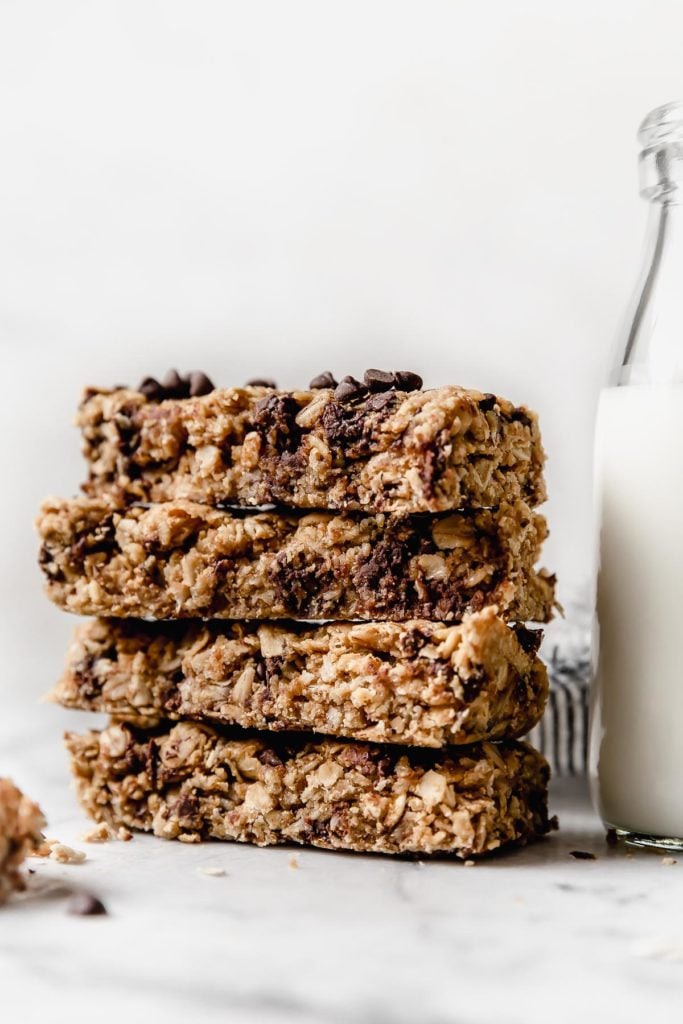 Total Time: 10 mins | Gluten Free | Dairy Free
Made with just 7 ingredients, these No-Bake Fruit & Nut Granola Bars are quick to make, budget-friendly. They make great back to school snacks for kids, as well as after-school snacking. This gluten-free granola bar recipe can be prepared in less than 10 minutes for a healthy option in a time pinch!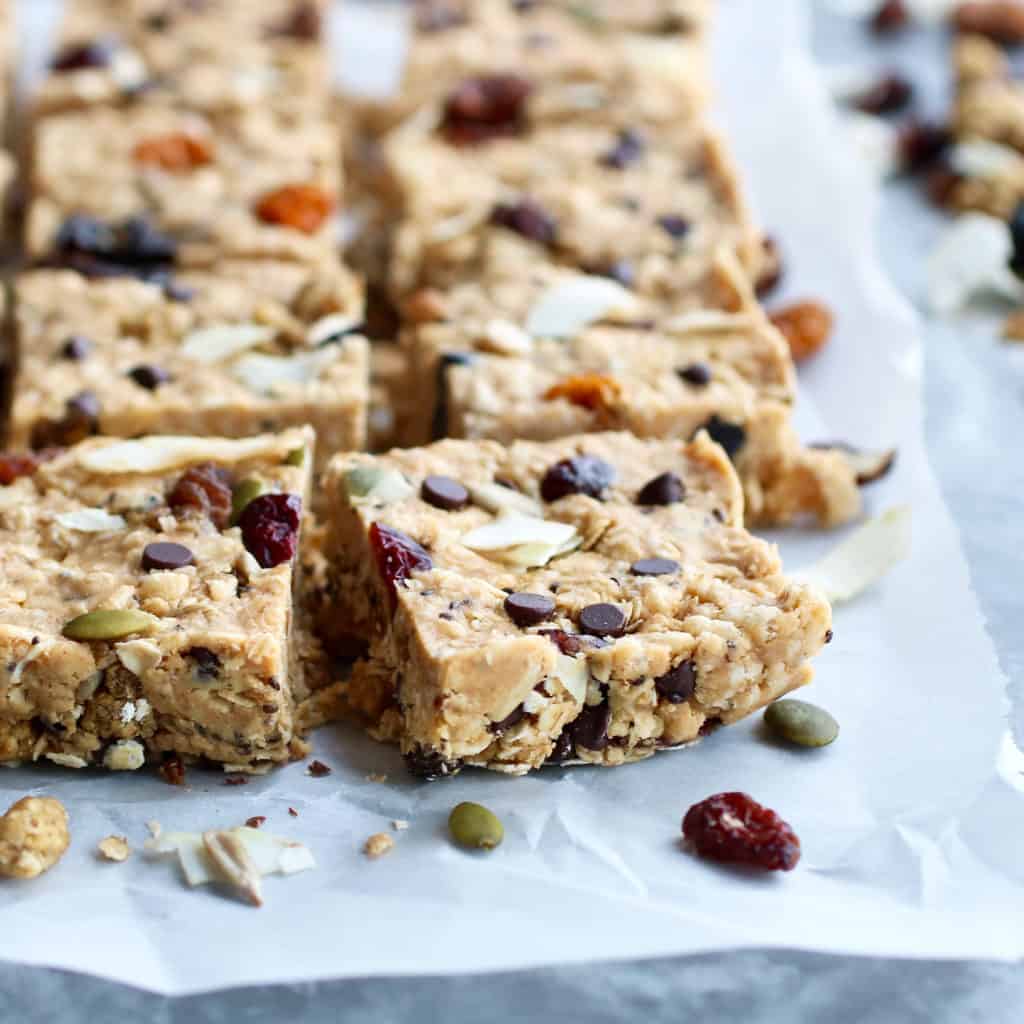 Total Time: 30 mins | Gluten Free | Dairy Free | Nut Free
Here's an allergy-friendly healthy snack for kids and adults of all ages that will save you some money when you make them at home. These Homemade Clif Bars are easy to customize based on your preferences or what you've got on hand. Store in a lunchbox with an ice pack cooler.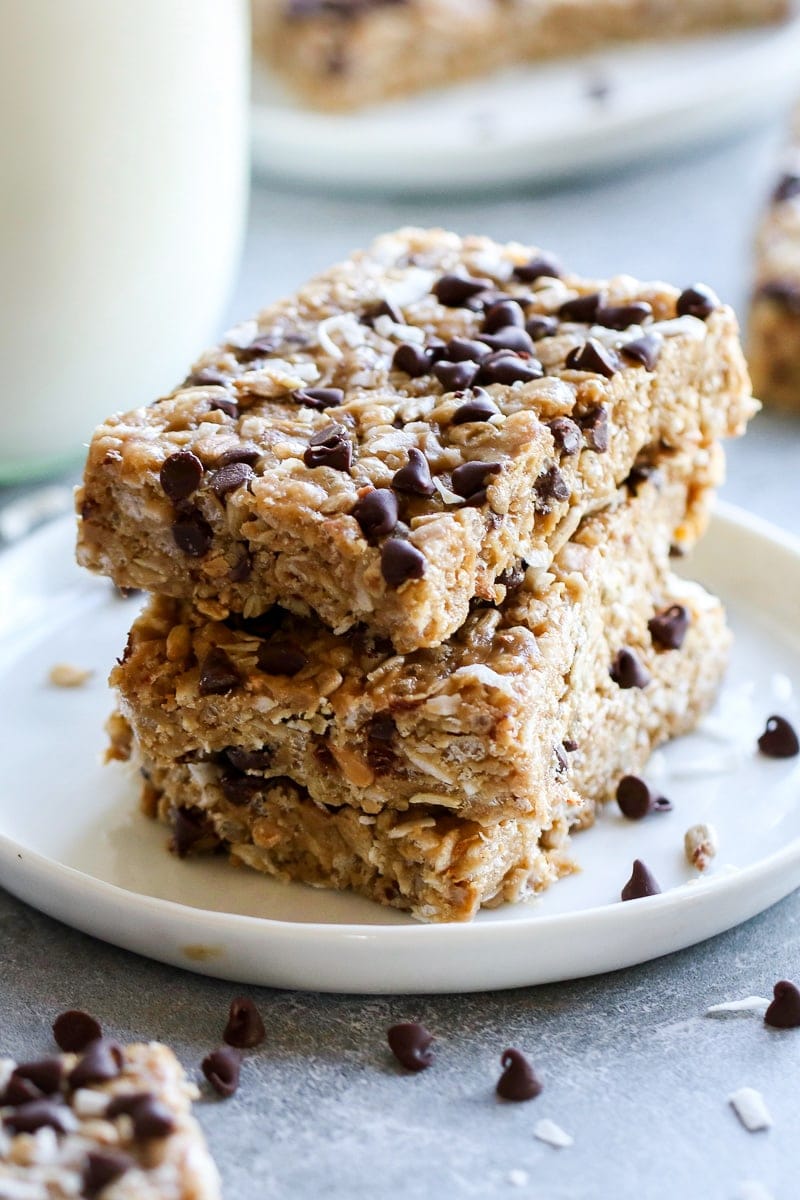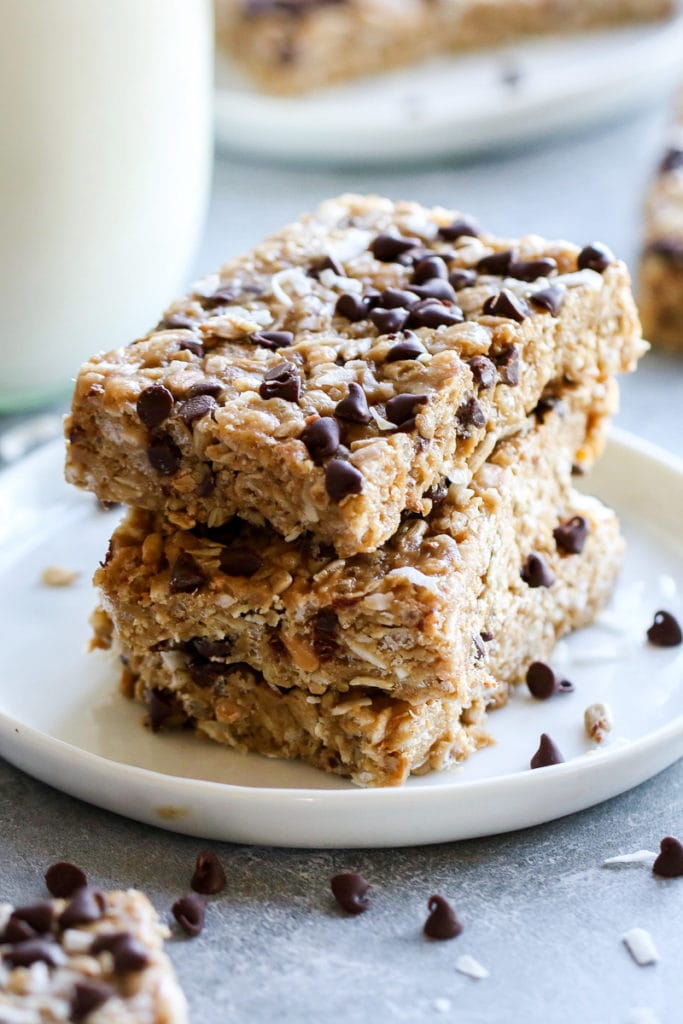 Total Time: 15 mins | Gluten Free | Grain Free | Dairy Free | Paleo
When snack o'clock hits, reach for these Key Lime Energy Bars bursting with citrus lime, sweet dates, and boasting an irresistible nutty texture. Easily made with only 5 ingredients and quickly turned into a nutrient-dense snack within 15 minutes (from start to finish), these energy bars are a limey-coconutty must!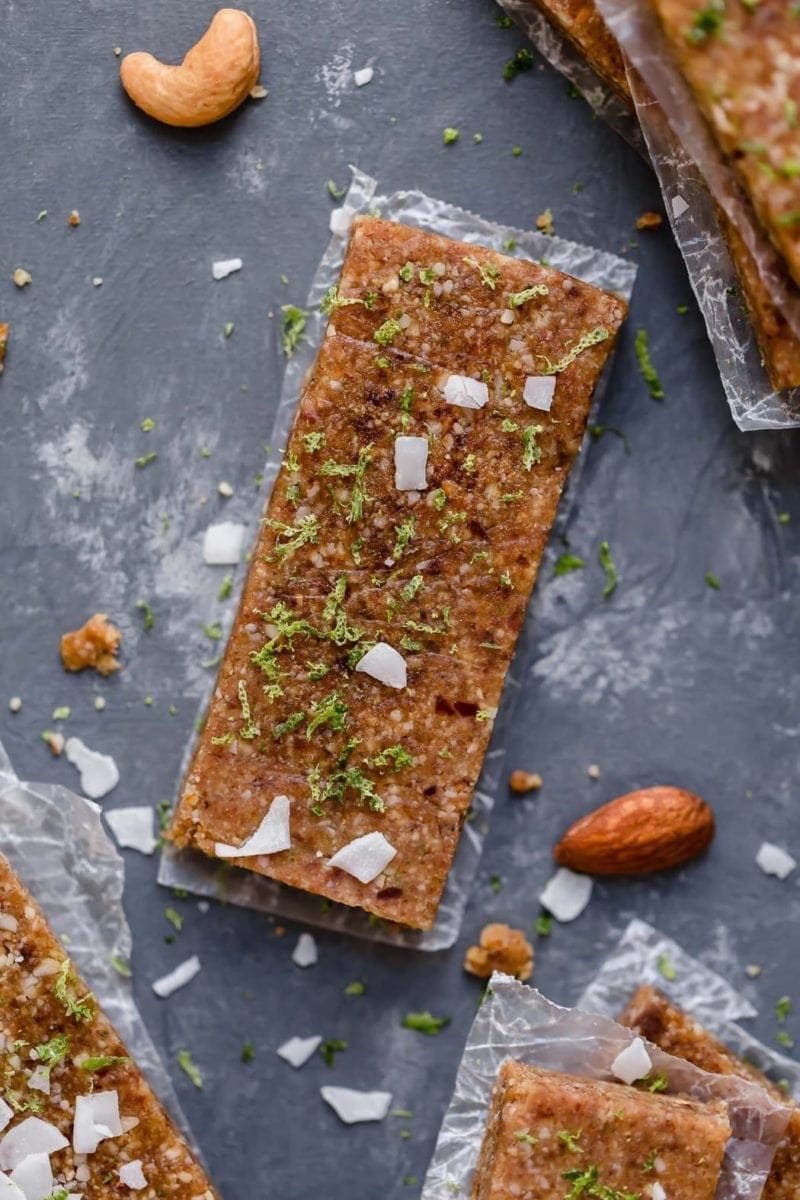 Total Time: 25 mins | Gluten Free | Egg Free
No oven needed for this healthy and fun no-bake snack that is loved by kids and adults. It provides 5 grams of protein per ball for lasting energy in a delicious and nutritious form. Great for lunch boxes, after school snacks, and an afternoon energy boost.
Total Time: 20 mins | Gluten Free | Dairy Free
The popular duo of peanut butter and chocolate come together with whole grain oats, flax, and chia seeds to make these no-bake, gluten-free Peanut Butter Oatmeal Balls. Perfect for meal prepping, lunch packing, and easy healthy snacks for kids.
---
What Are Some Healthy Snacks for kids for School?
Any of the above recipes make great healthy kids snacks, back to school snacks, on-the-go snack time, lunchbox additions, and after school snacks for kids. Here are some other healthy snack ideas you can provide for your kids that feature whole foods and plenty of nutrients (the calories, fiber, vitamins, and minerals) that kids need to thrive:
fruit like apples, oranges, bananas, watermelon cubes, musk melon, and grapes
crackers and cheese
vegetable sticks with hummus (we like to serve easy-to-chew veggies, such as bell pepper strips, skinny carrot sticks, and zucchini "fries")
cherry tomatoes with ranch dip
dried fruit, such as dehydrated berries, raisins, or dried cherries
miniature sandwiches cut into fun shapes with cookie cutters
popcorn
trail mix
quesadilla
sloppy joe slides on sliders made from sweet potatoes
English muffin pizza
tortilla chips with bean dip
dairy products, such as yogurt cups, cottage cheese cups, and string cheese
berries, apple slices, and other fruit with almond butter, peanut butter yogurt dip, or chocolate avocado dip
Pin It Now to Make Them Later!
Photo Credit: Some photos in the post were taken by Jess of Plays Well with Butter and some photos in this post were taken by Rachel of Half Acre House
For ultimate success, we highly recommend reading the full blog post above. All photos and content are copyright protected. Please do not use our photos without prior written permission. If you wish to republish this recipe, please rewrite the recipe in your own unique words. Link back to the source recipe here on The Real Food Dietitians. Thank you!