This Zucchini Lasagna Recipe is a low-carb take on regular lasagna recipes and a fun twist on our also popular Easy Skillet Lasagna, which includes noodles. In this no-noodle version, thinly sliced zucchini gets cooked with fresh veggies, seasonings, ground beef, marinara sauce, mozzarella, and Parmesan cheese. Cooked in a large skillet, it's simple to prepare and has all the classic flavor of lasagna you love for a family-friendly meal that's hearty, flavorful, full of nutrients, and naturally gluten-free, too.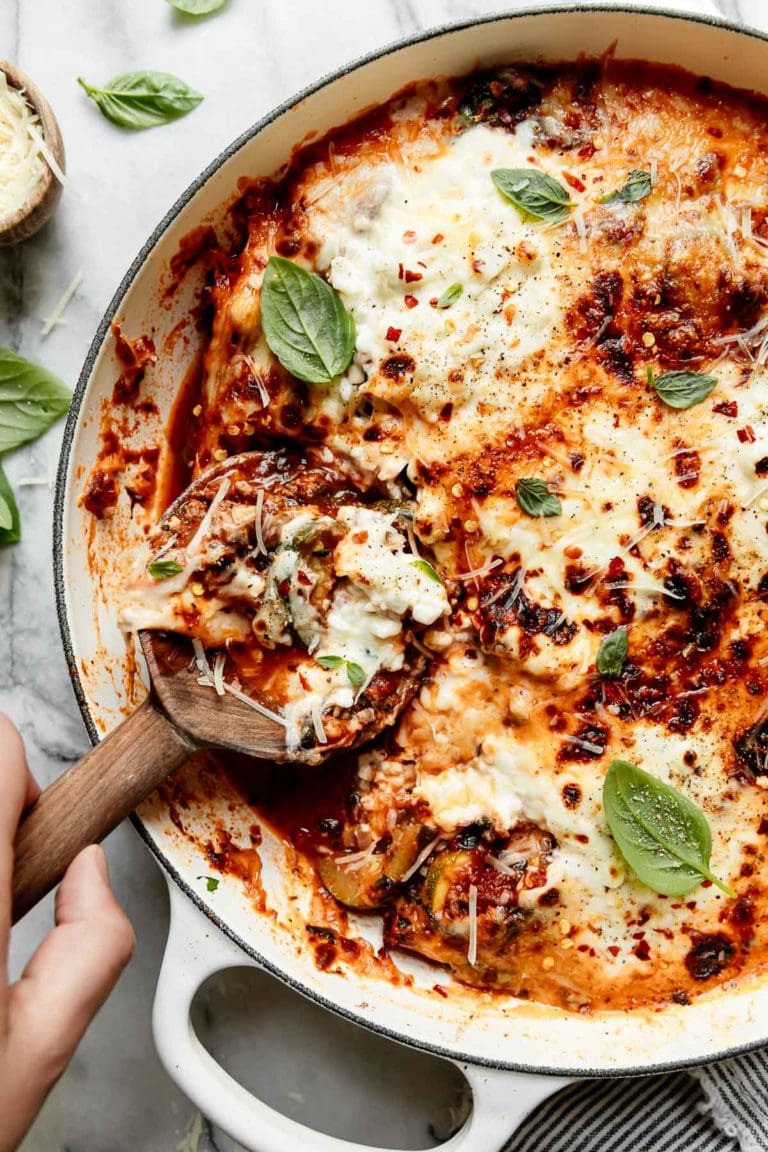 Drop The Noodles, Up The Veggies: Healthy Weeknight Zucchini Lasagna Recipe
Who doesn't love lasagna? With its savory flavors, hearty beef, and lots of gooey cheese, it's the ultimate comfort food. But what we don't always love is how long traditional lasagna takes to make. From cooking the noodles to prepping the cheese filling, and cooking the beef filling separately, the whole process can take more than 2 hours. It's not exactly a weeknight-friendly dish. Until now!
This best zucchini lasagna recipe proves that lasagna can be all those things you never thought it could be: fast, easy, and healthy! All the flavors you crave are included, but we dropped the lasagna noodles, added a ton of nutritious veggies to the mix, and cooked it all in a skillet instead of a baking dish. With minimal prep time, a cook time of 30 minutes, and a total time of less than an hour, dinner doesn't get better than this.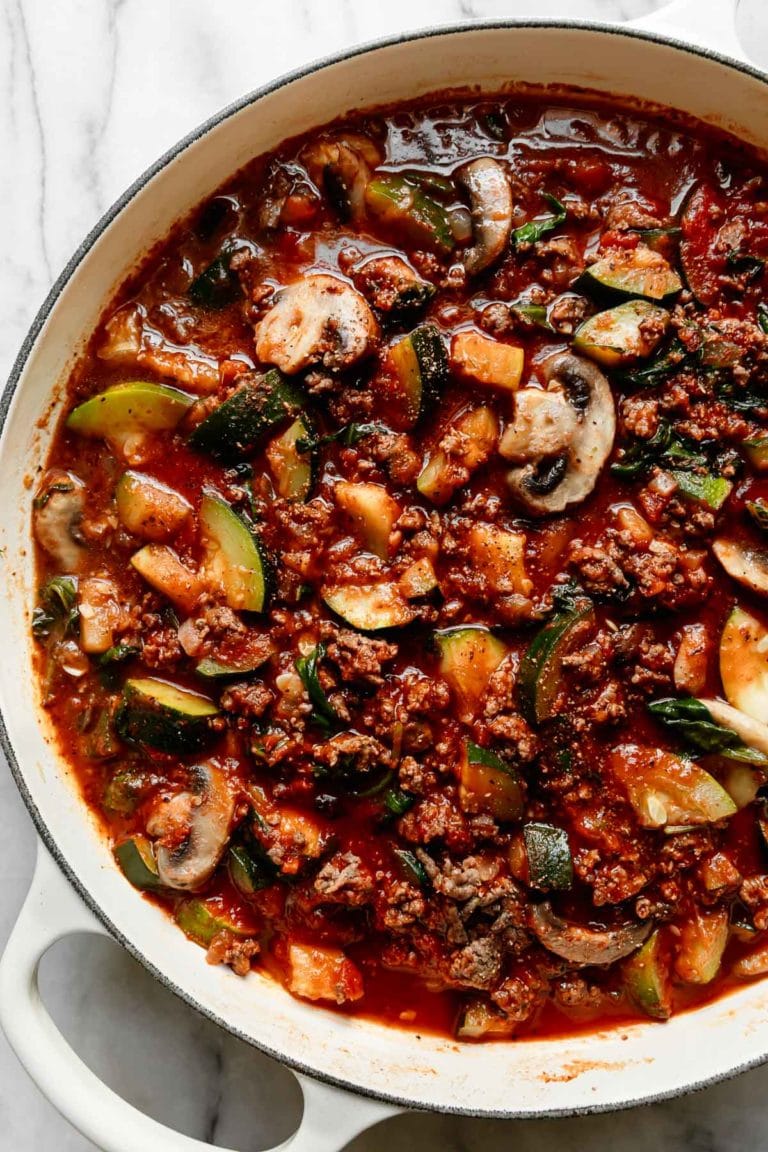 Ingredients to Make This Keto Zucchini Lasagna Recipe
This one-pan keto lasagna is lower in carbohydrates than traditional lasagna, full of nutrients, and is made fresh and delicious ingredients, including:
Ground beef – or use finely diced Italian sausage or ground turkey; we recommend using 93% lean ground beef or ground turkey
Extra-virgin olive oil or avocado oil – our go-to oil staples are Primal Kitchen Organic Extra-Virgin Olive Oil and Primal Kitchen Pure Avocado Oil
Zucchini – you'll need 2 small to medium zucchini or 1 very large zucchini, which will get cut into half-moon shapes. If preferred, you could also slice them into zucchini noodles instead
Mushrooms – use button or cremini mushrooms
Yellow onion – you'll need 1/2 medium yellow onion. Or, white onion can be substituted
Garlic cloves – or you can use 1 teaspoon of garlic powder
Fresh spinach
Fresh basil leaves
Marinara sauce⁠ – you'll need a 24-ounce jar; we like the marinara from Primal Kitchen.
Balsamic vinegar – we love this Organic Balsamic Vinegar of Modena
Mozzarella cheese
Cottage cheese – this replaces ricotta cheese, keeping the same taste and texture while adding a boost of extra protein and reducing the saturated fat. It's also an excellent source of calcium. You can use full-fat or 2% fat cottage cheese
Parmesan cheese
Find the ingredient list with exact measurements in the recipe card below.⁠
Ingredient Spotlight: Zucchini
Every summer, we seem to have more zucchini than we know what to do with. So, we're always looking for unique ways to use it up with recipes like our Healthy Gluten-Free Zucchini Bread, Italian Turkey Zucchini Meatballs, and this Zucchini Lasagna Recipe. Not only is this fruit (yes, it's a fruit!) super versatile, but it has a wide variety of health benefits, too! For example, zucchini:
Is an excellent source of

vitamin A

,

vitamin C

, and vitamin K.

Is rich in

potassium

, magnesium, and folate.

Contains both soluble and insoluble fiber to support healthy digestion.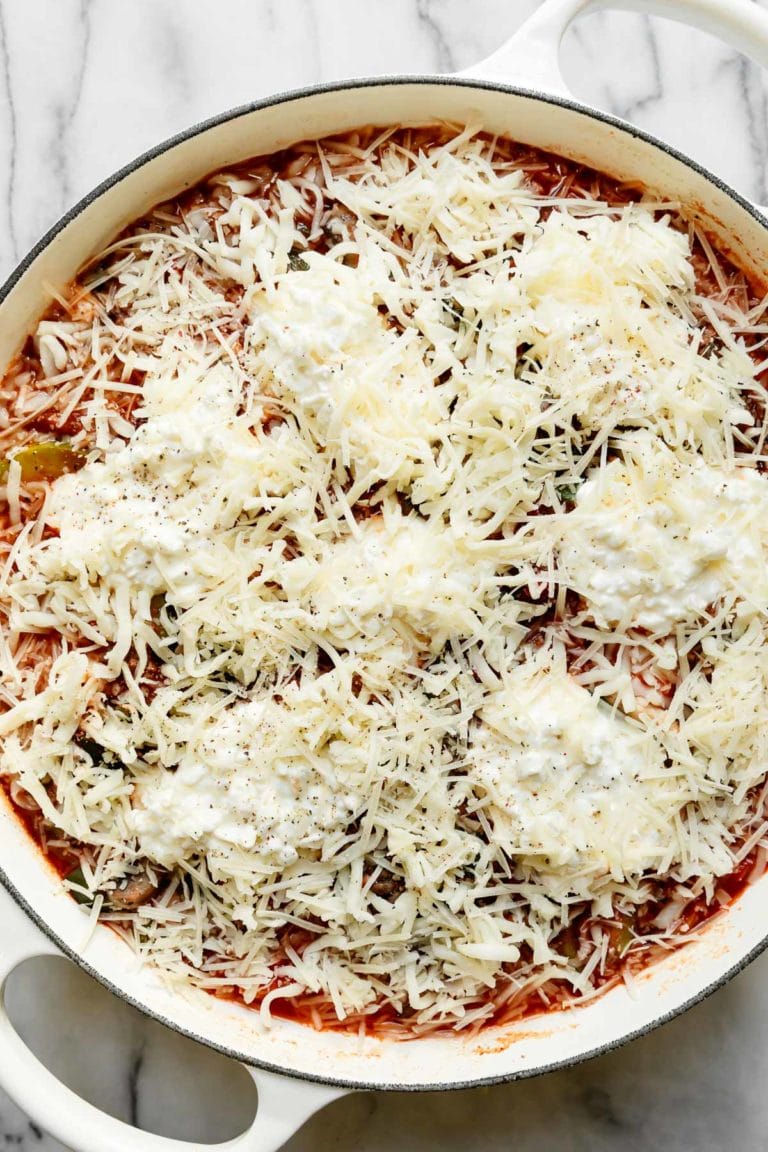 How To Make Zucchini Lasagna With No Noodles
Here are the steps to make this easy zucchini lasagna recipe in just one large skillet:
Cook the beef. In a deep skillet over medium-high heat, add the ground beef and seasonings. Cook until the beef is no longer pink, breaking it up with a wooden spoon. Transfer the cooked beef to a paper towel-lined plate.
Sauté the vegetables. Wipe out the skillet with a clean paper towel, and heat a drizzle of olive oil. Once hot, add the zucchini slices, mushrooms, onion, garlic, and a dash of salt and black pepper. Sauté until the onions are translucent and the zucchini is tender. Stir in the spinach and basil, and sauté for another few minutes.
Combine the ingredients. Stir in the marinara sauce, balsamic vinegar, cooked beef, and 1/2 cup Mozzarella cheese. Dollop the cottage cheese evenly on top, and let the mixture cook uncovered over low heat.
Add the cheese. Add the remaining Mozzarella and Parmesan cheese mixture. Cover the skillet, and continue to cook until the cheese is melted. Or, preheat the broiler, and place the skillet under it until the cheese is melted and slightly golden brown. To prevent any spilling, place the skillet on top of a baking sheet before transferring it to the oven.
Rest and serve. Remove the skillet from the heat, and let the lasagna rest before serving. Garnish with basil, additional Parmesan, and crushed red pepper flakes, and serve warm with a slotted spoon.
Don't rush the resting time. The mixture will appear a bit watery once it is cooked. This is normal! It will thicken up once it cools and sets. Therefore, allowing your zucchini lasagna recipe to rest for at least 10-20 minutes is a crucial step.
How To Prep Zucchini Lasagna Ahead
If you have a few extra minutes on the weekend, you can make weeknights even easier by prepping some ingredients ahead of time. This recipe works especially well, as several of the components can be done a few days in advance. To do so:
Brown the ground beef, combine the meat sauce and refrigerate it in a covered container.
Chop the zucchini, mushrooms, onion, and garlic, and refrigerate the veggies together in a covered container. To make the process really quick, use a mandolin or vegetable slicer to prepare the zucchini.
With these ingredients prepped and ready to go, you'll be all set for a busy weeknight. You can start on Step 2 of the recipe below, and from there the whole thing will come together in about 25 minutes.
Serving Suggestions
This zucchini lasagna recipe makes for a great meal on its own, but it also pairs wonderfully with all your favorite sides. To satisfy a hungry crowd, pair this lasagna with options like our: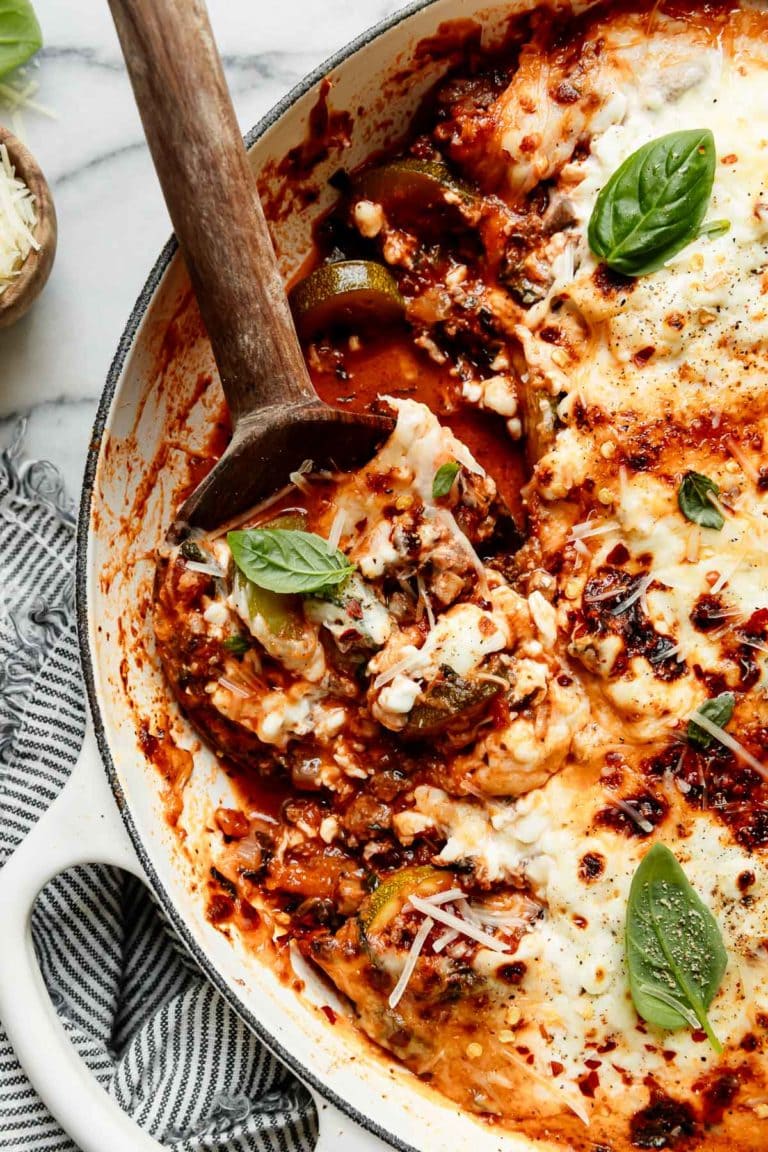 Frequently Asked Questions
How do you keep zucchini lasagna from getting watery?
No one likes watery lasagna! The best way to prevent this is to slice your zucchini with a sharp knife or mandolin, place it in a medium bowl, and season it with ½ to 1 teaspoon salt or more. Then, set it aside for about 15 minutes. This will draw out any excess moisture, and all you have to do is wipe it off with a paper towel before adding the layer of zucchini to the skillet.
What is the best way to cook zucchini lasagna? 
The best way to cook zucchini lasagna is to arrange the ingredients in a single layer in a large skillet, and let it simmer over medium heat until the vegetables are tender and the cheese has melted.
What is a good sauce for lasagna?
We've been using Primal Kitchen Marinara Sauces for years and highly recommend them. Use code REALFOOD20 for 20% off your complete order. Pasta sauce and tomato sauce can also be used, but you may want to add additional cloves garlic, oregano, and seasonings depending on the ingredients included in the sauce.
How long does this skillet zucchini lasagna recipe last?
Stored in an airtight container, leftovers will stay fresh in the fridge for up to 4 days.
What is the best way to reheat leftovers?
We recommend reheating leftovers in the microwave or warming them in a skillet over medium heat.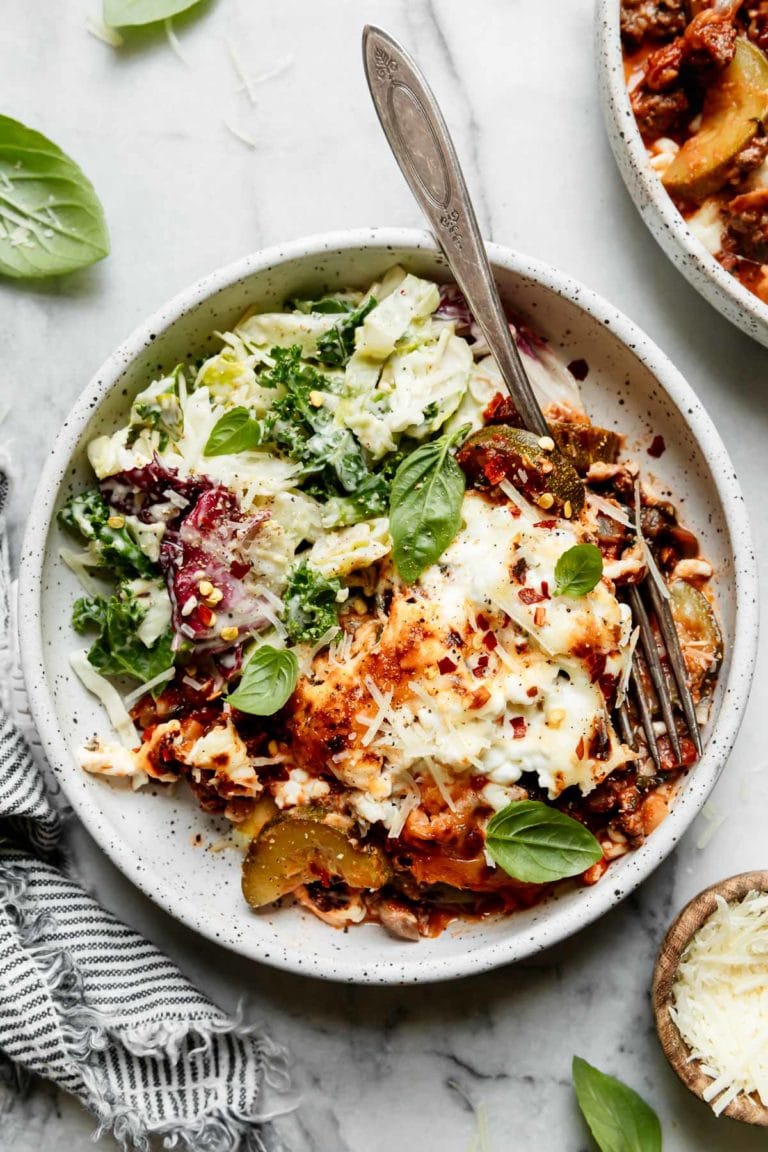 Recipe
Easy One-Skillet Zucchini Lasagna
A delicious weeknight meal the whole family will love. This Zucchini Lasagna Recipe mixes seasoned ground beef, veggies, greens, and three kinds of cheese for a noodle-less, quick, one-pan weeknight lasagna.
Prep:
15 minutes
Cook:
30 minutes
Total:
45 minutes
Ingredients
1

pound ground beef or ground turkey (we recommend 93/7)

1 ½ teaspoons

Italian seasoning

½ teaspoon

fine salt

¼ teaspoon

black pepper

2

medium zucchini, cut into

¼

-inch round slices, then halved or quartered⁠ (4 cups) 

2 cups

diced mushrooms

1 cup

diced yellow onion (1/2 medium onion)

4

garlic cloves, minced⁠

2 cups

packed fresh spinach


¼ cup

fresh basil leaves, roughly chopped⁠

1

(24-ounce) jar marinara sauce⁠

1 tablespoon

balsamic vinegar 

1 cup

shredded mozzarella cheese, divided


1 cup

cottage cheese (full fat or 2%)

1/2 cup

shredded Parmesan cheese⁠

Fine salt and pepper to taste
Optional garnishes: Crushed red pepper flakes, additional Parmesan, and/or roughly chopped fresh basil leaves
In a deep skillet over medium-high heat, add ground beef, Italian seasoning, salt, and pepper. Cook, breaking up with a wooden spoon until beef is no longer pink. Remove beef from skillet to a plate lined with a paper towel.⁠

Wipe out the same skillet with a paper towel and add a little olive oil. Once hot, add the zucchini, mushrooms, onion, garlic, and a dash of salt and pepper. Sauté until onions are translucent and zucchini is tender; 7-9 minutes.

Stir in the spinach and basil; sauté for another 2 minutes.

Stir in the marinara sauce, balsamic vinegar, cooked ground beef, and 1/2 cup of mozzarella cheese.

Next, dollop the cottage cheese evenly over top. Let cook on a low simmer, uncovered, for about 10 minutes.

Top with the remaining 1/2 cup mozzarella cheese and the Parmesan; cover skillet and continue to cook for another 3-5 minutes or until the cheese is melted. Alternatively, you can place the skillet under the oven broiler until the cheese is melted and slightly browned; about 2 minutes.

Remove skillet from heat and let set for about 10 minutes, uncovered, before serving. 

Garnish with basil, additional Parmesan, and crushed red pepper flakes, if desired. Serve with a slotted spoon.
Last Step! Please leave a review and rating letting us know how you liked this recipe! This helps our business thrive so we can continue providing free recipes and high-quality content for you.
Notes
There will be some liquid at the bottom of the skillet, depending on how much water was released from the vegetables and the thickness of the marinara sauce you used. This is normal and fine. For this reason, serve scoops of the lasagna with a slotted spoon. Or, you could remove some of the liquid with a spoon or turkey baster, if you'd like. The water does not diminish the flavor or thickness of the dish.
Store leftovers in a covered container in the refrigerator for up to 4 days.
Nutrition Information
Serving Size:

1/6 of recipe

Calories:

322

Fat:

13 g

(Sat Fat:

5 g

)
Sodium:

854 mg

Carbohydrate:

20 g

(Fiber:

4 g

Sugar:

12 g

)
Protein:

32 g

Cholesterol:

78 mg
Dietary
Pin Now to Make It Later!
---
Photo Credit: The photos in this blog post were taken by Jess of Plays Well with Butter.
For ultimate success, we highly recommend reading the tips in the full blog post above. All photos and content are copyright protected. Please do not use our photos without prior written permission. If you wish to republish a recipe, please rewrite the recipe in your own unique words. Link back to the source recipe here on The Real Food Dietitians. Thank you!