This boneless grilled pork loin is coated with delicious spices and sweet brown sugar. When cooked directly on the grill grates, the grilled pork recipe turns out unbelievably tender and juicy every time. Pair it with your favorite side dishes for a family-friendly meal that's perfect for weeknight dinners or weekend cookouts with friends.
This post was created in partnership with the Minnesota Pork Board.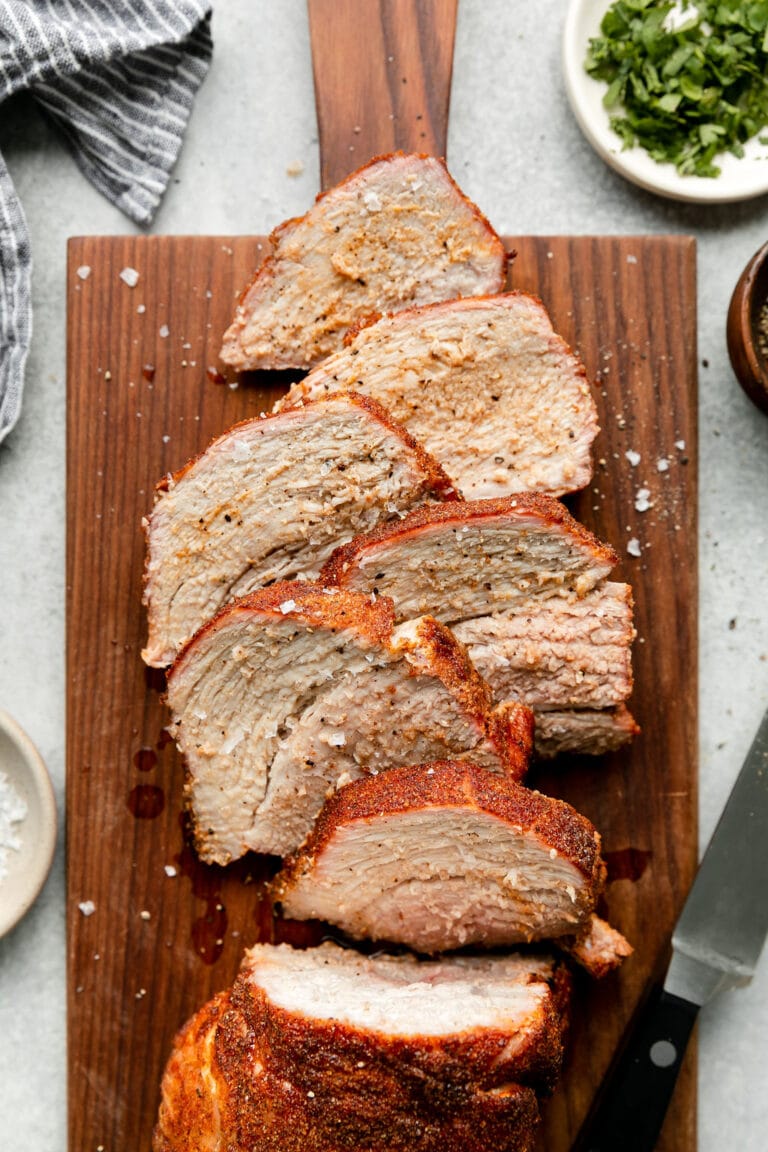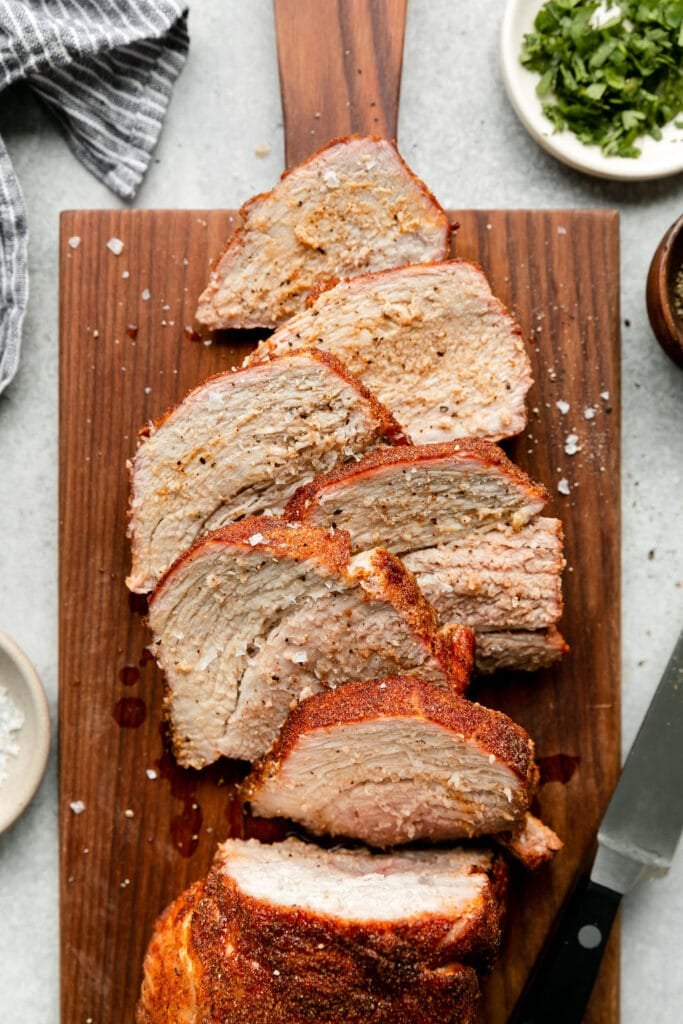 Recipe Highlights: Grilled Pork Loin
If you've never tried grilled pork, it's sure to become a new staple in your summer lineup because:
It requires little prep time, has a total cook time around 45 minutes, and a start-to-finish total time of less than an hour

The rub uses just a handful of everyday pantry ingredients

With this easy method, the pork turns out mouthwateringly tender every time

This recipe pairs well with some many favorite salads and sides
Pork Loin Like You've Never Had It Before
We love to incorporate pork recipes in our healthy meal plans for the week. Lean cuts of pork are an excellent source of high-quality protein, have no carbohydrates, no artificial trans fat, and contain a variety of vitamins and minerals including thiamine, zinc, vitamin B6, vitamin B12, and iron. Also, pork loin is often cheaper than other cuts. For these reasons, we make a point to include it in our regular dinner rotation, and this grilled pork loin is one of our favorite grilling recipes when the weather gets warm.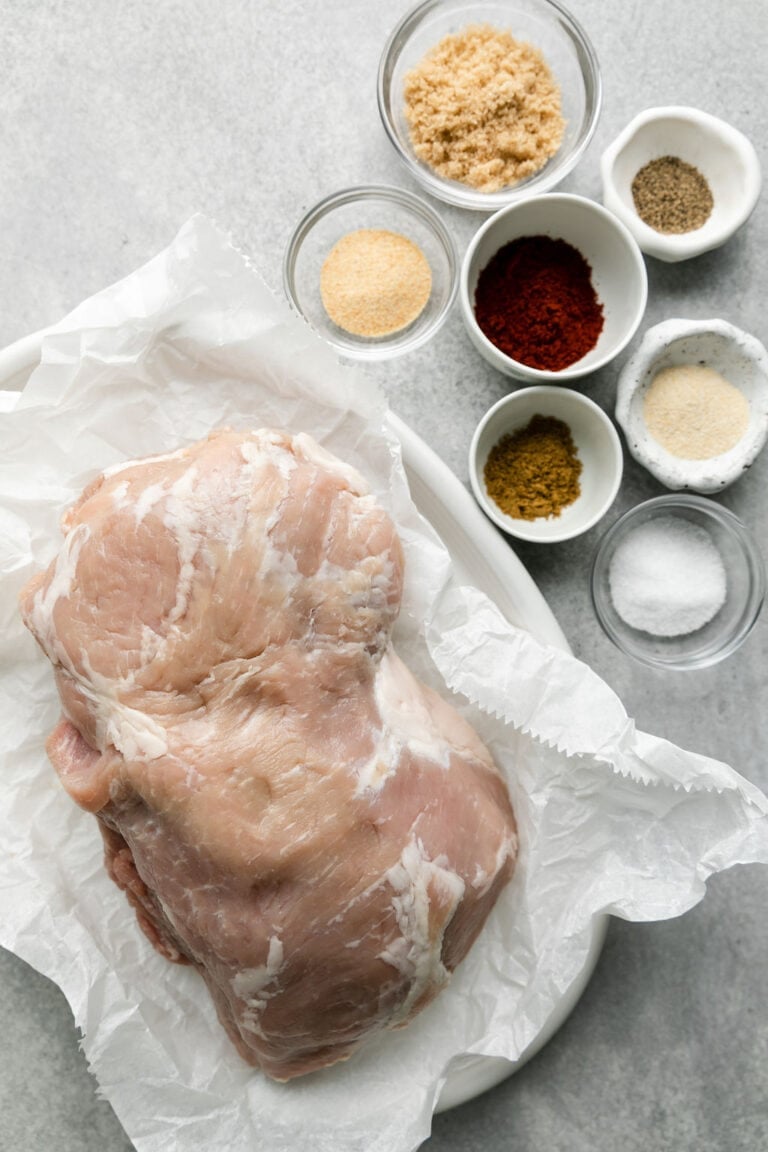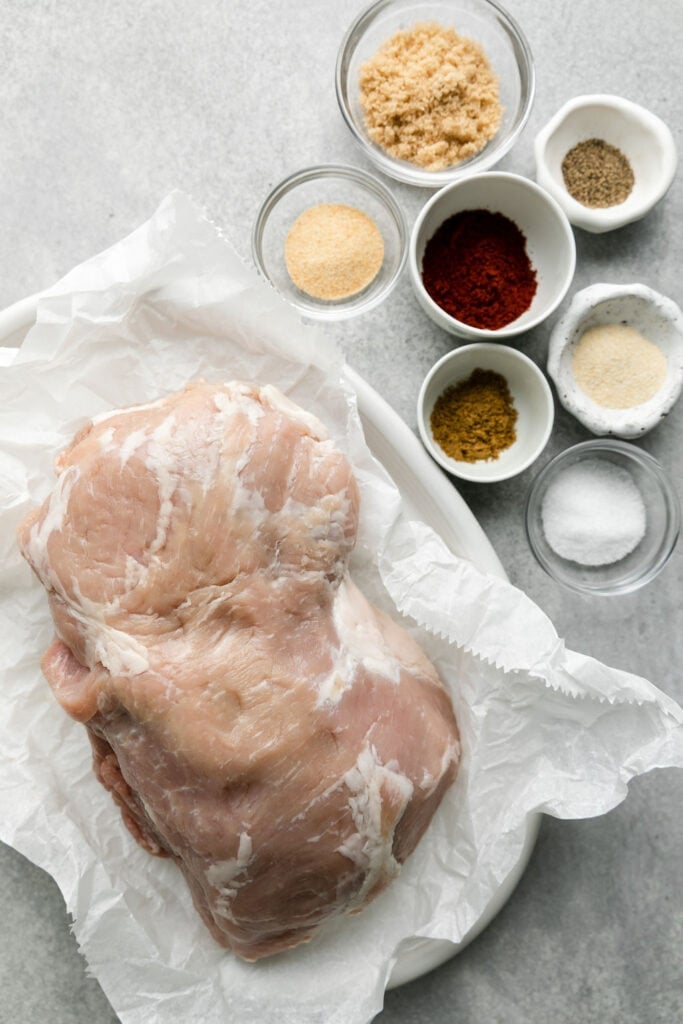 Ingredients To Make Grilled Pork Loin
The best pork recipe for feeding a crowd, this grilled pork loin requires just a few basic ingredients. Here's everything you need to make it today:
Boneless pork loin roast – Not to be confused with pork tenderloin, a rolled butt, or picnic shoulder, pork loin is a whole muscle cut that is uniform in shape and is 3-4" thick and 5-6" wide. Sometimes it's tied with butcher twine or encased in a netting, other times it's not. The twine or netting are meant to be left in place during cooking and removed before serving.
Brown sugar – may sub coconut sugar
Smoked paprika – may sub regular paprika
Garlic powder
Onion powder
Ground cumin
Fine salt
Black pepper
Find the ingredient list with exact measurements in the recipe card below.
Pork Facts You Should Know
In the past 6 decades pork production has improved by using 75% less land, 25% less water, 7% less energy, and 8% fewer carbon emissions
Minnesota pig farmers are committed to doing what is right for pigs, people, and the planet
Lean cuts of pork like tenderloin and pork chop are an ideal addition to active lifestyles because they're as lean as boneless, skinless chicken breast and are rich in protein, vitamins, and minerals
All cuts of pork are an excellent protein source, containing all nine essential amino acids, as well as many important B vitamins
Switch Up the Flavor
Pork is an extremely versatile protein source and can be flavored with a wide variety of seasonings and sauces. Give it a try with our Ultimate BBQ Rub or any of these 5 Easy Pork Marinades. If you choose to marinate the pork, we recommend letting it soak in the fridge overnight to get the most marinated flavor.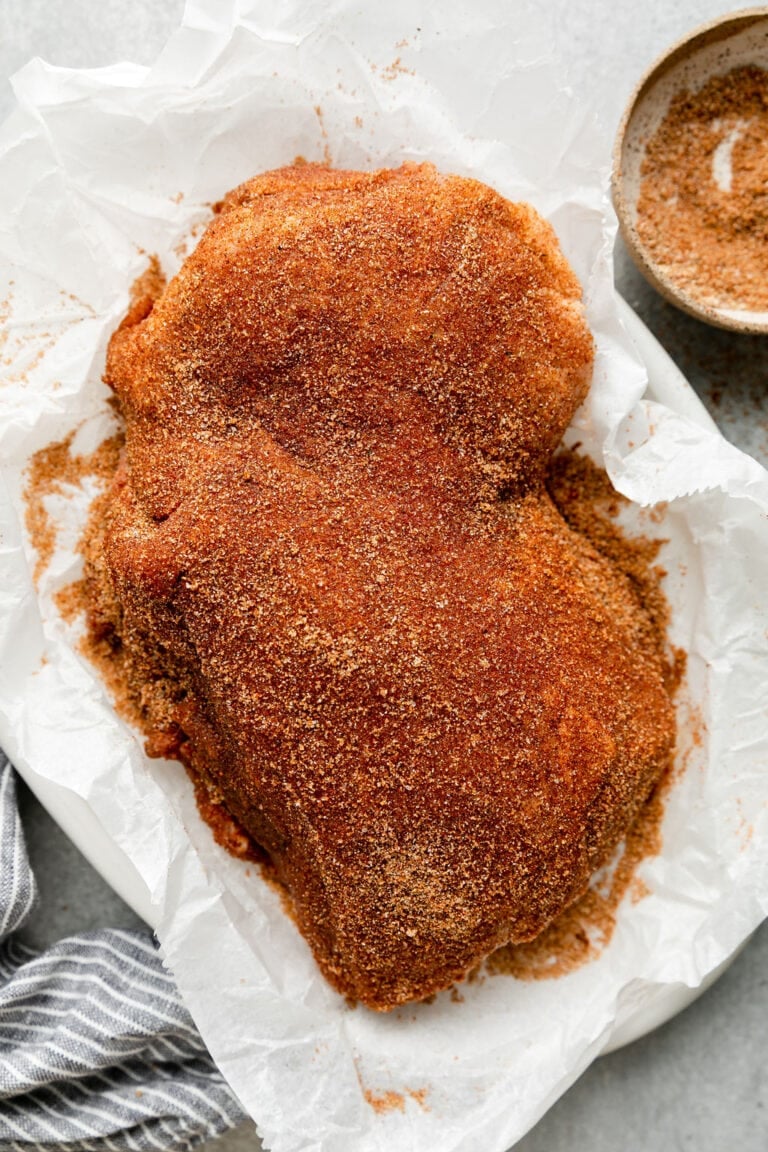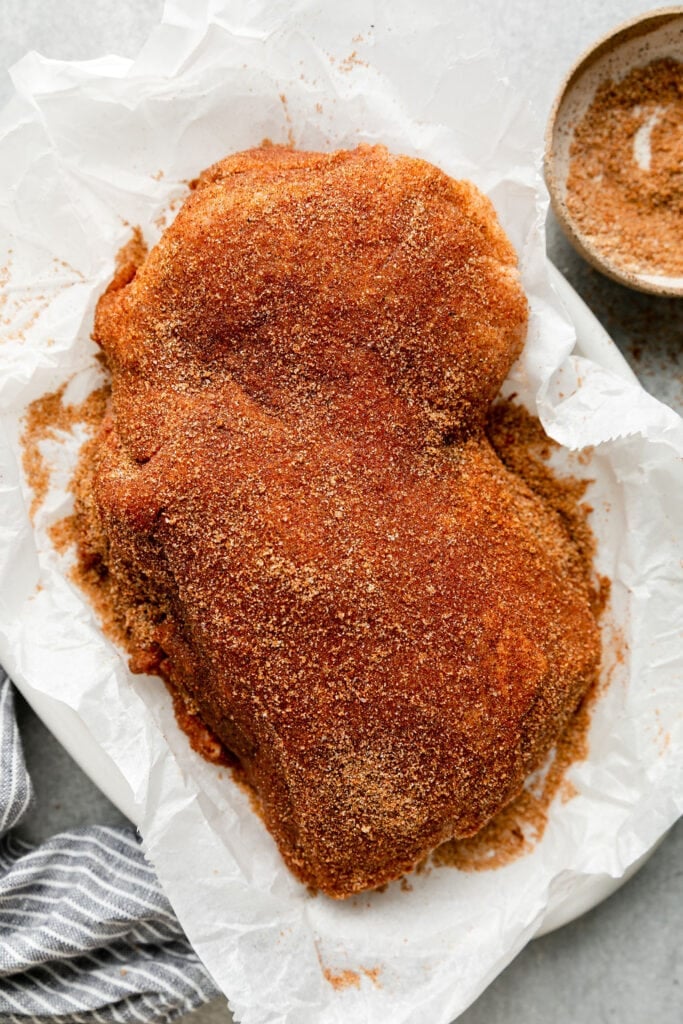 How to Make the Best Grilled Pork Loin Recipe
Here are the steps to make the perfect pork loin on a charcoal grill or gas grill:
Preheat: Set the grill to medium-high heat before you begin.
Combine the dry rub: Whisk all the ingredients for the spice rub together in a small bowl.
Season the pork: Use paper towels to pat the pork loin dry. Sprinkle the spice mixture all over, rubbing it into the surface of the meat with your fingers.
Cook the roast: Place the pork on the grill grates over indirect heat, and cook until an instant read thermometer can be inserted into the thickest part of the meat and shows that the internal temperature has reached 145℉.
Rest the pork: Transfer the pork to a plate, and cover it loosely with foil. Allow it to rest for at least 10 minutes before slicing and serving.
For the complete directions and ingredient amounts, scroll down to the recipe card below. All of our recipes include complete nutrition information, listing calories, protein, carbohydrates, fiber, sugar, sodium, cholesterol, and more per serving.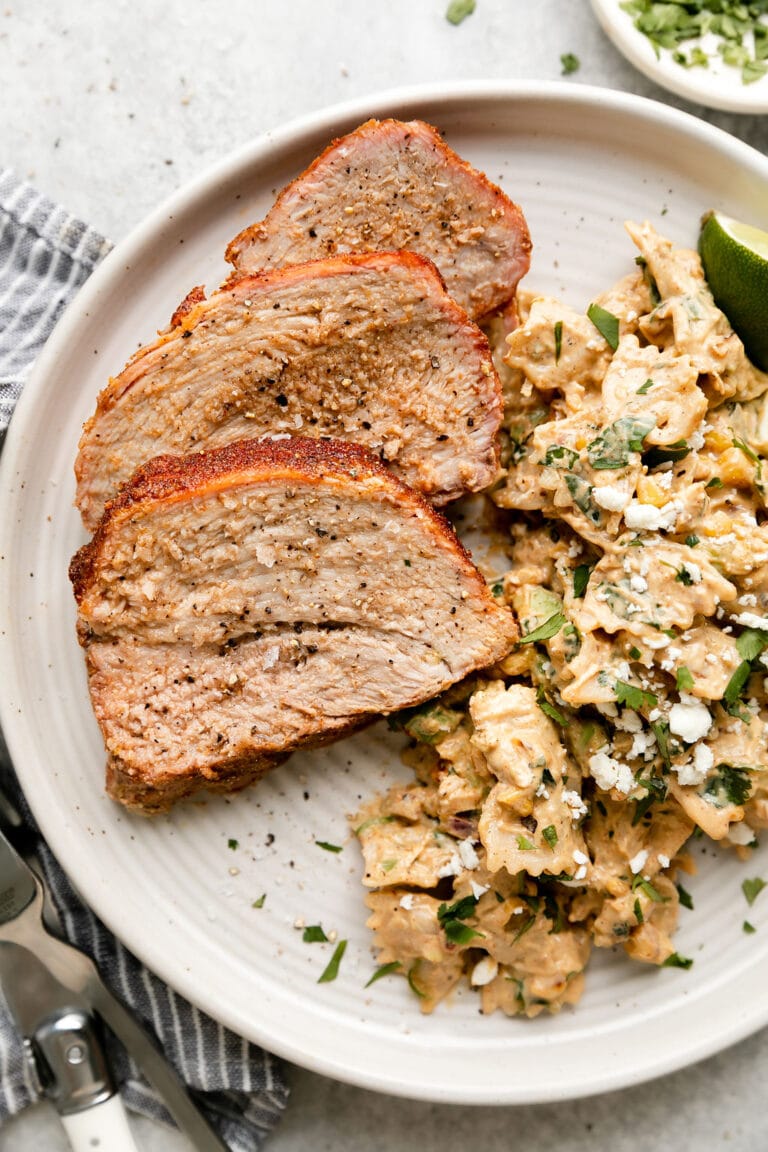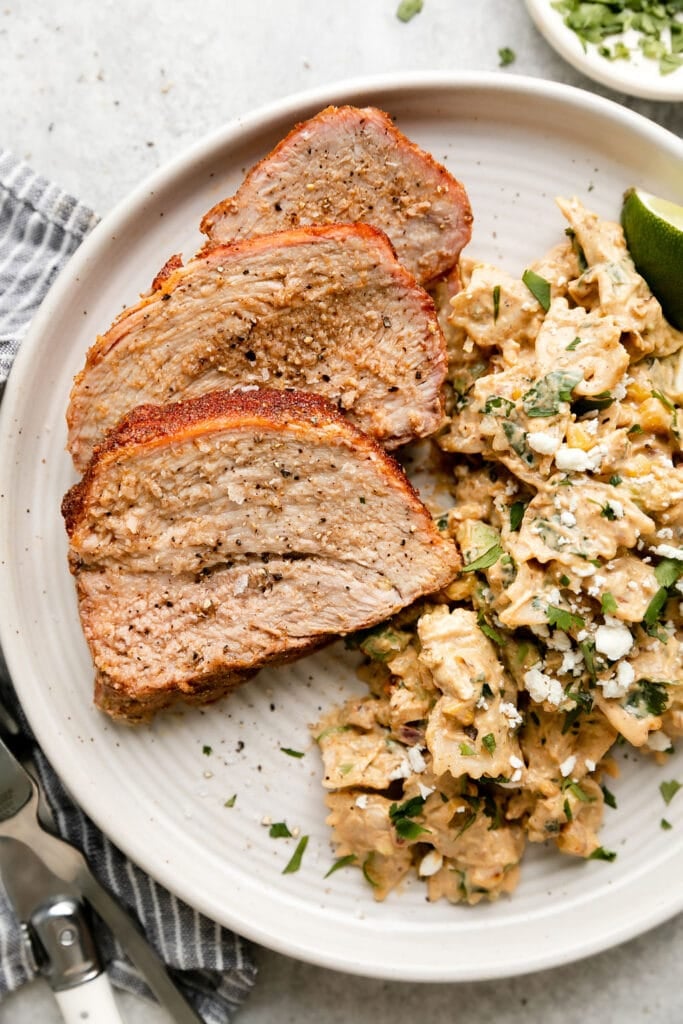 What To Serve With Grilled Pork Loin
For a complete meal, pair this grilled pork with a side dish or two. Some of our favorite side dishes for pairing with grilled pork are:
Frequently Asked Questions
What temperature is grilled pork loin done?
Grilled pork loin is done when a meat thermometer shows that the internal temperature reaches 145℉ when inserted into the thickest part of the roast.
How do you cook a pork loin without drying it out?
To prevent your pork from becoming dry, be sure not to cook it over direct heat, and set it aside to rest after it has been removed from the grill. In addition, soaking it in a marinade can help add extra moisture and keep it juicy. Citrus juices, such as vitamin C-rich orange juice or grapefruit juice, are particularly useful as the acidity helps tenderize the meat while adding bold flavor.
How do you keep pork moist on the grill?
Keep your pork away from direct heat. You can also baste it with marinade as it cooks to add extra moisture. Or, coat it with a brine made of water and kosher salt.
What can I do with leftover pork?
Leftovers store well to enjoy within 4 days. Or, you can shred the meat to pieces, toss it with your favorite bbq sauce, Dijon mustard, or dipping sauce, and serve it between buns as a sandwich or stuffed into sweet potatoes.
Is pork loin high in cholesterol?
Pork loin is one of the leanest sources of pork and has less cholesterol than fattier cuts of pork, such as sausage or bacon.
Do I have to sear my pork loin before cooking?
No, it is helpful to sear smaller cuts like pork tenderloin, flipping them over with tongs to prevent them from drying out, but it is not necessary to sear a pork loin before grilling it.
Do I need to oil the grates on my grill?
If your grill is new, it's a good idea to brush a bit of olive oil over the grates to prevent the pork from sticking.
What is silverskin?
Silverskin is a tough connective tissue sometimes found in pork tenderloin. Unlike other connective tissues, it does not melt during the cooking process and should be removed from the pork before cooking or eating.
How long does this recipe last?
Grilled pork loin lasts up to 4 days when stored in an airtight container in the fridge.
Can I freeze leftovers?
Yes, this cooked pork recipe can be frozen for up to 3 months.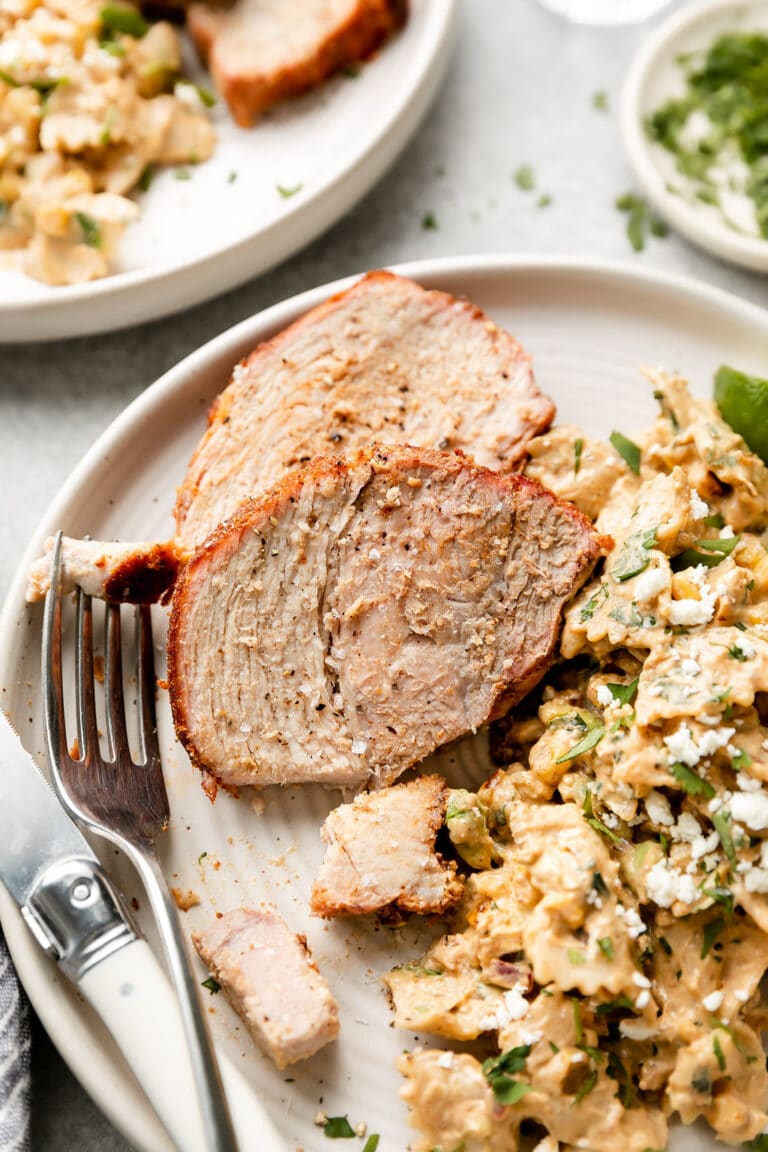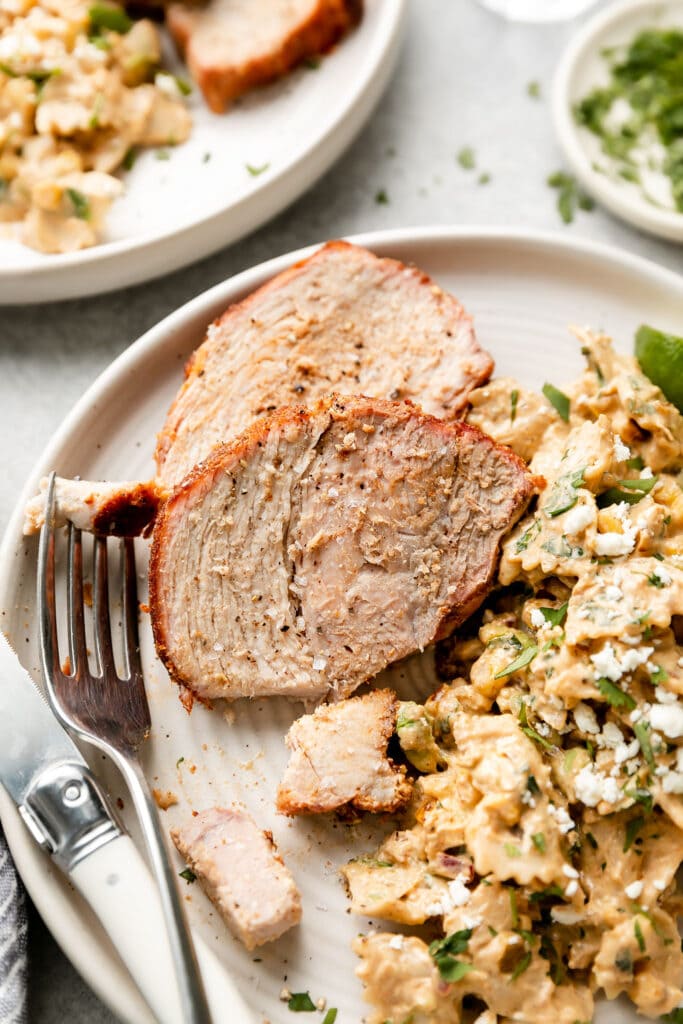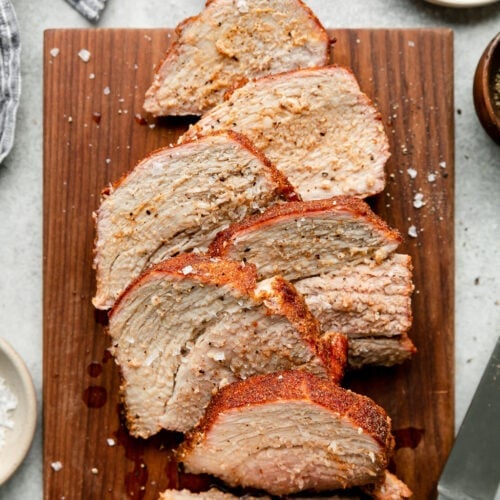 Recipe
The Best Grilled Pork Loin (With Easy Rub)
A fail-proof method for making the most tender and delicious grilled pork loin. Includes a simple and flavorful dry rub made from everyday pantry spices and provides sweet and smoky grilled pork. This will become your go-to recipe for grilled pork loin that tastes great!
Prep:
10 mins
Cook:
40-45 mins
Total:
50-55 mins
Servings:
6

–

8

(4 ounce cooked portion)

1

x
Ingredients
2

–

2 ¼

lb.

boneless

pork loin

roast (not tenderloin – see note below)

1 tablespoon

brown sugar

¾ teaspoon

smoked

paprika

¾ teaspoon

garlic powder

¾ teaspoon

onion powder

¾ teaspoon

fine salt

½ teaspoon

ground cumin

¼ teaspoon

black pepper
Preheat the grill to 375℉ (

medium-high heat

).

In a

small bowl

, combine the

brown sugar

, smoked

paprika

,

garlic powder

,

onion powder

, salt, cumin, and

black pepper

.

Pat the

pork loin

roast dry with a paper towel. Sprinkle the spice mixture all over the roast, rubbing it into the surface with your fingers. 

Place the roast on the preheated

grill grates

over

indirect heat

and cook for 40-45 minutes or until an

instant read thermometer

(or grill probe thermometer) reads 145℉. 

Remove roast from the oven to a clean plate and cover loosely with foil. Allow the roast to sit for 10 minutes before slicing.
Last Step! Please leave a review and rating letting us know how you liked this recipe! This helps our business thrive so we can continue providing free recipes and high-quality content for you.
Notes
Note about pork loin roast: Boneless pork loin roast is a whole muscle cut that is uniform in shape (not tapered like a tenderloin) and is 3-4" thick and 5-6" wide. It may come wrapped in string but not always. It is NOT a pork tenderloin, rolled butt, or picnic shoulder. Look for "pork loin roast" on the package.
Nutrition Information
Serving Size:

4 oz cooked pork

Calories:

257

Fat:

13 g

(Sat Fat:

4 g

)
Sodium:

293 mg

Carbohydrate:

2 g

(Fiber:

0 g

Sugar:

2 g

)
Protein:

33 g

Cholesterol:

112 mg
Dietary
Pin Now To Make It Later!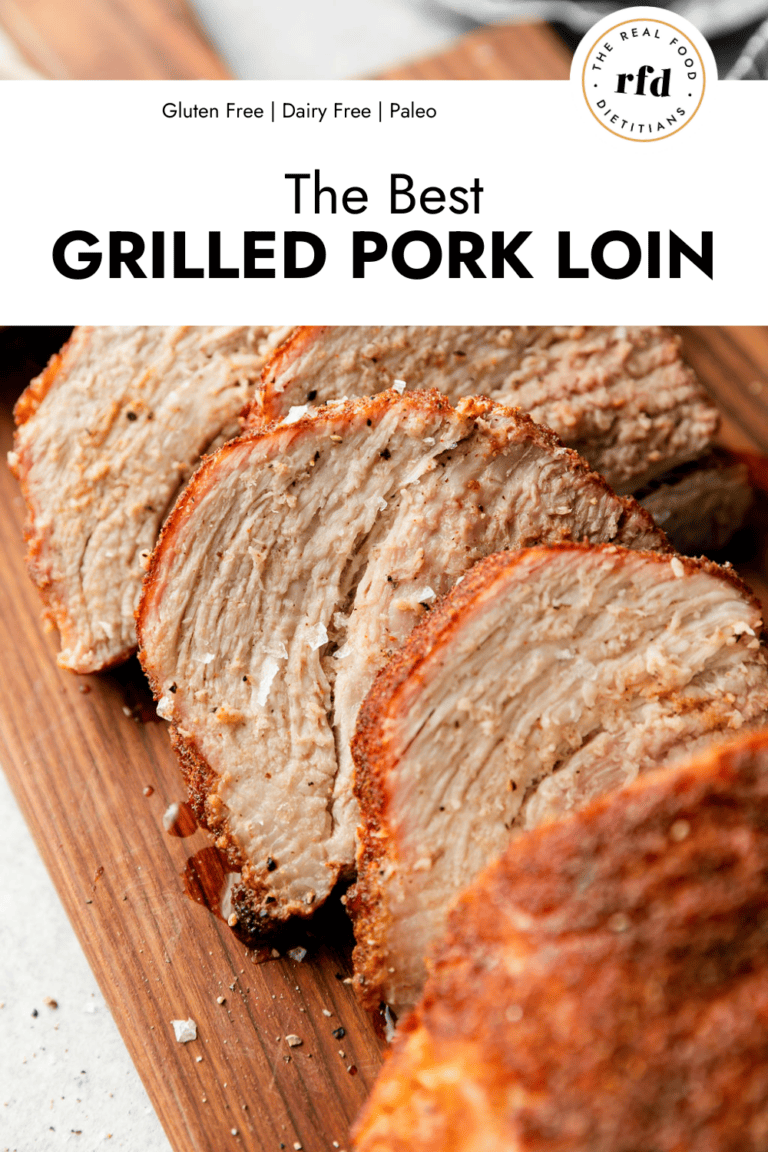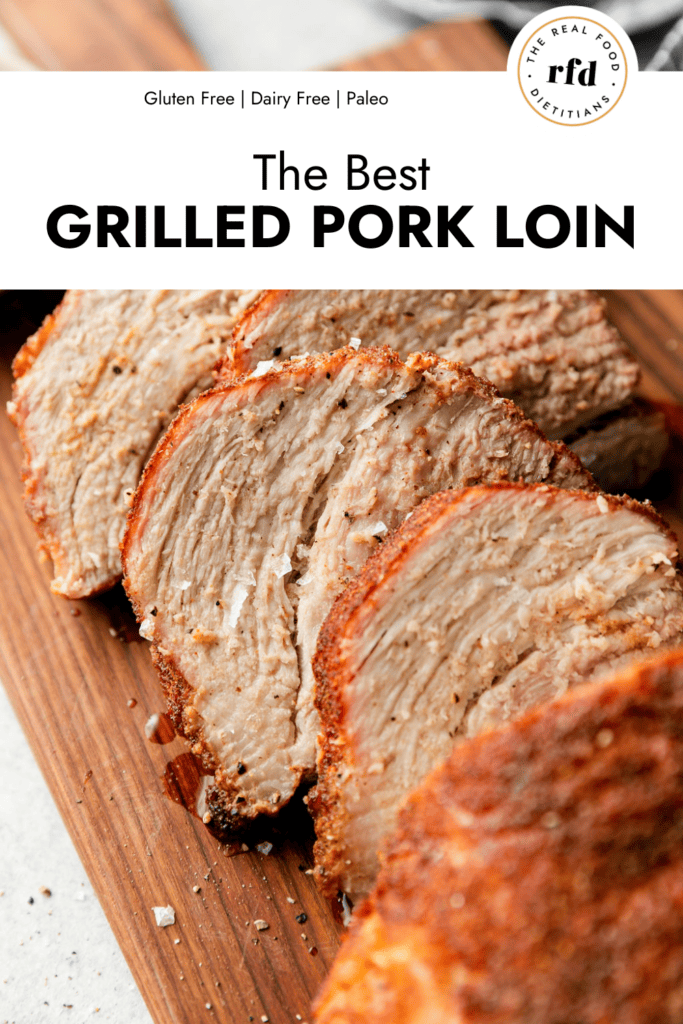 This is a sponsored post. Although we received compensation for this post, the opinions expressed here are – as always – 100% our own. Thank you for supporting the great companies we work with thereby allowing us to continue creating high-quality recipes and content for you.
For ultimate success, we highly recommend reading the tips in the full blog post above. All photos and content are copyright protected. Please do not use our photos without prior written permission. If you wish to republish a recipe, please rewrite the recipe in your own unique words. Link back to the source recipe here on The Real Food Dietitians. Thank you!