If you've never tried a pork burger before, you are in for a treat! Pork burgers are naturally tender and juicy and have a unique savory taste. Switch things up at the grill and serve this flavorful and healthy recipe for a burger like you've never had before! 
This recipe was created in partnership with our friends and farmers at the MN Pork Board.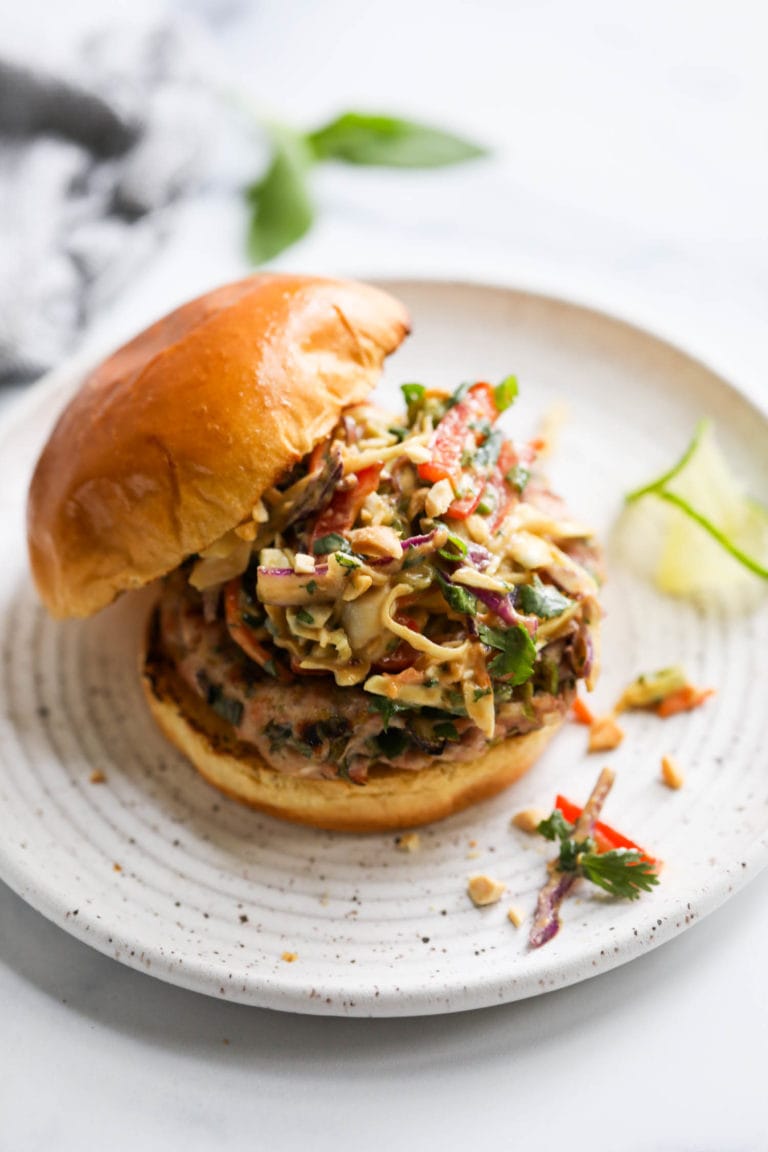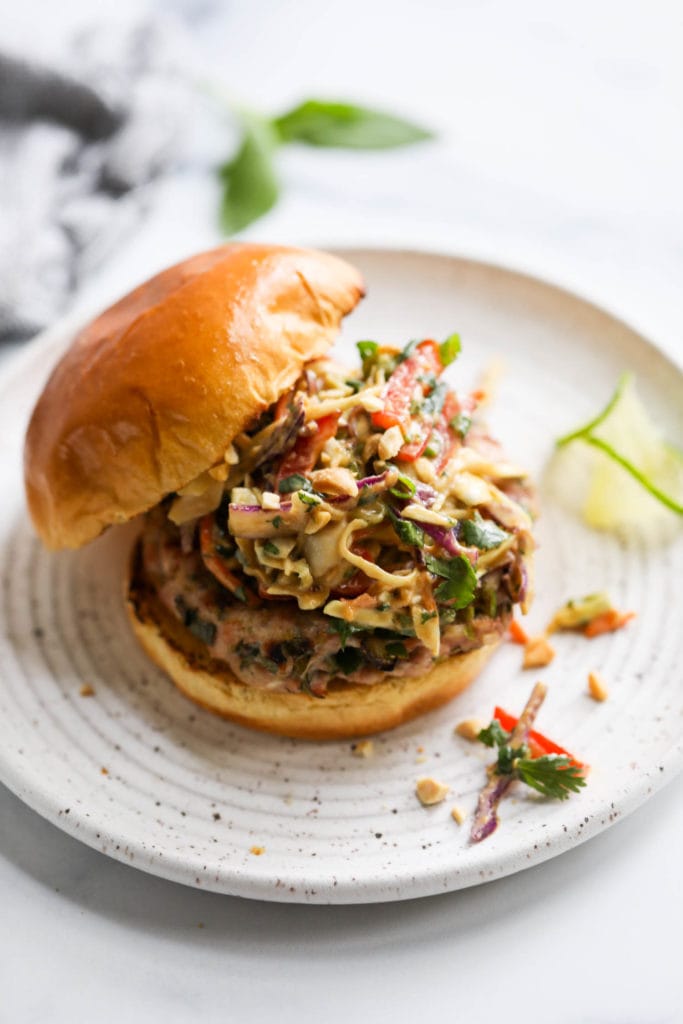 A New Pork Burger Experience You'll Rave About
Lean, unseasoned ground pork is a versatile meat, and you can take the flavor profile in many directions. In this delicious pork burger recipe, we mix ground pork with traditional Thai ingredients, such as ginger, garlic, lime, and the perfect amount of heat from jalapeno and red pepper flakes. 
And plain-old burger toppers like ketchup and cheese will be a distant afterthought once you taste this creamy slaw topping. The slaw is fresh and crunchy with a simple peanut dressing that really makes the pork burgers sing! Our team loved this combination of flavors and textures so much that we've been raving about it ever since we each put it to The Real Food Dietitians test.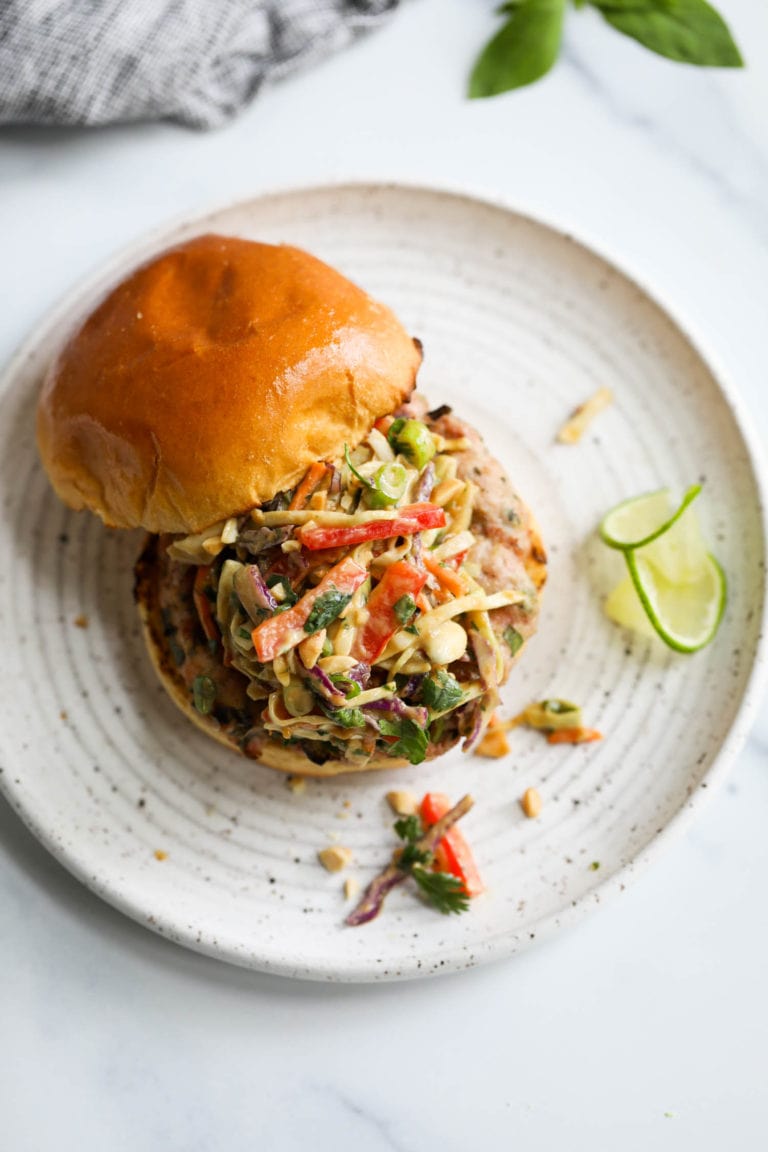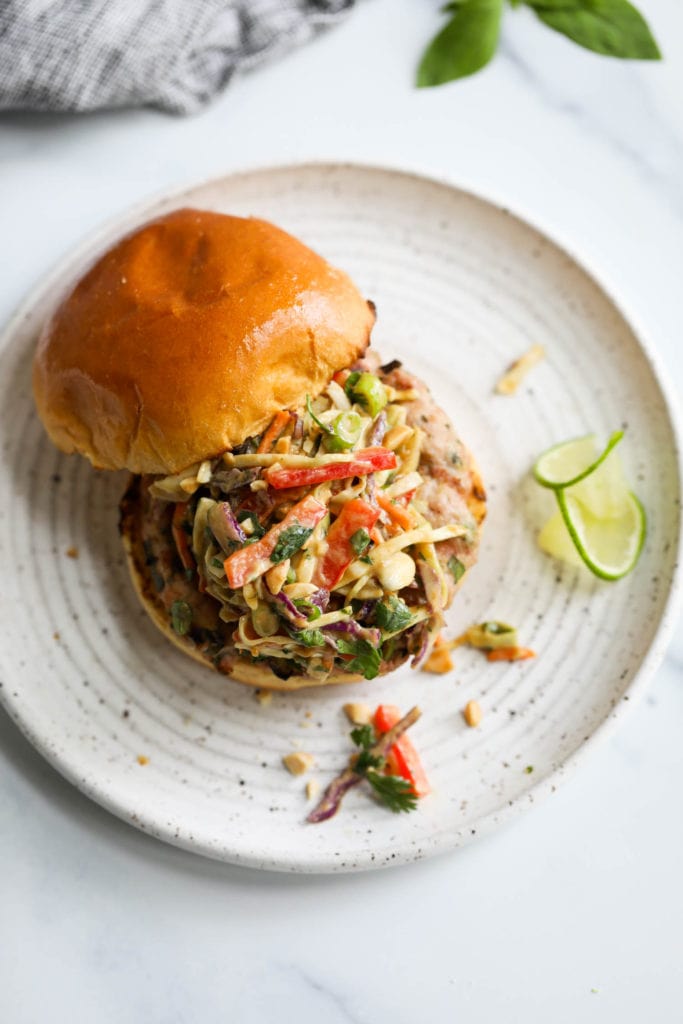 Ingredients to Make Grilled Pork Burgers
This grilled pork burger recipe is loaded with fresh ingredients and flavorful seasonings. 
Unseasoned ground pork
Green onions
Garlic
Jalapeno
Fresh ginger

– or substitute ground ginger

Fresh basil

– or use cilantro or another favorite fresh herb (or a mix)

Coconut aminos

– or fish sauce

Lime

– you'll use both the zest and the juice

Shredded cabbage

– to save time, you can use an undressed coleslaw mix for the cabbage and omit the carrot

Shredded carrot
Red bell pepper 
Chopped nuts

– can use peanuts, almonds, or cashews

Peanut butter

– or use your favorite nut or seed butter, such as almond butter or cashew butter

Toasted sesame oil
Red pepper flakes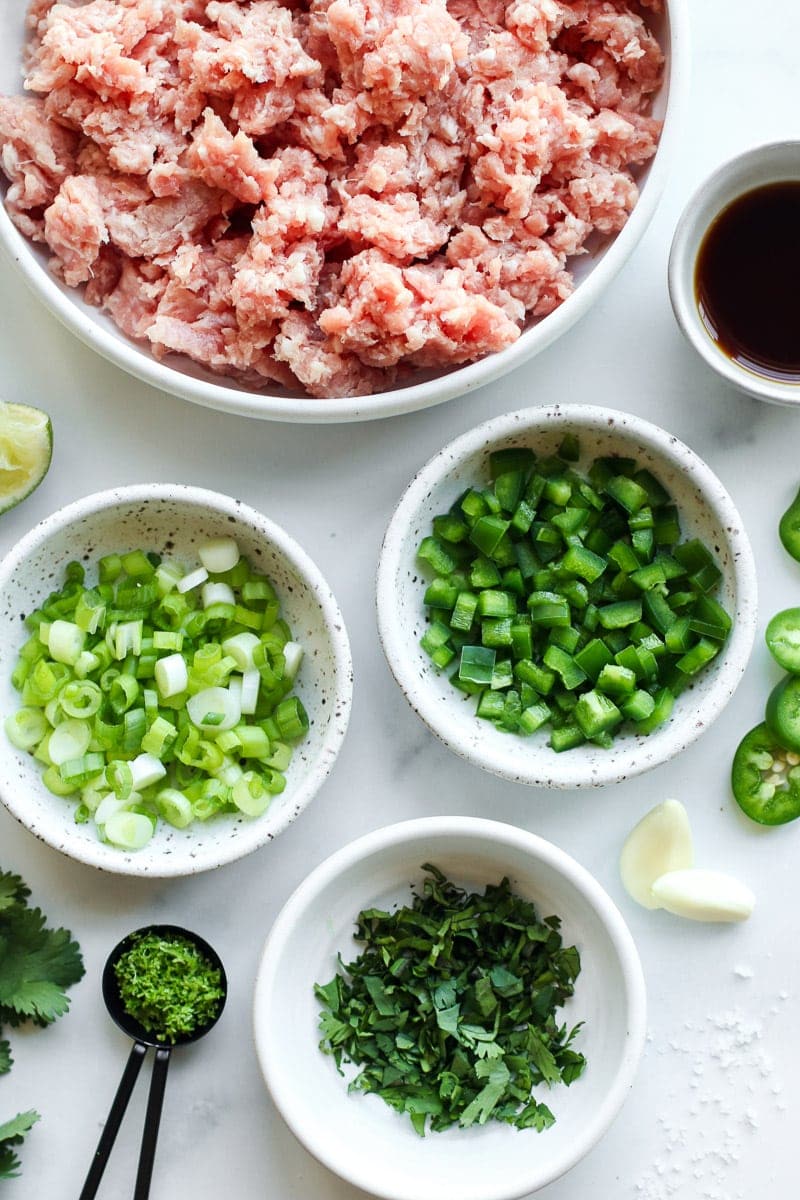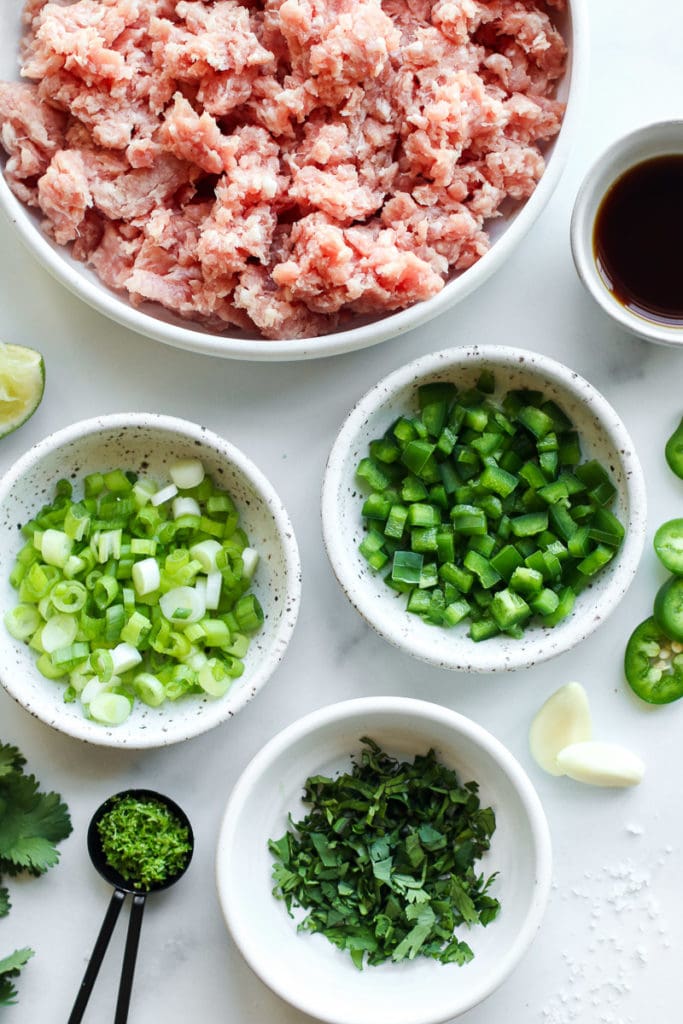 How to Form Perfect Pork Burger Patties 
To make delicious pork burgers, you gotta get your hands involved. Combine all of the pork burger ingredients in a large bowl, and then use your clean hands to mix it all together. When the seasonings are evenly distributed, divide the ground pork mixture into four sections. 
Shape each of the sections into a round and thick patty, about 4 inches across. Use your thumb to form a slight indentation in the center of each patty, which will help the burgers retain their shape on the grill. 
Creamy Thai Slaw is THE Best Topper for Pork Burgers
We thought long and hard about what would be the best topper for these flavorful pork burgers. We knew that a crunchy-peanutty slaw would be very delicious, but even we were surprised by just how DELICIOUS this slaw topping is for pork burgers. The slaw is fresh and makes the perfect complement to the juicy savory pork. There is so much delicious umami flavor going on in each bite that you might not even have time to snap a photo before you gobble up your beautiful burger creation. We also loved the delicious Thai Peanut Slaw leftovers on their own and inside a lunch wrap. We're pretty confident you'll agree that this creamy peanut slaw is one darn good way to top a grilled pork burger.
Pork Burgers are Versatile, Healthy, and Delicious
When it comes to making homemade burger patties, natural ground pork may not be the first meat that comes to mind. But it's an excellent choice to consider for burger night, especially since the flavor is light and versatile, making it an excellent platform for your favorite flavors. Want to experiment with your own pork burger flavors? Here are some classic ingredients that pair well with pork:
Fruit: apples, peaches, cherries, pineapple
Herbs and spices: rosemary, thyme, dill, fennel, paprika
Aromatics: ginger, garlic, clove, cumin 
Starchy vegetables: sweet corn, sweet potatoes, carrots
Heat: chili powder, paprika, spicy mustard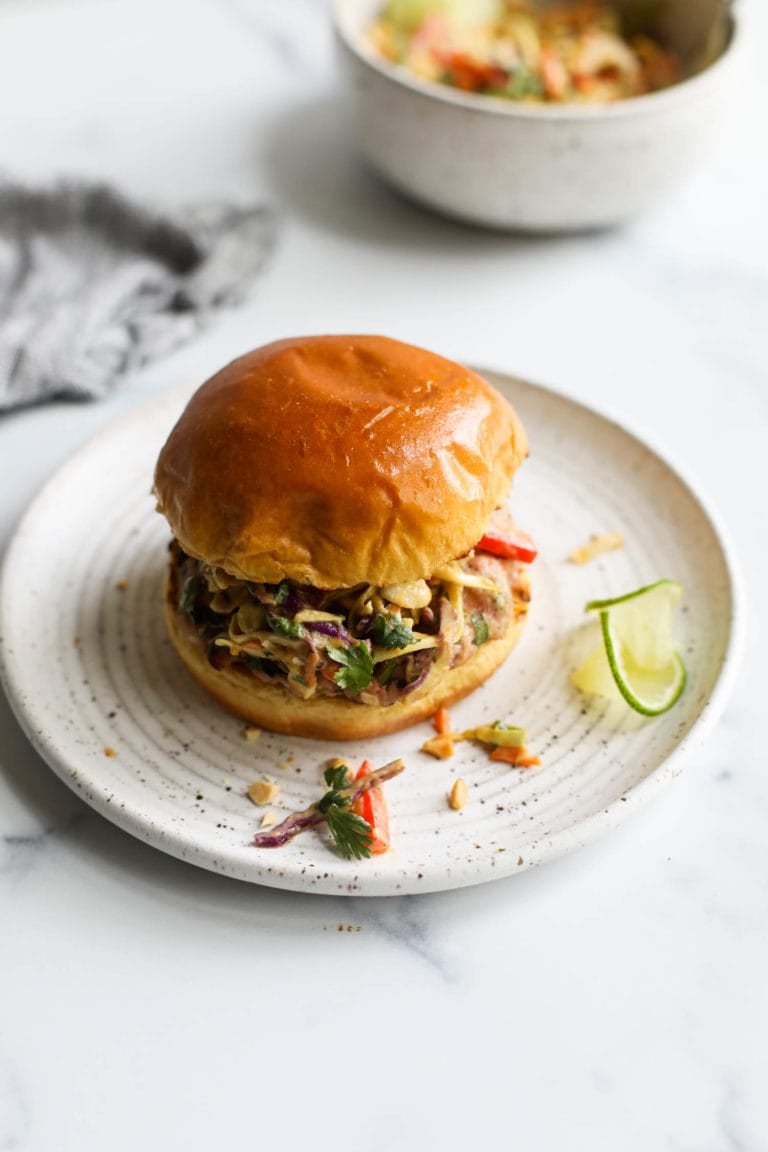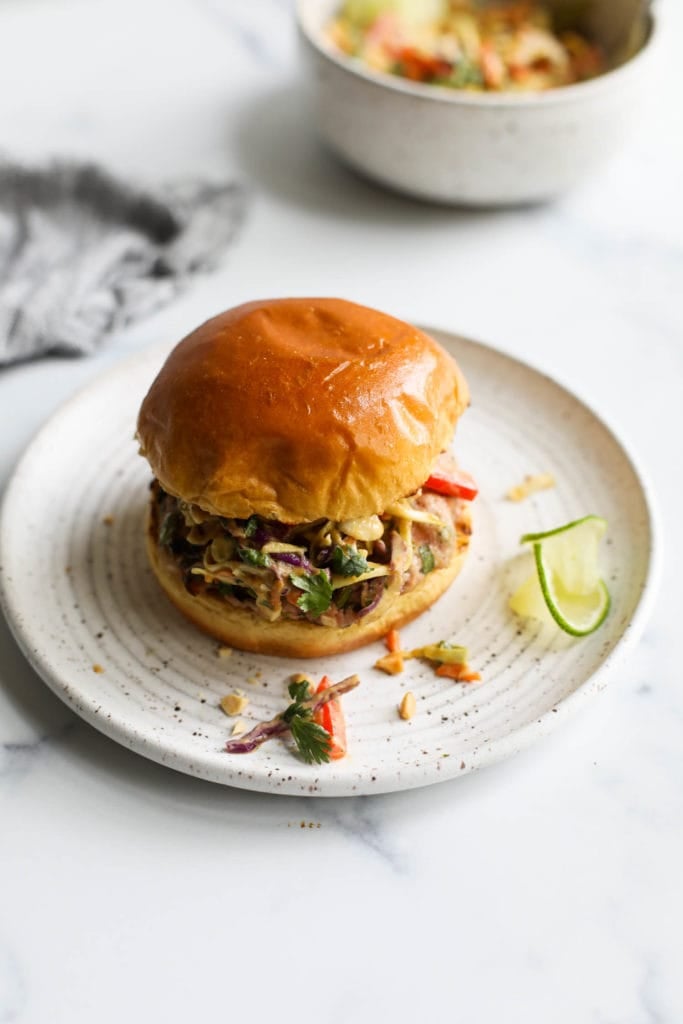 How These Pork Burgers Can Fit In Your Diet
The beautiful thing about a burger is that you can customize it to fit your flavor choices as well as your dietary needs. This recipe for the pork burgers, slaw, and dressing is Whole30 friendly, paleo, gluten free, grain free, and dairy free. 
Gluten-free, Whole30, and Paleo: Omit the bun or use a gluten-free bun or serve the burger in a lettuce wrap
Peanut-free: Omit the peanuts and peanut butter and use almonds + almond butter or cashews + cashew butter instead
Nut-free: Omit the nuts in the slaw and replace with 1 teaspoon sesame seeds; omit the nut butter and use sunflower seed butter or another seed butter of choice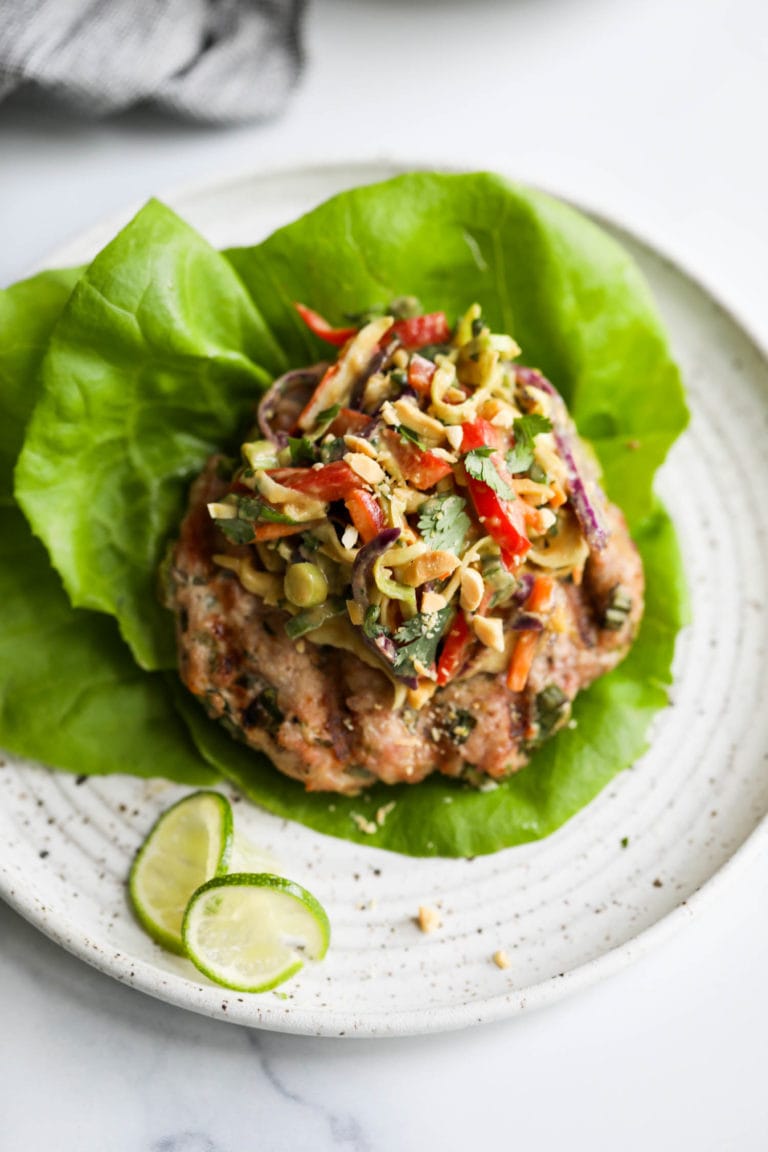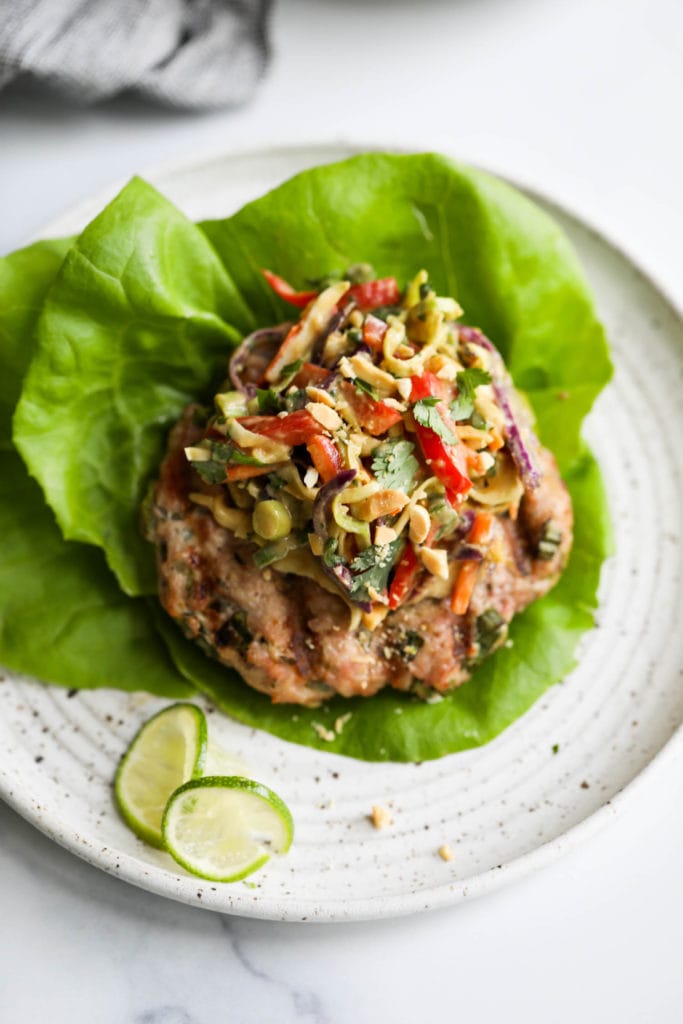 The Right Temperature for Grilled Pork Burgers: Grill Pork Burgers to 160°
Use a meat thermometer to check the temperature of grilled ground pork burgers, making sure the burgers reach 160° F. While large muscle cuts of pork (such as chops and tenderloin) need to be cooked to just 145° F, all types of ground meat, including beef, venison, turkey, and pork, should be cooked to 160°.
Can You Make Pork Burgers Ahead?
Yes, you can make all the components of this grilled pork burger recipe several hours or up to one day ahead to really expedite your delicious grilled meal. To do so, combine all of the pork burger ingredients, form them into patties and store the uncooked shaped patties on a covered plate in the refrigerator. You can combine all of the dressing ingredients in a small bowl, then cover and refrigerate. And combine the slaw ingredients in a covered bowl and refrigerate, as well. Then, toss the slaw and dressing together while the pork burgers are on the grill.  
Do you love this pork burger as much as we do? Please leave a rating and review in the comments after you make it!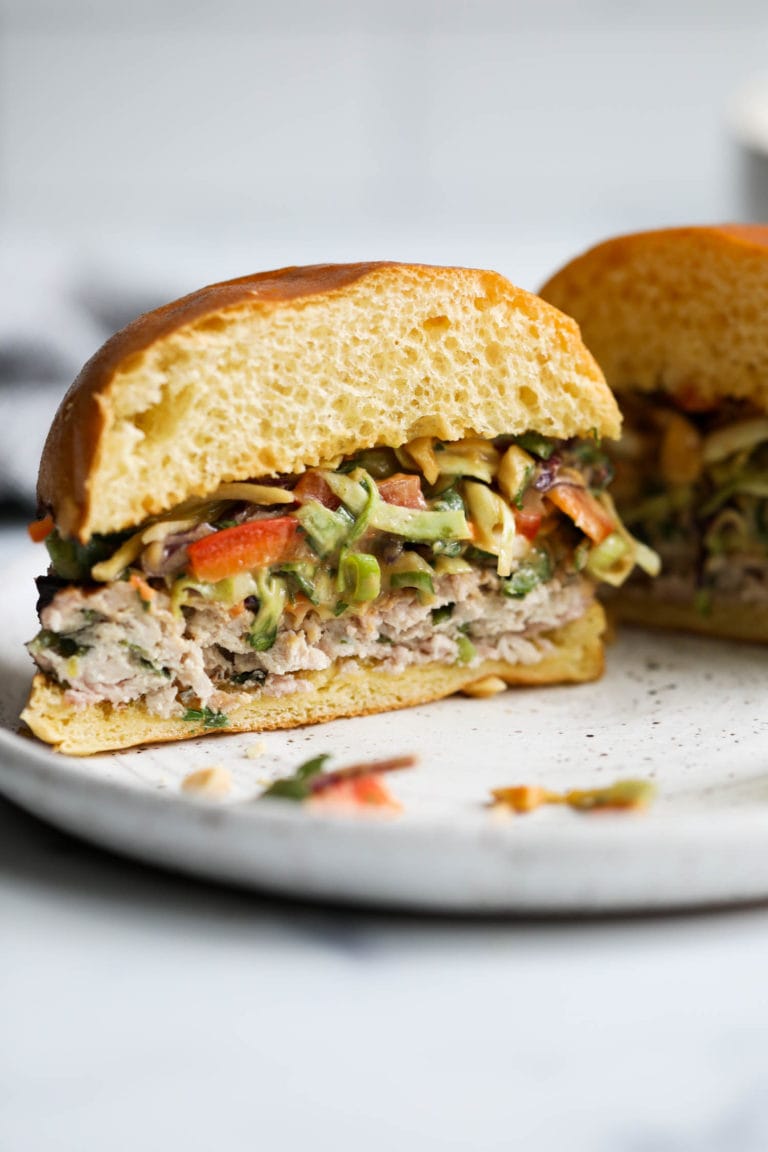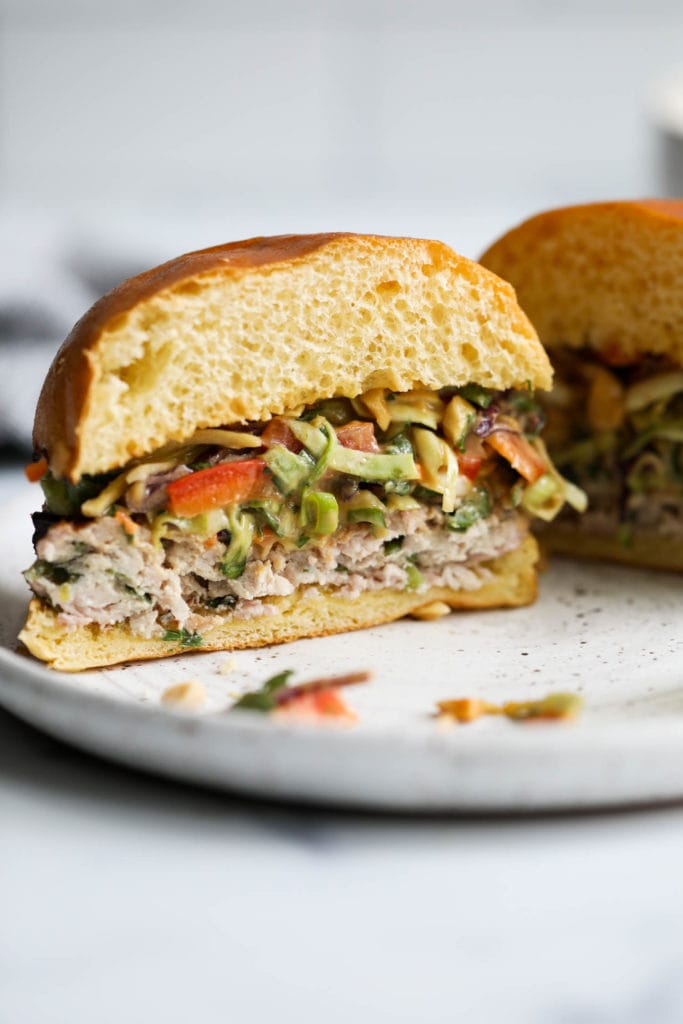 Other Great Grilled Pork Recipes to Try: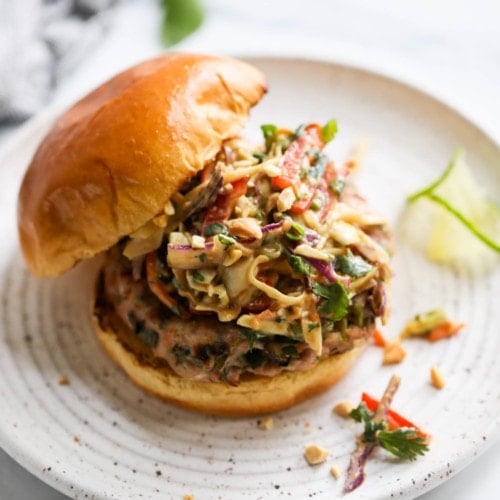 Recipe
Grilled Pork Burgers with Creamy Thai-Inspired Slaw
Pork burgers are naturally tender and juicy and have a unique savory taste. In this flavorful recipe, you'll mix ground pork with traditional Thai ingredients (ginger, garlic, lime, and more). Top the burgers with a slaw that is fresh and crunchy with a simple peanut dressing that makes every bite so good!
Prep:
15 mins
Cook:
15 mins
Total:
30 minutes
Servings:
4

burgers and 2 cups slaw

1

x
Ingredients
For the Burgers:
1

pound unseasoned ground pork

2

green onions, finely diced

2

garlic cloves, minced

1

jalapeno, seeded and finely diced

1 teaspoon

grated fresh ginger or

¼ teaspoon

ground ginger

2 tablespoons

finely chopped fresh basil or cilantro (or mix of both)

1½ teaspoons

coconut aminos or

½

–

1 ½

teaspoons fish sauce

1 teaspoon

lime zest

¼ teaspoon

black pepper

Pinch of salt
For the Slaw:
1 cup

shredded cabbage

½ cup

shredded carrots (1 large)

½

medium red bell pepper (cut into thin strips, then strip cut into thirds)

2

green onions, thinly sliced (light and dark green parts)

2 tablespoons

finely chopped fresh basil or cilantro (or mix of both)

2 tablespoons

chopped nuts (peanuts, almonds, or cashews)
For the Creamy Thai Dressing:
2 tablespoons

peanut butter, almond butter, or cashew butter

2 tablespoon

coconut aminos 

1 tablespoon

lime juice 

1 teaspoon

toasted sesame oil

1

small garlic clove, minced

1 teaspoon

grated fresh ginger or

¼ teaspoon

ground ginger

¼ teaspoon

red pepper flakes

¼ teaspoon

fine salt

Warm water if needed
Preheat the grill to 425ºF-450ºF. A grill pan sprayed with non-stick cooking spray over medium-high heat on the stove also works.

In a bowl, combine all burger ingredients. Use your hands to mix well until all ingredients are incorporated together. Shape burgers into 4 patties, using your thumb to make a slight indentation in the middle of each one. 

Grill burgers for 9 to 10 minutes on one side, flip, and grill for another 5-8 minutes on the other side, or until cooked to 160ºF internal temp.

While the burgers are grilling, prepare the slaw ingredients and place in a medium bowl. In a separate bowl, whisk together all of the dressing ingredients. Pour dressing over slaw ingredients and toss together until well incorporated. 

To serve, place burgers on buns or lettuce wraps. Top each burger with a generous amount of the slaw, and serve any extra slaw on the side.
Last Step! Please leave a review and rating letting us know how you liked this recipe! This helps our business thrive so we can continue providing free recipes and high-quality content for you.
Nutrition Information
Serving Size:

1 burger with 1/2 cup slaw

Calories:

369

Fat:

22 g

(Sat Fat:

5 g

)
Sodium:

443 mg

Carbohydrate:

9 g

(Fiber:

2 g

Sugar:

5 g

)
Protein:

27 g

Cholesterol:

82 mg
Dietary
Pin It Now, Make It Later!
This post was made possible by our friends at Minnesota Pork. Although we received compensation for this post, the opinions expressed here are – as always – 100% our own. Thank you for supporting the great companies we work with thereby allowing us to continue creating great recipes and content for you.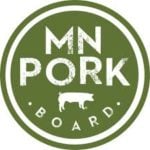 All photos and content are copyright protected. Please do not use our photos without prior written permission. If you wish to republish this recipe, please rewrite the recipe in your own unique words and link back to the source recipe here on The Real Food Dietitians. Thank you!