This Gluten-Free Banana Bread is made with gluten-free baking flour, less sugar, perfectly overripe bananas, and (optional) chocolate chips. Perfect for serving as part of a breakfast or enjoying as an afternoon snack.
If this is your first time making gluten-free banana bread, you won't be disappointed. For the ultimate treat, serve it up warm and slather it with your favorite nut butter, such as peanut butter.
What are the benefits of gluten-free banana bread? With gluten-free banana bread, you get the benefits of potassium-rich bananas and a delicious gluten-free bread. So if you're avoiding gluten, you no longer have to pass on this sweet treat.
Make Moist Gluten-Free Banana Bread in 5 Simple Steps
This amazing recipe is super easy to make with very little prep time. Grab a masher and a whisk and get ready to whip up banana bread magic!
Mix the gf flour, baking powder, baking soda, and sea salt.
Cream together the butter, granulated sugar, eggs, and vanilla until creamy.
Add the dry ingredients and wet ingredients together in a large bowl along with the mashed bananas (make sure your bananas have brown spots on them and are extra ripe).
Pour batter into a loaf pan and bake for cook time of 45-55 minutes.
Let cool on a wire rack, serve, and enjoy!
Banana bread is a quick bread in that it does not require yeast and a long raising time but it and does have a long baking time. Not to fret thought, the wait is always worth it.
Pro tips:
The "spoon & level" method is the best way to measure gluten free flour. After spooning into a measuring cup, use the back of the knife to level off the top.
Make sure your ingredients are always room temperature. The temperature of your ingredients will affect the consistency of your bread.
Bananas should be overripe, the more black spots, the better.
Spice up this simple recipe with extra ingredients like chocolate chips, blueberries, walnuts, cinnamon, or coconut.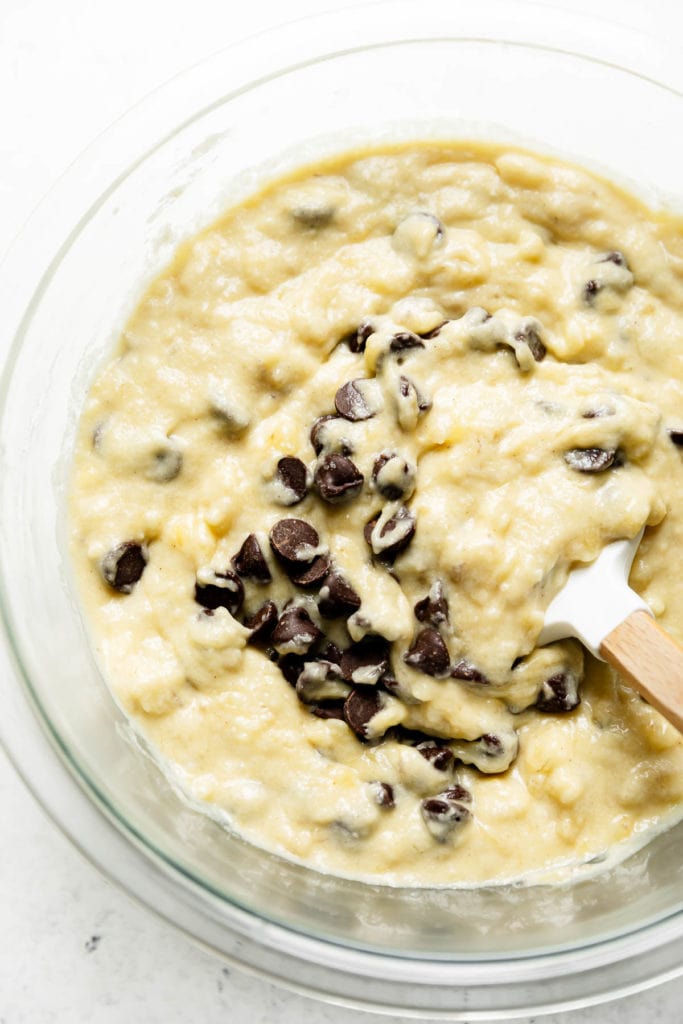 Common Issues With GF Banana Bread
Even with the best gluten-free banana bread recipe, things can go awry. If your bread is not turning out quite right, we've got you covered with 6 common issues you might encounter and how to fix them.
1. Bananas aren't ripe enough
Make sure your bananas are overripe — starting to turn brown — when preparing this recipe. Overripe bananas make for a more moist and sweet bread. It also helps the banana flavor to really pop.
Looking For More Ways To Use Overripe Bananas? Check Out These 12 Delicious And Healthy Overripe Banana Recipes.
2. Measuring the flour incorrectly
Moisture is crucial in making banana bread. Too much flour results in dry bread, while too little makes it too wet. Try the "spoon and level" method by spooning flour into a measuring cup and scraping off the excess with a knife or straight edge. The best method is to weigh your flour with a kitchen scale for the best accuracy.
3. It needs to cook longer
Avoid cutting into uncooked banana bread. Instead, check its center with a skewer or toothpick while it's still in the oven. If the skewer comes out clean or with just a few crumbs, it's ready. If not, put it back in for another 5 minutes and check again. The total time in the oven should take about 45-55 minutes.
4. Why is my gluten-free banana bread doughy?
Gluten-free bread doesn't have the same properties as regular bread and is naturally more dense. Overmixing and improperly measuring your ingredients is often a huge factor in whether your gluten free banana bread is doughy or moist.
5. Why is my gluten-free banana bread crumbly?
If your gluten-free banana bread comes out crumbly it may be lacking moisture. Adding more fat like oil or butter will help it stay together better and give it a moist texture.
6. Why does my gluten-free banana bread have a dense texture?
Dense texture is another result of overmixing. If you are looking for soft, moist, delicious banana bread, don't overmix!
What holds gluten-free bread together? Common binders in gf bread include eggs, applesauce, and xanthan gum. If your gluten-free bread is crumbly, check to be sure the gluten-free flour blend you are using has a gum in the ingredients.
Our Favorite Gluten-Free Flours For This Recipe
Our favorite gluten-free flour blends are Bob's Red Mill 1-to-1 Gluten-Free Baking Flour or King Arthur Measure-for-Measure Gluten-Free Flour.
What can I substitute for gluten-free flour? We've tested this bread with both gluten-free and all-purpose flour with excellent results. Oat flour may work but we have not tested that.
Can I make this Dairy-free?
To make this yummy recipe dairy-free, substitute the butter for melted coconut oil, vegan butter, olive oil, or avocado oil.
Optional Add-Ins (Chocolate Chips & More)
If you'd like to put a twist on this healthy banana bread recipe feel free to add any of these mix-ins:
Chocolate Chips (opt for dairy-free chocolate chips, such as Enjoy Life! Chocolate Chips.)
Blueberries (these are packed with antioxidants)
Chopped walnuts
Sliced almonds
Cinnamon
Cranberries (dried or fresh)
Butterscotch chips
Coconut (shredded or flaked)
Flaxseed
Pecan pieces
Pumpkin seeds
Chia seeds
Zucchini
Sugar Swaps For Different Flavor Profiles
If you aren't a big fan of coconut sugar here are a few sugar swaps and their different flavor profiles:
Raw or Brown Sugar: These sugar swaps will give your bread a caramel flavor similar to coconut sugar
Date Sugar
Granulated Sugar
Granulated Sweetener like Swerve
We have not tested this Gluten-Free Banana Bread with honey, maple syrup, brown rice, syrup, or agave nectar and therefore cannot make suggestions about how to substitute them for the coconut sugar.
Save Big on Pantry Essentials
Storing Your GF Banana Bread
Let cool completely, then store sliced in an airtight container on the counter for up to 5 days or in the refrigerator for up to 10 days.
Can gluten-free bread be frozen?
To freeze gluten-free bread, follow these steps:
Let bread cool completely to room temperature.
Arrange slices in a single layer on a baking sheet or dish.
Place sheet in the freezer for about 30 minutes until the slices are solid (this prevents them from getting squished in the freezer and makes for easy removal).
Place frozen slices of bread in airtight freezer bags (we like these reusable zip-top bags) or an airtight container and transfer them to the freezer.
Store in a freezer for up to 3 months. When ready to enjoy, let thaw on the counter or pop in the microwave for a minute or 2 until warm.
Frequently Asked Questions
Looking For More Ways To Use Overripe Bananas? Check Out This Post Here Where We Share 12 Delicious And Healthy Overripe Banana Recipes.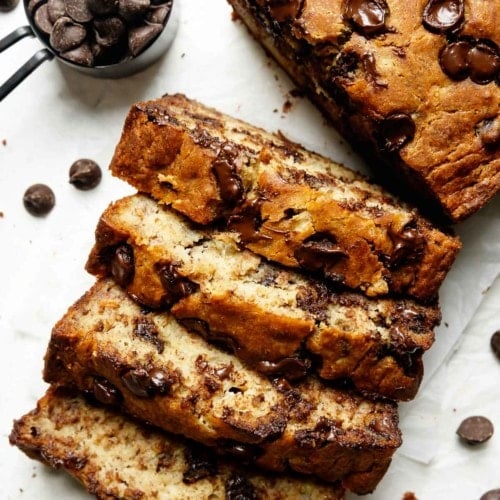 Recipe
Gluten-Free Banana Bread Recipe
Get ready to indulge in the perfect balance of sweet and soft! Our gluten-free banana bread is made with just the right amount of sugar for a deliciously tender texture.
Prep:
10 minutes
Cook:
55 minutes
Total:
1 hour 5 minutes
Ingredients
2

cups gluten-free flour

baking blend (220g) (we use

Bob's Red Mill

1-to-1

or

King Arthur Measure for Measure

)* 

1 ½ teaspoons

baking powder

½

teaspoon baking soda

 

½ teaspoon

fine salt 

6 tablespoons

melted butter

(65 g) 

½ cup

coconut sugar

(65 g) or

brown sugar

2

large eggs

1 ½ teaspoons

pure

vanilla extract

4

spotted ripe bananas, mashed (about

1 ½ cups

or

350 g

)

¾

cup chocolate chips

plus more for top
Preheat the oven to 350 degrees. 

Spray a 9×5

inch loaf pan

with cooking spray or line with

parchment paper

for easy removal. 

In a

large mixing bowl

combine the flour,

baking powder

,

baking soda

and salt. 

Mix and set aside. 

In a medium bowl cream together the butter, sugar, eggs and vanilla until creamy. 

Add the

dry ingredients

to the wet ingredients bowl along with the

mashed bananas

. Stir to combine well. Fold in the chocolate chips.

Pour the batter into the

prepared loaf pan, sprinkle additional chocolate chips on top of batter if desired.

Bake for 45-55 minutes or until a knife inserted into the center comes out clean. 

Remove from the oven and let cool before slicing into 10-12 even slices.
Last Step! Please leave a review and rating letting us know how you liked this recipe! This helps our business thrive so we can continue providing free recipes and high-quality content for you.
Notes
*If gluten-free is not needed may sub unbleached all-purpose flour (250-260 g)
Nutrition Information
Serving Size:

1 slice

Calories:

240

Fat:

11 g

(Sat Fat:

6 g

)
Sodium:

125 mg

Carbohydrate:

37 g

(Fiber:

2 g

Sugar:

14 g

)
Protein:

3 g
Dietary
Pin it Now, Make it Later
---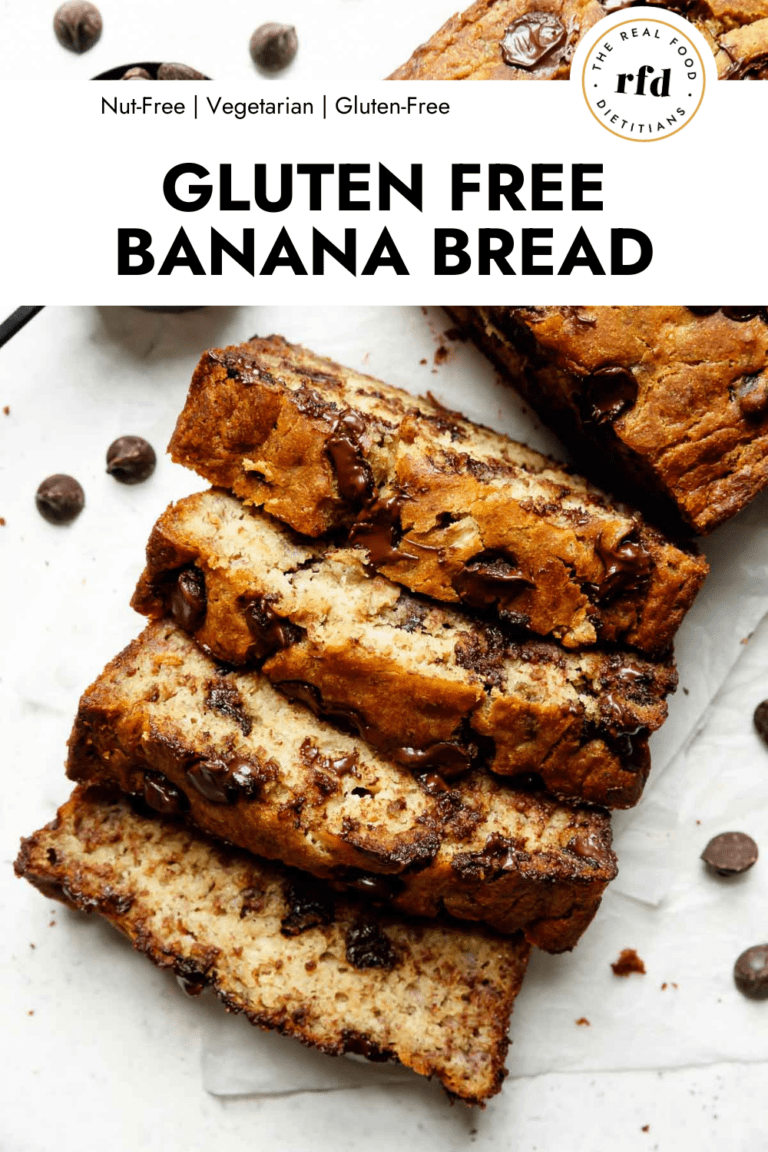 Photo Credit: The photos in this blog post were taken by Jess of Plays Well with Butter.
All photos and content are copyright protected. Please do not use our photos without prior written permission. If you wish to republish this recipe, please rewrite the recipe in your own unique words and link back to the source recipe here on The Real Food Dietitians. Thank you!