When the temps start to drop and the leaves start to change, this Paleo Pumpkin Bread with Chocolate Chips is the answer to your mid-afternoon snack cravings. Made with almond and coconut flours and studded with pecans and dark chocolate chips, this gluten-free pumpkin bread is delicious with a cup of coffee or tea, is freezer-friendly, and makes a great gift for a friend or neighbor.
The original recipe titled Paleo Pumpkin Chocolate Chip Bread was published on October 4th, 2018. Photos and blog content updated on September 9th, 2020. No changes were made to the recipe itself.
'Tis the Season for Healthy Pumpkin Bread
With the official start of fall just around the corner, it's time to start thinking about all things pumpkin. While healthier versions of pumpkin coffee drinks are nice, and a big bowl of  Slow Cooker Pumpkin Chili always hits the spot, nothing beats a big slice of perfectly-spiced, pecan, and chocolate chip-studded gluten-free pumpkin bread when you want a sweet mid-day treat or an indulgent breakfast bread.
We promise that you're going to love this Paleo Pumpkin Bread with Chocolate Chips and won't miss the sugary pre-made slices from the corner coffee shop.
This post contains affiliate links that won't change your price but will share some commission.
What Makes This Pumpkin Bread Recipe Special?
The internet is FULL of pumpkin bread recipes. However, this is the recipe we keep coming back to again and again, for a few reasons!
Naturally (and lightly) sweetened. While traditional pumpkin bread recipes can contain plenty of sugar, there's only ¼ cup of pure maple syrup in this entire loaf. You can also modify the amount of chocolate chips in the recipe to control the sugar content to your liking. We're also using delicious fall flavors, like vanilla and warm pumpkin pie spices to naturally sweeten the loaf without adding tons of sugar. This is a healthy pumpkin bread recipe, but it's definitely not bland!
Gluten-Free and Paleo. Instead of all-purpose flour or white whole wheat flour, this recipe combines almond flour and coconut flour to get the perfect crumb texture. This combination also helps keep the loaf moist for days after baking and makes the loaf friendly for anyone following a paleo or gluten-free diet.
One-Bowl Recipe. Because doing dishes is the worst part of any recipe! Simply combine all the ingredients in one bowl, pour into a loaf pan and you're good to go.
Customizable. This is noted below as well, but you can mix and match the healthy pumpkin bread add-ins to match your family's preferences! We love the pecan and chocolate chip combination, but dried cranberries or pumpkin seeds would be delicious as well!
Meal-prep friendly. This recipe freezes extremely well, which means you can double batch the recipe, enjoy a loaf now, and freeze one for later (or gift it to a friend!). You can find more instructions on how to freeze this pumpkin chocolate chip bread below.
What you'll need to make Paleo Pumpkin Bread with Chocolate Chips
Pumpkin – Canned pumpkin puree is the most convenient option, but well-drained homemade pumpkin puree or pureed butternut squash will also work. If using the canned version, be sure to grab the can that says 'pumpkin' or 'pumpkin puree' on the label and not 'pumpkin pie filling'.
Maple syrup – Be sure to use pure maple syrup and not maple-flavored pancake syrup, they're not the same thing!
Coconut oil – A neutral-tasting oil such as avocado oil or sunflower oil can also be used or you can replace the coconut oil with room temperature butter if you don't need the recipe to be dairy-free
Eggs
Vanilla
Almond flour – Use finely-ground almond flour for the best results
Coconut flour  – Due to coconut flour's very unique properties as a binder in grain-free baked goods, we do not recommend omitting it or replacing it with another type of flour
Baking soda
Salt
Pumpkin pie spice 
Ground cinnamon
Chocolate chips – Mini chocolate chips distribute in the batter more evenly and won't sink to the bottom of the loaf pan, but feel free to use your favorite chocolate chips. You can also substitute dried cranberries or raisins for the chocolate if you'd like.
Pecans – Raw or toasted pecans work equally well. Chopped walnuts or pumpkin seeds are also a great option!
Shop Thrive Market to get the best prices on natural, organic, and specialty foods. PLUS get a free gift when you sign-up!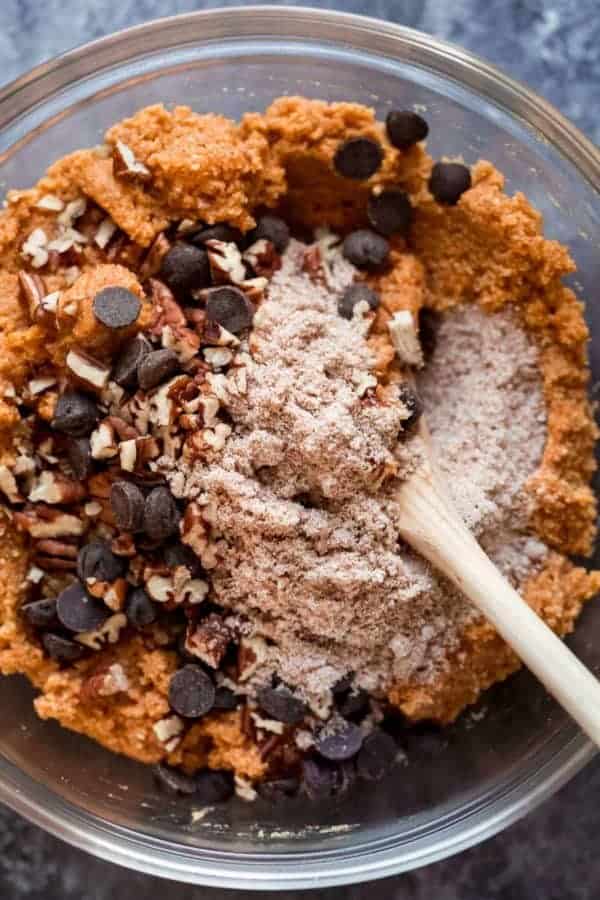 How to make Paleo Pumpkin Bread
Step 1: Preheat the oven to 350ºF and prepare the loaf pan by either greasing it with coconut oil or lining it with parchment paper for easy removal.
Step 2: In a large bowl, combine all of the ingredients mixing them until just combined. I like to mix together my wet ingredients first and then add the dry ingredients to the same bowl.
Step 3: Transfer the dough to the prepared pan. Sprinkle the top of the batter with additional pumpkin spice, a few chopped nuts, and chocolate chips, if desired.
Step 4: Bake for 50-65 minutes or until the center is firm. Check the bread 3/4 the way through the baking time, if the top begins to get too dark, lay a piece of foil over the top
Step 5: Remove the bread from the oven and allow it to cool for 15-20 minutes in the pan. Then transfer it to a wire rack to cool completely before slicing.

Are pumpkin pie filling and pumpkin puree the same thing?
No, they are not the same thing. Pumpkin puree, while labeled 'pumpkin' is actually a blend of cooked, mashed, and strained squashes (yes, squash – as in butternut, acorn, pumpkin, etc.) Its consistency is thicker than home-prepared mashed pumpkin or squash so if you want to make your own pumpkin puree, be sure to place it in a fine-mesh colander to allow some of the liquid to drain off until it's the consistency of canned pumpkin puree.
Pumpkin pie filling, on the other hand, is also a blend of pureed squashes that is pre-sweetened and mixed with cinnamon, cloves, allspice, and ginger. We prefer to use pumpkin puree over pumpkin pie filling because it allows for more control over the sweetness of the recipe!
Can I make this healthy pumpkin bread in a muffin pan?
Yes! This healthy gluten-free pumpkin bread can be made into 12 muffins instead of a loaf. The oven temperature will stay the same, but the baking time will be roughly half that of a loaf (20-25 minutes).
We recommend that you use paper baking cups/liners or a silicone muffin pan to prevent any possibility of sticking and make clean up quick and easy.

How to Serve this Gluten-Free Pumpkin Bread
This loaf is tender and moist enough to eat on its own, plain and simple! You can also toast slices, and spread with butter or nut butter for a warm and delicious variation.
How Should I Store this Healthy Pumpkin Bread?
We recommend storing in an airtight container in the refrigerator to keep the bread moist. This bread will last in the refrigerator 4-5 days (although we'd be surprised if it didn't get eaten up before then!).
Can I Freeze This Paleo Pumpkin Bread?
Yes! You can either freeze the loaf whole or freeze slices (or muffins individually) by wrapping them tightly in plastic wrap or foil and storing them in a sealed container or zip-top bag for up to one month. To thaw, simply remove the desired portion from the freezer and allow it to thaw on the counter or in the fridge until ready to use. For faster thawing, use a microwave or toaster oven.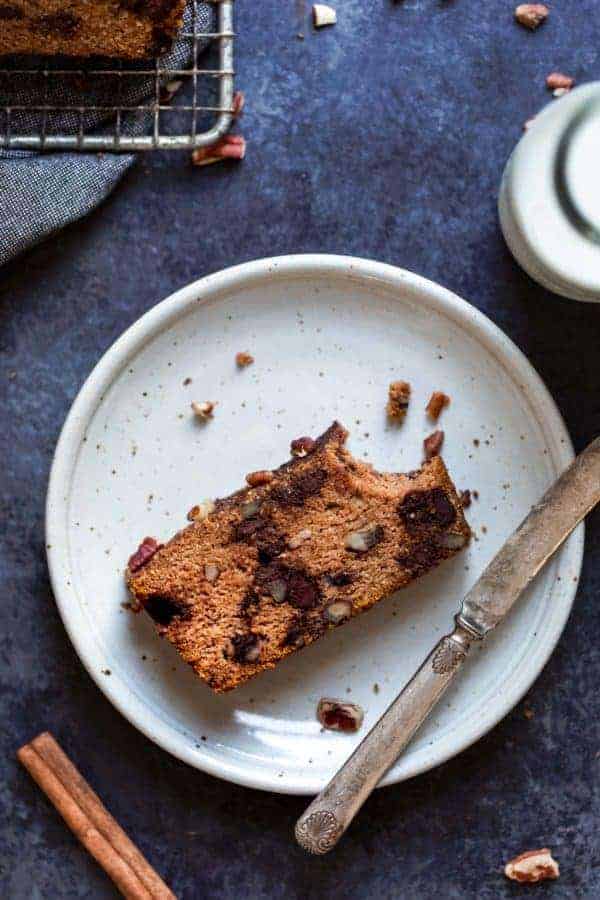 Other Pumpkin Recipes to Try: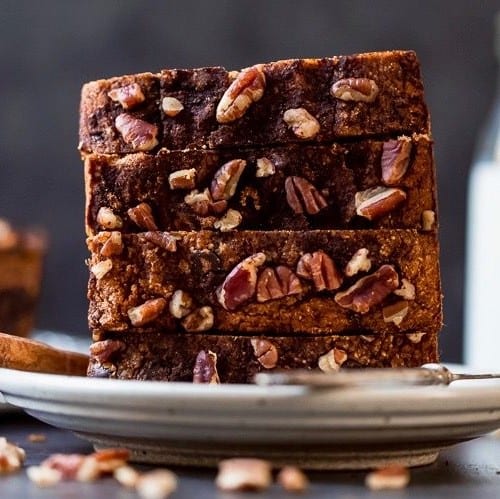 Recipe
Paleo Pumpkin Bread with Chocolate Chips
The added chocolate in this pumpkin bread will satisfy any sweet tooth and best of all, it's low in sugar. Omit the chocolate and stir in some dried cranberries or raisins for a healthy breakfast option.
Prep:
15 mins
Cook:
40 mins
Total:
55 mins
Preheat the oven to 350ºF.
In a medium bowl, combine all of the ingredients. Mix until just combined.
Transfer the dough to a greased 9 x 5-inch loaf pan lined with a strip of large parchment paper with paper hanging over the edges for easy removal. Sprinkle with additional chopped nuts, and chocolate chips.
Bake in the oven for 45-60 minutes for 9 x 5 pan (longer if using an 8 x 4 pan) or until the center is firm. Check the bread 3/4 through the baking time, if the top begins to get too dark, lay a piece of foil over the top.
Remove the bread from the oven and allow it to cool for 20-30 minutes in the pan. Carefully remove the bread by grabbing onto the parchment paper and transfer the bread to the wire rack to cool completely before slicing it. It's important that the bread is cooled completely before slicing.
Last Step! Please leave a review and rating letting us know how you liked this recipe! This helps our business thrive so we can continue providing free recipes and high-quality content for you.
Notes
*A 9×5-inch loaf pan will also work but the loaf will be flatter and you will need to reduce the baking time by 5-10 minutes. 
Nutrition Information
Serving Size:

1 slice

Calories:

187

Fat:

13 g

Sodium:

225 mg

Carbohydrate:

14 g

(Fiber:

3 g

Sugar:

8 g

)
Protein:

5 g
Dietary
Pin it now, Make it later!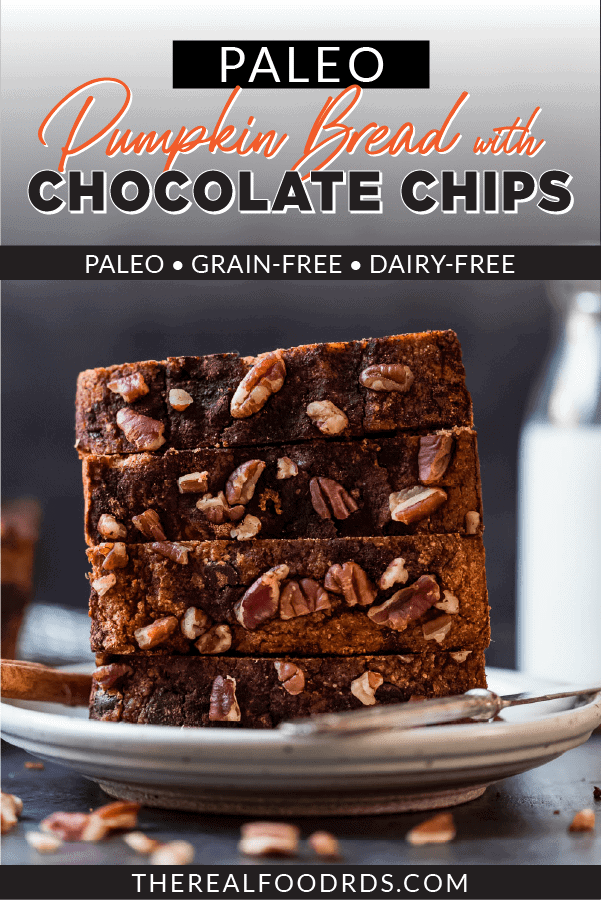 ---
Photo Credit: The photos in this blog post were taken by Jess of Plays Well with Butter. 
All photos and content are copyright protected. Please do not use our photos without prior written permission. If you wish to republish this recipe, please rewrite the recipe in your own unique words and link back to the source recipe here on The Real Food Dietitians.