Sink your teeth into a crunchy, creamy, salty, savory, and just plain heavenly bite of the best homemade bruschetta recipe you'll ever taste. Burrata cheese sends these fresh appetizer toasts over the top. It will have everyone at your table thinking they're seated at an Italian restaurant. The best part? You don't need to turn on a broiler or toaster, nor do you need to dirty a lot of pans. Every part of this recipe, from the simple sautéed tomatoes to the toasted bread slices, are cooked right on the stovetop in one skillet.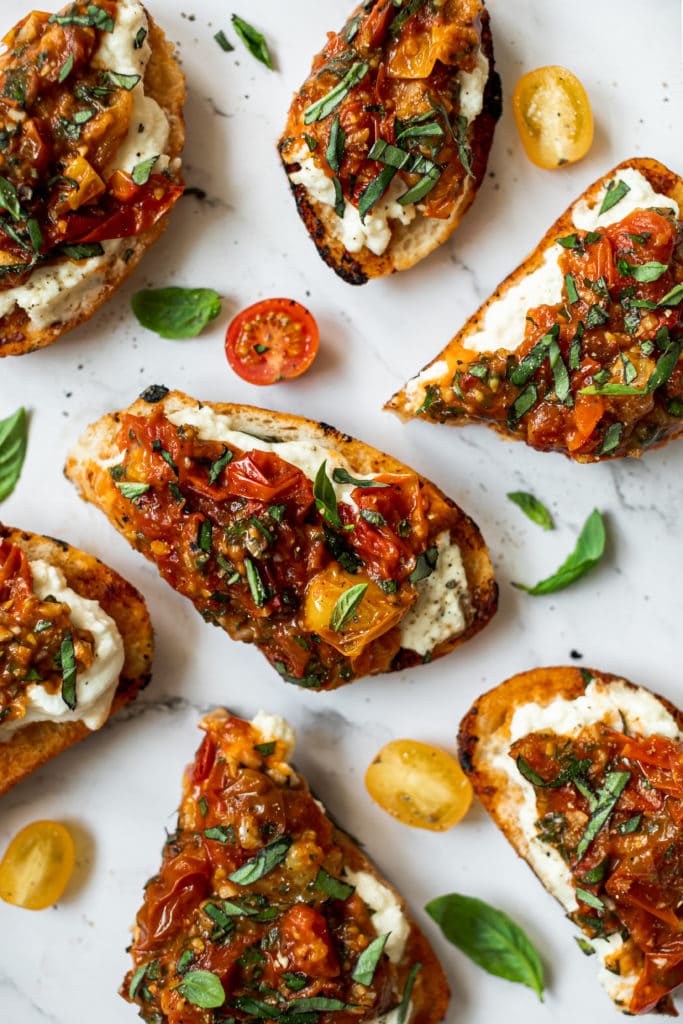 Stovetop Burrata Toast is the Appetizer of Dreams
A classic combination of winning flavors, this always-favorite appetizer is easier and elevated when you use a few fresh ingredients to bring them to life. At its core, bruschetta is grilled bread rubbed with garlic and olive oil, topped with vegetables (typically tomatoes), beans, meat, or cheese.
Here, we build on classic bruschetta by topping perfectly toasted slices of bread with creamy, soft burrata cheese and a mix of quickly sautéed tomatoes, garlic, and basil. This bruschetta recipe tastes like a cross between a slice of gourmet Margherita pizza and a fancy Caprese salad. Mmmm, whether you call in burrata toast, tomato toast, or bruschetta, we can think of few things as mouthwatering as this simply perfect appetizer or savory snack.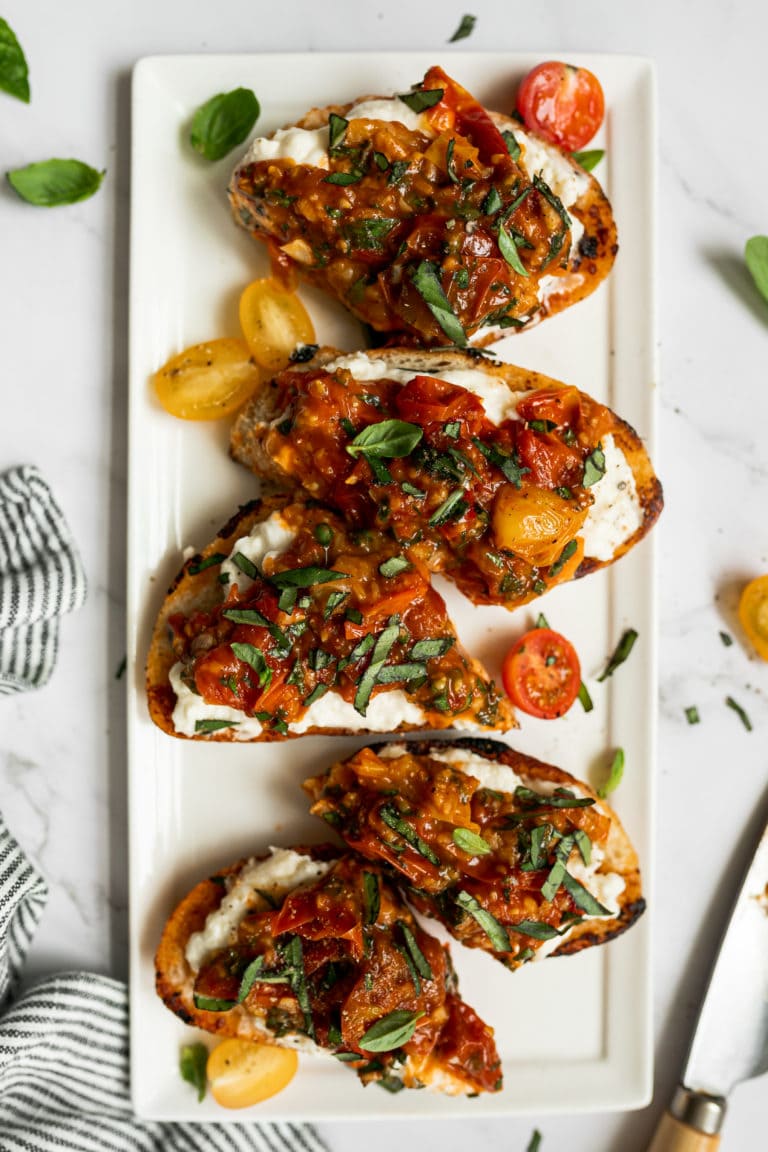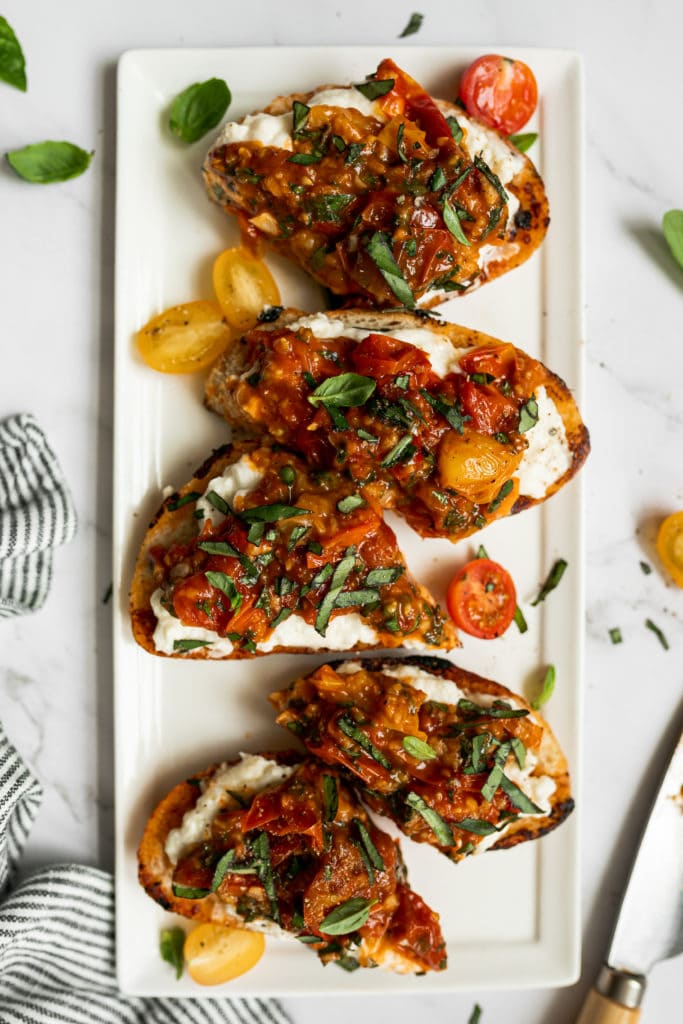 Ingredients to Make Stovetop Bruschetta with Burrata
You will need just a handful of fresh ingredients to make the best stovetop bruschetta with ease:
Sourdough or gluten-free bread – use your favorite sourdough, multigrain, or gluten-free bread. It helps to start with a boule (a round loaf) of bread and then cut the slices on an angle so you elongate the surface of the bread. This makes room for more delicious bruschetta toppings.
Burrata – or you can sub in full-fat cottage cheese or ricotta cheese. Read below for more about burrata, the queen of fresh cheeses! For dairy-free bruschetta, use a vegan soft spreadable cheese, such as Treeline or Miyoko's Kitchen.
Cherry or grape tomatoes – we love the Ruby Rows cherry tomatoes that are still on the vine, but any cherry or grape tomatoes will work. A mix of cherry heirloom tomatoes in a variety of colors makes a beautiful presentation.
Olive oil or avocado oil
Fresh basil 
Garlic
Salt and black pepper
What is Burrata?
Burrata is a soft, fresh Italian cheese. It's similar to fresh mozzarella, though much creamier. In fact, the perfect way to think of burrata is a ball of soft fresh mozzarella cheese that encases fresh cream. When you break into the ball of burrata, the fresh buttery and creamy cheese at the center oozes out. You can find burrata on the refrigerated shelves near the mozzarella at most grocery stores and specialty cheese shops. It most often comes in a plastic container surrounded by water and is available in an 8-ounce ball or as three smaller (2- to 3-ounce each) balls.
To use burrata, simply drain the water and place it on a plate along with a knife for serving. Once you cut into the burrata, the creamy center will slowly ooze out. In this recipe, we have you mash the ball of drained burrata before scooping all of that creamy cheesy goodness onto warm toasted bread.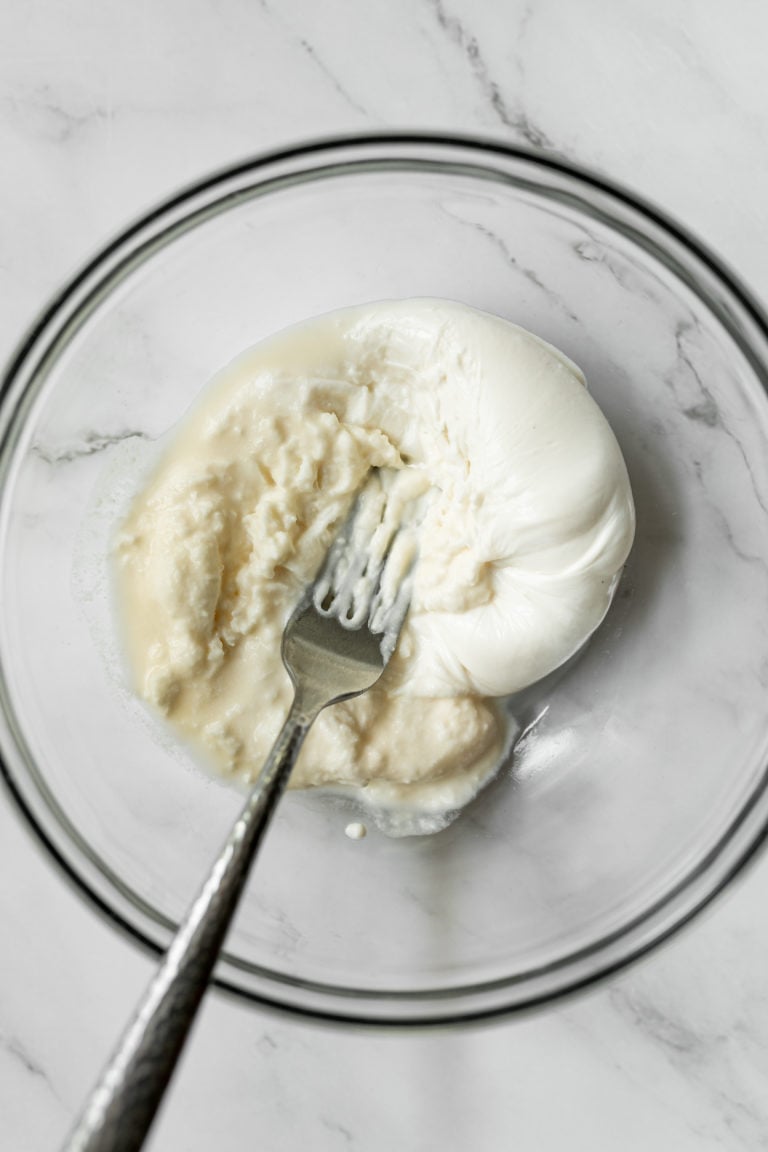 How to Make Bruschetta with Burrata
To make skillet bruschetta, start with a 12-inch or larger skillet. Sauté the halved cherry or grape tomatoes and garlic in oil, pressing down lightly on the tomatoes so they release their juices. You want a lot of those nice tomato juices in the skillet.
Then remove the tomatoes from the skillet with a slotted spoon, keeping most of the juices in the pan. Next, add the bread slices to the pan. Press the bread into the tomato juices and toast the bread until it is golden on both sides. Let it soak up the flavors in the skillet.
Meanwhile, mash the ball of burrata cheese until it somewhat resembles cottage cheese. Top the toasted bread slices with burrata and the sautéed tomato mixture, then garnish with fresh basil. For easier eating, cut the bread slices in half. Enjoy your skillet burrata toast while it's still warm.
A Healthy Bruschetta Recipe
This combination of ingredients is decadent and a delicious way to enjoy whole, real foods. 
Sourdough bread – we call for sourdough bread, which doesn't use commercial yeast to rise, but rather a "starter" of wild yeast and good bacteria. This starter is what produces the tangy flavor and chewy texture of sourdough. Sourdough bread is not gluten-free (it's made with starter, flour, water, and salt) but it is lower in gluten than regular yeast bread. It's also low in fructans, egg-free, and dairy-free. You can make a stovetop bruschetta recipe with any type of bread, such as a favorite multigrain and gluten-free bread. 
Burrata – like all cheeses, burrata is an excellent source of calcium and potassium, both important nutrients for bone and heart health. Burrata is uniquely rich in biotin, a B vitamin that helps strengthen hair, skin, and nails. 
Tomatoes – no matter the size or variety, tomatoes are a great source of vitamin C, potassium, folate, and vitamin K. Lycopene is the antioxidant that makes tomatoes red. It's unique because the more tomatoes are heated, the more lycopene they contain. Lycopene is known to be good for eye health, protecting skin from sunburn, and reducing neuropathic pain (like natural ibuprofen). 
Basil – this favorite herb adds a ton of flavor to foods. While basil is often used as a garnish or to make our delicious Basil-Walnut Pesto, you can enjoy it in salads, soups, and casseroles, too. Sweet basil – the type grown in most gardens and used in Italian cooking – has been connected to reduced memory loss, lowered blood pressure, and reduced depression related to chronic stress. This is especially true when basil is enjoyed often, so it would behoove your health to find more recipes that call for delicious fresh basil.
How to Pronounce Bruschetta
As our team was discussing this recipe and what we should name it, we discovered that there are many ways to pronounce Bruschetta. Whether you introduce a "K" in the middle or let the "shhh" sound roll, everyone seems to have a different way of saying Bruschetta.
Fun story: We are all big fans of avocado toast at The Real Food Dietitians, what with all that creamy and decadent good fat and delicious nutrition atop crisp toasted bread. We were brainstorming other delicious ways to elevate our toast when we decided to try creamy, mashed burrata mixed with a simple and delicious sauté of fresh tomatoes, basil, and garlic. While testing this recipe, famous rapper Lizzo was also making Ricotta Toast famous on TikTok, thus we knew we were onto something big. We stand by our choice in burrata as the toast topper you MUST try! Move over avocado toast. Shove on, ricotta toast. Burrata toast is the QUEEN of heavenly, creamy toast!
More Healthy, Real-Food Appetizers to Try: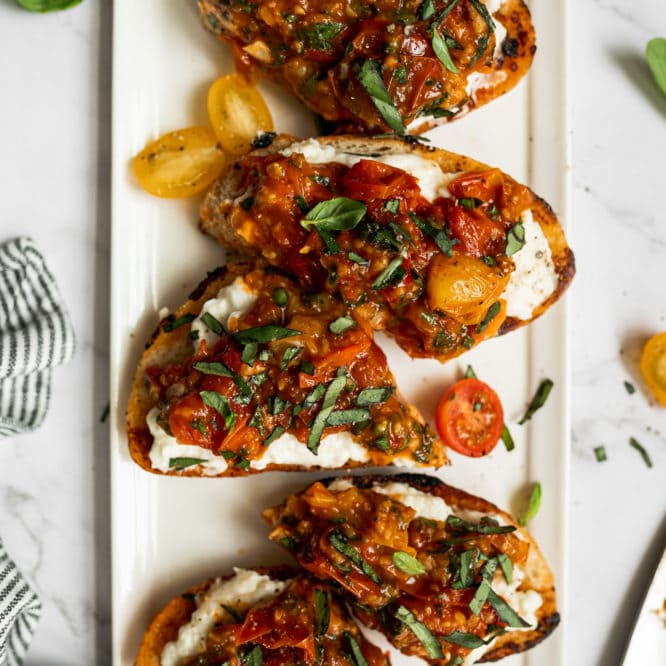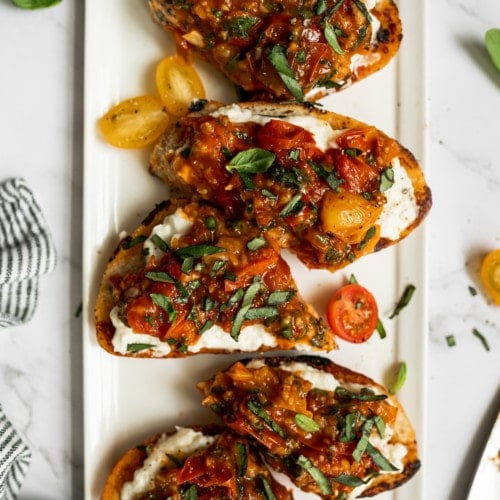 Recipe
Easy Skillet Bruschetta with Burrata
A simple and elevated bruschetta recipe that calls for creamy burrata cheese spread atop slices of skillet toasted bread. A delicious sautéed tomato topping adds savory, sweet, and salty notes for appetizer perfection!
Prep:
5 mins
Cook:
20 mins
Total:
25 minutes
Ingredients
2 tablespoons

olive oil or avocado oil, divided

1 pint

fresh cherry or grape tomatoes, halved (~10 oz)

1

8-ounce ball burrata cheese, water drained

3

cloves garlic, minced (1 tablespoon) 

¼ cup

loose-packed fresh basil leaves, finely chopped

4

slices sourdough or other bread of choice (use gluten-free if desired), each about

¾

-inch thick

⅛ teaspoon

sea salt

⅛ teaspoon

black pepper
In a 12-inch or larger skillet over medium, heat 1 tablespoon of oil. Add the halved tomatoes to the skillet and cook for 10 minutes, gently pressing the tomatoes as they soften to release their juices.

Meanwhile, in a small bowl, mash the drained burrata ball with the back of a fork. 

After 8 minutes, add the garlic to the tomatoes and saute 1 minute more. Using a slotted spoon, remove the sauteed tomatoes to a bowl, keeping much of the tomato juices and garlic remnants in the skillet. Add the remaining 1 tablespoon oil to the skillet.  

When oil is hot, arrange bread slices in skillet to toast on one side, pressing slices gently into the tomato juices to soak them up. After bread starts to toast (3-4 minutes), turn slices over to toast the other side. 

Meanwhile, set aside a small amount of the basil for garnish. Mix the remainder of the basil into the sauteed tomatoes, along with the salt and pepper. 

When the bread slices are toasted on both sides, divide the mashed burrata among the bread slices and top with the sautéed tomato mixture. Garnish with reserved basil and serve warm.
Last Step! Please leave a review and rating letting us know how you liked this recipe! This helps our business thrive so we can continue providing free recipes and high-quality content for you.
Nutrition Information
Serving Size:

1/2 toast

Calories:

155

Fat:

10 g

(Sat Fat:

4 g

)
Sodium:

137 mg

Carbohydrate:

10 g

(Fiber:

3 g

Sugar:

3 g

)
Protein:

5 g

Cholesterol:

20 mg
Dietary
Pin It Now to Make It Later!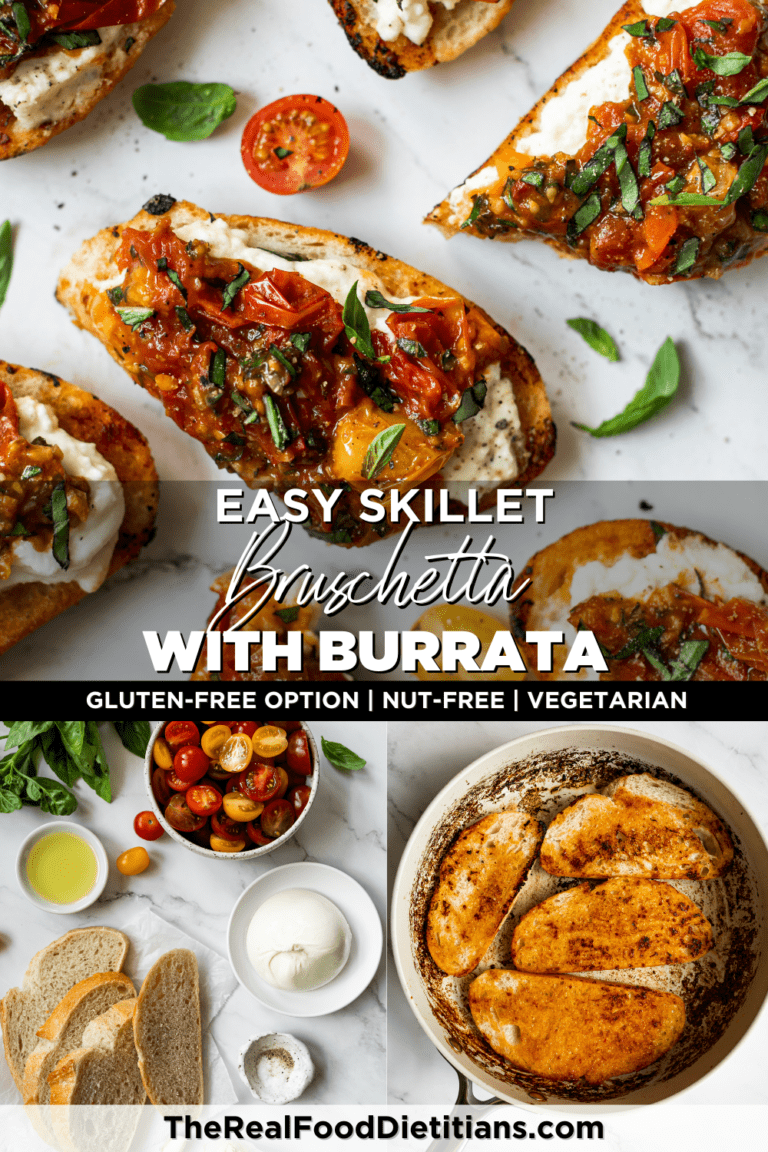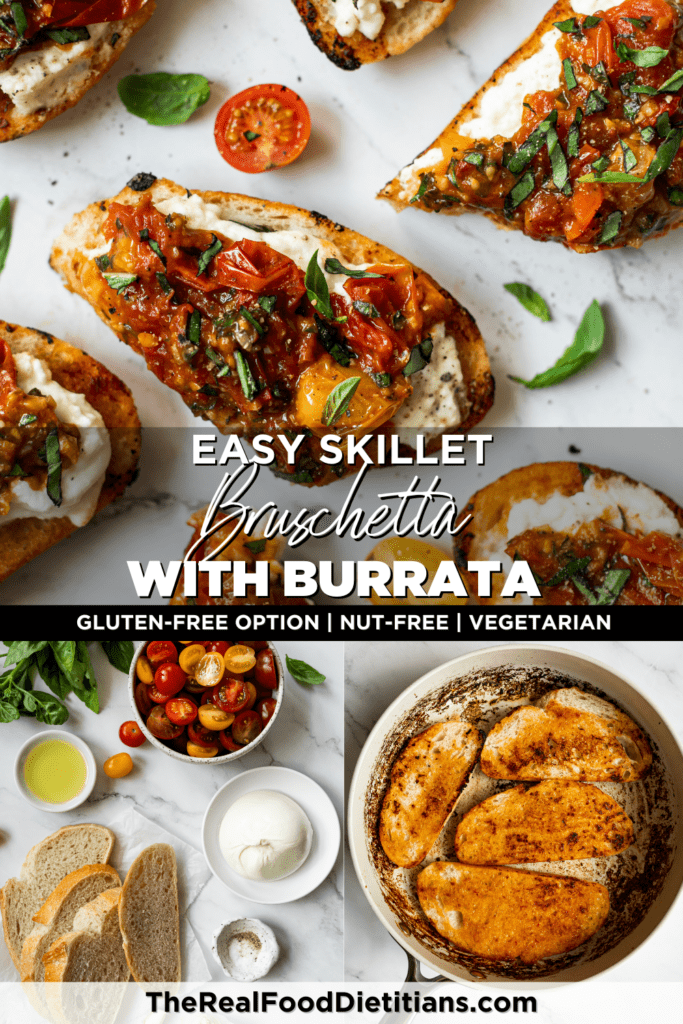 Photo Credit: The photos in this blog post were taken by Rachel of Half Acre House.
All photos and content are copyright protected. Please do not use our photos without prior written permission. If you wish to republish this recipe, please rewrite the recipe in your own unique words and link back to the source recipe here on The Real Food Dietitians. Thank you!