Made with just five fresh whole-food ingredients, this homemade Basil Walnut Pesto recipe is light, flavorful, and chock full of healthy fats. Turn fresh basil into the best sauce and topper in a matter of mere minutes. Our recipe adaptions make for a delicious fresh pesto that is also dairy-free, Paleo, and Whole30 friendly.
This recipe was originally published April 2, 2019; Updated July 8, 2021.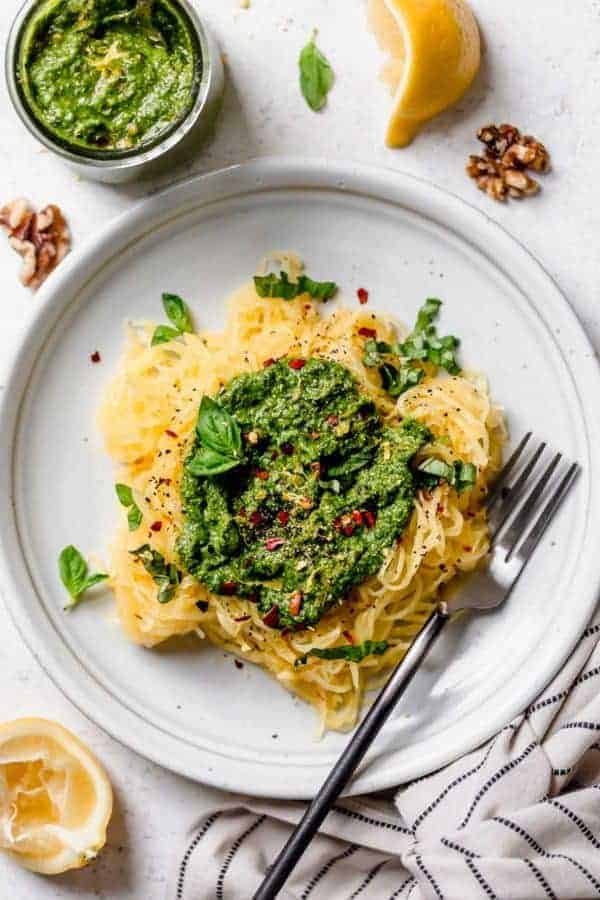 Basil Walnut Pesto is the Healthy Sauce You Need To Try
This recipe for Basil Walnut Pesto is magical for two reasons. First, all you have to do to make some is toss a few ingredients into a food processor. Let 'er rip and you'll have a delicious homemade pesto sauce within mere seconds.
Secondly, we consider this easy Basil Walnut Pesto recipe to be magic because it truly turns something ordinary into something extraordinary. For example, let's take spaghetti squash, pasta, a plain 'ol chicken breast, or zucchini noodles. A little bland, right? Well, just add a spoonful of Basil Walnut Pesto to those base foods and you'll have a pleasing and healthy dinner with very little effort.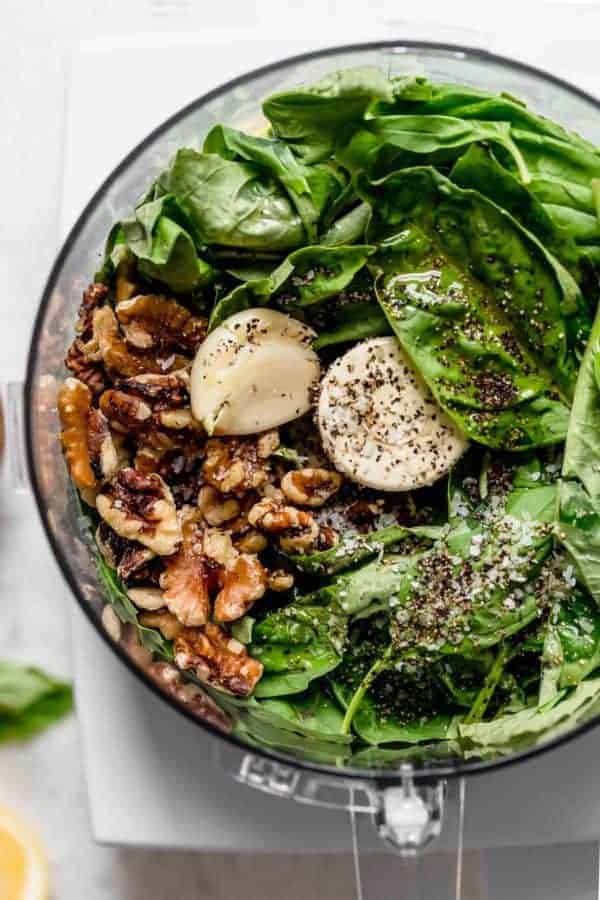 Our Basil Walnut Pesto is Dairy-Free Pesto and Budget Friendly
Traditionally, pesto is a simple sauce made of fresh basil, garlic, pine nuts, Parmesan cheese, and olive oil. Our version veers slightly from the traditional recipe and employs walnuts as a healthy and budget-friendly option (we love pine nuts but they sure are expensive) and we omitted the Parmesan to make this a dairy-free, paleo, and Whole30 pesto. Lastly, we added lemon juice for some subtle zing that brightens all of the flavors.
If you're in need of a nut-free pesto, simply substitute raw pumpkin seeds for the walnuts.
Ingredients to Make Dairy-Free Walnut Pesto
With just a few ingredients and less than five minutes of your time, you can have homemade vegan pesto. Here's what you'll need:
Fresh basil – you'll need about 2 cups packed leaves; can sub other fresh herbs or use a combination of a few herbs, such as parsley, sorrel, tarragon, mint, cilantro, dill, or chervil
Walnuts – can use walnut halves or pieces, or sub pecans or pine nuts
Garlic – you'll need one clove, peeled and smashed
Lemon juice – or use a teaspoon of white vinegar
Olive oil – we recommend extra-virgin olive oil or avocado oil
Sea salt and black pepper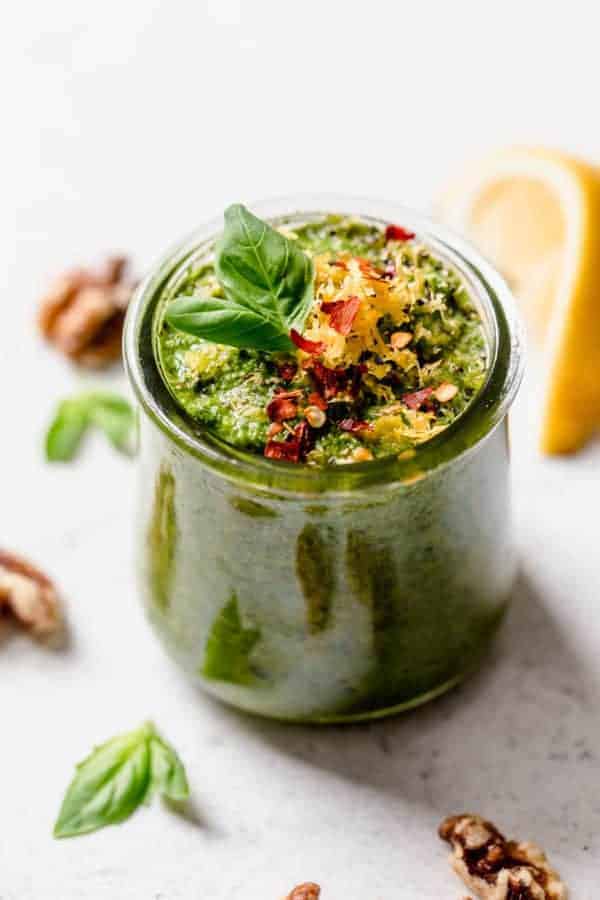 How to Make Homemade Basil Walnut Pesto
You need one piece of equipment to get this recipe done: a handy food processor or blender. Then, it's as simple as adding all of the dairy-free pesto ingredients and giving it a whirl until your beautiful bright and light green sauce appears.
Is Pesto Healthy?
Many people wonder if pesto is a good and healthy choice. As registered dietitians, we give this Basil Walnut Pesto all of our thumbs up because it is chock full of healthy fats and helps make other nutritious foods more craveable.
In this recipe, we use walnuts because they're a great source of heart-healthy monounsaturated fats and plant-based omega-3 fatty acid. Plus, they're rich in phenols and flavonoids giving them an anti-inflammatory and antioxidant edge over the pine nuts traditionally used in pesto. Beyond using walnuts in pesto, you can also enjoy them on a salad, oatmeal, yogurt, or add to cookie and muffin recipes.
The fact that we've eliminated cheese from this pesto helps this delicious saucy condiment fit in special diets, making it a vegan, Paleo, and Whole30 pesto recipe.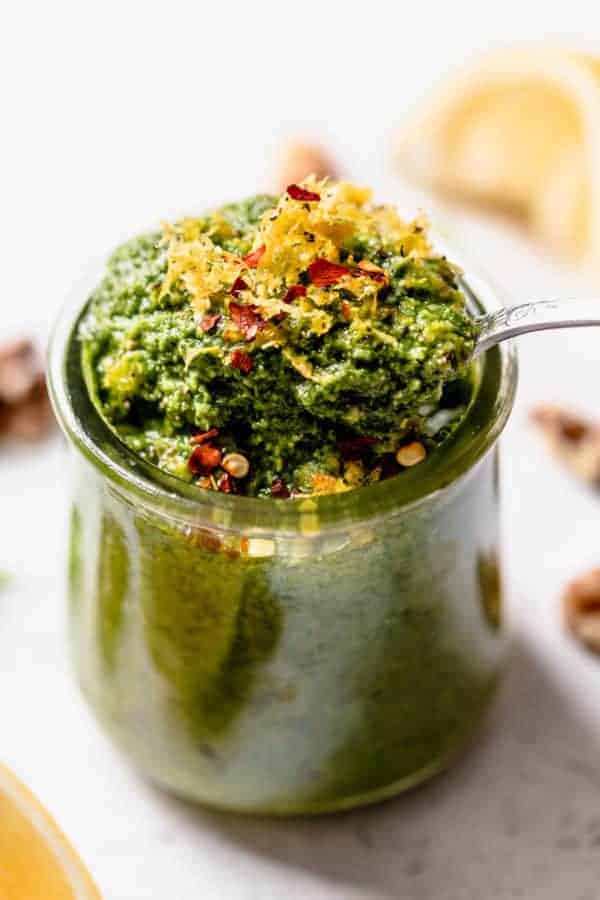 Ideas for How To Serve Pesto
Wondering what you can serve pesto on? This Basil Walnut Pesto makes everything you put it on so insanely delicious and flavorful that you'll never want to stop. Here are just a few ways you can enjoy Walnut Basil Pesto:
Serve this walnut-based pesto over roasted spaghetti squash for a comforting bowl of "noodles" you can really tuck into.
Drizzle our dairy-free pesto over grilled or sautéed chicken breast, fish, shrimp, or steak for a mind-blowing boost of flavor.
Toss this vegan pesto with your favorite roasted or grilled vegetables for a fresh, flavorful, and easy side dish, such as these easy Oven-Roasted Carrots.
Dollop this easy walnut pesto over zucchini noodles or another spiralized vegetable noodle for a 100% plant-based meal
Toss our homemade basil-walnut pesto with gluten-free pasta for a hearty and healthy, comfort-food pasta dish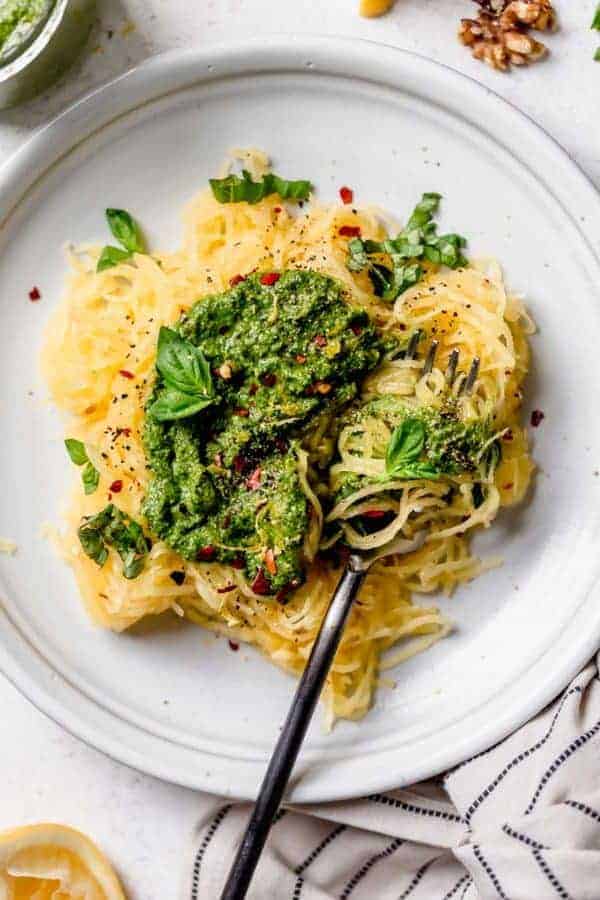 How to Store and Freeze pesto
Yes, pesto freezes well, and since this basil walnut pesto recipe is made without cheese, it freezes even more nicely!
We love to freeze pesto in 1- or 2-tablespoon portions by dividing leftovers into the compartments of an extra ice cube tray. Once the pesto is frozen, you can pop the solid pesto cubes into a freezer-safe bag for up to 3 months. Simply add a frozen pesto cube to a pile of hot-cooked pasta and let it melt into the dish (it will melt quickly). Or, for other uses, let the pesto melt at room temperature before adding to a dish.
To store pesto in the refrigerator: Place pesto in a small glass jar or other small container with lid for up to one week. To prevent the pesto from browning, pour a thin layer of oil on top to completely cover the surface of the pesto.
Recipe
Basil Walnut Pesto
This light and fresh dairy-free pesto makes an ideal topping for roasted or grilled vegetables, meat, or fish or just a simple side dish when tossed with a bowl of zucchini "noodles" or spaghetti squash. Made without cheese so it is Whole30, Vegan, and Paleo friendly pesto.
Prep:
10 mins
Total:
10 mins
Ingredients
4 ounces

fresh basil (about

2 cups

packed leaves)

¼ cup

walnut halves or pieces

1

garlic clove, peeled and smashed

1 teaspoon

lemon juice

¼ cup

+

2 tablespoons

extra-virgin olive oil or avocado oil
Sea salt and fresh ground black pepper to taste
To the bowl of a food processor or high-speed blender, pulse the basil, walnuts, garlic, lemon juice, and ¼ cup of the oil.
Blend until smooth, then add the final 2 tablespoons oil through the chute in the lid while the food processor motor is running. Taste, then add salt and pepper to taste.
Last Step! Please leave a review and rating letting us know how you liked this recipe! This helps our business thrive so we can continue providing free recipes and high-quality content for you.
Notes
To store pesto in the refrigerator: Place pesto in a small glass jar or other small container with lid for up to one week. To prevent the pesto from browning, pour enough oil into the jar to completely cover the surface of the pesto.
For longer storage, freeze leftover pesto in ice cube trays then transfer the frozen pesto cubes to a freezer-safe bag for up to 3 months. Thaw and use as a sauce or add frozen to soups or stews.
Nutrition Information
Serving Size:

2 tablespoons

Calories:

93

Fat:

10 g

(Sat Fat:

1 g

)
Sodium:

30 mg

Carbohydrate:

1 g

(Fiber:

0 g

Sugar:

0 g

)
Protein:

0 g

Cholesterol:

0 mg
Dietary
Pin It Now, Make It Later!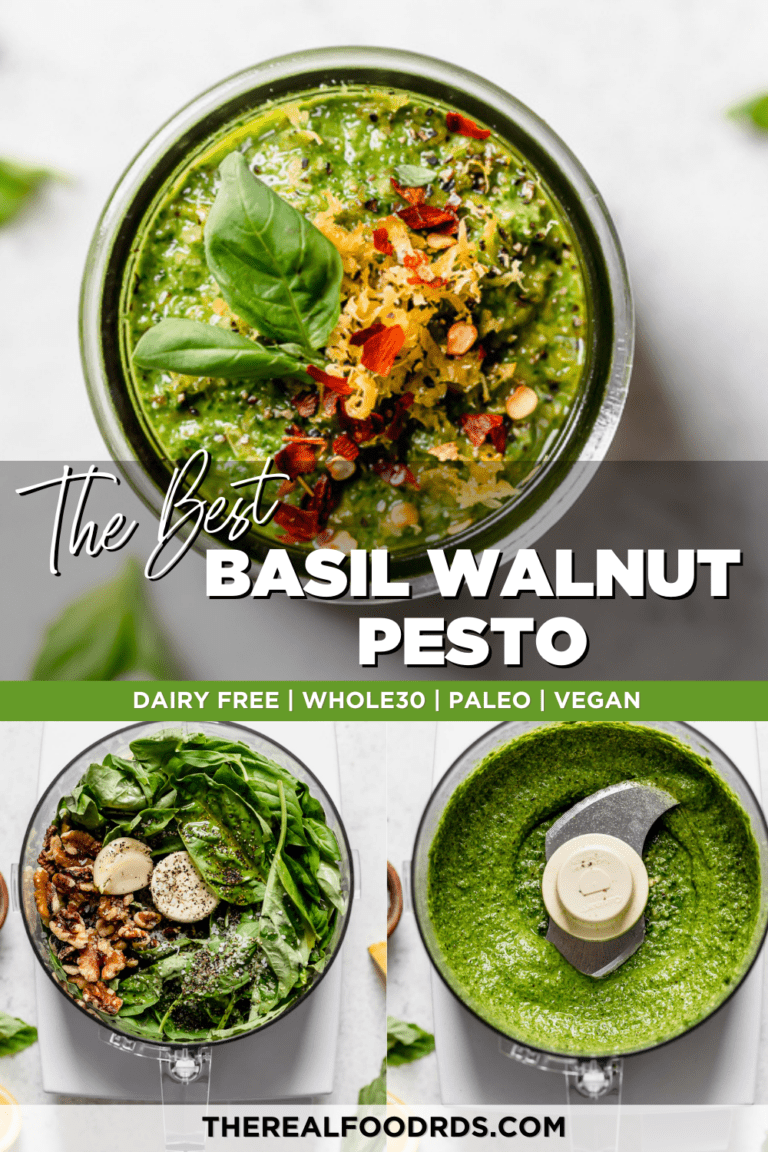 Photo Credit: The photos in this blog post were taken by Plays Well with Butter.
All photos and content are copyright protected. Please do not use our photos without prior written permission. If you wish to republish this recipe, please rewrite the recipe in your own unique words and link back to the source recipe here on The Real Food Dietitians. Thank you!