In the morning, breakfast burritos are a delicious dream come true. When made ahead and frozen, it takes just minutes to have a hot, portable, and nutritionally balanced breakfast in your hands. Our breakfast burrito recipe uses the always-favorite combo of ingredients you'd find in a Denver omelet: protein-rich ham, nutritious green and red bell peppers, flavorful onions, and delicious Cheddar cheese.
Make-Ahead Breakfast Burritos for Easy Mornings
When you can start your day with a well-balanced breakfast, everything seems to fall into place. But too often, the morning rush has us reaching for high-sugar cereal, processed packaged items, or skipping this important meal altogether. As busy moms, we know how this pattern goes, which is why we think make-ahead breakfasts that you can freeze and then quickly reheat are key to easier mornings, happier families, and healthier days.
Ingredients to Make Denver Omelet Breakfast Burritos
We combine the classic ingredients in a Denver omelet with crispy tater tots and wrap it all in a tortilla to make this convenient and healthy grab-and-go breakfast option. Here's what you'll need:
Bell peppers – you'll need 1 medium-size red and 1 medium-size green bell pepper, though you can use any color of sweet bell peppers
Yellow onion – or you can sub red or white onion
Ham – you'll need 8 ounces of pre-cooked cubed ham or an 8-ounce ham steak
Eggs – you'll need 1 dozen eggs, or for egg-free, use Just Eggs
Cheddar cheese – use pre-shredded Cheddar or shred your own from a block

; for dairy-free, omit the cheese or use your favorite dairy-free shreds

Tater tots – you'll need 1 pound of tater tots, or you can use shredded hash browns, though we found that tater tots stayed crispy a lot better during freezing and reheating
Burrito-size tortillas – use your favorite burrito-size flour tortillas; for gluten-free/grain-free we recommend the Siete burrito-size grain-free tortillas
Olive oil or avocado oil
Smoked paprika – or use a pinch of chili powder
Salt and black pepper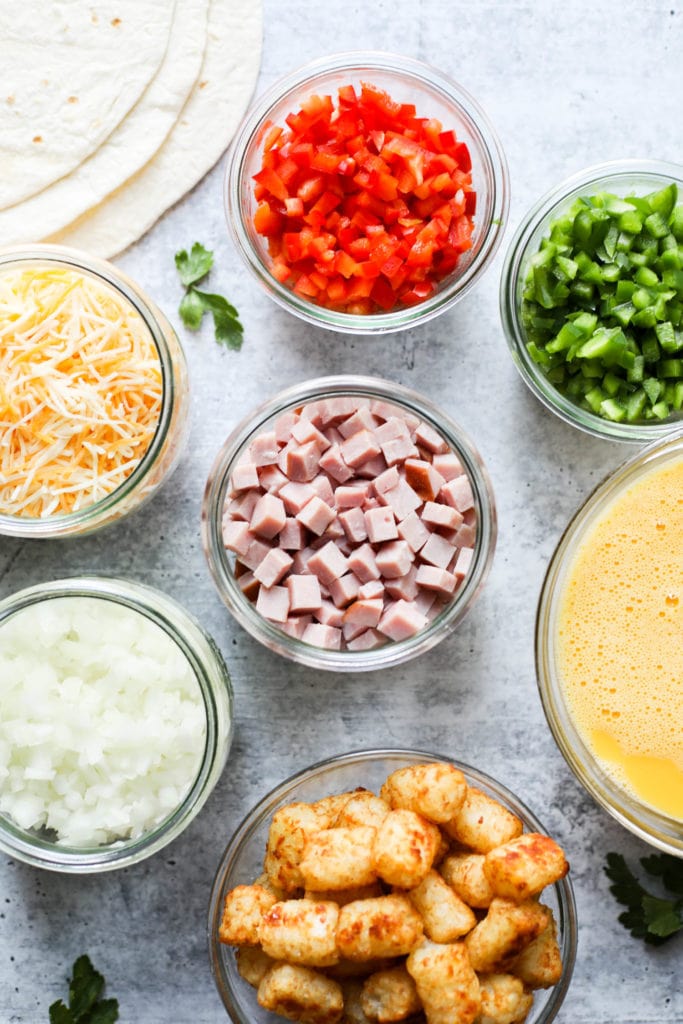 How to Make Freezer Breakfast Burritos
These breakfast burritos come together easily. Having a batch of them ready and waiting in the freezer will give you a jumpstart on healthy mornings. Start by cooking a pound of frozen tater tots in the oven. While those are baking, prepare the veggie-egg-ham filling on the stovetop. This recipe makes 8 cups of scrambled egg filling, which is the right amount to fill a dozen breakfast burritos.
Next, wrap the tortillas in a damp paper towel and microwave for 15-20 seconds to make the tortillas more pliable for folding.
Then, layer the shredded cheese, scrambled veggie-egg-ham mixture, and four tater tots onto each tortilla. Lift one edge of the tortilla up and over the filling, then pull back while tucking the burrito edge around the filling. Fold in the two sides of the tortilla, then continue to roll the tortilla over to enclose the filling. Repeat to make 12 breakfast burritos, stacking them on a tray until all the filling is used. Note: If you want to make gluten-free breakfast burritos, we recommend using the Siete Foods gluten-free, grain-free burrito size tortillas. Follow the package directions to heat each tortilla in a skillet prior to adding the fillings, which makes the tortillas more pliable.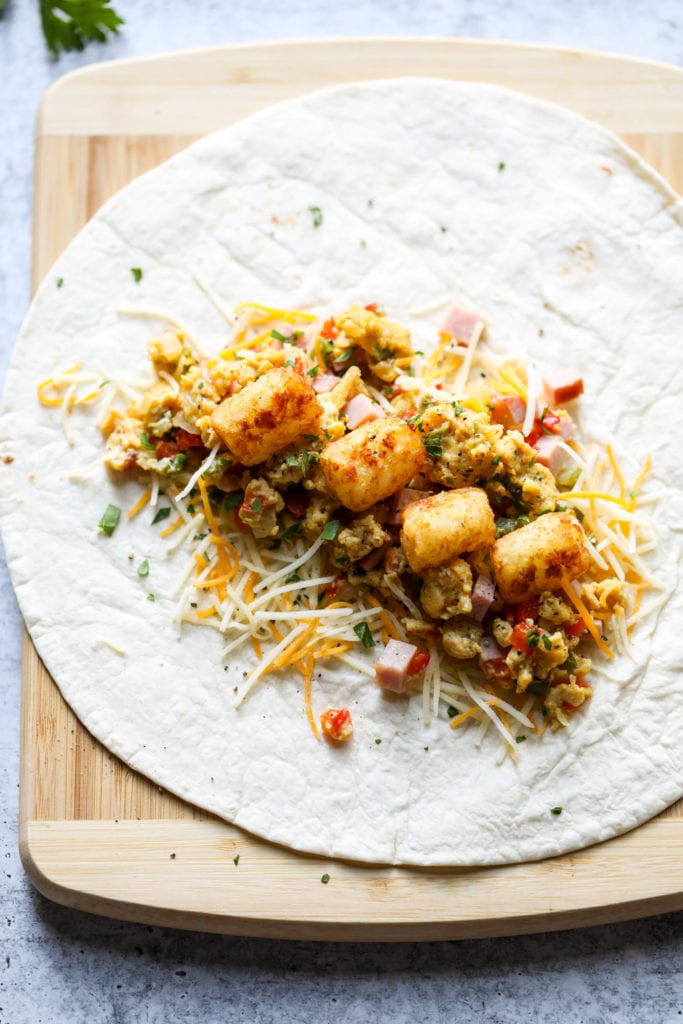 The Best Way to Wrap Breakfast Burritos for the Freezer
To prep your make-ahead breakfast burritos for the freezer, wrap each burrito in a half-sheet paper towel. Then wrap each burrito again in a square of aluminum foil. Use a sharpie to write the recipe name and prep date on each burrito. You can place the double-wrapped burritos directly in the freezer. Or, for extra caution against freezer burn (and if you open your freezer often), place the wrapped burritos inside a large freezer-safe bag.
How to Cook Frozen Breakfast Burritos
To heat your frozen breakfast burrito for a convenient and quick healthy breakfast, simply unwrap the aluminum foil. Leaving the paper towel layer wrapped around the burrito, place the frozen burrito directly in the microwave and heat for 90 seconds to 2 minutes, depending on the power wattage of your microwave.
For a special treat, we then like to place the microwaved burrito in a panini press or on a grill pan to get those extra-crispy edges. Your burrito is now heated and ready for eating. If you'd like, serve it with some sliced avocado, salsa, sour cream, or cilantro (or all of the above).
What Is Ham Steak?
These Denver omelet-style breakfast burritos call for ham to boost both the flavor and the nutrition. Ham is the meat from the hind leg of a pig, and it is typically cured or smoked. Ham comes as bone-in or boneless roasts, as well as slices. The slices can be thin like deli meat, or thick slabs, which are referred to as a ham steak. For this breakfast burrito recipe, buy a ham steak that is boneless and fully cooked. You should know that a ham steak is not the same thing as a pork steak, which is a different cut and comes from the pig shoulder. For this recipe, you will need an 8-ounce ham steak or 8 ounces of cubed ham. If you can't find either of those, ask the employee at the meat counter to cut an 8-ounce slab from a cooked ham for you.
Ham adds delicious flavor to so many dishes, which is why we chose to incorporate it in this breakfast burrito recipe. Many people ask us if pork and ham are healthy choices. Short answer? Yes! Pork is an excellent source of lean protein. Also, several nutrients that are found in abundance in pork (especially niacin, thiamin, and vitamin B6) are necessary in order for your body to convert carbohydrates, proteins, and fats into energy you can use. Ham is also a good source of several essential minerals we need in order for our body fluids and muscles to function properly, including potassium, magnesium, and phosphorus.
Understanding Labeling on Pork Products
There are some phrases you see on the labels of pork products that can be confusing. You may be wondering what it means when a pork label includes the phrase "No hormones or antibiotics added." It would be natural to think that means there are some pork products out there that DO contain added hormones or antibiotics, which is not the case.
No Hormones Added
It is a myth that growth hormones are added, either through food or injection, when raising pigs. The FDA does not allow the use of growth hormones when raising pigs ever. Hormones are only administered to assist in farrowing (birthing), and never for growth purposes. Anything that has cells contains hormones, including humans and pigs. These hormones are naturally occurring and normal. So an animal-based product that is labeled "hormone free" or "no hormones" is not true. Instead, you will see pork products that say "no added hormones" or "raised without hormones." This doesn't mean that some pork products contain added hormones while others do not. Simply, no pork products contain added growth hormones. 
No Antibiotics Added
Antibiotics are sometimes a treatment for many types of illnesses, in humans, pigs, and other living things. But the FDA strictly mandates that a pig that has been treated with antibiotics be either removed from food production or that a strict drug-withdrawal time be adhered before that animal can enter the food supply. This ensures any antibiotic has sufficiently exited an animal's system before it is processed. If you see the words "no antibiotics used" on a label, it means that the animal never received antibiotics during its lifetime.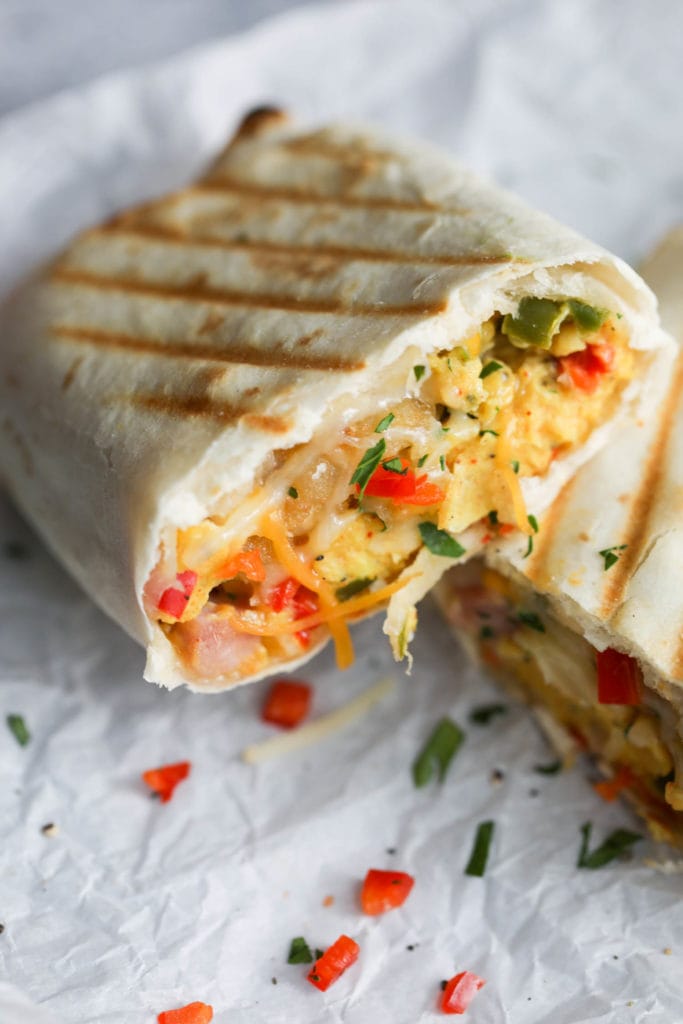 Freezer-Friendly Breakfasts for the Morning Win!
Once you make these easy freezer breakfast burritos, you'll realize just how genius it is to have your freezer stocked with several healthy options that can make your mornings easier. That's why we created an entire guide to 6 Freezer-friendly Breakfast Meal Prep Recipes that include:
6 make-ahead, freezer-friendly breakfast recipes

Complete shopping list and recipe prep tips (to make your breakfast prep session easier)

Freezing and reheating tips
Check out this post to read and download our free guide to make 6 Freezer-friendly Breakfast Meal Prep Recipes.
More Healthy Ham Recipes You'll Love: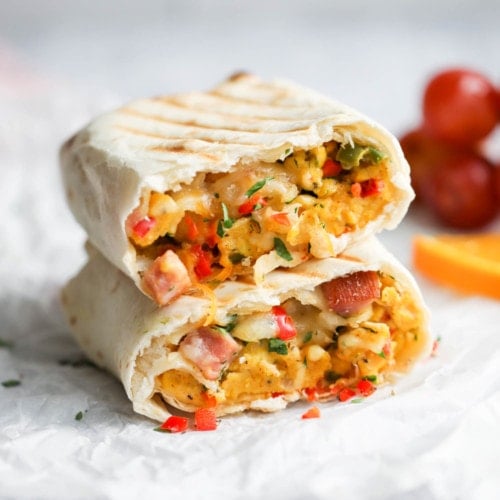 Recipe
Denver Omelet Breakfast Burritos (Freezer Friendly)
These make-ahead breakfast burritos are the perfect solution for busy mornings. Get a healthy and fast breakfast in hand by freezing ahead a dozen delicious and nutritious breakfast burritos that reheat quickly.
Prep:
45 mins
Cook:
15 mins
Total:
1 hour + freeze time
Ingredients
1

lb frozen tater tots (need 4/burrito or

48

tots total)

1 tablespoon

olive oil or avocado oil

1

large green bell pepper, finely diced (1 ½ cups)

1

large red bell pepper, finely diced (1 ½ cups)

1

medium yellow onion, finely diced (2 cups)

1/2 teaspoon

fine salt

1 teaspoon

black pepper

1 teaspoon

smoked paprika

1

dozen large eggs, whisked*

8 ounces

boneless, precooked ham steak, finely diced (2 cups), or

8 ounces

precooked and cubed ham

12

burrito-size tortillas*

3 ounces

shredded cheddar cheese (¾ cup)*
Preheat the oven and bake tater tots according to package directions. You will need 48 tots (4 per burrito) so if you make the full one pound, you will have some leftover tots to enjoy.

While the tater tots are baking, heat the oil in a large skillet over medium. Add the diced green and red bell peppers; saute 2 minutes. Add the onion and continue to saute and stir until the vegetables are tender, about 10 minutes total. Stir in the salt, pepper, and paprika.

When the vegetables are tender, stir in the whisked eggs. Cook and scramble until the eggs are set. Add in the ham. Mix until well combined and then remove from heat (you should have about 8 cups total of the veggie-egg-ham mixture).

To prepare the tortillas, wrap the tortillas in damp paper towels and microwave for 15-20 seconds to make them pliable. (Note: If using the Siete grain-free tortillas, follow the heating directions on the package, heating each tortilla in a skillet to make it pliable and filling one at a time. This works well as a 2-person job with one person heating each tortilla and the other adding the fillings and rolling.)

For burrito assembly, scoop 2/3-cup measure of the egg-ham-veggie mixture into the center of each tortilla. Add 4 tater tots and 1 tablespoon shredded cheese. Fold one edge of the tortilla up and over the filling and pull it tightly toward the center. Fold in the sides of the tortilla and continue to roll. Place the wrapped burritos on a baking sheet while you assemble the rest.

To prepare burritos for the freezer, wrap each burrito in a half-sheet paper towel and then wrap again in a square sheet of aluminum foil. Label burritos and place in the freezer for up to 3 months.

To reheat a frozen burrito, remove the aluminum foil. Microwave the frozen burrito for 2-3 minutes, until heated through. Recommended: After microwaving, heat the burrito on a grill pan or panini press to make the outer tortilla crispy. Serve with desired toppings (salsa, sour cream, cilantro, avocado).
Last Step! Please leave a review and rating letting us know how you liked this recipe! This helps our business thrive so we can continue providing free recipes and high-quality content for you.
Nutrition Information
Serving Size:

1 burrito

Calories:

410

Fat:

16 g

(Sat Fat:

5 g

)
Sodium:

980 mg

Carbohydrate:

45 g

(Fiber:

4 g

Sugar:

3 g

)
Protein:

20 g

Cholesterol:

202 mg
Dietary
Pin It Now to Make It Later!
This post was made possible by our friends at Minnesota Pork. Although we received compensation for this post, the opinions expressed here are – as always – 100% our own. Thank you for supporting the great companies we work with thereby allowing us to continue creating great recipes and content for you.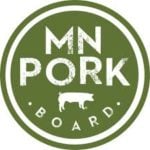 All photos and content are copyright protected. Please do not use our photos without prior written permission. If you wish to republish this recipe, please rewrite the recipe in your own unique words and link back to the source recipe here on The Real Food Dietitians. Thank you!