Teriyaki! Not only is it fun to say, but these homemade teriyaki meatballs are a FUN and easy recipe to make, requiring less than 10 ingredients. Plus, we include a delicious and cleaned-up homemade teriyaki sauce recipe that provides the iconic sweet-salty and gooey-delicious glaze that teriyaki dishes are known for. Serve them as a party appetizer or as a meal on their own over rice, rice noodles, or greens.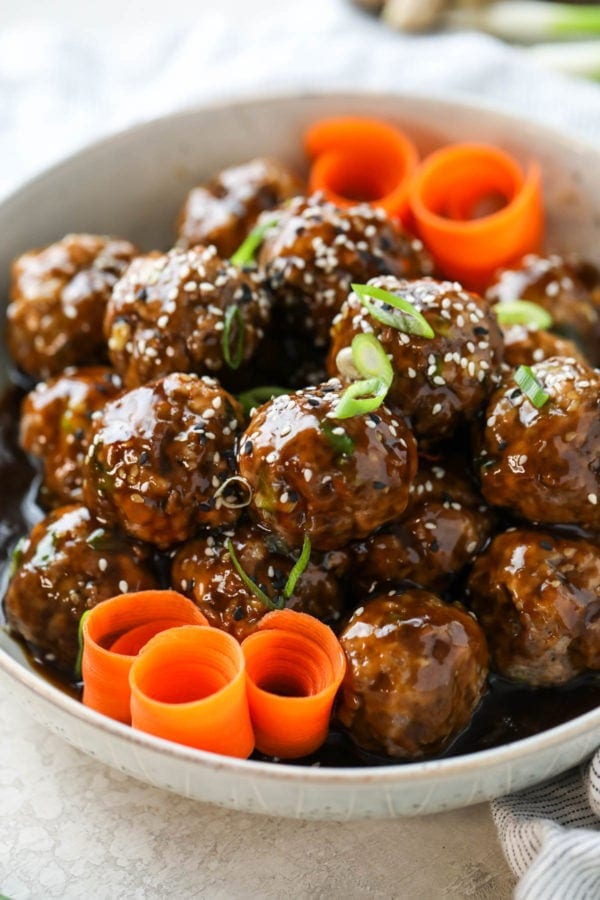 Teriyaki meatballs are savory on the inside, sweet and salty on the outside
Sweet? Check. Salty? Check. Umami, too? Check! These easy teriyaki meatballs hit all the top flavors that people love to crave. Need proof that it's just about the perfect flavor profile a recipe can achieve? Just watch a bowl of them disappear FAST! And by making homemade teriyaki sauce and meatballs made from high-quality beef, you're getting a dish that has balance from both a nutrition and taste perspective.
In traditional Japanese cuisine, teriyaki is more of a verb than a noun. It's used to describe a cooking technique where foods (meats, seafood, or vegetables) are grilled or broiled and then topped with a sweet-salty glaze that gives a shiny luster. Traditionally the foods are brushed with or dipped in the glaze several times while cooking. In America, teriyaki is used as an adjective to describe dishes that have a teriyaki sauce, like these disappear-quick delicious meatballs.

Ingredients for teriyaki meatball recipe
The teriyaki sauce comes together really quickly and is made by stirring up six basic ingredients, and we include substitutions.
Coconut aminos – see section below to learn more about this wonderful ingredient. Or you could use soy sauce or tamari instead.
Toasted sesame oil – make sure you use "toasted" instead of regular sesame oil to impart all that great, toasted-sesame flavor
Honey – you can omit this to make the recipe Whole30 friendly
Garlic – use finely chopped fresh garlic cloves or you can substitute garlic powder
Ginger – use finely chopped fresh ginger or you can substitute ground ginger
Corn starch – or use arrowroot powder for Whole30
Next up, form the meatballs. You'll stir some of the homemade teriyaki sauce into the meatballs, and you'll also need:
Avocado oil or olive oil
Green onions – use the white and light green parts for the meatballs, and save the darker green tops for garnish
Lean ground beef – we recommend 90/10 or 85/15 grass-fed, grass-finished ground beef. Learn more in our post about how to choose quality red meat
Salt and pepper

How to make homemade teriyaki sauce
Before you form the meatballs, make the teriyaki sauce. You need to do it in this order because some of your teriyaki sauce will go into the meatballs themselves. Stir together the coconut aminos, toasted sesame oil, honey, garlic, and ginger in a saucepan and place this over medium-high heat.
While the sauce ingredients come to a rolling simmer, stir the corn starch into a little bit of cold water. This step is imperative since the corn starch would clump if you added it directly to the ingredients in the saucepan. Once the ingredients in the saucepan are almost boiling (bubbles are starting to surface), then slowly pour the corn starch mixture into the saucepan while gently and steadily whisking it all together. Reduce the heat and continue whisking as the sauce thickens. This will take 1 to 2 minutes. Then remove the saucepan from the heat and set it aside while you make the meatballs.

What are coconut aminos?
We call for coconut aminos to make this homemade teriyaki sauce. Coconut aminos (also called coconut liquid aminos) has a similar savory taste to soy sauce but slightly milder and sweeter, plus it contains 70 percent less sodium than traditional soy sauce. Coconut aminos are made from the nectar of coconut blossoms and don't contain wheat, gluten, or soy (Whole 30 friendly). It is made by mixing fermented coconut-blossom nectar (or coconut sap) with salt.
We like to use coconut aminos, especially in Asian-inspired dishes like our popular Egg Roll in a Bowl, as a great way to reduce sodium while also getting terrific salty notes. And, for those who need or prefer it, coconut aminos can help make dishes wheat-free, gluten-free, and soy-free (thus, Whole 30).
If you're wondering, coconut aminos don't taste anything like coconut, but we find that it has a nice depth of umami-like flavor without overwhelming your tongue with saltiness, the way soy sauce often does. Two of our favorite brands are Coconut Secret and Big Tree Farms.
Of course, if you don't have coconut aminos and would like to use soy sauce (most brands of soy sauce contain gluten) or tamari (most brands of tamari don't contain gluten but are made from soybeans) instead, that's just fine. Simply mix 1/4 cup soy sauce or tamari with 1/4 cup water instead of the 1/2 cup coconut aminos in the teriyaki sauce recipe.

Time to roll the meatballs!
The meatballs are made from a simple and flavorful mixture of lean ground beef, sautéed green onions, a few tablespoons of the homemade teriyaki sauce, salt, and pepper. Since you're going to get your hands all up in this meat mixture anyway, it helps to use your hands to really mix the meatball ingredients together. If the mixture sticks to your hands, wet them with a little water.
Next, form the mixture into 30 meatballs, roughly 2-inches in diameter, using 2 tablespoons of the ground beef mixture for each. To ensure a consistent size, start by dividing the meat mixture in half, then divide each in half again so you have four meat portions. Now divide and roll each of those portions into five meatballs. Place the meatballs at least 1 inch apart on a parchment-lined baking sheet.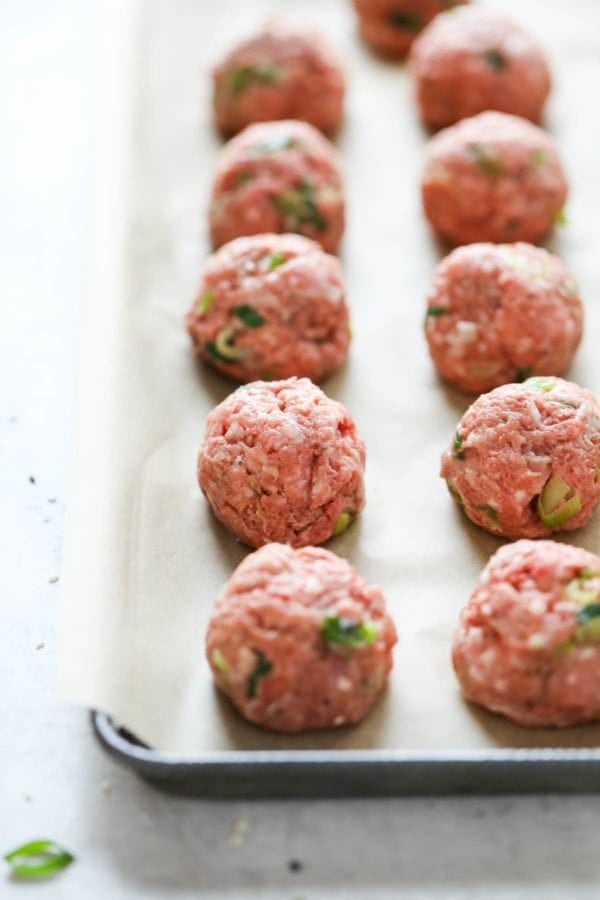 Make-Ahead and Storage Tips for this Teriyaki Meatball Recipe:
We're all about making your schedule work for you, which means having an arsenal of recipes that can be made ahead. This is one of those recipes. You can make the meatballs ahead and then freeze them raw or fully cooked. If freezing raw meatballs, form them into balls and then freeze them on a baking sheet until solid (2 to 24 hours), then transfer the frozen meatballs to a freezer bag and place in the freezer for up to 4 months. If freezing already-cooked meatballs, chill them first in the refrigerator for 1 to 2 hours, then transfer them to a freezer bag and place them in the freezer for up to 3 months.
To reheat, transfer the frozen meatballs (whether raw or already cooked) to a refrigerator to thaw for 24 hours before you'll cook them. For raw frozen meatballs, transfer them first to a plate or rimmed baking sheet when in the refrigerator so they retain their shape while thawing. Bake thawed uncooked meatballs at 375 degrees for 12 to 15 minutes. Bake thawed already cooked meatballs at 400 degrees 8 to 10 minutes or until they're heated through.
You can make the teriyaki sauce ahead, too. Make it up to three days in advance, store in the refrigerator, then heat in a saucepan before tossing with the cooked meatballs.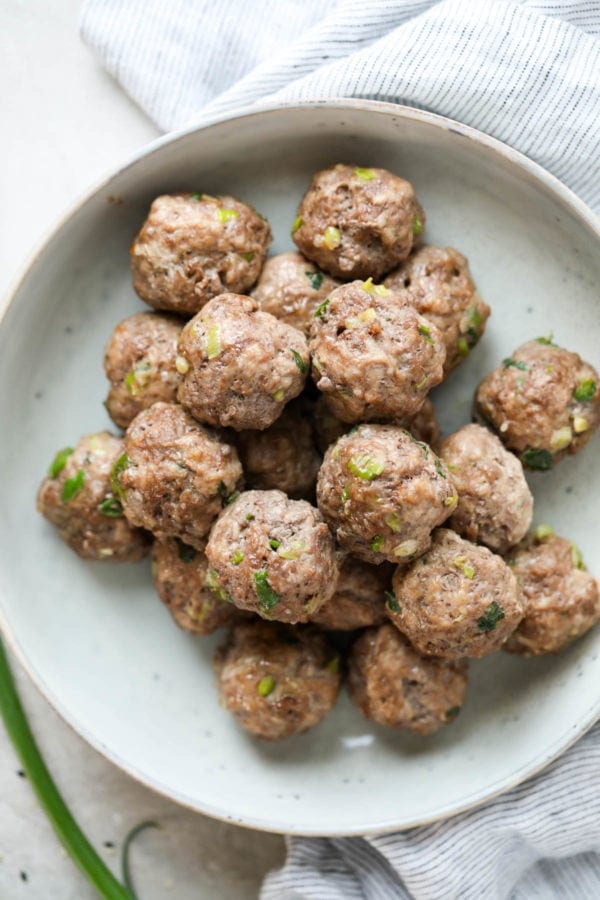 Teriyaki meatballs make a great appetizer or main dish
We told you this recipe was fun! You can make a saucy bowl of these meatballs for a party (or family Sunday Fun-Day), or serve them as a main dish.
For the main dish, we love to serve them over cooked rice or a bed of fresh greens, or even as a delicious protein addition to grain or cauli-rice bowls with sauteed carrots. Top the sauced-up meatballs with a simple garnish of sesame seeds and thinly sliced green onion tops, or even get a little fancy with some coiled thin strips of carrot.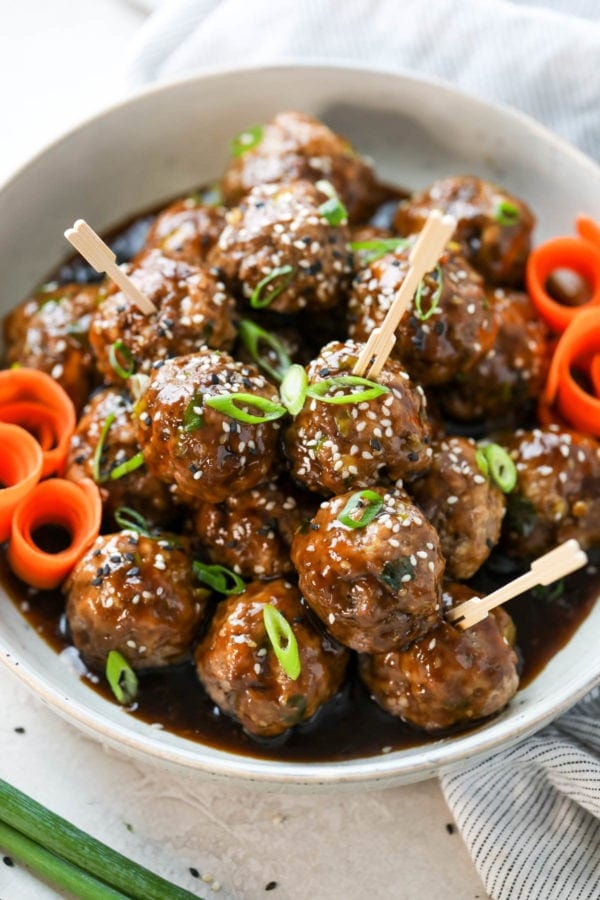 More meatball recipes to try: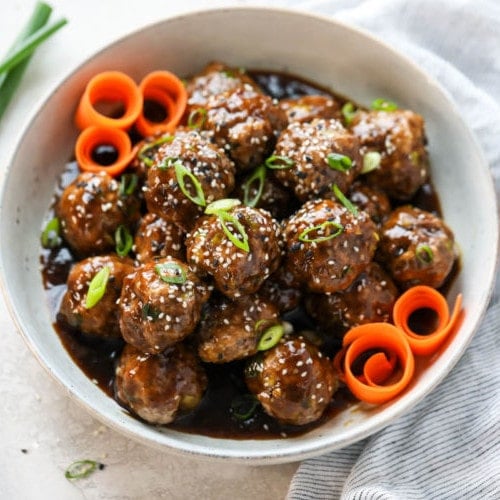 Recipe
Perfect Teriyaki Meatballs
This quick meatball recipe has a perfectly sticky and sweet-salty homemade teriyaki sauce. Serve them as an appetizer or main dish.
Prep:
15 mins
Cook:
25 mins
Total:
40 mins
Servings:
Serves

10

(as an appetizer)

1

x
Ingredients
For the Homemade Teriyaki Sauce
½

 cup coconut aminos (or 

¼

 cup tamari or soy sauce +

¼ cup

 water)

⅔

 cup water

2 tablespoons

honey (omit for Whole30)

2

cloves garlic, finely minced or grated (or

½ teaspoon

garlic powder)

1 teaspoon

grated and peeled fresh ginger (or

¼ teaspoon

ground ginger)

2 teaspoons

toasted sesame oil

1 tablespoon

corn starch (or

1

½

 teaspoon arrowroot starch for Whole30) mixed with 2 tablespoon water
For the Meatballs
1 teaspoon

avocado oil or olive oil

6

green onions, sliced; green and white parts separated

2

pounds lean ground beef
3 tablespoons Homemade Teriyaki Sauce (recipe above)


½

 teaspoon fine salt

½

 teaspoon black pepper
Preheat the oven to 375

℉

degrees. Line a large rimmed baking sheet with parchment paper. While the oven preheats, make the homemade teriyaki sauce.
To make the teriyaki sauce, in a small saucepan over medium-high heat, combine the coconut aminos, water, honey, garlic, ginger, and sesame oil, whisking well to combine.
In a small bowl or glass measuring cup, whisk the corn starch with 2 tablespoons cold water until the corn starch is dissolved.
When the sauce starts to simmer vigorously (almost boiling) pour in the starch mixture, whisking slowly and constantly. Reduce the heat just slightly and continue to cook for another 1-2 minutes or until the sauce has thickened, stirring frequently. Remove saucepan from heat and set aside. The sauce will thicken a little more as it cools.
Place a small skillet over medium heat. When the skillet is hot, add oil and swirl to coat. Add the white/light green parts of the onions and cook for 5 minutes or until softened, stirring occasionally. Remove from heat.
In a medium bowl, combine the ground beef, sauteed green onions, 3 tablespoons of the homemade teriyaki sauce, salt, and pepper using a large spoon or your hands to mix well.
Form the meat mixture into 30 meatballs (about 2 tablespoons each) and place them on the baking sheet.
Bake the meatballs for 13-15 minutes or until cooked through. Remove from the oven.
Transfer meatballs to a large bowl and gently toss with the remaining Homemade Teriyaki Sauce. Sprinkle with sesame seeds, the thinly sliced green onion tops, and thin strips of peeled and coiled carrot for garnish, if desired.
Last Step! Please leave a review and rating letting us know how you liked this recipe! This helps our business thrive so we can continue providing free recipes and high-quality content for you.
Nutrition Information
Serving Size:

3 meatballs

Calories:

195

Fat:

8

(Sat Fat:

3

)
Sodium:

563

Carbohydrate:

10

(Fiber:

0

Sugar:

8

)
Protein:

19

Cholesterol:

57
Dietary
Pin it now, Make it later!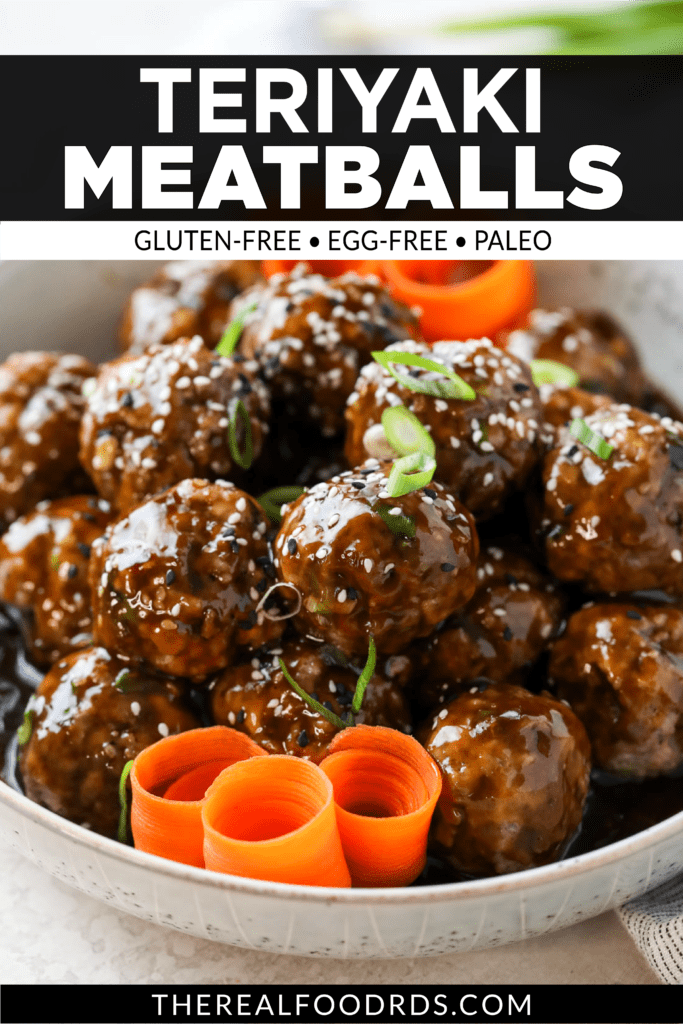 ---
All photos and content are copyright protected. Please do not use our photos without prior written permission. If you wish to republish this recipe, please rewrite the recipe in your own unique words and link back to the source recipe here on The Real Food Dietitians. Thank you!