Need a little taco night inspiration? From guacamole and nacho cheese to fajitas and homemade tortillas, we're sharing 16 Recipes for the Ultimate Cinco de Mayo Fiesta!
Taco night – always worth a celebration!
We're not sure about you, but taco night is a staple in our households. Not only are the majority of the recipes easy to make and clean up, but they always taste soooo good. Sometimes though, you don't want the "normal" tacos, you want to switch things up, whether that's with a new dip, side dish or meat (or veggie) of choice. Add that to the fast-approaching Cinco de Mayo 'holiday' and well…this post practically begged to be written. That's why we've rounded up 16 Recipes for the Ultimate Cinco de Mayo Fiesta to help you add variety to your taco night menu.
Even if you don't celebrate Cinco de Mayo, do you really need a reason to host a taco night with the fam and/or friends? We didn't think so, because taco night is always a good idea. And now…all the drool-worthy recipes that will make your tastebuds sing!
Nothing says warmer weather (or Cinco de Mayo) like one of these simple,
refreshing but not too sweet drinks with a friend and shootin' the breeze!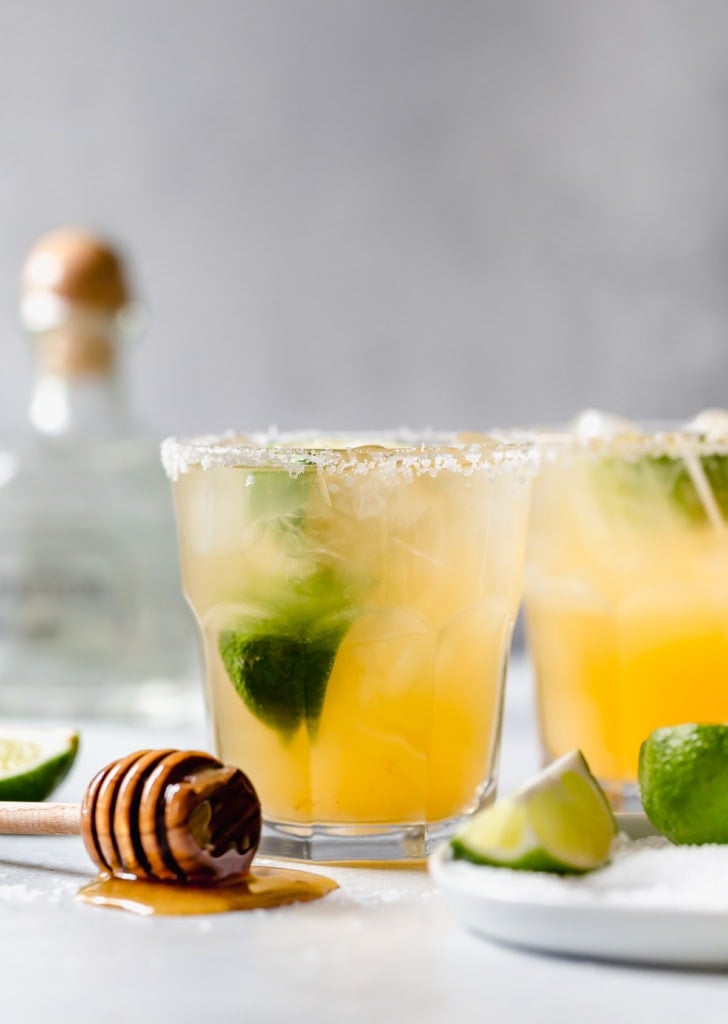 Enjoy all the sizzle and flavor of a restaurant in the comfort of your own home – including minimal clean-up – with this fiesta favorite.
Minimal prep, baking and clean-up, make this dish a dinnertime game-changer!
Make any day of the week Taco Tuesday with this simple recipe that allows you to get created with ALL the fixins'.
Tacos, taco salads, burrito bowls, egg scrambles…the options are endless when it comes to this tender, perfectly spiced beef barbacoa.
Vegan Cauliflower Sweet Potato Tacos
Whether your vegan, have vegan friends or just want to spice things up for taco night, you're going to love these hearty, flavorful and veggie tacos.
Take tacos to the next level by stuffing them into a sweet potato. Not only are extra hearty, but the taste combo is incredible!
Sonoran Hot Dogs with Mexi Slaw
Fire up the grill, invite your friends over and make it a memorable BBQ!
Take the pressure off on busy weeknights with this satisfying make-ahead meal that fills the bellies and makes taste buds happy!
Spruce up your spring or summer potlucks with this tasty and colorful quinoa salad tossed in a lime vinaigrette.
This DIY seasoning is a no fuss, no fillers option that comes together in just 5-10 minutes and makes up to 3 pounds of meat into glorious tacos.
What more can we say other than this might be the BEST guacamole you'll ever make with your own two hands. And it's delicious on and with just about everything so keep the recipe handy, you'll be making it often.
The best dip option when you crave that ooey-gooey cheesy goodness – without the dairy that typically comes with it.
You and your guests will never know it's not the real thing!
Taco night is taken to new heights with homemade corn tortillas.
Ensure that everyone gets to enjoy taco night with these grain-free tortillas using cassava flour.
That's a wrap! Let us know which recipes you use at your next taco night or celebration!
---
Pin It Now & Make It Later!