Ask the Dietitians:
"What is ghee and how do I use it?"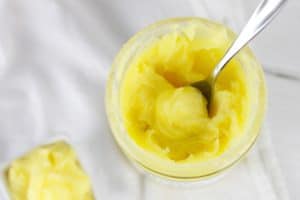 This post is sponsored by our friends at Pure Indian Foods
We're so glad you asked! Ghee, simply put, is clarified butter made from cow's milk that is traditionally used in Indian cooking. That may sounds really fancy and somewhat intimidating so we're here to tell you that ghee is a great everyday fat for cooking and adding ridiculous amounts of flavor to your food and beverages. You don't have to be whipping up pots of curry or platters naan or samosas to use this glorious and incredibly versatile cooking fat – you just have to know where to find the best ghee and how to use it so that's exactly what we're talking about today.
We love ghee for it's rich, nutty flavor and high-smoke point which makes it perfect for sautéing, searing, frying and roasting. We use it frequently in our recipes as many of them are designed to be compliant with eating styles such as Paleo, Primal and Whole30. (They're ALL designed to be delicious and easy, in case you haven't noticed). 
So, let's talk ghee and get those questions answered.
Ghee vs. Butter
Ghee (also known as clarified butter, drawn butter, seafood butter or butter oil ) is made by melting butter then simmering it over low heat until the milk solids settle out to the bottom of the pan. It's then carefully strained through a fine filter to separate the rich, golden fat from the solids which are discarded. The oil that remains is 'ghee' which solidifies at room temperature just like butter does.
Removing the milk solids gives ghee a high smoke point (485°F; compared to butter which is 350°F) making it ideal for cooking. And unlike butter, ghee can be stored at room temperature for 2-3 months without spoiling making it a great spread to use in place of butter (have you ever tried to spread cold butter on toast? Not pretty.)
Healthy Fat
If you've been following us for awhile you know that we love our fats! After years of low-fat living we've both learned to embrace the benefits of fat. Fat not only makes food taste better, it's also essential for the absorption of vitamins A, D, E and K found in the foods you eat. Fat also increases satiety by telling the brain when you've had enough food.
Roughly 65% of the fat in ghee (and butter) is saturated fat with 30% being monounsaturated fat, leaving that last 5% to come from polyunsaturated fats or PUFA. This last type of fat is highly susceptible to oxidation and rancidity and is the primary fat found in vegetable oils. Saturated fats are the most stable fats making them less likely to cause inflammation in the body. Bonus: Ghee is free of industrial trans-fats and hydrogenated oils making it a healthy alternative to shortening, margarine and other 'buttery spreads' made with vegetable oils.
Concerned about saturated fat and heart disease? We totally understand. There's been a lot of hype in the past 5 decades about the link between saturated fat and heart disease but the good news is that the tides are turning – new evidence has taken the heat off of saturated fat and cholesterol putting butter (and ghee!) back on the table. Read more here.
Benefits of grass-fed dairy
We think that every being should be eating the foods that best nourish and support optimal health – and this includes cows. Cows are meant to consume a diet of grass and graze in the sunshine – not be kept in feedlots and fed a diet of low-quality grains and soy which increases their risk for disease and thus the need for antibiotics and milk production-boosting hormones.
Ghee made from the milk of grass-fed cows is significantly higher in conjugated linoleic acid (CLA) than that made from milk obtained from grain-fed cows. Though no conclusive data exists to prove that CLA can increase weight it does appear to have other important health benefits. Namely, the reduction of risk for development of heart disease (1), Type 2 diabetes (2) and cancer (3,4) in individuals who regularly consume grass-fed meat and dairy as part of an overall healthy diet.
Allergy-Friendly
If dairy products make your tummy do the tw0-step then ghee may be a delicious option for you. During the clarification process the milk solids are removed leaving behind only the fat. Each batch of Pure Indian Foods Ghee is batch-tested to ensure that it's free of lactose, gluten, casein and whey (defined as <0.5% lactose and 5ppm casein/whey).*
*Note: According to the producers, trace amounts of casein and whey may remain in the ghee – so depending on how sensitive you are you may be able to safely and comfortably enjoy the taste and benefits of butter again. If you know you are allergic to dairy (including casein and whey) we recommend consulting your healthcare provider before consuming ghee or any other dairy products. 
Ghee is also naturally free of gluten, nuts, soy and eggs making it easy for those with food sensitivities to enjoy it's deep, buttery flavor.
A ghee to love
Now that you know what ghee is, why we love it and how to use it – you're probably wondering "Which ghee do you recommend?" We only recommend products we truly love and we make no exception when it comes to ghee.
Our g0-to ghee (actually, entire line of ghee) is made by Pure Indian Foods, a fifth generation family business that continues to hand-craft each and every jar of ghee they make to ensure the highest quality and best flavor. All of their products are made with certified organic, grass-fed dairy which is something we don't take lightly. With so many ghees to choose from it bears noting that one of the reasons we fell head over heels for Pure Indian Foods' ghee is the people and passion behind the product. Their passion is as palpable over the phone as it is in person and we swear we can taste it in every spoonful too!
The Grand Ghee Tour
Pure Indian Foods has a ghee for every taste making them super versatile and if you're a ghee-nerd like us, super exciting. With 11 flavors to choose from there's something for everyone – keep reading for a run down of each flavor and it's uses.
100% Organic Ghee – The Original
This is straight up ghee without any additives or flavorings. Just delicious, pure grass-fed butter fat! It's buttery flavor makes it ideal for use anywhere you'd use butter such as sautéing or roasting vegetables, pan frying chicken or meat, caramelizing onions, starting a soup or stew, making crispy home-fried potatoes or hash browns or sautéing apple slices with cinnamon for any easy sweet treat.
Get your ghee on here with one of most beloved pantry staples!

Coffee ++: A blend of ghee and MCT oil for a creamier cup o' joe
You know how we love our coffee! This is our little secret for a rich and satisfying cup of our favorite brew. Coffee ++ blends unsalted ghee with MCT oil (medium-chain triglycerides) from coconut and/or palm. We love to add this to our morning coffee or chai tea to make it more satisfying and to boost immunity, brain function, metabolism and prevent cravings. Learn more about MCT oil and it's benefits here.
Just add 1-2 teaspoons to hot coffee and blend with a blender or handheld milk frother until it's rich and creamy and light in color (add a dash of cinnamon or vanilla bean powder, a splash of milk or your favorite natural sweetener, if desired).
Note: Coffee ++ contains no coffee or caffeine. Just ghee + MCT oil from coconut and/or palm oils. 
Primal Fat Coconut Ghee: The Paleo Sweetheart
This 50/50 blend of pure ghee and coconut oil is a great all-around fat. Blending ghee with coconut oil (the sweetheart fat of the Paleo and Primal worlds) raises the smoke point of this fat making it extremely versatile (and flavorful!) for sautéing, roasting, frying and even baking. Substituting PrimalFat Coconut Ghee for plain coconut oil gives cookies and other baked goods an incredibly rich taste and flaky texture.

Turmeric SuperGhee
The name says it all! Turmeric is hot right now and popping up in everything from smoothies to supplements but did you know that to get the most of the anti-inflammatory curcumins, turmeric needs to be prepared and consumed with fat, ginger and black pepper? All of these enhance it's absorption and cooking with it (i.e. the application of heat) makes it even more effective. Turmeric SuperGhee offers all that in one jar and is great for anyone looking to add the power of turmeric to their diet to decrease joint pain and inflammation (5).
You can use Turmeric SuperGhee in so many ways. Sautéing vegetables makes them fragrant and exotically spiced. Stirring a tablespoon of SuperGhee into rice before cooking gives it a beautiful golden color. Or try adding 1-2 teaspoons to hot almond or coconut with a touch of honey then blend for a creamy and satisfying 'Golden Milk' before bedtime to help balance blood sugars through the night (to promote better sleep and hormone regulation).
This ghee really is super (and should come with a cute little superhero cape, in our opinion) – give it a try and you'll quickly see why it's one of our favorites!

Cultured Ghee: Increase your digestive fire
Traditionally known as Desi Ghee in India, Cultured Ghee is revered by Ayurvedic practitioners for it's ability to strengthen agni – our 'digestive fire'. Culturing the ghee according to an ancient recipe essentially does what your body should do (but maybe doesn't always do well)  – breakdown lactose to make it easier to digest. The process of culturing further reduces the lactose content of the ghee to <0.25% and the casein and whey content to 2.5ppm.
Another benefit of the culturing process is that the ghee is even richer and more flavorful making it the most amazing thing to slather on a sweet potato or a pile of steamed broccoli (remember, you NEED fat to absorb those vitamins!)
Note: Cultured ghee is not a source of live or active probiotics since the milk or cream is cultured prior to cooking the butter into ghee. But it is seriously delicious!

Garlic Ghee: Vampires beware!
Ok, it's not THAT garlicky but it is amazing. How many times have you tossed some garlic into a pan of hot butter or ghee and thought "This is heaven!"? That was our exact reaction the first time we tasted the Garlic Ghee. Pure buttery heaven. 
It goes without saying that anything you want to be savory, rich, succulent and garlicky needs to start with this ghee. Pretty much any recipe that starts with garlic and oil can be taken over the top with Garlic Ghee.

Italian Ghee: That's amore!
At the risk of being totally cheesy, we have to say we love this ghee for adding Italian flare to whatever it touches. We love a big slurpy, twirly bowl of zucchini noodles or gluten-free pasta topped with Italian Ghee and a hefty sprinkle of parmesan cheese for some serious comfort food when the mood stikes. Add a teaspoon of Italian Ghee to a cup of bone broth and you're halfway to an instant cup of soup – then add some leftover or frozen cooked veggies and some chicken and soup's on in a matter of minutes.

Herbes de Provence Ghee: Fish never had it so good
Herbes de Provence is totally underrated as a spice blend in our opinion. It sounds fancy but it's really quite simple and perfectly suited for everyday recipes. Pure ghee is infused with savory, thyme, rosemary, basil, tarragon and lavender flowers to give it unique flavor that's both savory and bright. Herbes de Provence Ghee added to a vegetable stew or dotted on cooked fish or meat adds a whole new layer of flavor. We love it on melted on grilled salmon and use it to start our  Slow Cooker Beef Stew.

Indian Dessert Ghee: An unexpected flavor trip
Neither of us had ever heard of Indian Dessert Ghee. In fact, our first thought was 'chocolate ghee'? Admit it, you went there too. But this was nowhere near chocolate – it was way more exotic with a warm and pleasantly spicy licorice-like flavor thanks to the fennel, cardamon and saffron.
We love adding this ghee to a cup of warm coconut milk for a special 'dessert' on a chilly evening to tame a sweet tooth or using it to roast butternut squash (which is out of this world if you're a fan of fennel).
We definitely have to say that if you like spices that are more on the exotic side, this Indian Dessert Ghee is the ghee for you!

Digestive Ghee: Warming from the inside out
Cinnamon, cardamon and ginger are what we'd consider 'sweet' spices. Though not sweet themselves, they enhance the natural sweetness of other foods. They're also very warming spices. Just the smell of cinnamon can conjure up thoughts of baked apples and other comforting foods. Ginger, which is warming to the tongue and overall body constitution, combined with cardamon which helps improve blood circulation, has the effect of warming you from within.
By far our favorite way to use Digestive Ghee is swirled into a cup of coffee, warm almond milk or hot cocoa or used in place of coconut oil in homemade granola, in a fruit crisp topping or drizzled over a baked sweet potato. It's divine but don't just take our word for it – get your own jar here and see for yourself.

Niter Kibbeh: Ethiopian Spiced Ghee
This ghee was by far the most unfamiliar to us but probably one of our favorites (but please don't make us pick a favorite…we just can't). We're both unabashedly in love with all things curry. When we're together for our quarterly 'work binge weeks' there is always curry on the menu – which would explain our newest love affair: Niter Kibbeh Ghee. It has subtle curry flavor with a hint of cumin and it's glorious on all the things. Replacing the oil in our One-Pan Roasted Chicken and Vegetables recipe with Niter Kibbeh Ghee was a total game changer. It's also amazing to rub the inside of a whole chicken with before roasting, then use the pan juices to baste as it cooks. Crazy delicious.
Our friends at Pure Indian Foods have even more incredible ideas for using Niter Kibbeh Ghee here so be sure to check it out if you're a curry lover like we both are.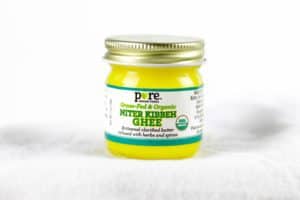 There you have it – the lowdown on ghee plus the grand tour of our favorite ghee products
Pure Indian Foods Ghee is available online at Amazon and on their website, PureIndianFoods.com, where you'll also find an extensive line of the highest-quality, certified organic spices and Indian grocery staples such as beans, teas, pickles and more plus even more delicious ways to get your ghee on.
Are you a ghee newbie or longtime ghee lover? What's your favorite way to use ghee? Share in the comments below and let's talk ghee!
---
This post was made possible by our friends at Pure Indian Foods. Though we received compensation for this post, the opinions expressed here are – as always – 100% our own. Thank you for supporting the great companies we work with thereby allowing us to continue creating great recipes and content for you.
This post may contain affiliate links which won't change your price but will share some commission.