Here's the low-down on grass-fed dairy including our favorite ways to enjoy organic Grassmilk plain yogurt.
It's likely that you've heard of the term 'grass-fed' and have seen it on the packaging of meat and dairy products in the grocery store or maybe you've seen it being used on social media or on a blog (like our very own). But what does that term even mean?
Today, we teamed up with Organic Valley to educate you on the definition of 'grass-fed', some of the misconceptions associated with this term, what to look for when purchasing grass-fed products and why you might want to choose grass-fed dairy for yourself. 
Organic Valley started in 1988 as a cooperative of small family farmers who were fed up with the way American agriculture was headed and the fact that small family farms were disappearing. Today, thirty years later, Organic Valley is still a cooperative of family farmers whose values include organic farming practices, welfare of the animals and farmers and sustainable grazing and land management practices. The average herd size in the cooperative is just 71 cows (with 1,618 dairy farmers in the cooperative) – we think that's pretty impressive and speaks to their values of animal welfare. We also love that their farmers are ten years younger than the industry average which means Organic Valley is helping to raise the next generation of farmers who will then pass their knowledge on to their children who will become the future of organic farming. You can learn more about their humble beginnings and just how far they've come, here.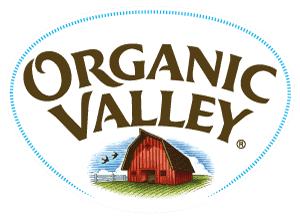 What is grass-fed dairy, anyways?
Grass-fed dairy is milk that comes from cows fed a diet of 100% grass and dried forages like hay. To be truly 'grass-fed' these cows must not receive any corn, soy or other grains during their lifetime.
What are the benefits of consuming grass-fed dairy?
For the cows: Cows are happiest and healthiest when they eat the diet nature intended for them – grass. Their multi-compartmented stomachs are not designed to digest corn and other grains. When a cow is fed a grain-based diet they're at an increased risk for contracting E. coli (a dangerous pathogenic bacteria) that can be passed through their milk and on to humans.
For you: Grass-fed dairy contains more beta-carotene, more inflammation-fighting omega-3 fatty acids and conjugated linoleic acid (CLA) which is a special type of omega-6 fatty acid that also has anti-inflammatory properties.
For the environment: When cows are allowed ample room to roam and graze on grass they naturally leave behind 'deposits' of manure which is rich in nitrogen, an organic compound that is necessary for soil health. Healthy soil produces healthy forage (grass) which in turn feeds the cows and helps prevent soil erosion and cleans the air by sequestering excess carbon from the atmosphere.
Debunking the misconceptions of the term 'grass-fed'.
Due to the recent popularity of grass-fed dairy, there has been some 'greenwashing' with regards to products labeled grass-fed (both dairy and meat). Keep in mind that all cows start their lives on pasture or grass. It's when they are moved either to a feedlot or confined farming operation that they are fed grain and thus no longer qualify as 'grass-fed'. To help you navigate the sea of labels out there, look for products labeled '100% Grass-fed', head to the product's website to check out their Frequently Asked Questions (FAQs) or contact the company directly (contact information can be obtained from the package or by visiting their website.)
Did you know? All of Organic Valley's dairy products are made from milk from pasture-raised cows but only their Grassmilk products are made from cows that are 100% grass fed.
Curious about grass-fed dairy? Get the low-down here! @OrganicValley #FarmToYogurt #ad
Click To Tweet
Why we love Organic Valley Grassmilk yogurt
One of the best things about grass-fed dairy (besides the benefits to your health, the cows' health and the health of the environment) is the taste. Milk from cows fed exclusively on grass has subtle herbal top notes with a hint of floral petal and a deep mineral base. Meaning, it tastes the way milk should taste! As grasses and forages change throughout the year so do the subtle flavor highlights of Grassmilk.
This is one of the reasons we love the Grassmilk Yogurt from Organic Valley, which happens to be one of the newest members of the Organic Valley family. It's flavor and creamy texture (thanks to the layer of cream on top) is beyond compare thanks to the Grassmilk it's made with.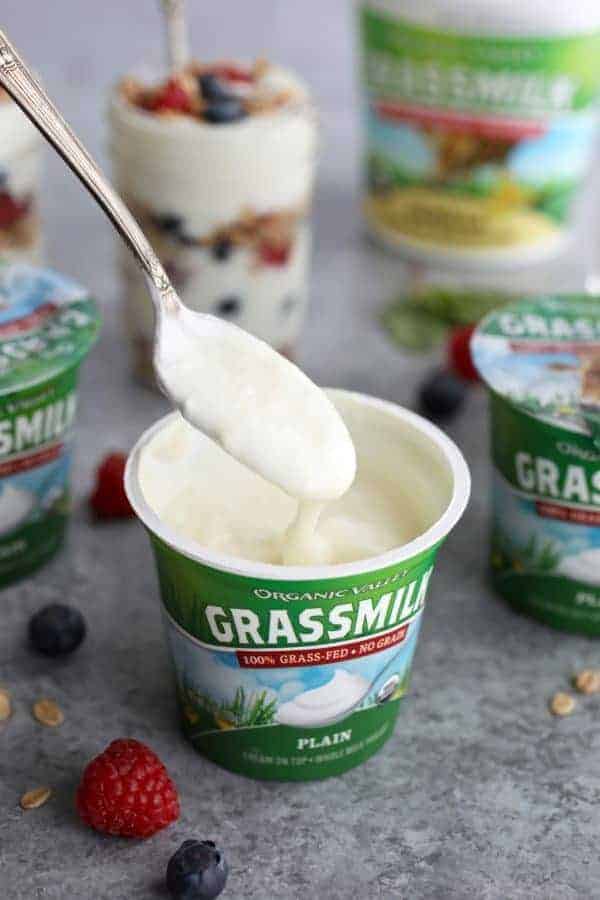 So now that you have a good understanding of the term grass-fed and have been introduced to Organic Valley Grassmilk Yogurt, we're going to switch gears just a bit here and share with you ways we like to enjoy good ol' plain yogurt! That's right…plain yogurt!
Ways to make plain yogurt tasty!
One of the reasons we recommend plain yogurt is the fact that there is no sugar added. The only sugar that it contains is the natural sugar found in yogurt, called lactose. Additionally, the great thing about plain yogurt is that it's incredibly versatile. It can be enjoyed in both sweet and savory ways. The options are pretty much endless!
5 ways to enjoy plain yogurt
Blend up a smoothie – adding plain Organic Valley Grassmilk yogurt to your favorite smoothies makes the smoothie extra creamy and adds a good source of protein, calcium, and healthy fats.
Build a parfait – with just a few additions you can build an incredibly tasty and satisfying parfait. Some of our favorite parfait ingredients include fresh berries, low-sugar granola, coconut flakes, chopped nuts, chia seeds, cacao nibs and a touch of honey or maple syrup.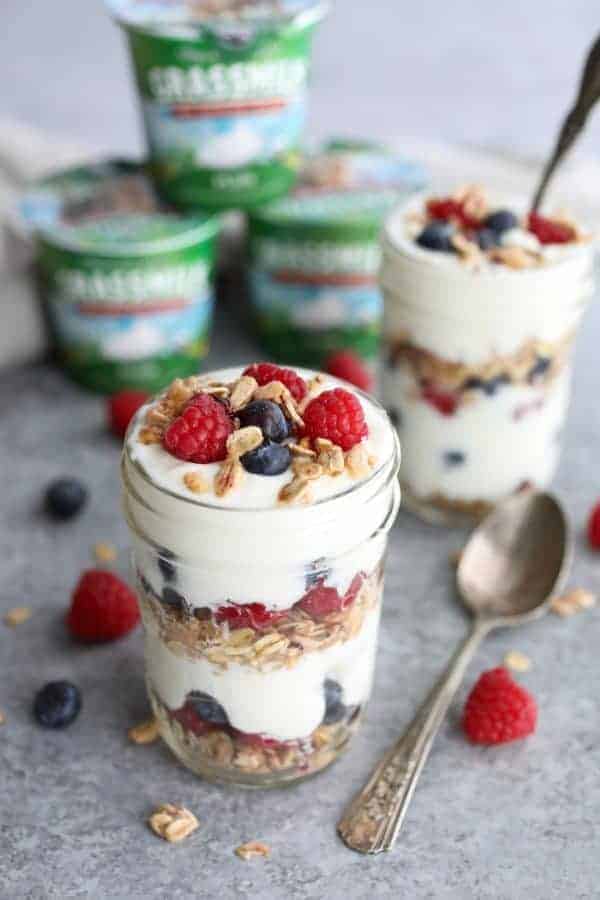 Make a dessert – a healthy, easy and oh-so-delicious dessert can be made simply by blending or mixing together Organic Valley Grassmilk plain yogurt, a banana, and a spoonful of peanut butter or almond butter. Serve it in a small bowl and top with a few mini chocolate chips. Use frozen bananas for a thicker, soft-serve consistency.
Dip your veggies – try Organic Valley Grassmilk plain yogurt in place of sour cream or mayonnaise. Here's a simple Ranch Dip recipe that's made with plain yogurt and perfect for veggie dipping.
In a small bowl combine:
     

¾ cup

Organic Valley Grassmilk plain yogurt

(1-6 oz. container)

     

1 tsp. dried parsley

     

½ tsp. dried dill

     

½ tsp. dried garlic powder

     

½ tsp. dried onion powder

     

½ tsp. dried chives

     

¼ tsp. sea salt

     

¼ tsp. ground black pepper
Use it as a topping for sweet or savory dishes – plain yogurt makes a deliciously tangy topping for sweet and savory dishes. Try it on your next bowl of chili, your favorite taco dish or even on top of waffles or pancakes.
Grassmilk Plain yogurt shown on our Crispy Grain-free Waffles.
Grassmilk Plain yogurt shown on our Slow Cooker Pumpkin Chili. 
Now, if you're looking for a super quick, grab-and-go yogurt that's already flavored, Organic Valley Grassmilk Yogurt comes in 4 different flavors – Vanilla, Black Cherry, Strawberry and Blueberry. 
We'd love to hear some of your favorite ways to enjoy plain yogurt? Visit here for an Organic Valley coupon on your next yogurt purchase!
Pin it!
---
This post was made possible by our friends at Organic Valley. Though we received compensation for this post, the opinions expressed here are  – as always -100% our own. In other words "This is a sponsored conversation written by me on behalf of Organic Valley. The opinions and text are all mine." Thank you for supporting the great companies we work with thereby allowing us to continue creating great recipes and content for you.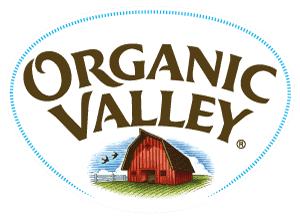 This post may contain affiliate links which won't change your price but will share some commission.
SaveSave
SaveSave