It's time to get your prep on with Weekly Meal Prep Menu: No. 9 !
Bonus: It's Whole30-friendly
Hey there! Welcome to the Weekly Meal Prep series where each week we feature 2 entrees, 1 breakfast, 1 salad and 1 snack or treat (and sometimes, a bonus recipe). Our Weekly Meal Plan Menus are designed to serve 4 people – or fewer if you don't mind leftovers. This won't be enough to feed you or your family for the entire week but it's enough to put a good dent in the week. Feel free to add additional recipes or staple items like hard-boiled eggs, fresh fruit, cut veggies, tossed green salads, salad dressings and more as your time (and energy!) allows.
To get the recipes, just click the image or link to get the printable recipe. You'll find the grocery list after the recipes – just click the link below the photo to download and print.
Get your meal prep game on with our FREE @Whole30 -friendly Meal Prep Menu #Whole30
Click To Tweet
Weekly Meal Prep Menu: No. 9
#mealprepseries
Buffalo Chicken Stuffed Spaghetti Squash – Be prepared for full-tilt Buffalo amazingness here. The combination of tender chicken, Buffalo sauce, crisp celery, sweet red pepper and cool, creamy Ranch dressing all tossed together with twirly strands of spaghetti squash is a 10 on the healthy comfort food scale. We used Tessemae's Mild Buffalo Sauce in the recipe but you can easily swap it out for our super simple Homemade Buffalo Sauce (and have leftovers for drizzling over eggs or roasted veggies or make these Crispy Baked Buffalo Wings). 
Beef and Broccoli (from Jay's Baking Me Crazy) – We love a good Takeout Fake-out because dining out can be expensive and you often have little control over what's going into your dish. This easy Beef and Broccoli stir fry comes together quickly and reheats beautifully. That is, if you don't devour it all on prep day. Serve it over cauliflower rice, zucchini noodles or your favorite kind of rice if you're not Whole30'ing.
Sausage Sweet Potato and Veggie Skillet (from Paleo Running Momma) – The old adage "Breakfast is the most important meal of the day" still holds true – and this veggie-packed skillet hash is a mighty fine way to start the day and prevent mid-morning cravings from taking hold. When you start the day with a meal that provides ample protein, healthy fats (eat those yolks, folks!)  and slow-burning carbs from vegetables you're setting yourself up to make better food choices throughout the day.
You don't need a cast iron skillet to make this skillet you'll get better caramelization of the veggies. Besides that, cast iron just looks really cool on your stove and you'll find yourself reaching for it again and again for other hashes, frittatas, potpies and one-dish fruit crisps. 
Thai Kale Salad with Ginger-Lemongrass Vinaigrette – This isn't your ordinary kale salad! Raw kale can be really, really chewy leaving you with an aching jaw and a bitter aftertaste – but not this time. In this salad we call for a quick rub down of the raw kale leaves using sea salt and your hands. Massaging the kales makes it tender and sweet – no more chew, chew, chewing or bitter aftertaste. Bonus: It's also better for your digestion because your hands are doing a lot of the work that your jaw and stomach would normally.
We used Primal Kitchen Avocado Oil in the dressing so it's neutral flavor wouldn't overpower the lemongrass and ginger.
Save 10% on your entire order of Primal Kitchen products when you use the code: REALFOODRDS at checkout! Shop Here
Paleo Ranch Dressing/Dip + Raw Veggies –  Sure, you can buy Whole30-compliant Ranch dressing (like Primal Kitchen) buuuuuuut you can also make your own in just minutes and save yourself a trip to the store and some cash. Our Paleo Ranch Dressing & Dip is just what you need for dipping veggies (raw, roasted or lightly steamed) and drizzling it over the Buffalo Chicken Stuffed Spaghetti Squash takes that dish over the top!
Make it Whole30-compliant with Primal Kitchen Mayo made with avocado oil and no added sweeteners. Use code REALFOODRDS to save 10% on your next order from PrimalKitchen.com
CLICK HERE to download the printable Grocery List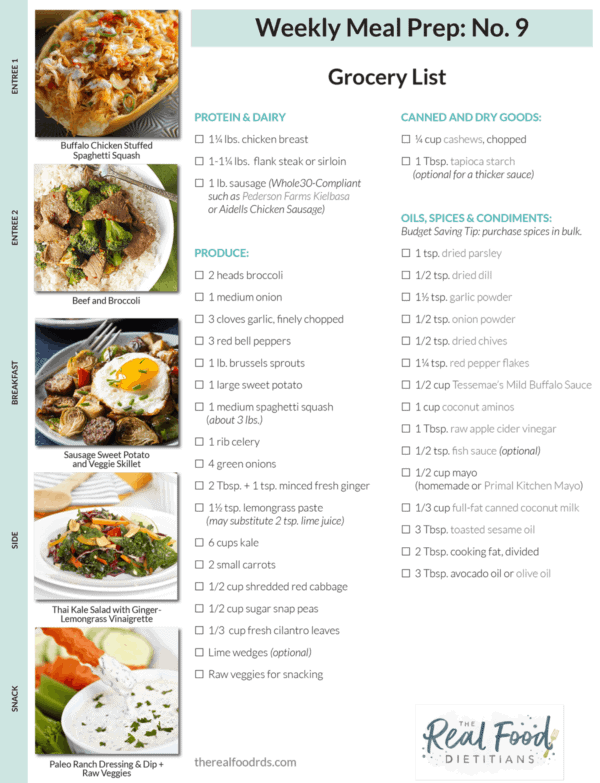 Tips for rocking this Meal Prep Menu
Looking for more Meal Prep Menus? Get them all HERE
We often carve out time for a mid-week meal prep to carry us though the weekend. The same 'rules' apply here – 5 recipes and 1-2 hours max in the kitchen. Even if you can't pull off a full prep, making just 2 recipes can go a long way toward saving your sanity in the second half of the week.
Don't forget to take some photos of your meal prep!
Hashtag your meal prep photos #mealprepseries on Instagram so that we can see all of your delicious meal prep photos! 
Pin it for later!
---
This post may contain affiliate links which won't change your price but will share some commission.