You've heard us talk about ButcherBox before but you might be wondering, "What exactly is ButcherBox?" or "Is ButcherBox worth it?" In this honest ButcherBox review we'll share what it is, how it works, the types of boxes you can choose from, how much it costs, and why ButcherBox is a better option in terms of quality and convenience.
This post was created in partnership with ButcherBox. Although we received compensation for this post, all opinions are ours and based on our personal experience with this service.
What is ButcherBox?
ButcherBox is a meat subscription service. They deliver 100% grass-fed and grass-finished beef, free-range organic chicken, and heritage breed pork, wild-caught seafood (and more!) to your doorstep. If you asked them to describe themselves in one sentence or less, they'd say that they're the neighborhood butcher for modern America. We know that you can get meat at your local store but we also understand the struggle of being able to source better quality meat so ButcherBox fills that gap.
In this post we're going to lay it all out and share what Butcherbox costs, how it works, what to expect, why better meat matters. Most importantly, we'll discuss who it's a good fit for and how to make it work for your budget.
Meal Plan Sponsored by ButcherBox
ButcherBox is a meat subscription service. They deliver 100% grass-fed and grass-finished beef, free-range organic chicken, and heritage breed pork, wild-caught seafood (and more!) to your doorstep. If you asked them to describe themselves in one sentence or less, they'd say that they're the neighborhood butcher for modern America. We know that you can get meat at your local store but we also understand the struggle of being able to source better quality meat so ButcherBox fills that gap.
For limited time only, we have an exclusive deal for you! When you sign-up to become a member of ButcherBox you can get Free Ground Beef For a Year + $100 ($50 off on the first two boxes) with code: REALFOOD100 (must enter coupon at checkout).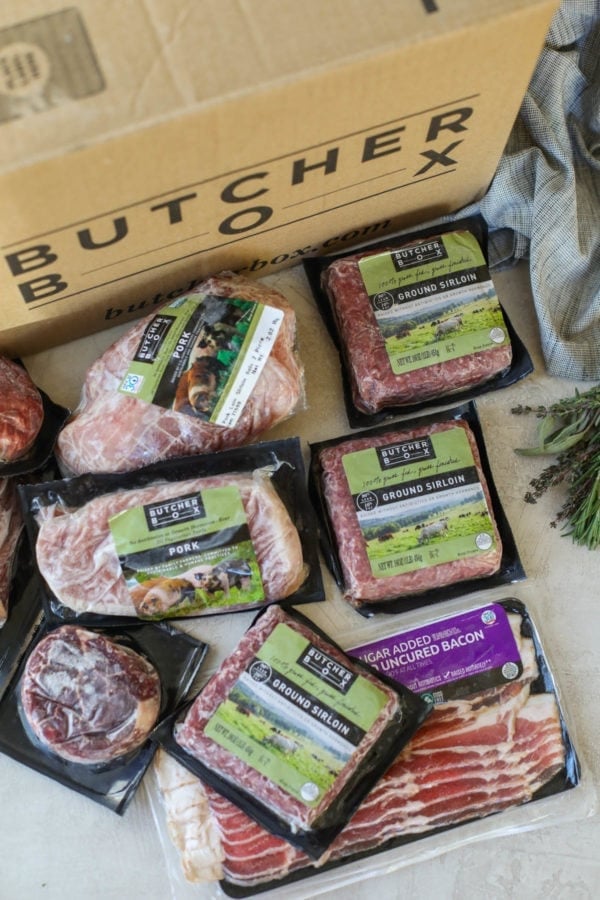 How does a ButcherBox meat subscription work?
Because ButcherBox is a membership, they operate on a monthly subscription basis. The default is that you get a box delivered to your door every month, however, you can change your frequency to meet your needs whether that's more often or less frequently.
When you sign up to become a ButcherBox member you'll choose the type and size box you'd like which we'll talk more about in the next section. Like your delivery schedule, this is also flexible. You can change the type or size of your box each month and you can even add members-only specials or recurring add-ons to your box.
Although ButcherBox is a subscription service, it's definitely not one-size-fits-all. In fact, we change up our boxes every month based on what we'll need to create and test recipes, the season, what we're in the mood for, and to take advantage of special deals that are always changing.
ButcherBox knows that you don't buy the same cuts of meat at the grocery store each week or month so that's why they give you so many options to choose from – whether that's what is in the box or when it will arrive. Because who doesn't love options?
What are the types of boxes that ButcherBox offers?
ButcherBox offers 5 types of boxes to choose from including 5 curated boxes and a custom box. 'Curated' means that Butcher Box hand-selects the cuts you receive each month. A custom box allows you to decide what goes in the box.
Which Box is the Best Deal?
As you can see, the Big Custom Box is the best bang for your buck when it comes to price per pound and getting what you want. This ultimately means no more random cuts getting abandoned at the bottom of the freezer because you didn't know what to do with it!
If the thought of ordering that much meat each month seems overwhelming, keep in mind that if you're still working your way through your box when your next billing cycle comes around, you can delay the shipment of your next box to give you more time. You can even set your deliveries to occur every other month.
*ButcherBox prices their boxes 'by meals' rather than by the pound as you're probably used to doing. For reference, they consider 6 ounces to be one meal (which roughly translates to 4 ounces cooked weight for most cuts) so a box with 24 meals will might be 10-12 dinners for 2 people or 5-6 dinners for a family of 4.
What comes in the 'average' box?
When you order a curated box (as opposed to a custom box where you select your cuts) ButcherBox selects the cuts for you. Cuts may vary based on region and availability but here's a sample of what a curated Classic Box could include.
How is ButcherBox different?
What stands out most for us is the quality of the meat we get from ButcherBox. When compared side-by-side with meat from local grocery stores, the flavor is unbeatable.
While flavor is definitely one of the big reasons why we choose ButcherBox for the meat we feed our families, we also believe that meat that is well-raised – with respect to how it's raised, what it eats, and how it's processed – is better meat. Better for the health of the animals, the farmers, and the environment. And of course, better for our families.
ButcherBox proudly offers high-quality protein that you can feel good about feeding your own family. All of their meat is hormone-free and antibiotic-free and humanely raised or sustainably caught.

Grass-fed, grass-finished beef

– ButcherBox only sources beef from cattle that are free to roam on grassy pastures their entire lives resulting in meat that's higher in omega-3 fatty acids, vitamins, and minerals.

Free-range organic chicken

– ButcherBox chicken is also Global Animal Partnership (GAP 3) certified meaning it meets the highest standards for health and productivity, natural living, and emotional wellbeing.

Heritage breed pork

– Heritage breeds such as Duroc, Berkshire, and Chester Whites are raised on pastures or in hoop barns, with their natural tendencies, safety, and comfort in mind. Their old-world genetics means that they are slow to mature giving them ample time to develop great marbling and flavor which future sets them apart from conventionally or mass-produced hogs.

Wild-caught salmon

– All of ButcherBox's seafood – including salmon, scallops, cod, halibut, and lobster – is wild-caught and sustainably harvested. And you'll never find added colors, additives, hormones, or antibiotics in their seafood.
Click here to learn more about ButcherBox's sourcing.
Can I cancel or change my delivery dates?
You can easily change your delivery date and delivery frequency by logging into your ButcherBox account and selecting the date and frequency that works best for you.
Yes, you can cancel or stop your membership, without penalties or hidden fees, anytime before your next billing date.
Is ButcherBox worth it?
We'll cut to the chase and honestly say, 'It depends'. For us, yes, ButcherBox is worth every penny. We love Butcher Box for the convenience and the quality and we love the people and farmers behind every box. Allocating a part of our monthly grocery budget for high-quality meat that's delivered to our doors is an easy choice for us personally.
However, we recognize that not everyone is ready, or able, to do the same so here we share our thoughts on who ButcherBox might be a good fit for and who it might not be for.
Does ButcherBox offer any deals?
Once you're a member you'll have access to their continually rotating member-only specials and add-ons that allow you to make the most of your ButcherBox membership. To see the available specials, you just need to sign in to your ButcherBox account and click the 'Deals' tab for a list of exclusive deals available to add to your next box.
You'll also get an email 3 days before your bill date with a list of deals and a reminder to make any desired changes to your box or delivery schedule.
Who is ButcherBox for?
You don't have access to high-quality meat in your area

– Whether you live in a rural area or an urban area sometimes you just don't have access to high-quality meat. ButcherBox fills that gap by delivering high-quality protein right to your door. They deliver everywhere in the contiguous 48 states and shipping is always free.

You value convenience

– We don't have to tell you this because we're pretty sure that you already know that shopping at multiple stores for the best variety and prices takes a lot of time! Before we signed up with ButcherBox two years ago we would visit no fewer than three stores on a regular basis to source our meat. Because there are only so many hours in the day, you have to decide how much your time is worth.
You value quality

– If you love a good steak, a tender chicken breast, an insanely delicious pork chop, or fresh seafood and go out of your way to find the best quality, then ButcherBox is for you. They've done the leg work when it comes to sourcing and only offers the best quality.

You want to try new things

– When you choose a curated box from ButcherBox, they choose the cuts that you'll receive. This is great for those who tend to buy the same cuts in the grocery store over and over because you're forced to think outside the box when it comes to meals. Don't worry, you won't get anything super exotic and if you ever need inspiration or a chef-created recipe for a particular cut just

head over to the Just Cook blog

to find something delicious. 
ButcherBox might not be for you if:
What about all of that packaging?
Like anything you have delivered to your home, your ButcherBox will come with packaging. However, the good news is that the packaging is 100% recyclable in many areas. The cardboard box and insulation can be placed right into your curbside recycling bin while the plastic bag that the dry ice comes in can be taken to your local recycling center or a grocery store that has a bag recycling drop-off.
Still not sure if ButcherBox is right for you?
The only way to really know if a meat subscription is right for you is to try it for yourself. ButcherBox gives you loads of flexibility when it comes to box types, sizes, and delivery frequency. If after reading this honest review and considering your own needs and budget you think that ButcherBox is worth it then now is the time to give it a try and get a free whole chicken and chuck roast in your first box (new members only).
The Takeaway
We know you love a good takeaway and realize that this is A LOT of information to digest so we'll just leave you with this:
We've been ButcherBox members for more than four years and we absolutely love it. At first, we weren't entirely convinced, to be honest, because it felt a little strange to buy meat online when we were so used to doing it in person at the grocery store.
But as ButcherBox has expanded their offerings, increased their flexibility with regards to delivery schedules and box types, and added loads of new items beyond just beef, chicken, and pork, we now find it to be an indispensable service.
We love the convenience of having quality meat to our doorsteps and love knowing that the meat inside was selected with care – from vetting the farmers and their practices to sourcing the most nutritious and delicious cuts – and we think you will too.
---
This post was made possible by our friends at ButcherBox. Although we received compensation for this post, the opinions expressed here are – as always – 100% our own.