The ultimate comfort food just got a major upgrade in this Dairy-free Mac and Cheese!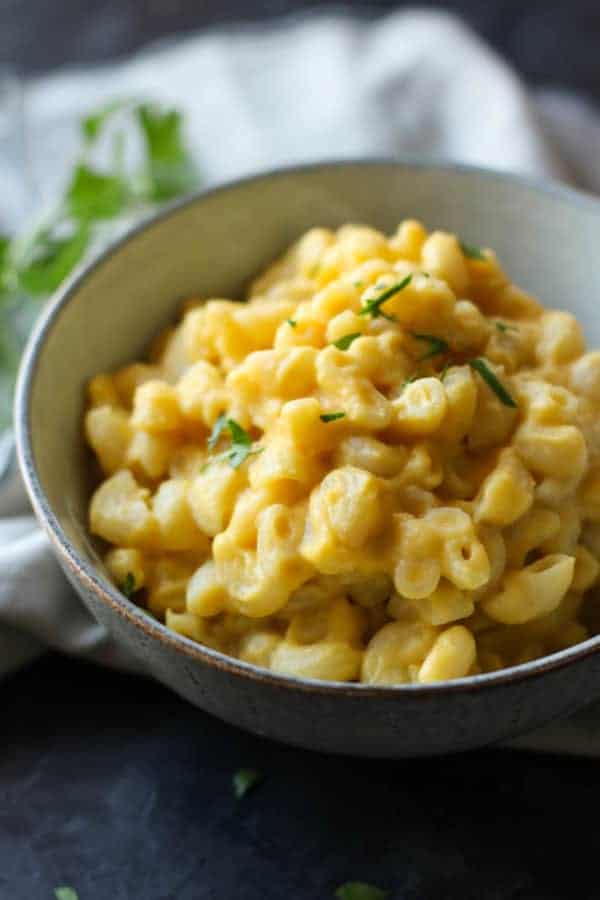 Your eyes are not deceiving you, this really is Dairy-free Mac and Cheese
No, really. It is. There is absolutely ZERO cheese involved in this recipe which is partly why it's so brilliant. The other reason is that is PACKED with vegetables. Um hmmmmm. Veggies!
And you'll never know they're in there. This Dairy-free Mac and Cheese is so silky, rich, creamy and cheesy that it fooled even my most discerning, veggie-sniffing daughter. Not kidding, this kid can smell a hidden veggie from miles away like a customs dog on the hunt for pineapples and cigars.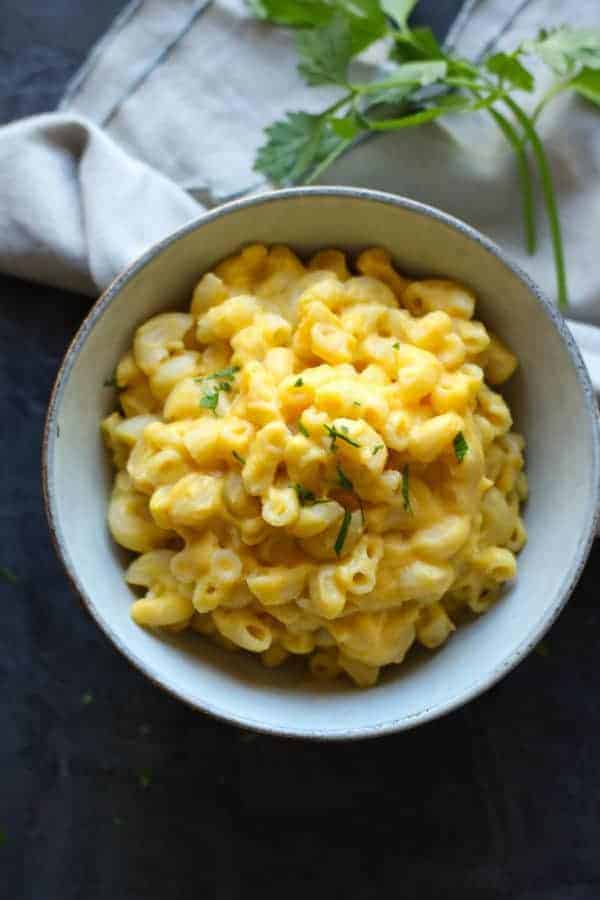 The day I developed this recipe was the first official 'real snow' of the season here in Boulder. The girls came running into the house just as I was pulling the bowl of mac and cheese off the table by the window where I'd been photographing it and they immediately started to inhale it. Still in jackets, hats and snow boots. And there may have been a fight over the last noodle, too.
Naturally, I asked: "Is it good?" They both nodded and smiled. Satisfied with their answer, I turned to walk into my office and heard my oldest say to my mom as I left the room: "That wasn't REAL mac and cheese. I don't know what it was but it was good." YASSSSSSS!
Mom: 1, Veggie-sniffer-outer: 0
The secret is in the sauce
Okay, enough about my on-going endeavor to hide all the veggies – you came here to learn how to make the BEST Dairy-free Mac and Cheese, right?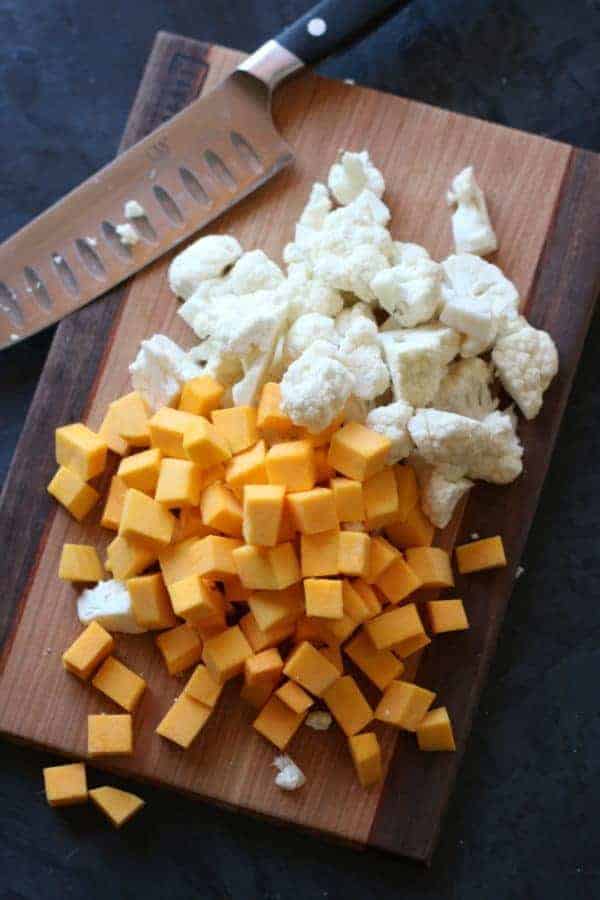 Well, the secret (as you might imagine) is veggies. Taking a cue from an old vegan cookbook I leafed through at a thrift store this summer I combined butternut squash, cauliflower, onions and garlic to create a silky smooth puree in the perfect shade of orange. Then to make it tangy and savory like cheese I used nutritional yeast, lemon juice and a bit of dijon mustard  (like we did here in this Vegan Nacho Cheese Sauce) and voila!
Super creamy, non-dairy, nut-free cheesiness if now yours to pour all over your favorite gluten-free pasta (or roasted cauliflower if you're looking for a grain-free and/or lower carb option).
Veggies are the secret to this ultra creamy Dairy-free, Nut-Free Mac and Cheese #realfood
Click To Tweet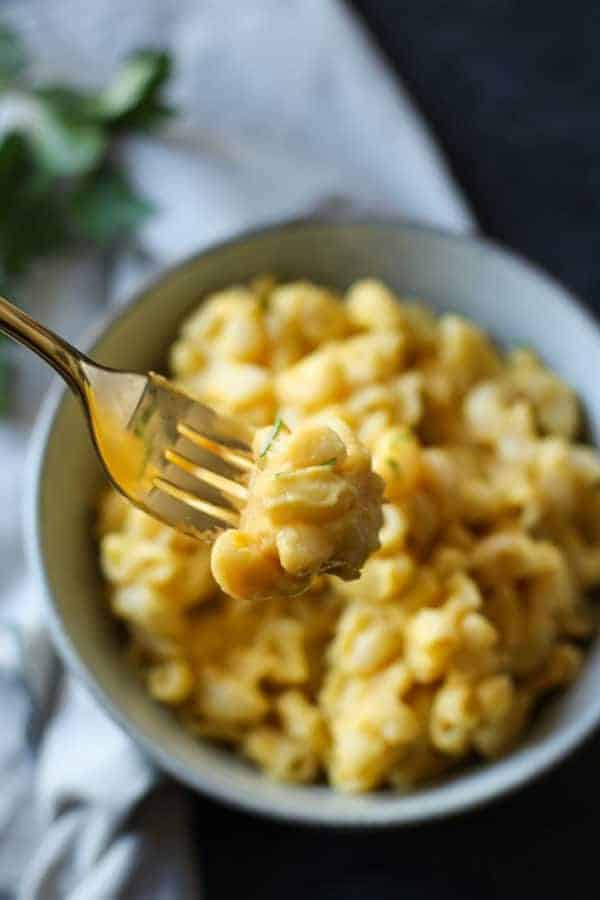 A food-allergy sufferers dream come true
Whether it's dairy, soy, gluten, eggs or corn that can't tolerate, you can make this recipe work for you. Even our plant-based friends can partake in this Dairy-free Mac and Cheese by substituting vegetable broth for the chicken broth.
#macandcheeseforeveryone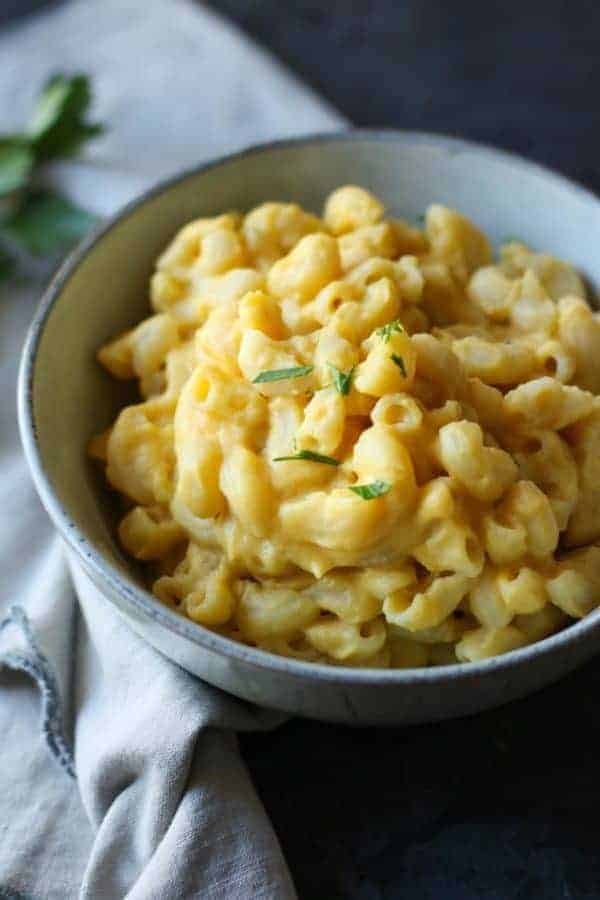 Put the ultimate comfort food back on the menu with this Dairy-free Mac and Cheese!
Hungry for More? Subscribe to get our newsletter delivered straight to your inbox! And be sure to stay in touch on Facebook, Twitter, Pinterest and Instagram for all of the latest updates.
Let's Get Cookin'
Dairy-free Mac and Cheese
Author:
Prep Time: 15 mins
Cook Time: 20 mins
Total Time: 35 mins
Yield: 6 1x
Category: Main-dish, Side dish
Cuisine: Paleo, Vegan, Gluten-free, Nut-free, Dairy-free
Ingredients
1 medium yellow onion, diced
2 cloves garlic, minced
1 Tbsp. coconut or avocado oil
3 cups cubed butternut squash, fresh or frozen
3 cups cauliflower florets, fresh or frozen
2 cups chicken broth (substitute vegetable broth for vegan)
1 ½ tsp. freshly squeezed lemon juice
Scant ¾ tsp. dijon mustard
1 – 1 ½ tsp. salt
3 Tbsp. nutritional yeast
16 ounces gluten-free pasta of choice
Instructions
In a medium saucepan with lid, melt oil over medium heat.
Add onions and cook, stirring occasionally, until onions start to soften.
Add garlic, stir and cook another 30 seconds to a minute or until garlic is fragrant.
Add squash, cauliflower and broth and bring to a steady simmer.
Once simmering, cover pan with lid and cook until vegetables are very tender, about 15-18 minutes. You may need to lower the heat slightly to maintain a steady simmer and prevent it from boiling.
When veggies are very tender, transfer to a blender. Add remaining ingredients and blend until very smooth.
Taste and adjust seasoning before pouring our your favorite cooked pasta (or roasted vegetables).
Notes
All photos and content are copyright protected. Please do not use our photos without prior written permission. If you wish to republish this recipe, please rewrite the recipe in your own unique words and link back to the source recipe here on The Real Food Dietitians. Thank you!
Nutrition
Serving Size: 1/6th recipe
Calories: 376
Sugar: 7g
Sodium: 340mg
Fat: 7g
Carbohydrates: 71g
Fiber: 10g
Protein: 12g
What's your favorite thing serve with Mac and Cheese? Are you a vegetable hider too? Share in the comments below.
Pin now, save later!
---
This post may contain affiliate links which won't change your price but will share some commission.