Fresh radishes in shades of pinks, reds, whites, and purples are a beautiful and welcoming sign of spring. This recipe for Garlic Roasted Radishes is one of our favorite ways to serve this often forgotten vegetable, and we're quite sure it will soon become one of your favorite radish recipes, too! Roasting brings out the sweetness that is otherwise masked by the peppery kick that radishes are known for.
This post was originally published on June 25, 2016; Updated on April 22, 2021.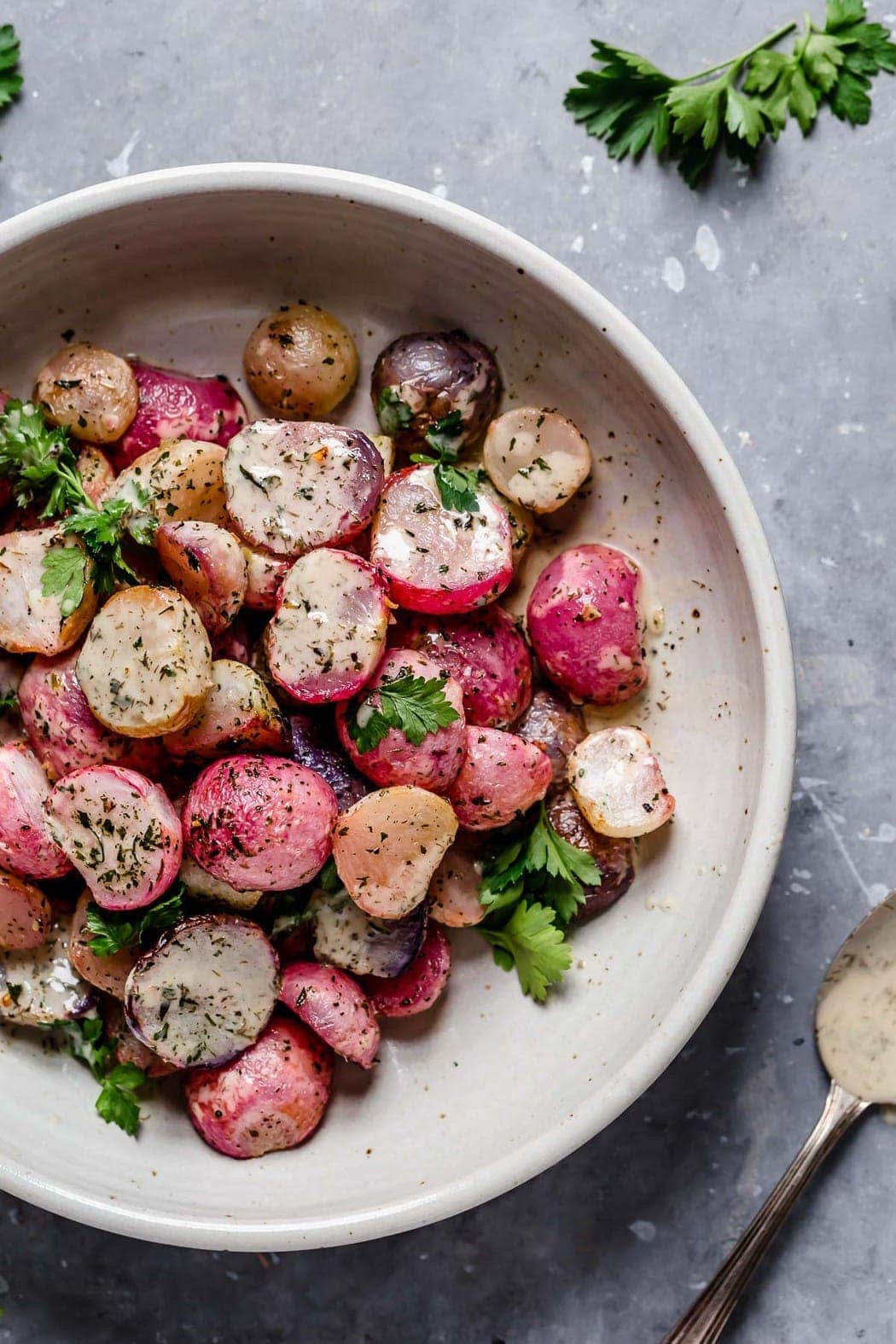 What to do with radishes
You may have purchased a bunch of radishes from the farmer's market because they are just so darn beautiful. Or you may have received a CSA box bursting full of bright pink and red orbs. Or you may be in the mood for something new.
But what do you do with radishes? Sure you could serve raw radishes as part of a veggie tray. Or you could slice them thin to top tacos or nachos. Or you could par-boil them and serve with butter, a technique popular in France.
But we vote that you try this roasted radishes recipe. If you haven't tried roasting radishes, you've been missing out. Even if you don't think you (or someone in your household) likes radishes, we encourage you to give roasted radishes a try because we know you'll be pleasantly surprised.
Roasting is a technique that mellows the peppery flavor of radishes and brings out their natural sweetness. Then, our garlic-infused butter (or ghee) adds a nice layer of flavor. If you like roasted potatoes, you'll probably like this recipe. The end-product is somewhat similar in texture but far lower in starchy carbohydrates.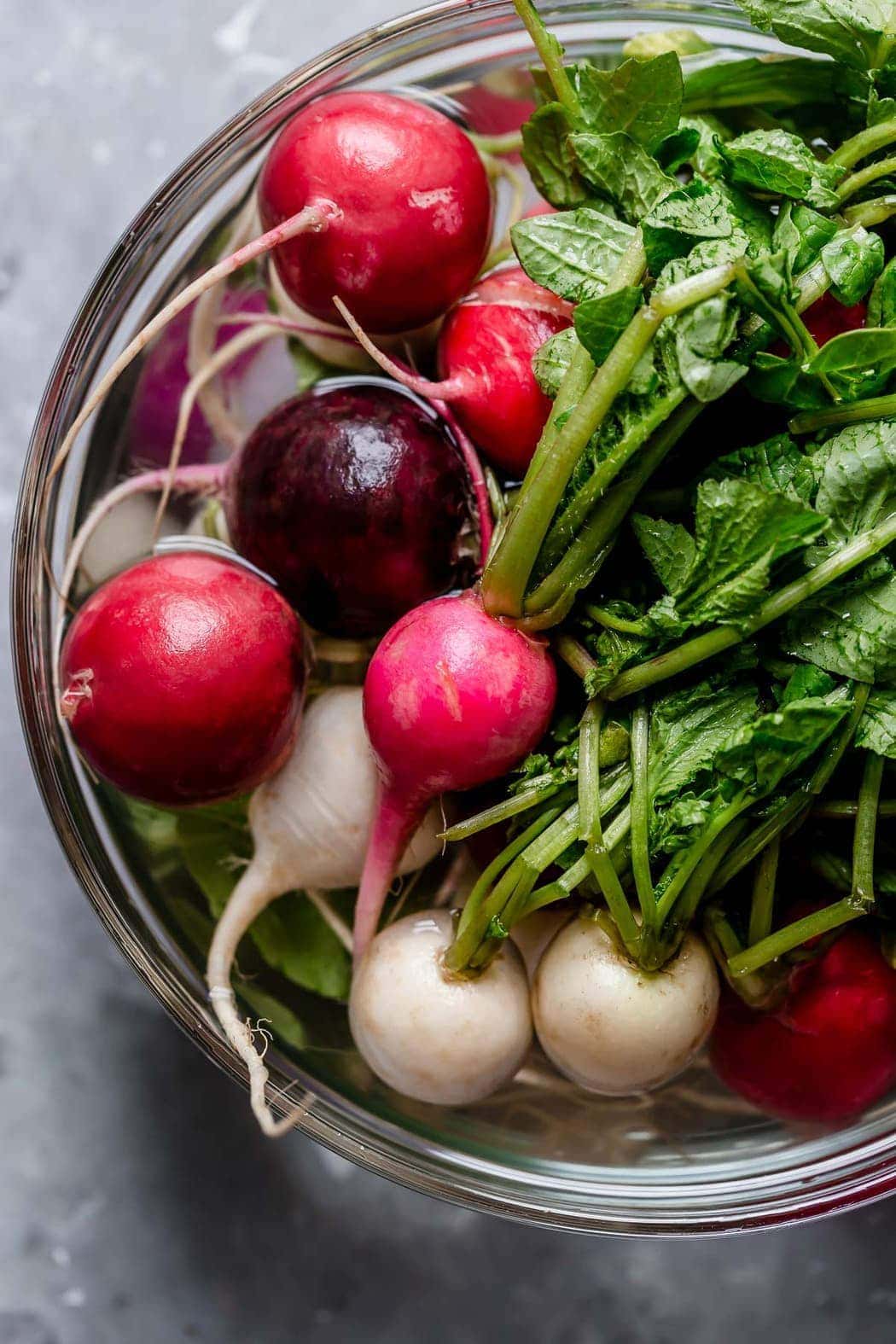 Ingredients to make Roasted Radishes
You'll only need a few ingredients to make this roasted radishes recipe, and you can easily substitute some of the ingredients.
1 pound fresh globe radishes – these are the most available type of radishes
Butter – or you can use ghee, or substitute coconut oil or avocado oil to make this a vegan recipe
Sea salt – any salt will do, but we like flaky sea salt for this recipe
Ground black pepper
Garlic cloves – or substitute 1/4 teaspoon garlic powder for the 2 garlic cloves
Dried parsley – or use dried chives or dried dill
How to cook radishes
Radishes can be eaten raw or cooked. Applying heat to radishes helps calm the mild (or sometimes strong) spicy or peppery flavors in them. To cook radishes, you can bake or roast them in the oven, or sauté or pan-roast them on the stovetop. You could also boil or steam radishes, though those techniques could result in too-soft radishes and nutrient losses. We tried several ways, and our favorite method for cooking radishes is also the easiest: roasting radishes in a hot oven. For roasting, a 9×13 baking dish works great!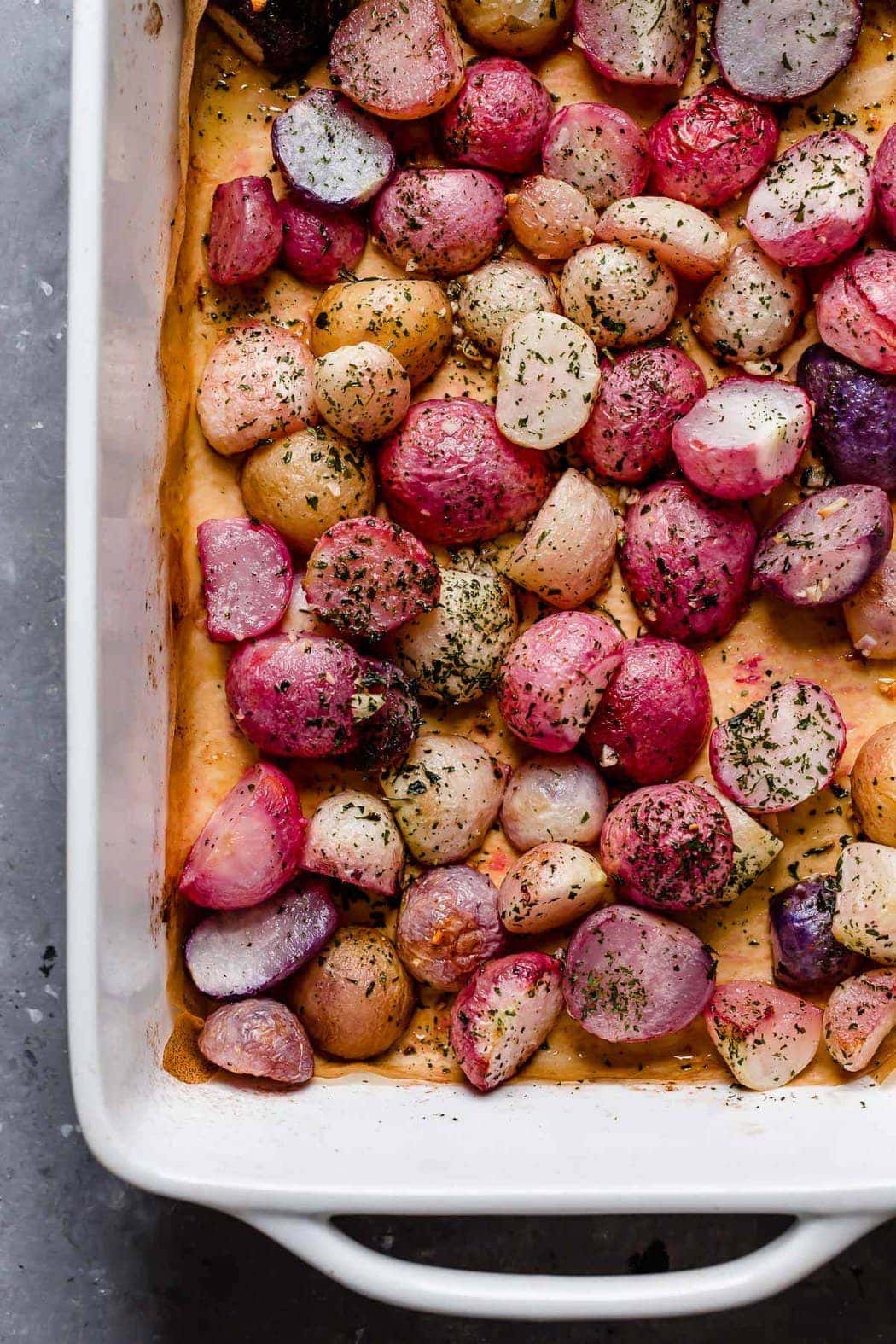 How radishes fit into your diet
Radishes deserve the spotlight, and that's why we wanted to share with you this delicious and unique way to enjoy them. We think radishes are an unsung hero of meals everywhere and worthy of far more praise. Not only do radishes come in a kaleidoscope of vibrant colors, but they are a healthful food that fits nicely into so many eating styles. Radishes are a non-starchy root vegetable that easily adds flavor and options to low-carbohydrate, vegetarian, vegan, paleo, or Whole30 diets. Radishes are naturally gluten-free, grain-free, and nut-free.
5 reasons to love radishes

Radishes are a root vegetable that comes in several different colors and are a cousin to cabbage
This bright spring veg is a very good source of disease-fighting and immunity-boosting vitamin C
Radishes contain natural antibacterial and antifungal properties
They contain a unique phytochemical called indoles which promotes detoxification, helping your body rid itself of harmful substances
Radishes are full of powerful antioxidant flavonoids that fight havoc-causing free radicals and aid in healthy liver and kidney function
How to serve Roasted Radishes
Garlic Roasted Radishes are a delicious low-carb side dish to enjoy throughout the spring and summer. We love to serve them alongside grilled meats and chicken. For an extra treat, we love to drizzle these radishes with our dairy-free ranch dressing.
Another favorite way to enjoy these Garlic Roasted Radishes is by adding them to a salad along with sliced chicken, avocado, sliced almonds, and green onions, then toss it all with our citrus vinaigrette. Is your mouth watering yet?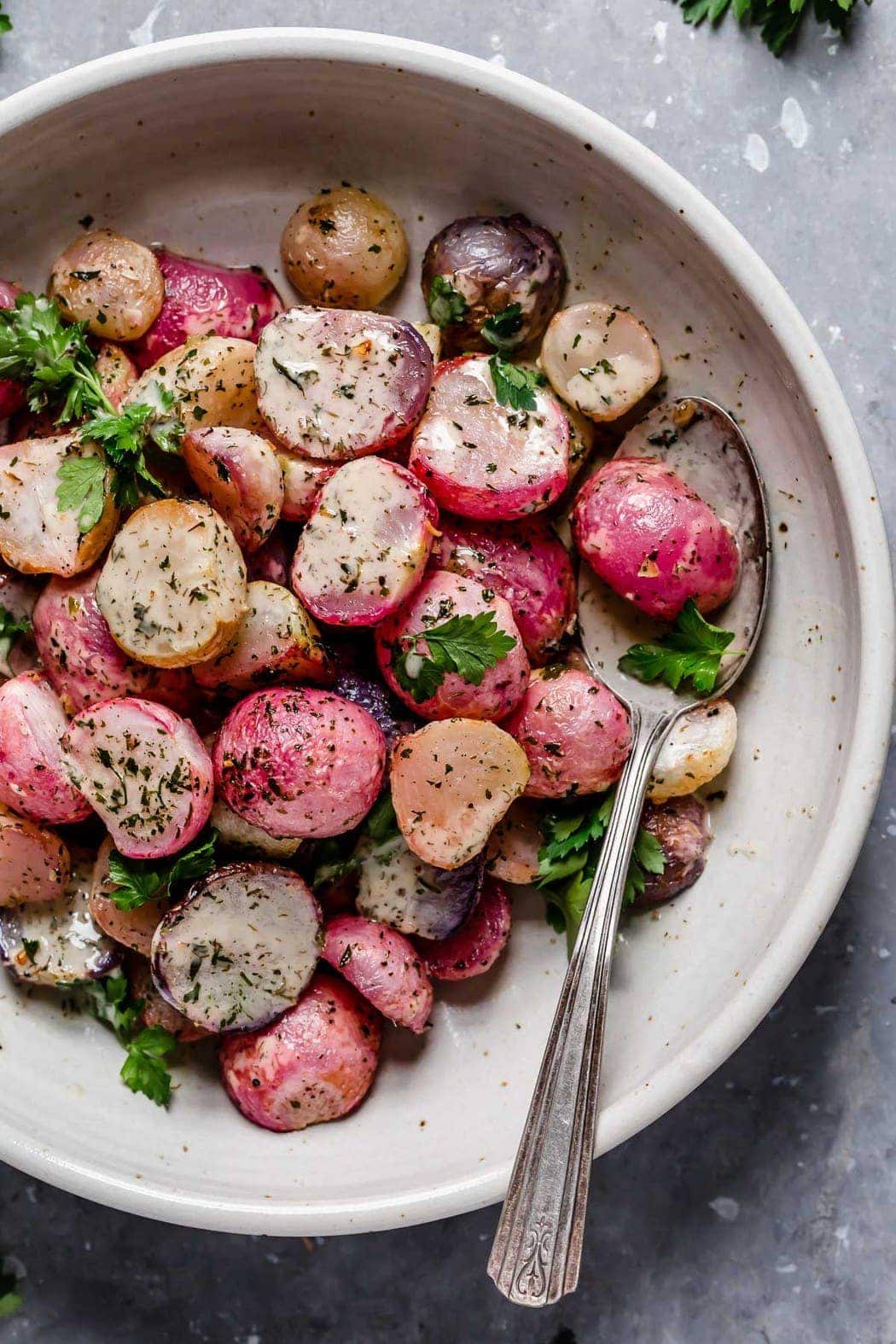 Other delicious veggie side dishes to try
Recipe
Garlic Roasted Radishes
Roasting radishes brings out the sweetness that is otherwise masked by the peppery kick that radishes are known for. This must-try recipe will turn anyone into a radish lover!
Prep:
10 mins
Cook:
25 mins
Total:
35 mins
Ingredients
1

lb. fresh radishes, stems removed, ends trimmed, and halved

1 tablespoon

melted ghee, butter, coconut oil or avocado oil)

1/2 teaspoon

sea salt

1/8 teaspoon

black pepper

1/4 teaspoon

dried parsley, dried chives, or dried dill or mix

2

garlic cloves, finely minced
Optional toppings: Ranch dressing for drizzling or garnish of fresh parsley, dill, or chives
Preheat oven to 425

℉

. In a bowl, combine the radishes, cooking fat (ghee, butter or oil), dried herbs, salt, and pepper; toss until the radishes are evenly coated. (Note: don't add the minced garlic until step 3).
Spread radishes out in a single layer in a large 9×13 inch baking dish.
Bake for 20-25 minutes, tossing every 10 minutes. After the first 10 minutes of baking add the minced garlic and toss. Return to oven to bake an additional 10-15 minutes or until radishes are golden brown and easily pierced with a fork.
If desired, serve with ranch dressing for dipping or drizzling on top and garnish with fresh parsley, dill, or chives.
Last Step! Please leave a review and rating letting us know how you liked this recipe! This helps our business thrive so we can continue providing free recipes and high-quality content for you.
Nutrition Information
Serving Size:

1/4 of recipe

Calories:

68

Fat:

6 g

Sodium:

250 mg

Carbohydrate:

4 g

(Fiber:

1 g

Sugar:

2 g

)
Protein:

1 g
Dietary
Pin Now to make later!
All photos and content are copyright protected. Please do not use our photos without prior written permission. If you wish to republish this recipe, please rewrite the recipe in your own unique words and link back to the source recipe here on The Real Food Dietitians. Thank you!
Photo Credit: The photos in this blog post were taken by Jess of Plays Well with Butter.