Got leftover turkey? Turn it into the comfort food meal of your dreams with this Paleo Turkey Pot Pie.
Flaky crust + Hearty filling = Paleo turkey pot pie bliss
I don't think I really need to say much more than that. I mean, the photos pretty much speak for themselves. A cozy plate of turkey and vegetables in a light thyme-sage gravy topped with a ridiculously buttery/flaky/melt-in-your-mouth, grain-free pastry crust. End of story?
Almost. We should probably talk about that flaky, buttery pastry crust a little more since it's pretty much the crown jewel of this Paleo Turkey Pot Pie. And the filling? It's not too shabby either (OK, actually, it's really good) and it's the perfect way to use up all of that leftover turkey after the holidays. Or a rotisserie chicken. Or really, any protein for that matter. I've made it with ham, swapping out vegetable broth for the chicken broth and I've made it with bits of leftover roast beef and beef broth, and plates were licked clean every time. But that crust, let's talk about that grain-free pastry crust. It's really easy, I promise. Even if you've never made a pie, you can make this pastry crust. And feel free to forget about making it perfect, leaving it a little rough around the edges adds to its rustic charm and doesn't change the flavor one bit!
This crust IS the real deal.
We often talk about paleo-ized versions of food being 'just like the real deal," meaning they're so close in taste and texture you'd hardly know that they weren't filled with gluten. But dare I say, the grain-free pastry crust of this paleo turkey pot pie really IS the real deal.
Here's why:
Buttery
Flaky
Crispy yet tender to the bite
Never soggy
The secret? Finely ground almond flour, cold fat, using the food processor to cut the fat into the flour and then form the dough. Using a 'light hand' and working quickly when making the dough and crust are also important – just like when you make a 'real' pie crust with wheat flour.
Do you have to use a food processor? No, you can cut the fat in by hand with a pastry blender or a fork, but it sure speeds things up and helps ensure the cold fat is evenly distributed throughout the dough so that when it hits the hot oven, you get that flaky/crispy texture you're looking for. I mean, the crust is, after all, the best part!
A filling that stands on its own.
While the crust may be the best part of any pot pie, that doesn't mean you can slack on the filling. After all, you can't have a great Paleo Turkey Pot Pie without a great filling.
I do want to point out that this filling errs on the side of more veggies and less gravy to keep the crust from getting soggy (especially if you plan to make it for a weekend meal prep or have leftovers). But honestly, even without all the gravy, it's so good that I sometimes find myself enjoying a few spoonfuls before I get the crust rolled out and have even considering making just the filling to serve as a stew with a side of roasted green beans.
A comfort food classic gets a grain-free makeover in this Paleo Turkey Pot Pie. #realfood #grainfree
Click To Tweet
Disclaimer: This post contains affiliate links that will not change your price but will share some commission.
From stovetop to oven.
Aside from having to dirty the food processor or a bowl for the pastry crust, this Paleo Turkey Pot Pie is pretty much stovetop-to-oven since you only need one skillet.
My skillet of choice for dishes like this (or our Skillet Sweet and Sour Chicken, or One-Skillet Chicken Parmesan, or Shepherds Pie with Sweet Potato Topping) is an inexpensive 10-inch cast-iron skillet like this one.
Why cast iron?
I could write an entire blog post about why I love cast-iron cookware and how I've tried everything from non-stick to stainless steel to copper to hard-anodized steel, but have always come back to cast-iron and enameled cast iron cookware…but that's a project for another day. So for now, I'll just say this about a good cast-iron skillet:
Inexpensive
Superior heat retention for even cooking
Perfect for high-heat searing and frying
Naturally smooth surface that improves with use and care
Easy to care for: Wash with hot water, dry, and rub with a thin layer of oil
Want to know more about cast iron, how to clean it and how to keep it well-seasoned? Check out this post for more information.
Tips for Prepping Ahead
I'll be the first to admit that a meal that takes an hour from start to finish isn't very weeknight-friendly, so I'm going to share a few of my best tips for making this Paleo Turkey Pot Pie a reality even when time is a little tight. I've given you some options so you can use all of the tips or just the ones you need to make it work for your schedule.
Wash and chop all of the vegetables and store them in separate containers in the fridge for up to 3 days.
Prepare the pastry crust through Step 6 of the pastry crust instructions in the recipe below. Wrap tightly in foil, parchment, a waxed cloth wrap, or plastic wrap and store in the fridge until ready to use. Allow crust to rest at room temperature for 30 minutes before rolling out the crust when it's time to cook.
Prepare the filling through Step 5 of the filling instructions in the recipe below. Cool slightly before refrigerating in a covered container for up to three days.
Prepare the dough and filling as directed. Place filling in a 9-inch, deep-dish pie plate or 9×9-inch glass baking dish. Top filling with the pastry crust. Wrap tightly with foil and refrigerate until ready to bake. When it's time to bake, allow pot pie to rest at room temperature for 30 minutes while the oven preheats – then bake, covered, for 20 minutes. Remove foil and continue baking another 10-15 minutes or until the crust is lightly browned and crisp and the filling is hot and bubbling.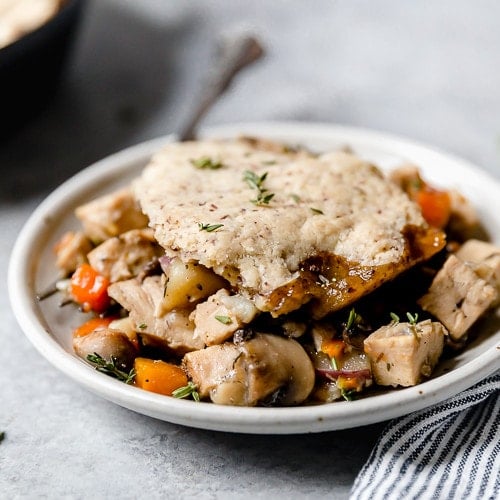 Recipe
Paleo Turkey Pot Pie
A tender, flaky grain-free crust tops chunks of turkey and vegetables smothered in rich thyme and sage gravy. A little more time-intensive, but definitely worth it!
Prep:
20 mins.
Cook:
40 mins.
Total:
1 hour
Ingredients
Pastry Crust
Filling
12 oz

. cooked turkey, cubed (may substitute cooked chicken)

1 Tbsp

. ghee or olive oil

1

small onion, diced

3

cloves garlic, minced

8 oz

. cremini or button mushrooms, sliced

2

small red potatoes, cubed small (about

1 cup

)

3 cups

chicken broth (store-bought or homemade)

1 cup

frozen peas & carrots

3 Tbsp

. tapioca flour

¾

 tsp. dried thyme

½ tsp

. dried sage

½ tsp

. salt

¼ tsp

. black pepper
For the Crust
In a small bowl, whisk together flax meal and warm water then set aside to thicken.
To the bowl of a food processor, add almond flour, tapioca flour, salt, and garlic powder. Pulse a few times to combine.
Add ghee or butter and flax/water mixture to the dry ingredients. Pulse until resembles coarse sand.
Add a few drops of water and pulse again. Repeat until dough comes together in a ball. This may or may not take the entire 1 Tbsp. water.
Turn dough out onto a piece of plastic wrap or parchment paper. Dust with tapioca flour, then form dough into a ball with your hands.
Place another piece of wrap or parchment paper over the ball and flatten into a disk about 6 inches in diameter. Chill 20 minutes.
For the Filling (make while crust chills)
Preheat oven to 375

℉

.
Place a 10-inch cast-iron skillet (or other oven-proof skillet) over medium heat. Add ghee (or olive oil) and sauté onions 4-5 minutes or until they start to soften. Add garlic and cook an additional 1 minute.
Add mushrooms and continue to cook until they've lost most of their water. Add potatoes, broth, thyme, and sage. Bring just to a boil then reduce heat, cover and simmer 15 minutes or until potatoes are almost tender. Add frozen peas and carrots, increase the heat and return mixture to a boil
Mix tapioca flour in a small bowl with a bit of the hot broth to create a slurry. Slowly add to bubbling filling mixture and stir gently until thickened.
Remove from heat and stir in the cooked turkey. Taste and season with salt and pepper to taste.
Remove crust from the fridge and roll out into a 10-inch circle on the parchment or wrap. Carefully slide one hand under the crust and use the other to stabilize the crust as you flip it over onto the filling. Gently crimp crust edges if they hang over the edge. If not, that's fine, the crust doesn't have to cover every bit of the filling. Cut 4 slits in the center of the crust to allow steam to escape.
Place skillet on a baking sheet and bake for 20-25 minutes or until the crust is lightly browned and crisp.
Last Step! Please leave a review and rating letting us know how you liked this recipe! This helps our business thrive so we can continue providing free recipes and high-quality content for you.
Nutrition Information
Serving Size:

1/6 recipe

Calories:

477

Fat:

27g

Sodium:

485mg

Carbohydrate:

37g

(Fiber:

6g

Sugar:

5g

)
Protein:

26g
Dietary
Pin it now & make it later!
What's your favorite way to use up leftover turkey after the holidays? Share in the comments below!
---
Photo Credit: The photos in this blog post were taken by Jess of Plays Well with Butter.