Bring the family back to the table for this Whole30-friendly Skillet Sweet and Sour Chicken that's sure to please!
This post was created in collaboration with our friends at Tessemae's.
Family meals are worth the effort.
Though I work from home at my dream job, I'm no different than any other working parent out there. I often skip lunches, eat while answering emails, feel guilty for taking time out of my workday to head to the gym, and I often stress about what's for dinner when I haven't made time for meal prepping or when life throws me a curve ball. I'm essentially the average, over-worked, over-scheduled modern day parent so I know what a struggle it is to get the entire family around the table to share a meal. But let me tell you, it's worth the effort because it's often the only time in the day when I can connect with my kids without the distraction of social media, carpools, etc.
So when our friends at Tessemae's reached out and asked us to create a meal that the whole family would enjoy TOGETHER, I jumped at the chance to share this Skillet Sweet and Sour Chicken using their Whole30-approved Organic Ketchup. You see, despite a fast-paced and full life, family meals are a non-negotiable for me. Growing up a "latch-key kid" with divorced parents, I learned to cook at a very young age so I could help my single-parent dad get dinner on the table for our family every night because it was a non-negotiable for him as well. The time my brother and I spent with our dad cooking dinners and eating together is something we both cherish to this day.
Make dinner together tonight with this easy Skillet Sweet & Sour Chicken #Whole30
Click To Tweet
Apparently it's not only me who thinks family dinners are important because according to The Family Dinner Project, some of the research-backed benefits of family meals include:
Better academic performance
Higher self-esteem
Greater sense of resilience
Lower risk of substance abuse
Lower risk of teen pregnancy
Lower risk of depression
Lower likelihood of developing eating disorders
Lower rates of obesity
And who doesn't want that for their children?
In fact, dining and preparing the meal together as a family is so important that the Founder and CEO of Tessemae's, Greg Vetter, recently did a Tedx Talk titled "The Dinner Habit: The Recipe for Change," that you can watch here.
This post may contain affiliate links that won't change your price but will share some commission.
The kitchen is the heart of the home.
If the kitchen is the heart of the home then why am I so often the only one in the kitchen when it comes time to prepare a meal? I've been asking myself that question a lot lately and what it comes down to is time. We're all short of time at our house, which means I'm often trying to do things as fast and as efficiently as possible. And if you've ever cooked with kids you know that isn't the fastest or most efficient way to get dinner on the table. But I know it's worth the time and the effort.
Pardon me while I pull out my soapbox here, but by not involving our children (or partners, spouses, roommates, friends, etc.) in preparing a meal we're doing them a great disservice. I believe that everyone should have the skills to cook a meal and that if we give our kids anything in life, it should be this skill. That's why I'm now re-committing to preparing one meal a week with my kids and spouse in addition to our regular family meals. Even when life is busy! It's just that important.
Planning + Patience
The key here is going to be planning and preparing simple meals that require basic skills like chopping, measuring, sauteing, etc. like this Skillet Sweet and Sour Chicken. It's made in one skillet and doesn't require any fine mincing or julienning. Even if your kids are too young to safely wield a knife (disclosure: mine have been using real knives like this one, with supervision, since kindergarten and we've only had one bad cut), you can give them other tasks like washing the bell peppers, peeling the onion, measuring spices, whisking together the sauce, or stirring everything in the pan. Of course, safety first, but don't be afraid to let them try. You'll be right there to help if things go awry and simply put if you don't involve them, they won't learn.
Let's do this together.
I sincerely hope you'll join me in an effort to cook more meals together and give this family-pleasing Skillet Sweet and Sour Chicken a try. As you can see, the act of cooking and eating together goes well beyond physical nourishment. Sharing a meal with those we love is good for the soul too, so get in there and cook up something delicious together this week, mmmkay??
P.S. If you teach your kids to cook when they're young, you'll reap the rewards later on when you can take a night off from cooking and let them put dinner on the table for you.
Recipe
Skillet Sweet and Sour Chicken (Whole30)
Prep:
15 min.
Cook:
20 min.
Total:
35 min.
Ingredients
1

(14-ounce) can pineapple chunks in 100% juice; drained and 1/2 cup juice reserved

⅓ cup

ketchup (use unsweetened for Whole30)

3 tablespoons

rice vinegar or apple cider vinegar

2 tablespoons

coconut aminos

½ teaspoon

garlic powder

½ teaspoon

ground dried ginger

1 tablespoon

cornstarch (or

1½ tablespoon

arrowroot starch for Whole30)

1

lb. boneless, skinless chicken breast, cut into

¾

-inch pieces

½ teaspoon

fine salt

⅛ teaspoon

black pepper

1 tablespoon

avocado oil or olive oil, divided 

2

medium bell peppers, any color, cut into

¾

-inch pieces (2 cups)

1

medium yellow onion, cut into

¾

-inch pieces (1 cup)

2

medium carrots, peeled and thinly sliced (1 cup)

Optional for garnish:

2 green onions, thinly sliced 

Optional for garnish:

Sesame seeds
For serving: Cooked rice or cauliflower rice.
In a small bowl, combine reserved pineapple juice with the ketchup, vinegar, coconut aminos, garlic and ginger. Whisk to combine. Slowly whisk in the cornstarch until no lumps remain. Set aside. 

In a medium bowl, combine the chicken with the salt and pepper. Toss well to coat.

Place a large skillet over medium-high heat. When hot, add 1 teaspoon of oil and reduce the heat slightly. Add the chicken and cook for 2-3 minutes without stirring. Flip chicken pieces when they release easily from the pan and are lightly browned. Continue cooking until chicken is almost cooked through. Transfer chicken to a plate and return the pan to medium-high heat.

Add the remaining 2 teaspoons of oil to the same skillet (no need to wipe it out first) and swirl to coat the bottom. Add the onions and carrots and cook, stirring often, for 4 minutes. Add the bell peppers to the skillet and cook, stirring often, until the vegetables are crisp tender, about 4-5 minutes more.

Add the cooked chicken and pineapple chunks to the skillet. Stir the sweet and sour sauce, then add it to the skillet. Cook, stirring frequently, until the sauce thickens and the vegetables are tender. 

Remove the skillet from the heat, sprinkle with sliced green onions and/or sesame seeds, if desired.

Store leftovers in an airtight container in the refrigerator for up to 4 days.
Last Step! Please leave a review and rating letting us know how you liked this recipe! This helps our business thrive so we can continue providing free recipes and high-quality content for you.
Nutrition Information
Serving Size:

1 cup (does not include cauliflower rice)

Calories:

297

Fat:

9g

Sodium:

418g

Carbohydrate:

31g

(Fiber:

5g

Sugar:

22g

)
Protein:

29g
Dietary
Pin this now & make it (together) later!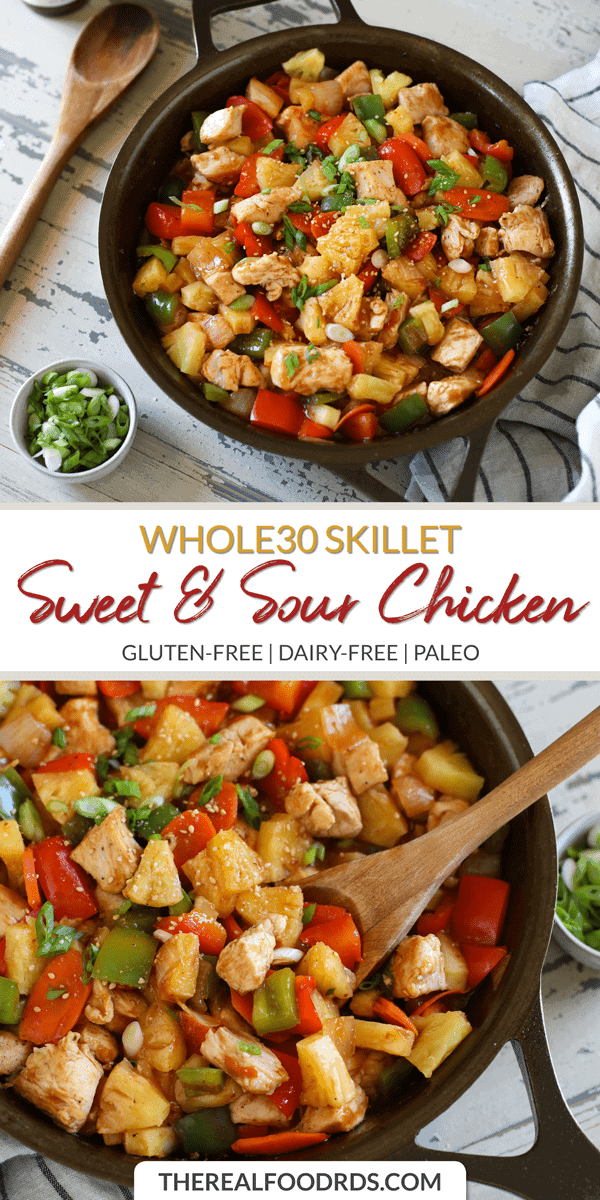 ---
This post was made possible by our friends at Tessemae's. Although we received compensation for this post, the opinions expressed here are – as always -100% our own. Thank you for supporting the great companies we work with thereby allowing us to continue creating great recipes and content for you.
All photos and content are copyright protected. Please do not use our photos without prior written permission. If you wish to republish this recipe, please rewrite the recipe in your own unique words and link back to the source recipe here on The Real Food Dietitians. Thank you!