Looking for a way to streamline your morning? Try our Pumpkin Spice Butter Coffee and get out the door faster while feeling fuller longer thanks to the addition of a little fat to your morning cup.
I'm not a fan of breakfast
There, I said. I just don't like breakfast. I'm deathly allergic to eggs. I don't like oatmeal, I'm not a fan of protein bars and I get ravenously hangry in just a couple hours if I eat toast or smoothies or similar high-carb meals.
I know I often preach that breakfast is important for literally 'breaking the fast' and giving you the nutrients you need to tackle the day ahead and it is. When done right, breakfast can be a great way to get high-quality protein, healthy fats, and ample antioxidant-rich plant foods into your belly. And sometimes I DO eat breakfast, usually a meat and veggie hash or leftover soup, or sweet potato toast with avocado and smoked salmon, but only if I'm not going to be heading out the door for my morning CrossFit workout or I don't have a billion things to take care of between opening my eyes and getting the kids to school on time (which is pretty much to say '5 days a week'). Thus, I'm left with only two options on those days: fast or add some fat to my morning brew (which I'm not going to skip no matter what I've got planned).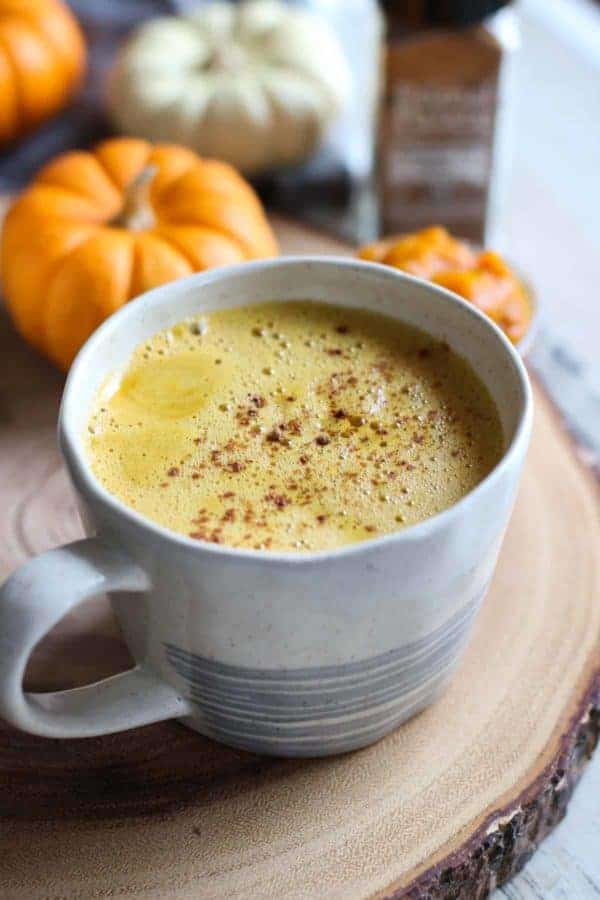 Lately, I've been caught up in the whole pumpkin spice buzz so this recipe is naturally going to feature pumpkin and spice. However, feel free to tweak it to your tastes – leave out the canned pumpkin if you don't have any or don't like it, add more or less spice, substitute coconut oil for ghee if you want to make it vegan, use decaf coffee or strongly brewed black tea or add a bit of honey or maple syrup if that's your thing (it's not mine so I left it out of the recipe but by all means, you do you).
Jumpstart your day with Pumpkin Spice Butter Coffee #realfood
Click To Tweet
This post may contain affiliate links that won't change your price but will share some commission.
Why I love 'butter coffee'
Other than the aforementioned disenchantment with breakfast, I love butter coffee for its convenience and taste. Oh, yes….it's taste. It's so rich and creamy and I have to admit that I almost prefer it over my beloved coffee and heavy cream (which I've broken up with following this last round of Whole30).
I case you're wondering, I'm not 'Keto'. I don't use my Pumpkin Spice Butter Coffee as part of an intermittent fasting protocol (though I could) I just prefer to start my day this way because it's easy, it's fast and I can make it through my workout with feeling heavy or full. I find that I don't get hungry for about 3-4 hours after drinking this and when I do, I opt for an early lunch and plan to have a snack later in the day (usually a small portion of a meal or some veggies with hummus).
I also love that I can just throw it all in the blender and let 'er rip. I usually add boiling water to my favorite travel mug to preheat it while the coffee is brewing – and if the kids are still asleep and I don't want to wake them, I skip the blender and use this amazing little frothing wand (it's got some serious horsepower) to get everything blended and super frothy.
Want great, organic coffee delivered to your door?
Try Purity Coffee today and save 20% on your order using code REALFOODRDS at checkout
Don't sweat the small stuff
If breakfast ain't your thing either, don't sweat it. Seriously. You can still start the day right with this Pumpkin Spice Butter Coffee and when you do feel hungry again try an early lunch that offers high-quality protein, healthy fats, and ample vegetables. You may find that you need a snack between your early lunch and regular dinner time (or you may not, depending on your energy needs, activity level, size of your lunch, etc.)
Bottom line: Life is too short to always play by the rules (in this case, starting your day with a 'real' breakfast). Sometimes you just have to do what works best for you right now and if it stops working, then step back and re-evaluate. Nothing works perfectly forever. Who knows? I may be back to eating breakfast on the regular next month…though I doubt it given how incredibly delicious, creamy, and satisfying this Pumpkin Spice Butter Coffee is.
Give it a try – it just might be your thing, too!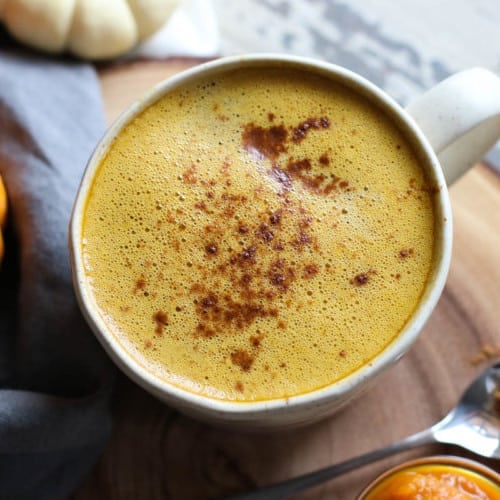 Recipe
Pumpkin Spice Butter Coffee
Prep:
5 mins
Total:
5 mins
Ingredients
*If you're new to adding ghee or other fats to your coffee, start with just 1 tsp. and gradually add more over the course of 1-2 weeks to prevent GI distress
Place all ingredients in a blender and blend on high speed until frothy.
Pour into your favorite mug and sprinkle with additional cinnamon, if desired.
Last Step! Please leave a review and rating letting us know how you liked this recipe! This helps our business thrive so we can continue providing free recipes and high-quality content for you.
Nutrition Information
Serving Size:

1 serving (made with 1 Tbsp. butter)

Calories:

110

Fat:

11 g

(Sat Fat:

7 g

)
Sodium:

25 mg

Carbohydrate:

1 g

(Fiber:

0g

Sugar:

0g

)
Protein:

1 g
Dietary
How do you start your day? Are you a breakfast lover or do you prefer something else like butter coffee to jump start your day? Leave a comment below.
Pin now, make later!
---
All photos and content are copyright protected. Please do not use our photos without prior written permission. If you wish to republish this recipe, please rewrite the recipe in your own unique words and link back to the source recipe here on The Real Food Dietitians. Thank you!