Cooking jasmine rice in the Instant Pot is a simple and fool-proof method. Once you try it, you'll wonder why you haven't been cooking your rice this way all along! Say goodbye to stuck-on rice on the bottom of the pan. You don't have to watch the pot like a hawk because the Instant Pot does all the work, cooking rice that is moist, fluffy, and perfectly cooked. You simply need to measure the ingredients, set the timer, and fluff the jasmine rice when it's done.

Instant Pot Jasmine Rice that comes out perfect every time
Many people don't realize that an Instant Pot is a perfect tool for cooking rice. Since it builds up steam inside of a closed vessel, it acts just like a stand-alone rice cooker would. That's good news if you want to limit the number of kitchen appliances you have!
Quickly read through the following steps to make jasmine rice in the Instant Pot that comes out fluffy and just right every time! No rice sticking on the bottom of your pan, no having to add more water during cooking, no under-cooked grains. Just perfectly cooked rice, every time.
Ingredients to cook Instant Pot Jasmine Rice
Cooking jasmine rice in the Instant Pot is simple once you know the right ratio of rice to water plus the correct cooking time. We've listed all the information here for you so you can make it just right every time.
To make light and fluffy jasmine rice in the Instant Pot, you will need:
Uncooked jasmine rice
Water
That's all it takes. Some recipes will call for added oil or salt in the Instant Pot, but you don't need those. If you'd like to flavor your rice with seasonings, butter, ghee, or oil, do so after it comes out of the Instant Pot.
How to cook Jasmine Rice in the Instant Pot
It's a good rule of thumb to always rinse uncooked rice before you cook it. Place rice in a fine-mesh strainer and run it under the sink of running water. If you don't have a fine-mesh strainer, you can place rice in a bowl of water, swish it around, then drain and do this a few more times until the water is less cloudy. This step helps to remove debris and some of the starch that causes the rice to clump together. Rinsing also helps the rice absorb water faster.
How long to cook Jasmine Rice in Instant Pot
You'll set your Instant Pot to cook for 4 minutes, then naturally release for 10 minutes.
To make Jasmine Rice in an Instant Pot:
Add the ingredients to the Instant Pot, close the lid, and make sure the release valve is turned to the "sealed" position.
Select 'Pressure Cook' and set the timer to 4 minutes. The pressure cooker needs to build up steam before the timer will start counting down. It will take less than 5 minutes to build up steam, then you will notice that the timer starts to count down from 4 minutes.
When the 4 minutes is up, don't do anything yet. Let the Instant Pot go into Keep Warm mode, and it will automatically start counting up. Let it count up to 10 minutes, which will release most of the steam naturally.
After 10 minutes, position the steam release valve to the 'Venting' position to release any final steam.
Open the lid and fluff the rice.
Here's how your total time breaks down:
Preparing ingredients = 1 minute
Building up steam = 3 to 5 minutes
Pressure cooking time = 4 minutes
Natural steam release in Keep Warm mode = 10 minutes
Total time = 18 – 20 minutes
Detailed directions for how to cook Jasmine Rice in Instant Pot (Photo Tutorial)
Here are step-by-step photo directions for cooking Instant Pot Jasmine Rice that comes out perfect every time.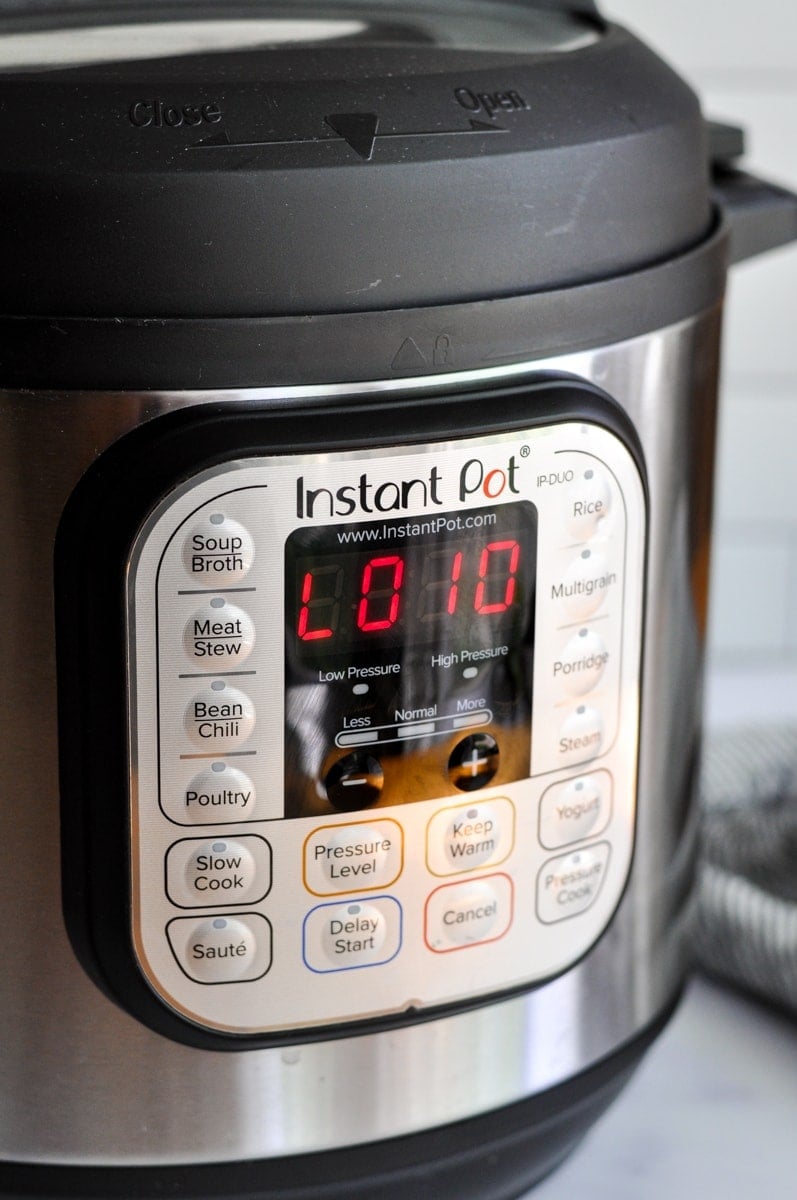 Tips for making fluffy rice in the Instant Pot
To make perfectly cooked jasmine rice in the Instant Pot, it helps to do two things:
Rinse the rice prior to adding it to the Instant Pot. This removes much of the starch that would cause the rice to clump together.
Let the Instant Pot release steam naturally. Rather than manually releasing steam right after the Instant Pot has cooked the rice for 4 minutes, allow the Instant Pot to automatically switch over to Keep Warm mode. You will know it is in Keep Warm mode because the Instant Pot will display an L and the number of minutes it has been in Keep Warm mode will keep counting up. Allow the rice to stay in the Instant Pot until it has been in Keep Warm mode for 10 minutes. Then, move the steam valve to the Vent position so the final small amount of steam can release. Finally, open the lid and fluff the rice with a wooden spoon.
How to store Instant Pot Jasmine Rice
The best tried-and-true method for storing rice is to freeze it when it's still hot, to lock in some of the steam. You can store leftover rice in the refrigerator for up to 3 days, but it will become gummy and clumpy over time. We like the rice storage directions from Just One Cookbook the best, which detail several methods for storing and reheating cooked rice.
Is Jasmine Rice Gluten Free?
Yes, plain jasmine rice is gluten free. If jasmine rice is mixed with other ingredients, or processed in a facility that also processes gluten-containing ingredients, then there is always a risk of gluten contamination. If you have celiac disease and need rice that is certified gluten free, look for brands that include a certified gluten free symbol on the package, such as Lotus Foods, Thrive Market, and Mahatma brands.
Recipes to serve with Jasmine Rice
Jasmine rice is a type of long-grain rice that has the lowest starch content of any rice. Compared to other types of rice, jasmine rice is light and doesn't often stick together. It has a light floral aroma and chewy texture and is best paired with Thai dishes. Try cooked Instant Pot Jasmine Rice with any of these recipes and more.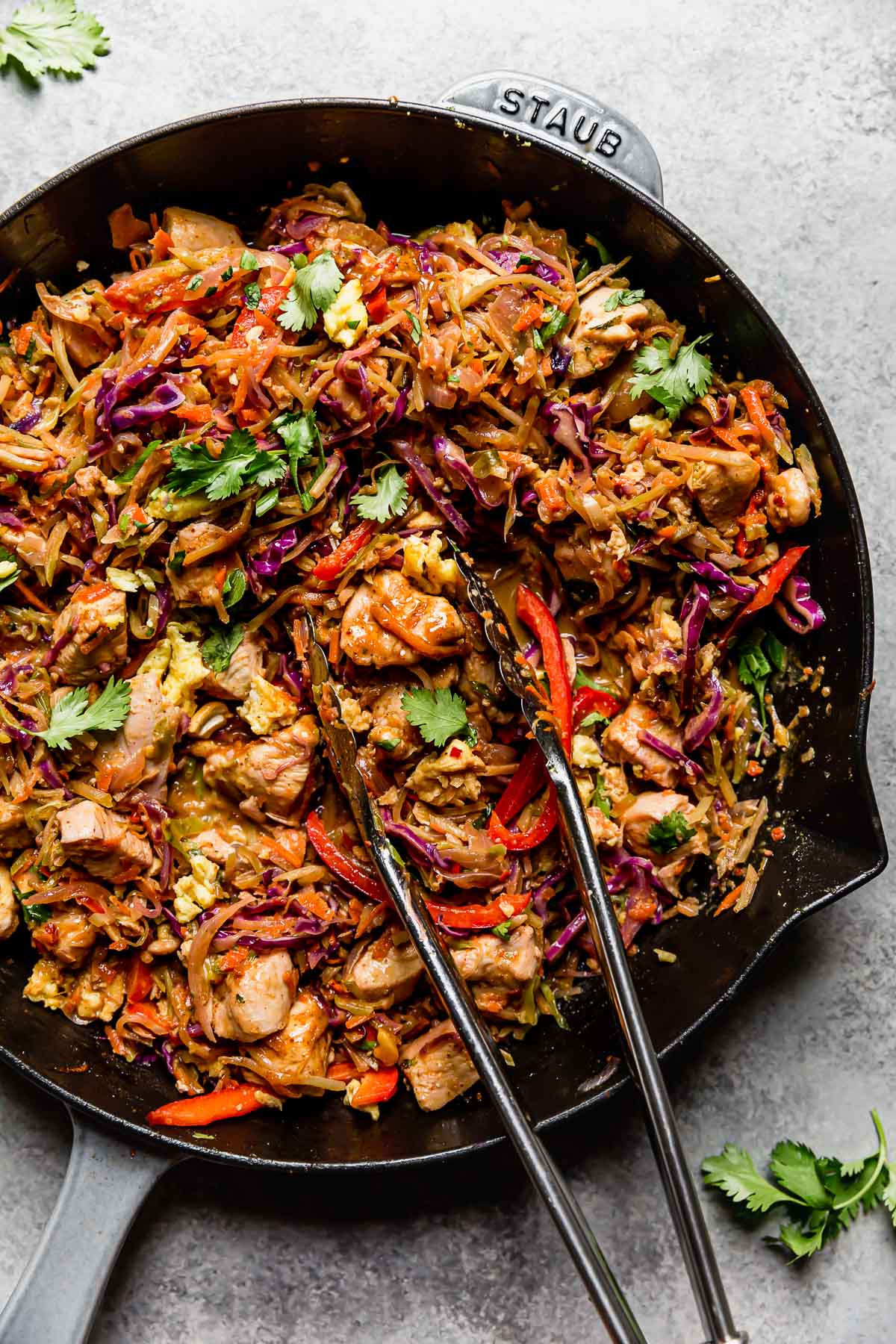 Pin It Now, Make It Later!
All photos and content are copyright protected. Please do not use our photos without prior written permission. If you wish to republish this recipe, please rewrite the recipe in your own unique words and link back to the source recipe here on The Real Food Dietitians. Thank you!