A fall-apart tender pork dinner that includes vegetables and a flavorful gravy sauce is so easy to achieve with this simple crockpot recipe. With our simple dry rub made from everyday pantry ingredients, this is the most flavorful crock pot pork roast you can make. 
The flavors only get enhanced from the delicious cooking broth that turns into a dreamy gravy sauce to drizzle over the tender potatoes, carrots, and tender pork roast.
Bonus: You'll get plenty of leftovers to enjoy for lunches and additional meals throughout the week!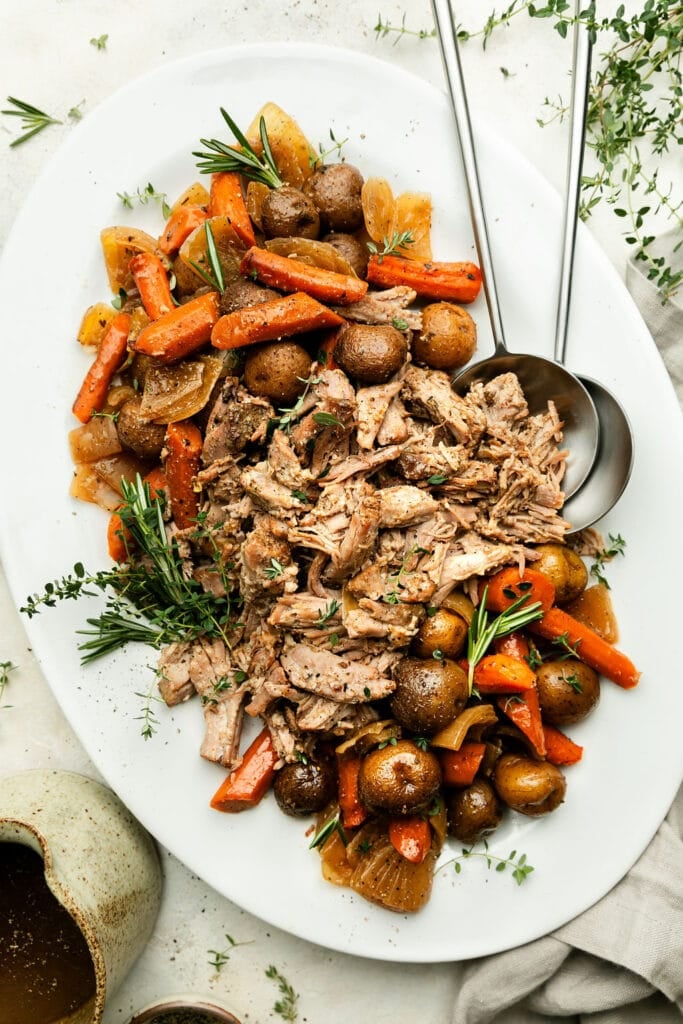 This recipe was created in partnership with the Minnesota Pork Board.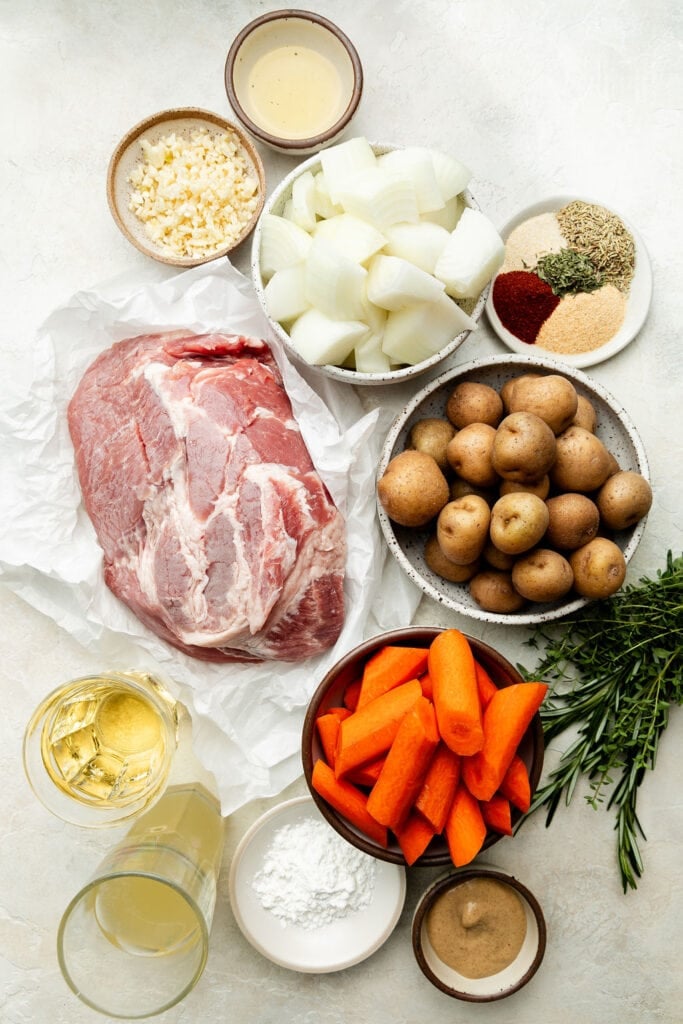 Ingredients To Make Crock Pot Pork Roast
Here are the ingredients to gather to get this pork roast in the crockpot today:
Boneless pork shoulder — sometimes called Boston butt or pork butt; may substitute bone-in pork rib roast, pork leg roast, or substitute pork loin roast (not pork tenderloin) for a leaner option
Spices and seasonings — you'll need garlic powder, onion powder, dried rosemary, paprika, dried thyme, fine salt, and black pepper; may substitute Italian seasoning for the rosemary and thyme
Avocado oil or olive oil
Onion — you'll roughly dice the onion to make a bed for the pork to sit on in the crockpot
Baby yellow potatoes — also called petite Yukon gold potatoes, baby yellow potatoes are a kind of potato that pairs well with pork roast because they're creamy and a good size for slow cooking; may sub baby red potatoes or large chunks of sweet potato
Carrots — or you could use parsnips instead
Chicken broth – you can either use homemade or store-bought. If using packaged broth, we recommend using low-sodium broth so you can adjust the total amount of salt and sodium for your tastes and health goals
White wine — this makes a flavorful cooking sauce and gravy; you may substitute additional chicken broth mixed with apple cider vinegar in place of the wine or use red wine, which would result in a darker gravy
Fresh thyme and fresh rosemary (optional) — this optional fresh herb bundle can be added directly to the crockpot to season the pork and cooking liquid
Dijon mustard — may substitute brown mustard or horseradish. If using horseradish, start with just a tiny bit and add more to taste.
Cornstarch (optional) — this is used to turn the cooking liquid from the slow cooker into a thick gravy (an optional step, though recommended); may substitute arrowroot powder or arrowroot starch for cornstarch if desired
Other crock pot pork roast recipes may include added sugars and high-sodium flavoring agents, such as brown sugar, balsamic vinegars with added sugar, soy sauce, or onion soup mix. But our recipe does not use any of these. Rather, we focused on flavorful whole foods and everyday seasonings you'll find right in your pantry.
Find the ingredient list with exact measurements in the recipe card below.
Crock Pot Pork Roast Highlights
We love this easy crock pot pork roast recipe for many reasons, including: 
Slow-cooked pork roast is so tender and flavorful, a protein that goes over well with the whole family.

Pork shoulder and Boston butt are affordable cuts of meat.

This recipe creates a full dinner out of the crockpot, including tender cooked veggies and a smooth gravy sauce.

It only takes 20 minutes of prep time to get everything cooking away in the Crockpot.

This roast is a nutritionally balanced dinner that includes protein, carbohydrates, fats, and many essential micronutrients, including B vitamins, zinc, iron, potassium, and vitamin A.

It's a comforting and cozy complete dinner with minimal effort, plus plenty of leftovers to use to make easy lunches and meals for the week.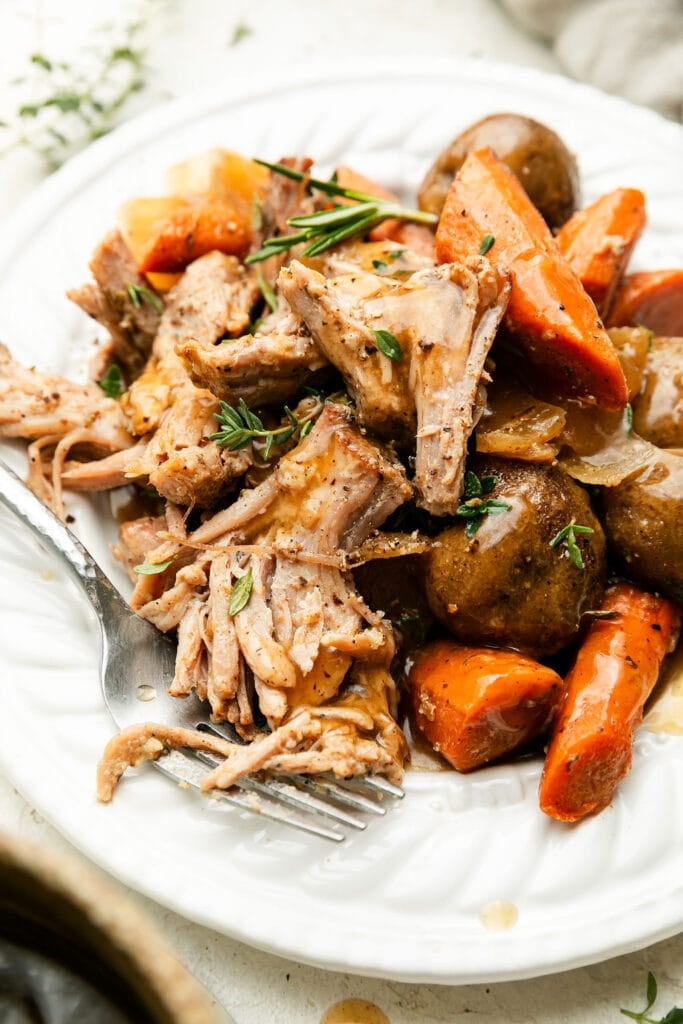 Cuts of Pork for Pork Roast
You have a few options when it comes to the cuts of pork you can use to make crock pot pork roast. 
For tender and juicy pork, we recommend using a boneless pork shoulder, which is ideal for slow cooking because of the larger cut and fat content. This will give you tender, juicy, delicious pork. You may find a pork shoulder roast labeled as a Boston butt, pork butt, or picnic roast.
You could also use a boneless pork leg roast, a bone-in pork rib roast, or a boneless pork loin roast are a few we recommend for tender and juicy results.
Pork chops and pork tenderloin are not ideal for slow cooking, so we recommend you go with a pork shoulder or one of the other options listed above.
We love to use pork shoulder roast for a variety of nutritious recipes, including Smoked Pork Butt (made on a smoker grill), Slow Cooker Carnitas, and Crockpot Pulled Pork.
How To Make Tasty Crock Pot Pork Roast
It's a common misconception that pork is unhealthy. In fact, many are surprised to learn that there are higher amounts of unsaturated fats (both monounsaturated fat and polyunsaturated fat) than saturated fats in most cuts of pork, including pork shoulder.
This flavorful and nutritionally well-rounded dinner proves that you can make a healthful and complete dinner using a pork shoulder roast. Here's how:
Make the dry rub: Mix together the dried herbs and spices in a small bowl. Using your hands, pat this mixture onto all sides of the boneless pork roast.
Sear the pork: Cook the pork in a hot skillet on the stovetop for 2 minutes on each side to help lock in the moisture, add flavor to the pork, and create a flavorful fond (that is the bits that stick to the bottom of the pan, which you'll use to start the gravy).
Start the gravy: To the fond (the browned bits left behind after searing) in the skillet, add the broth, wine, garlic, and mustard. Then, bring to a simmer and stir up the bits from the bottom of the skillet that were created from searing the pork (these bits are so flavorful and worth repurposing into the gravy!).
Layer ingredients in the crock pot: Place the onions in the bottom of the slow cooker and top with seared pork roast. Next, pour the liquid over the pork and add the vegetables around the pork. If desired, add a bundle of fresh thyme and/or rosemary, which adds flavor to all of the ingredients as they slow cook together.
Cover and slow cook: Here's the easiest part: Just cover the slow cooker with the lid, set it to cook on the low-heat setting for 6 to 8 hours, and that's it!
Finish the gravy: When the pork and vegetables are tender, you can finish the recipe by turning the liquid from the slow cooker into a flavorful gravy. Transfer some of the liquid to a saucepan on the stovetop and bring to a barely-there simmer. In a small bowl, mix a small amount of cornstarch and water together to create a white milky mixture called a slurry. Slowly stir or whisk the slurry into the simmering liquid, which will thicken the liquid into a gravy within several seconds, as long as the liquid is simmering. Serve the gravy over the tender pork roast and vegetables.
For serving size and the complete directions and ingredient amounts, scroll down to the recipe card below. All of our recipes include the nutrition information, listing calories (kcals), protein, carbohydrates/carb, fiber, sugar, sodium, cholesterol, and more per serving.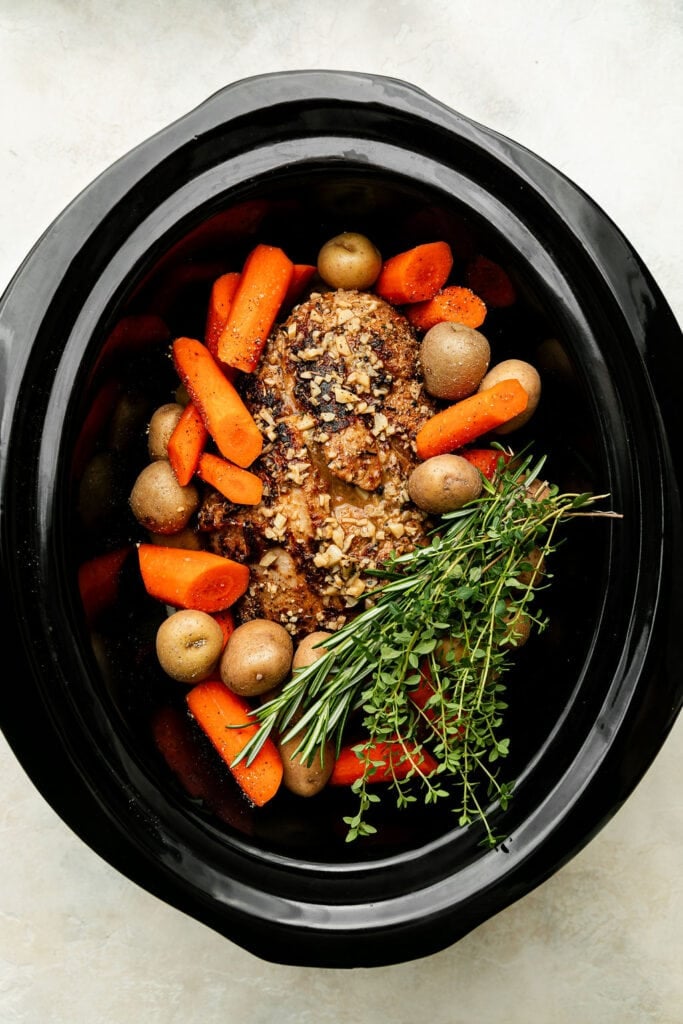 Pork Facts You Should Know
In the past 6 decades pork production has improved by using 75% less land, 25% less water, 7% less energy, and 8% fewer carbon emissions
Minnesota pig farmers are committed to doing what is right for pigs, people, and the planet
Lean cuts of pork like tenderloin and pork chop are an ideal addition to active lifestyles because they're as lean as boneless, skinless chicken breast and are rich in protein, vitamins, and minerals
All cuts of pork are an excellent protein source, containing all nine essential amino acids, as well as many important B vitamins
Should I sear my pork roast before putting it in the slow cooker?
Searing the pork roast before adding it to the crockpot helps achieve several goals: 
The seared exterior of the meat helps lock moisture into the pork roast, keeping it juicy and tender as it cooks slowly for several hours. 

Searing the meat adds flavor that only gets intensified as the pork cooks.

The seared meat creates a fond (the stuck-on bits in the bottom of the skillet), which are then used to start a flavorful liquid that will eventually turn into the gravy for this recipe.
How To Store Leftover Crock Pot Pork Roast
This Crockpot Pork Roast is an excellent option for meal-prep lunches, as well as freezing for easy meals down the road.
The cooked and cooled pork and vegetables can be stored in a large airtight container in the refrigerator for up to 3 days and reheated as needed. Store the cooked gravy in a separate airtight container, then reheat it on the stovetop.
Alternatively, you can store individual portions of leftover pork, veggies, and gravy in glass containers for easy grab-and-go lunches. To freeze, store the cooked pork and gravy together (without the vegetables) in a freezer-safe container or heavy-duty bag for up to 3 months.
How To Serve This Easy Crock Pot Pork Roast
This crock pot pork roast is a complete dinner on its own since it comes with cooked veggies and a flavorful gravy sauce all in one recipe. However, we love to round out this meal even further by pairing it with a salad or slaw, such as our DIY Sweet Kale Salad or our Creamy Ranch Broccoli Slaw.
If you're serving this pork for entertaining or a special holiday meal, we think our Harvest Salad with Quinoa would make the perfect side dishes for the hearty and cozy flavors.
If you're simply looking for a bread to serve alongside it, try our One-Bowl Cornbread Muffins, Olive Bread with Parmesan, or our always-popular Garlic Cheddar Biscuits.
For serving, you could slightly smash the cooked potatoes and serve the pork, carrots, and gravy over top. Also, try the pork stuffed into taco shells or over fresh salad greens. Other ways to enjoy this cut of meat are as pork sandwiches or wraps with BBQ sauce and coleslaw on top (we love BBQ sauce on pork). If it's BBQ pork that you're after, we recommend you use our Ultimate BBQ Rub instead of the dry rub in this recipe.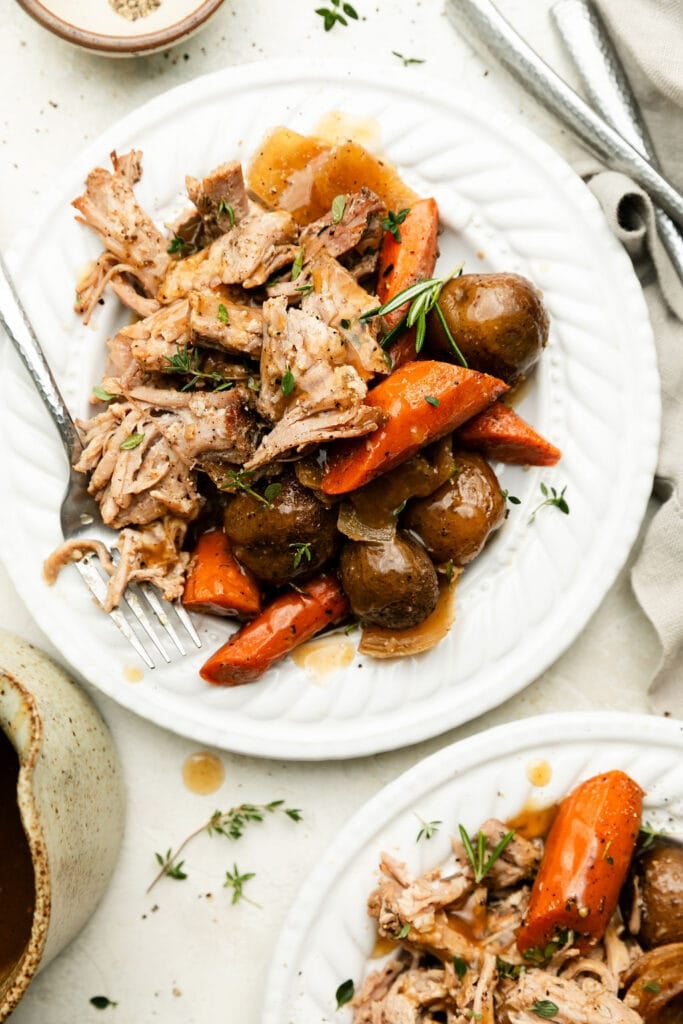 Frequently Asked Questions
Can you overcook a pork roast in a crock pot?
Yes, you can overcook anything in the crock pot if there is not enough liquid or too long of a cooking time. However, a pork shoulder roast is a very forgiving cut of meat, so as long as you add liquid to the crock pot and cook on the low heat setting for a range of 6 to 8 hours, you will yield tender and juicy pork roast. 
Why is my pork roast not tender in slow cooker?
You may be using the wrong cut of meat, not adding enough liquid, or cooking for too short or too long of a time. We recommend using a pork shoulder roast or Boston butt, adding at least 1 cup liquid to the slow cooker, and cooking for a range of 6 to 8 hours. If your roast is larger than 3 pounds, you may need to cook for longer.

You will know the pork and vegetables are done with the pork pulls apart easily and the vegetables are fork tender (easily pierced with a fork but not too mushy).
What are the best vegetables to have with a pork roast?
Classic veggies that pair well with pork roast are carrots, potatoes, parsnips, sweet potatoes, Brussels sprouts, mashed potatoes, and green beans.
What kind of potatoes go well with a pork roast?
Baby yellow potatoes (also called petite Yukon gold potatoes) are a kind of potato that pairs well with pork roast because they're creamy and a good size for slow cooking. Baby red potatoes or large chunks of sweet potato are also good choices.
What temperature do you cook a pork roast in a crock pot?
Cook on the low heat setting in your crock pot for 8 hours.
Should I add liquid to pork roast in crock pot?
Yes, crock pot recipes benefit from the addition of liquid during cooking, which helps tenderize the meat and prevents everything from getting dry during the long cooking time.
Do you cook pork roast fat side up or down in crock pot?
If your pork roast has a fat cap, place the fat side facing up. This helps create more flavorful and juicy pork as it cooks.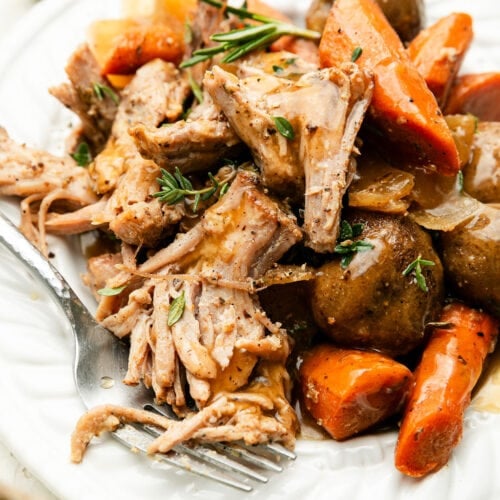 Recipe
Easy Crock Pot Pork Roast Recipe
With this easy slow cooker recipe, you get a complete dinner in one, including juicy fall-apart tender pork roast, creamy yellow potatoes, roasted carrots, and a flavorful herb gravy. A cozy and nutritious meal that provides plenty of delicious leftovers.
Prep:
20 mins
Cook:
6-8 hours on low
Total:
6 hours, 20 minutes
Servings:
6

–

7

servings

1

x
Ingredients
2 ½

–

3

lbs boneless pork shoulder or Boston butt 

2 teaspoons

garlic powder

1 ½ teaspoon

onion powder

1 ½ teaspoon

dried rosemary, crushed

1 teaspoon

paprika

½ teaspoon

dried thyme

2 teaspoons

fine salt

½ teaspoon

black pepper

1 tablespoon

avocado oil (may substitute olive oil) 

1

large onion, chopped (2-2 ½ cups)

½ cup

low-sodium chicken broth

½ cup

white wine (may substitute an additional ½ cup broth +

1 ½ teaspoons

apple cider vinegar)

6

garlic cloves, minced (2 ½ tablespoons)

2 tablespoon

Dijon mustard

16 oz

baby or petite yellow potatoes, bite size (if larger, cut in half)

12 oz

carrots (about

5

medium), peeled and cut into chunks

Bundle of fresh thyme and fresh rosemary, optional

1 ½ tablespoons

cornstarch (or

2 ¼ teaspoons

arrowroot starch)
Pat pork shoulder with a paper towel to absorb liquid. Set aside.

Place a large cast iron skillet or other heavy pan on the stovetop over medium high heat. 

While the skillet is heating, prepare the pork rub. 

In a small bowl, combine the garlic powder, onion powder, rosemary, paprika, thyme, salt, and pepper. Mix well, then rub all over the pork. 

Add the oil to the hot skillet and swirl to coat. 

When the oil is hot, place the pork in the skillet and sear for about 2 minutes on each side.

Meanwhile, place the onion in the bottom of the slow cooker. When the pork is seared on all sides, place it over top of the onion in the slow cooker. 

Deglaze the skillet by adding the broth, wine, and minced garlic to the hot skillet.

Scrape the bits off of the bottom of the pan and bring the liquid to a boil. 

Reduce the heat and simmer the liquid for 2 minutes to allow the flavors to combine. 

Stir in the mustard. 

Pour the liquid over the pork in the slow cooker. 

Top the pork with the potatoes and carrots. 

Sprinkle the potatoes and carrots with salt and pepper then a

dd the fresh herb bundle.

Cover the slow cooker and cook on low for 6-8 hours. You'll know it's done with the pork falls apart easily and the vegetables are fork tender.
Optional step (to make the gravy): 
To make the gravy, transfer about 1 ½ cups of the liquid from the slow cooker to a small saucepan. 

In a small dish, stir together 1 tablespoon of water with 1 ½ tablespoons of cornstarch until a smooth slurry forms. 

Slowly add the slurry to the liquid in the saucepan.

Bring to a boil over medium-high heat. 

Reduce the heat to maintain a simmer. 

Whisk continuously until thickened, about 2-3 minutes. 

Remove from heat and season with salt and pepper to taste. 

Serve gravy over the pork and vegetables.
Last Step! Please leave a review and rating letting us know how you liked this recipe! This helps our business thrive so we can continue providing free recipes and high-quality content for you.
Notes
While a pork shoulder roast (also called a Boston butt, picnic roast, or butt roast) is ideal for this style of crockpot recipe, you may substitute a boneless pork loin for a leaner option. 
This slow cooker pork roast recipe makes 24 ounces of cooked pork, 7 cups of cooked veggies, and 1 ½ cups of gravy. That's typically enough to serve 6 to 7 people, or a smaller number of people with leftovers.
Nutrition Information
Serving Size:

1/6 of recipe

Calories:

350

Fat:

12 g

(Sat Fat:

3 g

)
Sodium:

943 mg

Carbohydrate:

23 g

(Fiber:

5 g

Sugar:

5 g

)
Protein:

35 g

Cholesterol:

123 mg
Dietary
Pin Now to Make It later!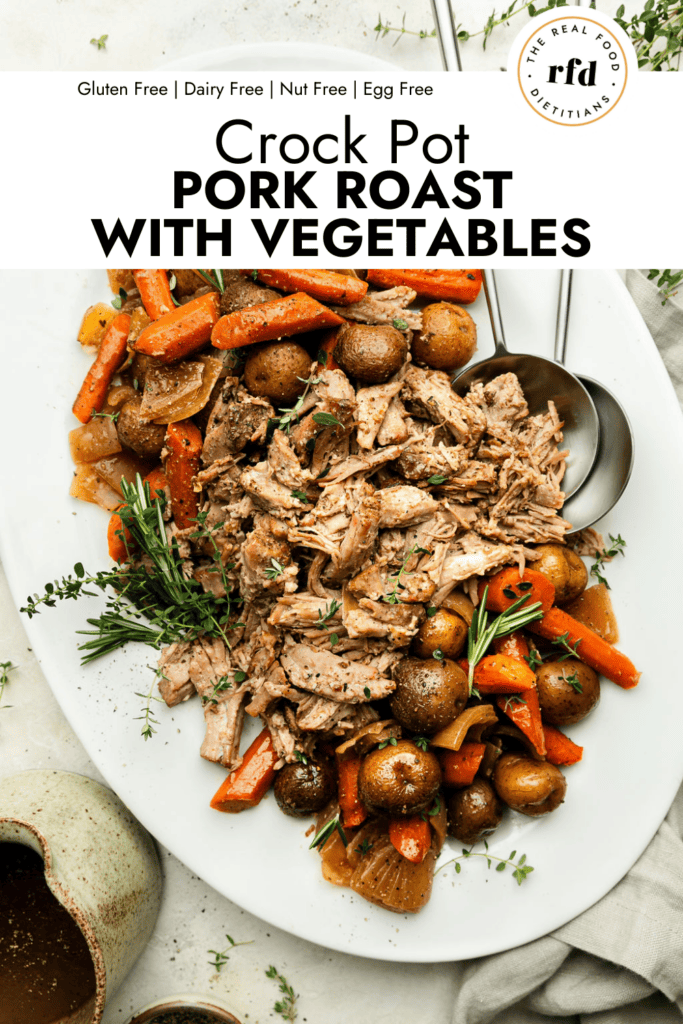 The photos in this blog post were taken by Rachel Cook of Half Acre House.
This is a sponsored post. Although we received compensation for this post, the opinions expressed here are – as always – 100% our own. Thank you for supporting the great companies we work with thereby allowing us to continue creating high-quality recipes and content for you.
For ultimate success, we highly recommend reading the tips in the full blog post above. All photos and content are copyright protected. Please do not use our photos without prior written permission. If you wish to republish a recipe, please rewrite the recipe in your own unique words. Link back to the source recipe here on The Real Food Dietitians. Thank you!