Squash so good even the hubby will eat!
Butternut Squash Home Fries are roasted to perfection and make for a flavorsome, 4-ingredient side-dish for even the pickiest eaters!
That's right, I married a man who despises veggies, loves frozen pizza and calls himself a "meatatarian". I'm not really sure how this happened but we make it work and I wouldn't have it any other way! 🙂 Let's just say I've become really good at hiding veggies in different foods such as choosing not to tell him that the potatoes in the beef stew are actually parsnips and the Grain-free Spaghetti Pie I recently made….yup that was spaghetti squash that I had called a 'special' kind of noodle. Whatever works, right?!
BUT I didn't even have to fib about the Butternut Squash Home Fries. They're just that good!
This recipe is definitely a staple in our home. Especially this time of year when my hubby's Grandpa  Jim thinks we eat butternut squash like it's going out of style. We often have to remind him that it's just the two of us. But I can't complain, I love having it on hand and these Butternut Squash Home Fries go with EVERYTHING! I make a big batch on the weekends during my Sunday meal prep and re-heat them throughout the week, add them to salads, dip them in homemade ranch, or toss them into an egg scramble. I've also become quite the expert in cubing this starchy vegetable. In fact, I shared a photo tutorial of exactly how I tackle this task. You can see How-to Cube Butternut Squash photo tutorial here.
Butternut Squash Home Fries – let the roasting begin!
Butternut Squash Home Fries can be roasted with a number of different kinds of fats. However, I have found duck fat to be my favorite when making this recipe. The fries come out golden brown and perfectly crispy on the edges. Sprinkle the beautiful golden nuggets of squash with a little sea salt and cracked black pepper and BAM! You've got a picky eater approved side-dish ready to be served!
If you would have told me 5 years ago that I'd be cooking with duck fat today, I would have probably rolled my eye and said…"yeah right"! Oh, how times have changed.
I was recently introduced to Fatworks Duck Fat and to my surprise, it's now one of my go-to fats for roasting all kinds of veggies. Broccoli, cauliflower, carrots, sweet potato, squash…you name it! I love the flavor and the slight crispness it creates. I highly recommend you give it a try! Trust me, I was a little nervous at first but fear not my friend – you're missing out if you don't take the plunge and try! Besides, your cooking game will advance to another entire level of deliciousness. I'm serious!
No Duck Fat on hand?!
If you're wanting to give these Butternut Squash Home Fries a try….like yesterday, and you don't happen to have any duck fat on hand, no worries! You can also use avocado oil, ghee or coconut oil, which are all #realfoodRDapproved fats that will work well with this recipe. But I do suggest that you give the duck fat a try the next time……..because there will be a next time!
And to learn more about duck fat and other traditional fats and why we love cooking with them, head on over to our blog post called Fat is Back!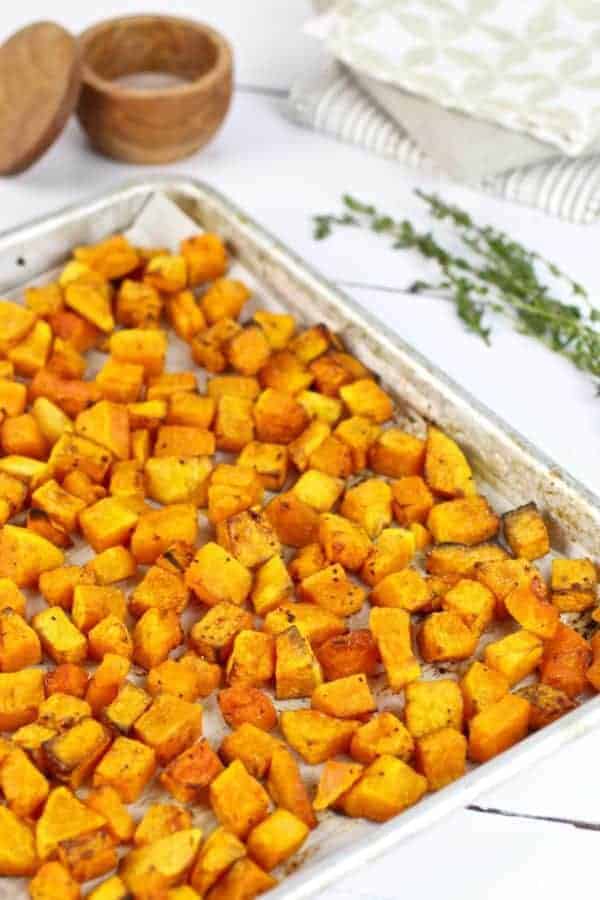 Butternut Squash Home Fries are Whole30 & paleo-friendly and free of grains, gluten, eggs, nuts and dairy.
In addition, they're quite nutritious. Some of the nutritional  benefits of Butternut Squash include:
High in fiber – helpful for digestion and satiety
Loaded with vitamin A – promotes healthy eyes
Contains 500 mg of potassium per serving – great for blood pressure lowering
Abundant in vitamin C – immune boosting and necessary for collagen production promoting healthier skin, hair and nails
Rich in antioxidants – a fabulous anti-inflammatory food
Who's ready to give this recipe a try? I have a hunch that it may just become a new staple in your home too!
Recipe
Butternut Squash Home Fries
Butternut Squash Home Fries are roasted to perfection and make for a flavorsome, 4-ingredient side-dish for even the pickiest eaters! Whole30 | Paleo
Prep:
10 mins
Cook:
40 mins
Total:
50 mins
Ingredients
1

medium butternut squash, cubed (

7

–

8

cups, cubed)

2 tbsp

. fat (recommend duck fat but could substitute avocado oil, ghee, or coconut oil)

1/2 tsp

. sea salt

1/4 tsp

. black pepper
Pre-heat oven to 400 degrees.
Peel and cube squash. See our How-to Cube Butternut Squash photo tutorial here Place cubes on large baking sheet lined with parchment paper.
Melt fat (if using a solid fat) and drizzle over squash cubes. Add salt and pepper and toss to coat so that all squash cubes are evenly coated.
Bake in oven for 35-40 minutes or until golden brown to your liking. Toss every 10 minutes.
Last Step! Please leave a review and rating letting us know how you liked this recipe! This helps our business thrive so we can continue providing free recipes and high-quality content for you.
Notes
All photos and content are copyright protected. Please do not use our photos without prior written permission. If you wish to republish this recipe, please rewrite the recipe in your own unique words and link back to the source recipe here on The Real Food Dietitians. Thank you!
Dietary
I'd love to hear – is your hubby a picky eater too?
Pin now and make later!
---
This post may contain affiliate links which won't change your price but will share some commission.
SaveSave
SaveSave
SaveSave