A step-by-step photo tutorial on how-to cut, peel and cube Butternut Squash safely!
Cubing butternut squash may sound like a daunting task to many….
But not any longer because today I'm sharing with you basic steps on how-to cube butternut squash and to show you that it really can be done in a timely manner and without losing any fingers.
While there are probably hundreds of ways you can go about this cubing task, this is the method I prefer. Here we go!
---
1. You will need a butternut squash, two medium bowls, a cutting board, a sharp knife, a spoon and some man (or woman) power.
We recommend a  7-inch santoku knife or 8-inch chef knife for this job
---
2. Begin by slicing the neck (skinnier part) of the butternut squash into 1/2- to 1-inch thick rounds. Slice until you start seeing seeds.
---
3. Set the round butternut squash slices aside and quarter the remaining part of the squash, known as the bulb.
---
4. With a spoon, scoop out the seeds & pulp and place in one of the bowls.
---
5. With your knife, carefully slice the skin off each quarter and discard into the bowl with the seeds.
If you find this too cumbersome to do with a large knife, you can also use a paring knife or vegetable peeler to remove the skin.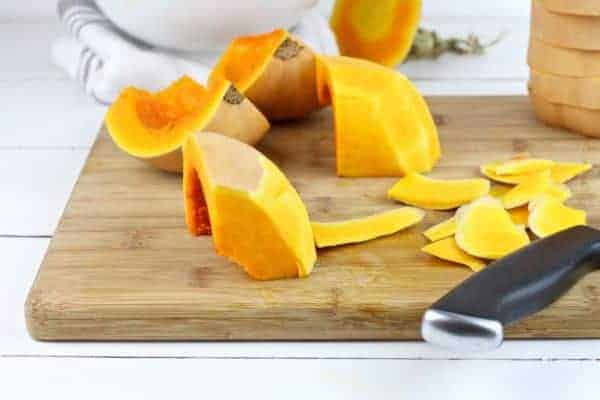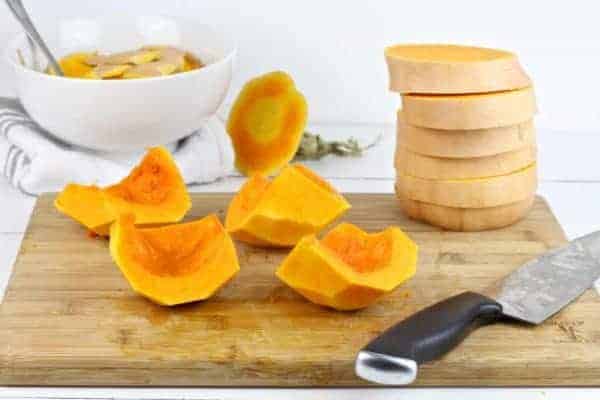 ---
6. Again, with your knife, carefully slice the skin off each round Butternut Squash slice and discard into bowl.
---
7. Now, it's time to cube – the easy part!
---
8. Cube the peeled quarters as best you can into 1/2- to 1-inch cubes. Some pieces may be awkward shaped but that's okay! It'll all taste the same! Place cubes in a clean bowl.
Note: picture below are slices of squash before they're cubed.
---
9. Cube the round butternut squash slices into 1/2- to 1-inch cubes. Place cubes in a clean bowl.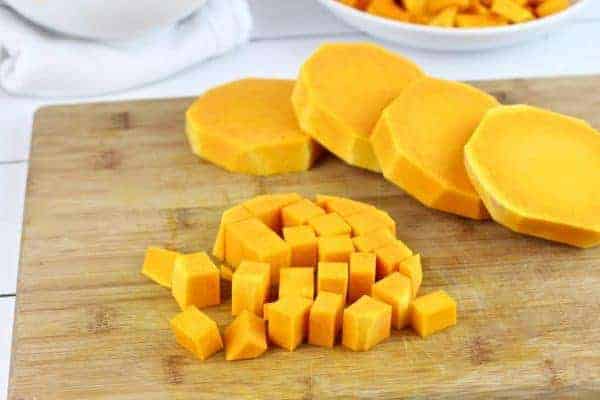 ---
There you have it! A big mound of perfectly cubed butternut squash ready for roasting.
Wondering how to roast Butternut Squash cubes?
We've got you covered with an easy and oh-so-tasty recipe. Our Butternut Squash Home Fries make the perfect side-dish for any meal.
Click here for the recipe!
---
How-to cube butternut squash: Pin now – cube later!
---
This post may contain affiliate links which won't change your price but will share some commission.