Make delicious and flavorful teriyaki chicken at home with this easy recipe for Teriyaki Chicken Marinade. Infuse your favorite versatile protein with that so-delicious, savory, sesame-ginger flavor that everyone loves, and just watch it disappear. This teriyaki marinade for chicken calls for just five pantry ingredients. Read on for our suggested marinating times and some delicious ways to enjoy your tender marinated teriyaki chicken tonight.
A simple Low-Sugar marinade for Teriyaki chicken
Most teriyaki sauces call for a mix of soy sauce, sake or mirin (sweet cooking wine), and sugar. But our Teriyaki Chicken Marinade doesn't contain any of those ingredients. We're here to show you that you can get delicious sweet-savory garlic-ginger flavor without using any highly processed soy, alcohol, or added brown sugar.
ingredients for Teriyaki chicken marinade
You only need a handful (yes, exactly five) ingredients to make this teriyaki marinade for chicken. Here's what to gather:
Chicken – you can use boneless skinless chicken breasts, chicken thighs, or legs
Coconut aminos – this pantry staple is very similar to soy sauce, but contains significantly less sodium, is always gluten free, and is made from just two simple ingredients (coconut sap and sea salt). Read more about what coconut aminos are, how to use them, and our favorite brands in this post. If you don't have coconut aminos, you can sub half the amount of soy sauce, tamari, or shoyu
Toasted sesame oil – use dark sesame oil, which is toasted
Garlic powder – or you can sub 1 minced garlic clove
Ground ginger – or you can use 1 teaspoon of minced fresh ginger
See the recipe card below for ingredient amounts and complete nutrition analysis of a single serving, including calories, carbohydrates, fiber, cholesterol, and more.
how to make Teriyaki Chicken marinade
You can have this chicken teriyaki marinade ready to go in less than 5 minutes, and get your poultry soaking away in its flavor bath.
Place the chicken in a heavy-duty zip-top bag, a reusable silicone bag, a large bowl, or a freezer-safe container.
Combine all of the teriyaki chicken marinade ingredients in a bowl; whisk together and pour over the chicken. Make sure the chicken is immersed in the marinade and then just let it soak. Read below for our recommended marinating times.
how long should I marinate Teriyaki chicken?
You can marinate chicken in the fridge or in the freezer. Here are the two basic methods:
How long to marinate chicken in the refrigerator: When the chicken is covered with the marinade, whether in a bowl or a bag, place it in the refrigerator. Marinate the chicken for a minimum of 4 hours to allow the acid to tenderize the chicken and the flavors to penetrate the meat. On the long end, you can safely leave the marinated chicken in the refrigerator for 2-3 days, covered or sealed in the bag, before cooking. We recommend that you turn the bag over every 12-24 hours (or toss the chicken, if it's in a bowl).
How long to marinate chicken in the freezer: You can also prep this chicken marinade and place the whole thing (bag, chicken, and marinade) in the freezer for up to 2 months. Just be sure to squeeze as much air out of the bag before sealing it. When it comes time to thaw the marinated chicken, take it out of the freezer and let it sit in the refrigerator for 24 hours before cooking.
4 ways to cook marinated Teriyaki chicken
After your chicken has been marinating in this delicious teriyaki chicken marinade, there are several different ways you can cook it. Here are our suggestions:
Oven baking: Preheat the oven to 375

℉. Remove the chicken from the marinade, discarding the juices. Place the chicken in a baking dish or on a rimmed baking sheet lined with parchment paper or a silicone baking mat. Bake the marinated teriyaki chicken recipe until the juices run clear and chicken is no longer pink in the middle, 15-20 minutes. Make sure the thickest part of the chicken registers 165℉ on an instant-read thermometer.

Oven broiling:

Remove the chicken from the marinade, discarding the juices.

Position the top oven rack 8 inches below your oven's broiler element. Preheat the oven broiler to medium-high. Place the chicken on a rimmed baking sheet or in a cast iron pan. Broil on each side, turning once, until the chicken is no longer pink in the middle, 3-5 minutes per side.

Make sure the thickest part of the chicken registers 165℉ on an instant-read thermometer.

If the chicken is cooking too quickly, move the pan to a lower oven rack. Note: When broiling chicken, you'll have the best results if the chicken is an even thickness.
On the grill (and kebab style):

Preheat the grill to medium-high heat.

Remove the chicken from the marinade, discarding the juices.

Grill whole marinated chicken breasts, thighs, and legs until the chicken is cooked through. For breasts, grill about 8-10 minutes, 7-8 minutes for thighs, and 5-6 minutes for chicken legs. To make kebabs, cut the teriyaki marinated chicken into 1-inch chunks and thread onto skewers with vegetables. Grill until the chicken pieces are cooked through, turning often, about 8 minutes total.
Sauté on the stovetop: Place a large skillet over medium-high heat, add 1 teaspoon cooking fat of choice (such as avocado oil, ghee, olive oil, etc.).

Remove the chicken from the marinade, discarding the juices.

Place the chicken in the skillet and cook for 5 minutes on each side or until the chicken is lightly browned. Place a lid on the pan, lower the heat to medium-low, and cook an additional 8-10 minutes or until juices run clear and chicken is no longer pink in the middle.

Make sure the thickest part of the chicken registers 165℉ on an instant-read thermometer.

For juicy chicken or if your pan runs hot, add a few tablespoons of water to the skillet before covering with the lid if desired.
Ways to serve Teriyaki Chicken
Here are some of our favorite ways to enjoy this chicken in teriyaki marinade.
As a stir-fry: remove the chicken from the marinade, reserving the marinade for your teriyaki sauce. Cut the chicken into small pieces and sauté until almost cooked through. Remove chicken from pan, add your favorite stir-fry veggies to the pan and sauté until crisp-tender. Return the chicken and the reserved marinade to the pan along with the veggies and bring to a simmer until chicken to cooked through and veggies are tender.
With rice and broccoli: the flavors in this teriyaki chicken marinade are a perfect match for easy cooked rice (see here for how to cook jasmine rice perfectly in the Instant Pot). Add a steamed or roasted veggies, such as broccoli, zucchini, or green beans, and you've got a well-rounded meal in no time.
bowl style: slice marinated and cooked teriyaki chicken breast or thighs into thin strips. Serve over bowls filled with spinach, cooked quinoa, or rice. Top with some avocado, edamame, roasted veggies (red bell peppers and broccoli, for example), and finish it with some quick pickled onions, green onions, and sesame seeds. Beautiful and delicious!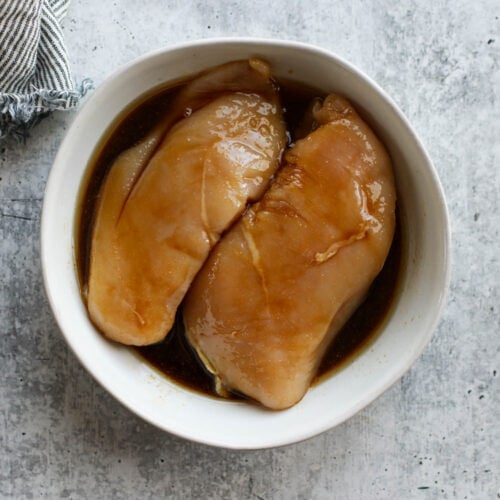 Recipe
Teriyaki Chicken Marinade
This five-ingredient marinade for teriyaki chicken has no added sugar, soy, or alcohol. Just simple real-food ingredients for that perfect savory ginger-garlic flavor that results in a delicious chicken dinner every time! 
Prep:
5 mins.
Total:
5 minutes
Ingredients
1

 lb. boneless skinless chicken breasts, thighs, or legs*

3 tablespoons

coconut aminos**

1 tablespoon

avocado oil or olive oil

1 tablespoon

 toasted sesame oil

½ teaspoon

garlic powder or

1

small clove garlic, minced

¼ teaspoon

ground ginger
Place the chicken in a large bowl, zip-top plastic bag (or a freezer-safe container, if you plan to freeze the chicken).
In a small bowl, whisk together the coconut aminos, avocado oil, sesame oil, garlic powder, and ginger powder.
Pour the marinade over the chicken, then cover bowl or close bag. Gently toss or massage to coat the chicken pieces evenly.
Marinate the covered chicken in the refrigerator for a minimum of 4 hours and a maximum of 2-3 days before cooking. Or, to freeze, remove as much air from the freezer-safe container as possible, and freeze the chicken in the marinade for up to 2 months.
Last Step! Please leave a review and rating letting us know how you liked this recipe! This helps our business thrive so we can continue providing free recipes and high-quality content for you.
Notes
* If using chicken legs, increase to 1 1/2 lbs.
**Can substitute 1/2 tablespoon soy sauce or tamari. Read more about why we recommend coconut aminos in this post.
Nutrition Information
Serving Size:

4 oz marinated chicken breast

Calories:

145

Fat:

4 g

(Sat Fat:

1 g

)
Sodium:

189 mg

Carbohydrate:

1 g

(Fiber:

0 g

Sugar:

0 g

)
Protein:

23 g

Cholesterol:

66 mg
Dietary
Pin It Now to Make It Later!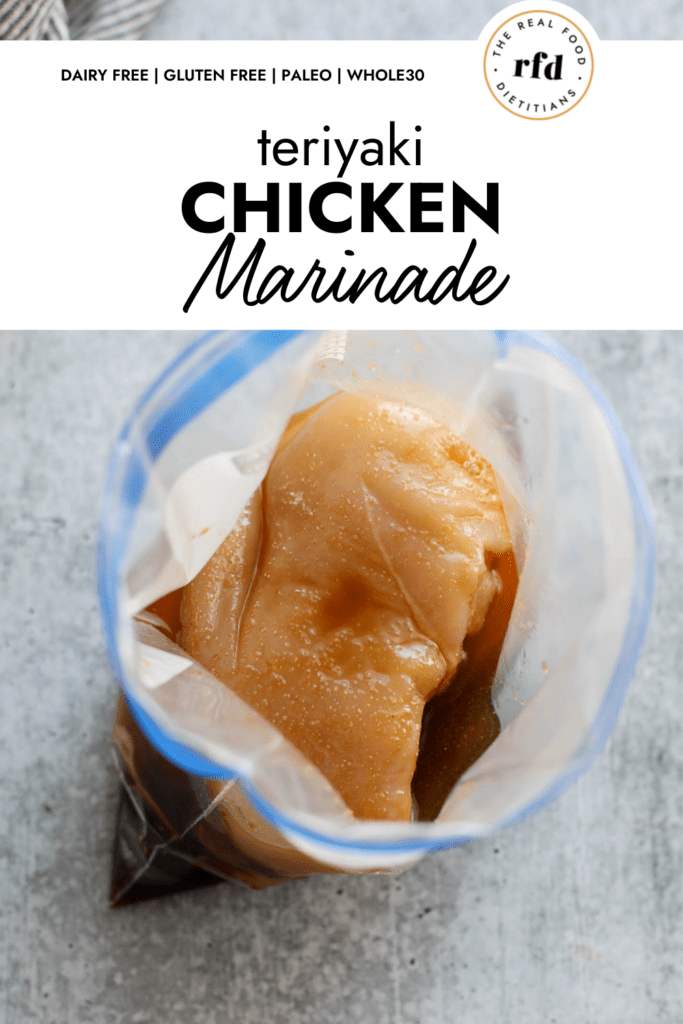 For ultimate success, we highly recommend reading the tips in the full blog post above. All photos and content are copyright protected. Please do not use our photos without prior written permission. If you wish to republish this recipe, please rewrite the recipe in your own unique words. Link back to the source recipe here on The Real Food Dietitians. Thank you!