Are you crazy for (or curious about) the whipped coffee phenomenon that's sweeping the internet and Instagram? We've put a healthier spin on this trend with our Dairy-Free Whipped Coffee that's made with honey to keep it refined sugar-free, yet it's every bit as trendy and delicious!
Fashionably late never tasted so good.
As with most flashy food trends, we're a little late to the party. A few months ago, images of a seductively sweet and creamy Dalgona coffee started hitting our social feeds. At first, we thought nothing of it. We both like our coffee on the 'plain' side with just a splash of cream or milk and never any sweeteners. We figured that like most coffee trends, this one would just be a flash in the pan, here today and gone tomorrow.
But boy, were we ever wrong. It appears that whipped coffee—or Dalgona Coffee as its formerly known—is pretty much here to stay. So, of course, that led us to two conclusions:
We need to try this whipped coffee!
We need to put a healthier spin on it.
And with just 5 minutes and 3 ingredients, this healthier Dairy-Free Whipped Coffee happened.
This post may contain affiliate links that will not change your price but will share some commission.
Golden swirls of caffeinated deliciousness await!
If you're still wondering how just 3 ingredients can turn into a bowl full of luscious, fluffy, dairy-free whipped coffee topping, then you need to experience the magic for yourself. I have no idea why this works, but it does. As you'll see from the step-by-step photos below, a few minutes of hand whipping (even fewer if you bust out the electric hand mixer) turns ordinary instant coffee, honey, and hot water into silky smooth, light as a feather, whipped coffee heaven.
What you'll need to Make Dairy-Free Whipped Coffee:
Equipment
Ingredients
Instant Coffee – Any INSTANT coffee or espresso powder will work. Note that it does need to be instant and not just finely ground coffee. Instant coffee is special in that it's freeze-dried coffee that was once a liquid so it dissolves quickly in water. Ground coffee, no matter how finely ground, will not work for this recipe. Mount Hagen Organic is my instant coffee of choice, available in both regular and decaf.
Honey – If you're looking for a vegan option, you can replace the honey with coconut sugar with excellent results. Maple syrup will also work but will result in a softer whipped coffee.
Hot water – Use water that has just been boiled for the best results. I love my electric kettle because it heats up fast, it's easy to use, and I don't have to worry about it boiling dry.
Non-dairy milk of choice – We used unsweetened, plain almond milk in this recipe. However, you can use any kind of milk that you prefer. Changing the type of milk used will change the nutrition information, so we've listed the information for just the whipped coffee portion below (for those who like to know those sorts of things).
Ice (optional) – While typically served cold, this Dairy-Free Whipped Coffee can also be made with hot milk. You do you!
Healthier Dairy-Free Whipped Coffee Step-by-Step.
Place instant coffee in a bowl. See note above about instant coffee vs. ground coffee to be sure you're choosing the right coffee for the job.
Add honey and hot water to the bowl with the coffee.

Grab a whisk (if you want a great upper body workout) or an electric hand mixer to make quick work of this Dairy-Free Whipped Coffee. This is where the fun starts!
Using a whisk or mixer on low speed, gently mix for 15-20 seconds or until coffee and honey are dissolved.
Increase the mixer speed to high (or start whisking with everything you've got), and beat the coffee-honey mixture until stiff-ish peaks form. You don't need perfectly stiff peaks here, it's okay if they're a little soft. You just need a bowl of creamy, fluffy, coffee deliciousness!

Pour milk into a glass (adding ice, if desired), and spoon the whipped coffee topping onto the surface of the milk.
Stir gently, sip, and enjoy!
Note that as you mix, the coffee mixture will go from dark brown to progressively lighter shades of brown as it gets thicker and fluffier.
Yes, I did beat that by hand.
But you certainly don't have to! I just wanted to make sure that it was actually possible to make whipped coffee solely with human power. Making the topping for this Dairy-Free Whipped Coffee by hand is 100% doable if all you have is a bowl and a whisk, it just takes some serious stamina. Using an electric hand mixer will speed things up exponentially. I didn't have good luck using the whisk attachment or paddle with my stand mixer, but maybe that was just me. Others around the interwebs have reported that it works so if you want to go that route, you may want to double or triple the ingredients so that you have more volume in the bowl (since I'm guessing that's why it didn't work for me).
But if you do decide to go the analog route and whip the topping up by hand, my words for you are 'patience' and 'breathe'. You'll get there and when you do, you'll be rewarded with rich, sweet, creamy whipped coffee.
How to Enjoy Dairy-Free Whipped Coffee:
Now that you have your fabulously trendy Dalgona coffee in hand it's time to take that first sip.
To be honest, I had no idea what to expect. Would the topping melt into the milk? Was I supposed to stir it? Drink it with a straw?
I'm not sure what the protocol is here, but I took a spoon and gave mine a gently stir to infuse the milk layer with coffee. While it didn't mix together instantly,  it more or less stayed part liquid-part fluff, it was definitely delicious and fun to drink.
Next time, just to change things up, I might try tweaking the basic recipe by doing one or more of the following:
Add a pinch of cinnamon or ground cardamom to the coffee-honey mixture before whipping.
Add a teaspoon of cocoa powder before whipping (or cocoa powder + cinnamon + ancho chili powder for a Mexican mocha).
Use vanilla or chocolate almond, or maybe some cashew milk.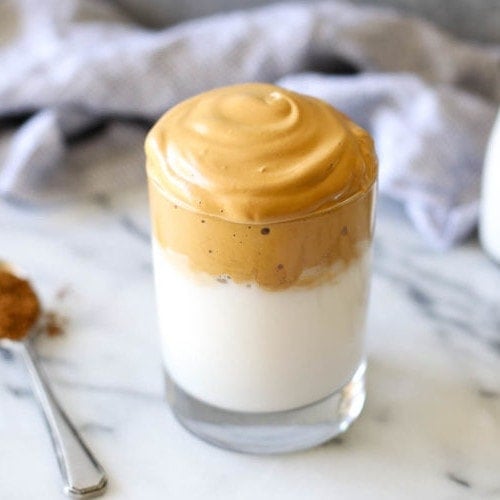 Recipe
Dairy-Free Whipped Coffee
Prep:
5 mins.
Total:
5 mins.
Ingredients
1 Tbsp

. instant coffee or espresso powder

1 Tbsp

. honey (may substitute coconut sugar for vegan option)

1 Tbsp

. hot water

8 ounces

non-dairy milk of choice (may substitute dairy milk, if desired), hot or cold
Place instant coffee, honey, and water in a medium-sized bowl.
Using a whisk or electric mixer on low speed, beat for 15-20 seconds until the coffee and honey dissolve.
Increase the speed to high (or whip more vigorously if using a whisk) and continue to beat for 60-90 seconds (expect this to take longer if beating by hand depending on your speed and stamina) or until stiff peaks form.
Pour your milk of choice into a glass, adding ice if desired, then top with the whipped coffee mixture and serve.
Stir gently to combine the milk and the whipped coffee layers.
Last Step! Please leave a review and rating letting us know how you liked this recipe! This helps our business thrive so we can continue providing free recipes and high-quality content for you.
Notes
*Nutrition information is based on drink prepared with unsweetened, plain almond milk. The milk you choose may change the total calories, fat, etc.
*Nutrition information for Whipped Coffee without added milk: 64 Calories, 0g Fat, 0g Saturated Fat, 1mg Sodium, 17g Carbohydrate, 17g Sugar, 0g Fiber, 0g Protein
Nutrition Information
Serving Size:

8 ounces milk + topping

Calories:

103

Fat:

3g

(Sat Fat:

0g

)
Sodium:

168mg

Carbohydrate:

18g

(Fiber:

1g

Sugar:

17g

)
Protein:

1g
Dietary
---
All photos and content are copyright protected. Please do not use our photos without prior written permission. If you wish to republish this recipe, please rewrite the recipe in your own unique words and link back to the source recipe here on The Real Food Dietitians. Thank you!