We're breathing new life into an old family favorite just in time for potluck season with this Gluten-Free Veggie Pizza!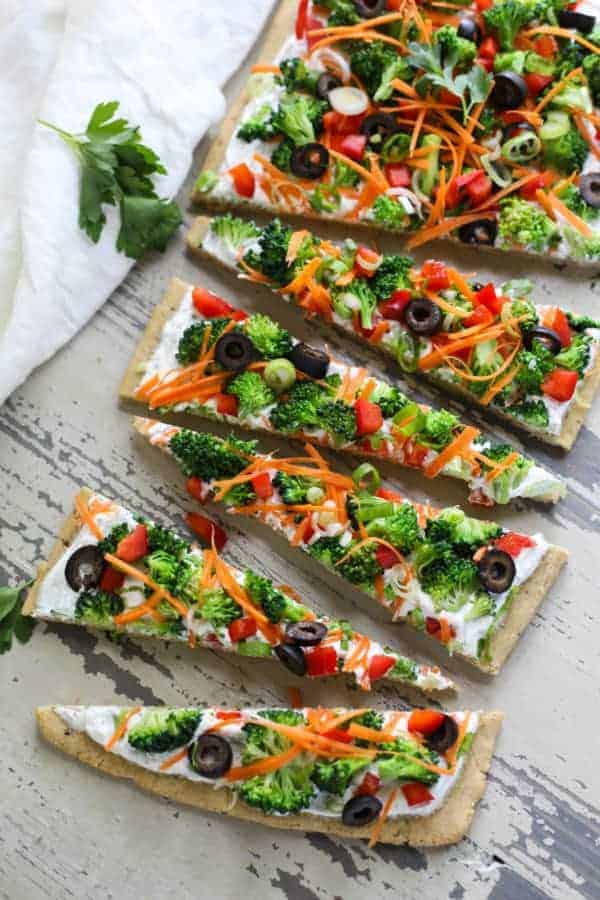 Back to my food roots
Growing up in Minnesota "Veggie Pizza", as it was affectionately termed, would show up at all the big social events in my family: holidays, graduation parties, anniversary parties, birthday parties, funerals, weekends at the cabin… you name it, there was veggie pizza. No matter the time of year or what was in season, it always had broccoli, carrots, red pepper, green onions and black olives. And always on a crescent dough 'crust' made by obnoxiously popping open a cardboard tube (which, if you had a particularly 'live' one was enough to give you a heart attack), placing the sticky triangles of dough next to one another on a baking sheet then pressing them together with your fingers to form a rectangle more or less.
The 'crust' would be baked and cooled then topped with a thick layer of softened cream cheese mixed with mayo and a little dry ranch dressing and seasoning (you know, from the little green packet). Then the veggies were scattered on top and the pizza cut into squares.
An old family favorite made even better
That's how it went down back in the day and although veggie pizza doesn't appear at very many family gatherings since my grandma passed away three years ago, I recently found myself getting a little nostalgic for it. Being that Stacie and I both grew up in Minnesota we often get to talking about typical Minnesota dishes and one day while throwing out things like 'green bean hotdish', 'tater tot hotdish', 'Scotcharoos', and anything made with Cool Whip with the word 'salad' in it's name we both blurted out 'Veggie Pizza'. Yup, it was a sign that we needed to recreate this little gem in a more healthful and simplified way.
So without further ado, here's my nod to an old favorite in memory of my sweet Grandma Margie who made everything she touched unbelievably delicious. I like to think that maybe some of that magic rubbed off on me. (Wink, wink)
About that crust… I used a box of Simple Mills Almond Flour Pizza Dough but you could use any pre-made crust or mix that fits your dietary preferences. If you use the mix I used, I rolled mine out to about 1/2-inch thick (roughly 6″ x 10″), docked it all over with a fork (that's fancy baker speak for "I poked holes in it."), then baked it at 350° F for 13 minutes until it was golden brown.
Looking for a good premade crust? There are lots out there – check the freezer section of your local store or Trader Joe's to find one you like best.
And then on goes that thick, rich layer of perfectly spiced (read: perfectly ranch-like) sour cream. Feel free to spread that goodness all the way to the edges of the crust, if you'd like. And no little green packets required, just a handful of everyday spices you probably already have on hand.
Bring on the veggies! Since I'm not a HUGE fan of raw broccoli I blanched mine beforehand by adding the florets to a pot of boiling water to cook for 30 seconds before draining and plunging the florets into a bowl of ice water. Not only does it make it easier to chew (and digest) but it also makes the broccoli a gorgeous, vibrant shade of green as you can see.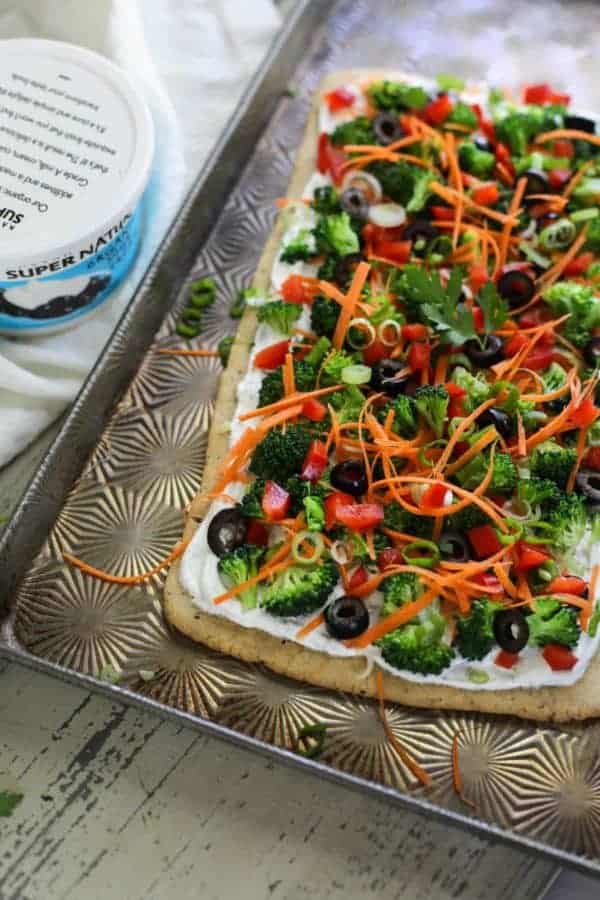 Customize it and make it your own
Maybe you're not a fan of broccoli or you hate olives, no sweat. Use the veggies you like (or the ones you have on hand) to make it your own. If you like things a little spicier, try adding a pinch of dried chipotle pepper or a teaspoon of our homemade taco seasoning to change things up.
Granted, my grandma would have never thought to do that but knowing what a fan she was of tacos, she would have loved it. And you probably will too.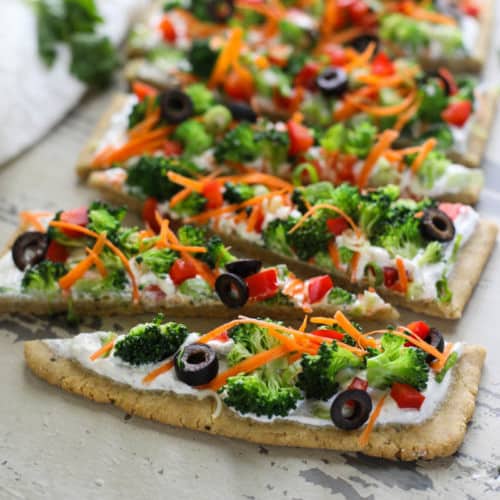 Recipe
Gluten-free Veggie Pizza
Prep:
20 mins.
Cook:
15 mins.
Total:
35 mins.
Ingredients
1

12-inch fully-baked Gluten-free or Grain-free pizza crust of your choice*

¼

medium red bell pepper, finely diced

1

–

2

green onions, white and greens parts, thinly sliced

2 cup

broccoli florets (broken into small pieces: lightly steamed and cooled, if desired)

1

small carrot, julienned or cut into ribbons with a vegetable peeler

3 Tbsp

. sliced black olives, drained and lightly patted dry

¼ tsp

. garlic powder

¼ tsp

. onion powder

¼ tsp

. dried dill

¼ tsp

. dried thyme

¼ tsp

. dried parsley

¼

– ½ tsp. salt (or to taste) 
*We used a box of Simple Mills Almond Flour Pizza Dough prepared according to package directions and baked for 11-14 minutes or until lightly golden brown. 
Prepare crust according to package directions and allow to cool to room temperature.
In a small bowl, combine sour cream and spices (garlic powder through dried parsley). Taste and add salt to taste.
To assemble pizza: Place crust on a large serving tray. Spread sour cream mixture over crust in an even layer. Scatter veggies over the top. Serve immediately or store, covered, in the fridge up to 2 days.
Last Step! Please leave a review and rating letting us know how you liked this recipe! This helps our business thrive so we can continue providing free recipes and high-quality content for you.
Notes
All photos and content are copyright protected. Please do not use our photos without prior written permission. If you wish to republish this recipe, please rewrite the recipe in your own unique words and link back to the source recipe here on The Real Food Dietitians. Thank you!
Nutrition Information
Serving Size:

1 piece

Calories:

148

Fat:

9g

Sodium:

148mg

Carbohydrate:

14g

(Fiber:

2g

Sugar:

1g

)
Protein:

4g
Dietary
What favorite family recipes have you recreated (or want to recreate) in a more healthful way? Share in the comments below, we'd love to hear about them!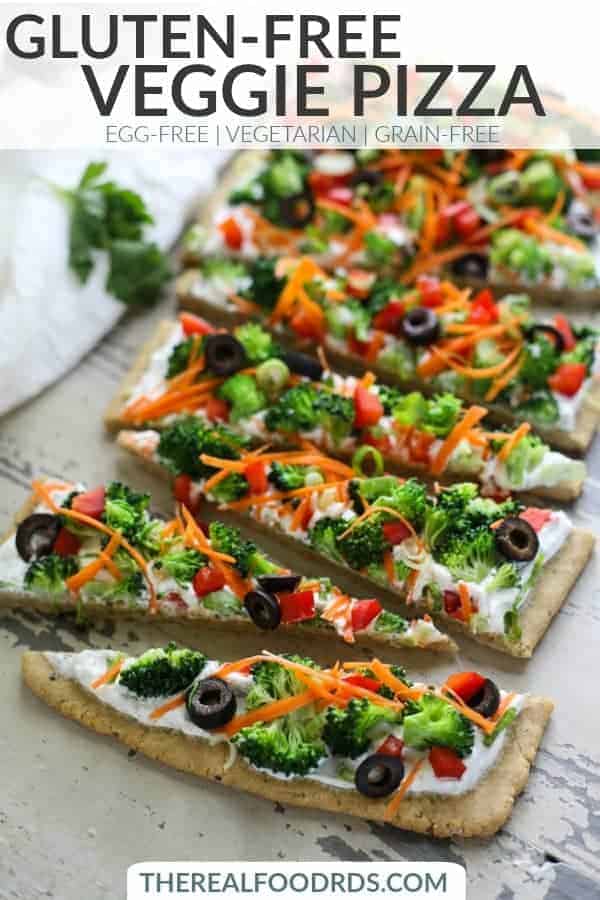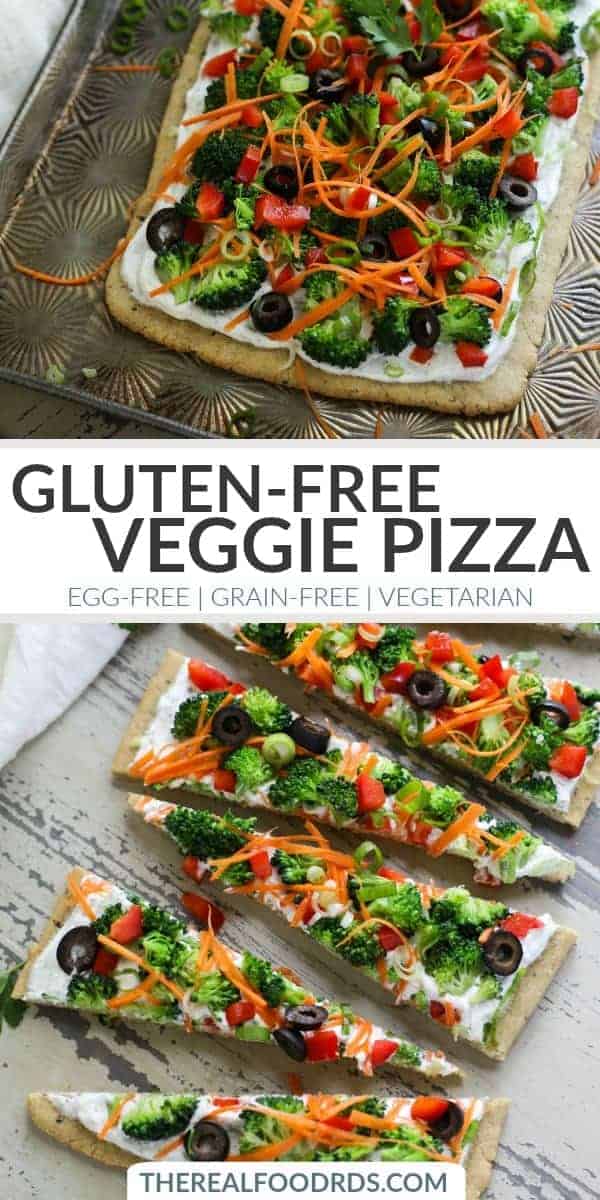 ---

This post was made possible by our friends at Kalona Supernatural. Though we received compensation for this post, the opinions expressed here are – as always -100% our own. Thank you for supporting the great companies we work with thereby allowing us to continue creating great recipes and content for you.This post may contain affiliate links which won't change your price but will share some commission.