Soup is always a good idea, especially when it's a big bowl of Loaded Cheesy Cauliflower Soup!
This post was created in collaboration with our friends at Organic Valley.
Seriously though, soup is so rad.
It really is. I mean what other meal allows you to throw a bunch of things into a pot and turn it into a something that is warm, hearty, nourishing and even better the next day? Only soup can do all that.
And this Loaded Cheesy Cauliflower Soup is all that and more. It's thick and creamy like a good potato soup, but without the potatoes. Before we go any further though, let me just say that I have nothing against potatoes. In fact, I really love potatoes, but being we create recipes for all kinds of eating styles here I wanted to put a lower-carb spin on one of my favorite soups so that everyone can find a big pot of go-to comfort this fall and winter.
I also wanted to make a soup that combined two of my favorite things: cauliflower and really delicious sharp cheddar cheese. Oh, and there's some bacon in there too. Because bacon. And I think this Loaded Cheesy Cauliflower Soup checks all the boxes.
It's time to get loaded.
Not that kind of loaded, it's too early in the day for that. Loaded as in cheese, bacon, chives… all the good stuff you might find atop a baked potato sporting a generous dollop of sour cream.
Those tasty bits, along with the cheese, are what make this Loaded Cheesy Cauliflower Soup more than just some cauliflower and broth. In fact, dare I say, it's what truly makes this soup shine.
Talk cheesy to me.
I'm on a roll today, aren't I? It must be the cooler weather and the forecast for snow that's got me feeling sassy. Or maybe it's this Loaded Cheesy Cauliflower Soup with all its cheesy goodness thanks to the Organic Valley Grassmilk Raw Sharp Cheddar Cheese << my favorite.
But in all seriousness, let's talk about cheese and Grassmilk.
One of the best things about grass-fed dairy (besides the benefits to your health, the cows' health and the health of the environment) is the taste. Milk from cows fed exclusively on grass has subtle herbal top notes with a hint of floral petal and a deep mineral base. Meaning, it tastes the way milk should taste! As grasses and forages change throughout the year so do the subtle flavor highlights of Grassmilk. What I love about Organic Valley Grassmilk products is that in addition to what's not in them – NO antibiotics, synthetic hormones, toxic pesticides or GMO anything – it's what is in them. Just 100% grass-fed, organic milk from cows who enjoy the diet they're meant to eat – grass and forage, all. year. round.
Want to know more? You can read all about why we love grass-fed dairy in this post.
Each pound of Organic Valley Grassmilk Raw Sharp Cheddar Cheese begins with 10 pounds of unpasteurized organic milk from grass-fed cows. Because so much milk goes into making a pound of cheese, it's important that the milk is of the highest quality so that the end product is of the best quality. Each block of Grassmilk Cheddar Cheese is aged for at least eight months, which creates incredible, complex flavors. It's perfect on its own, served with slices of crisp apple or sweet pear and utterly amazing in this Loaded Cheesy Cauliflower Soup. No kidding, it's what makes this soup go from good to great – just ask my 2nd grader who polished off two bowls in the blink of an eye. And the way it melts when you sprinkle a little extra on top of your hot soup? Perfection.
Did you know? All of Organic Valley's dairy products are made from milk from pasture-raised cows but only their Grassmilk products are made from cows that are 100% grass fed.
Alright, enough about my current soup obsession. Let's get to the recipe so you can make this your Loaded Cheesy Cauliflower Soup obsession, too.
Hungry for More? Subscribe to get our newsletter delivered straight to your inbox! And be sure to stay in touch on Facebook, Twitter, Pinterest and Instagram for all of the latest updates.
Let's Get Cookin'
Loaded Cheesy Cauliflower Soup
Author:
Prep Time: 20 mins
Cook Time: 45 mins
Total Time: 1 hour 5 minutes
Yield: Serves 4 1x
Cuisine: Gluten-Free, Grain-Free
Ingredients
2 tsp. cooking fat of choice (olive oil, avocado oil, butter or ghee)
1 medium sweet onion, diced small
2 cloves garlic, peeled and minced
1 large head cauliflower, broken into small florets (about 7 cups)
3 cups chicken broth (or homemade bone broth)
1 tsp. fresh thyme (or ½ tsp. dried thyme)
1 tsp. fresh rosemary, chopped (or ½ tsp. dried rosemary, lightly crushed between your fingers)
1 cup whole milk
1 cup sharp cheddar cheese, shredded
2 cups kale, torn into small pieces
3 slices crisp cooked bacon, chopped
1 Tbsp. fresh chives (optional; may use 1 tsp. dried chives and add with other dried herbs
1 Tbsp. fresh parsley (optional; may use 1 tsp. dried parsley and add with other dried herbs)
Salt and Pepper, to taste
Instructions
Place a large pot with lid (a 5-quart Dutch oven works well) over medium-high heat. Add cooking fat of choice to the pot. When hot, add onions. Sauté, stirring occasionally, for 5-7 minutes or until onions start to soften. Add garlic and cook, stirring, an additional 30-60 seconds until garlic is fragrant.
Add cauliflower florets, broth, thyme, and rosemary. Stir and increase heat slightly to bring the liquid to a low boil. Reduce heat to medium-low and cover pot with lid.
Allow cauliflower to cook 20-25 minutes or until very tender (but not mushy).
Remove lid from pot and reduce heat to low. Carefully remove ½ of the cauliflower and broth to a blender pitcher or food processor and blend until smooth. Alternatively, you can use an immersion blender right in the pot and blend until some chunks remain.
Transfer blended soup back to pot, stir in milk, cheese, and kale. Heat over low heat 3-5 minutes or until kale is wilted.
Remove soup from heat, stir in bacon, fresh chives, and parsley. Taste and adjust salt and pepper as needed before serving.
Nutrition
Serving Size: 1¼ cups
Calories: 295
Sugar: 10g
Sodium: 389mg
Fat: 15g
Carbohydrates: 21g
Fiber: 5g
Protein: 17g
What's your favorite soup when the weather turns cold? Share in the comments below!
Pin this & Share the love!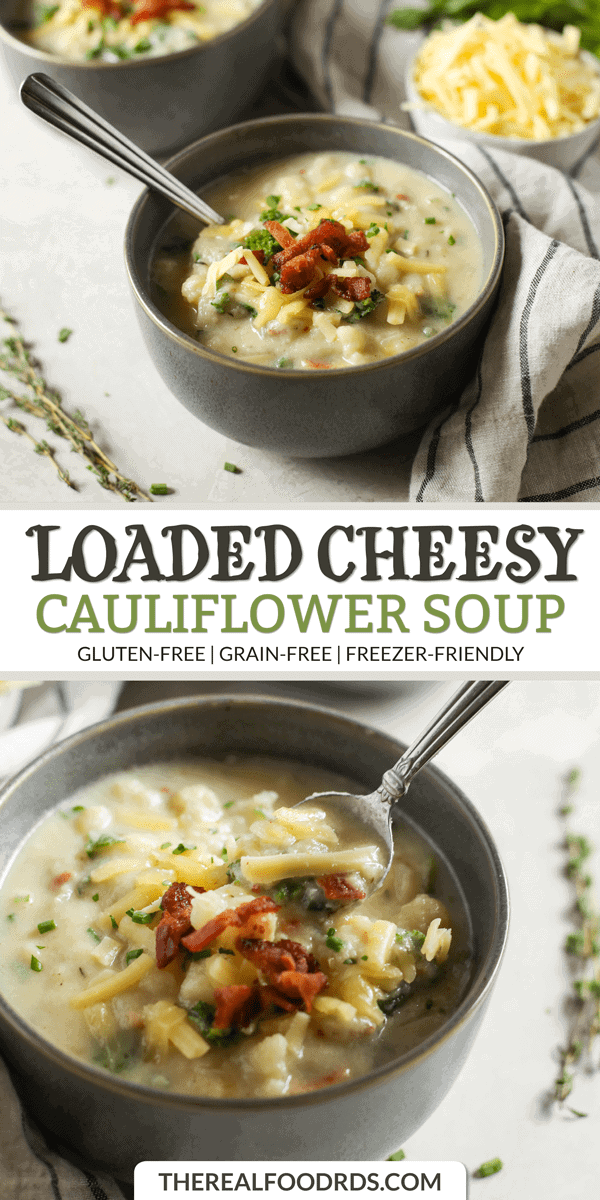 ---
This post was made possible by our friends at Organic Valley. Although we received compensation for this post, the opinions expressed here are  – as always -100% our own. Thank you for supporting the great companies we work with thereby allowing us to continue creating great recipes and content for you.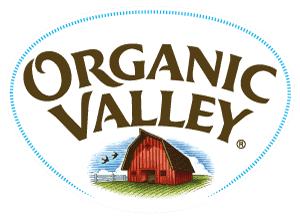 This post may contain affiliate links which won't change your price but will share some commission.