Gut Healing Homemade Bone Broth.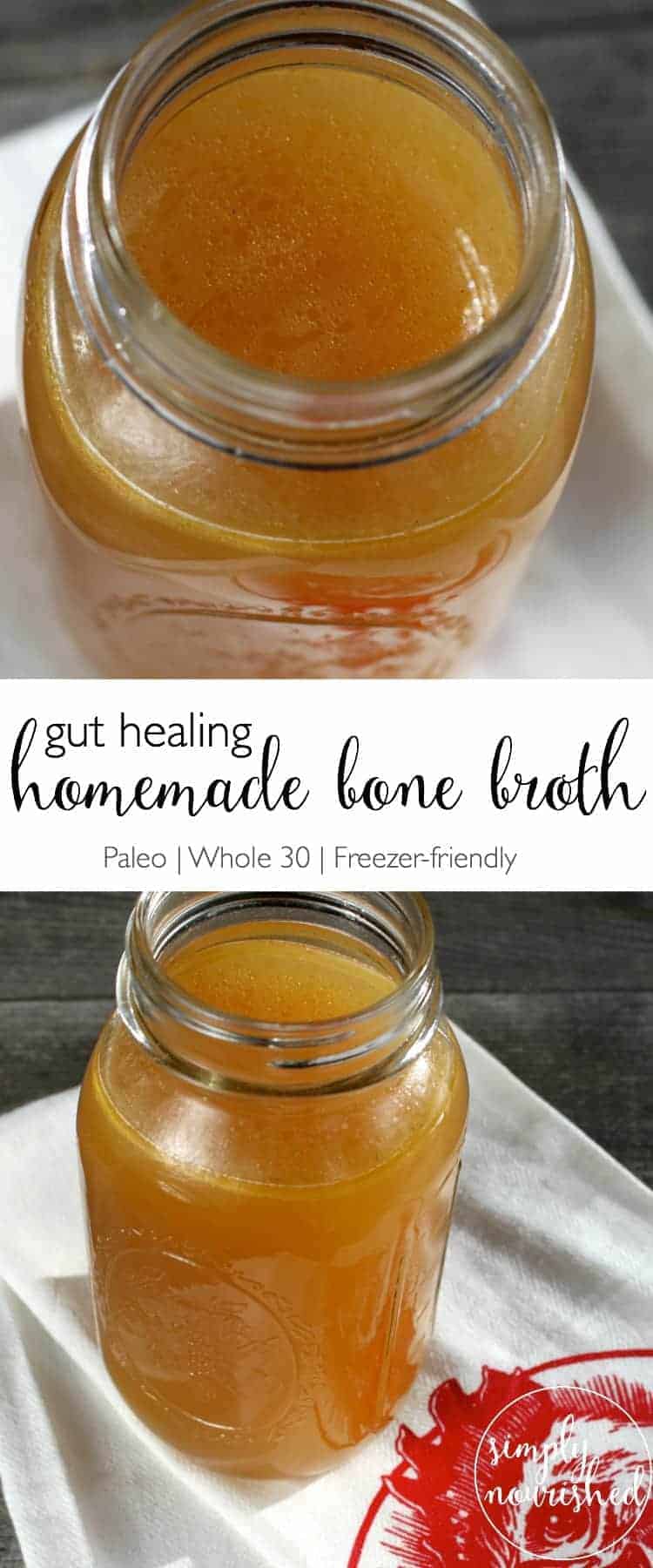 Simple. Cheap. Nourishing.
Those are the three words that come to mind when I think of bone broth.
Along with delicious, glistening droplets of golden-yellow fat that make the most flavorful and comforting soups and stews.
Bone broth made from slow-simmered bones of responsibly raised, pastured or grass-fed animals and organic vegetables is healing food that should be consumed daily for optimal digestive health.
Slow cooking the bones with a bit of acid (in this case, apple cider vinegar) releases calcium, magnesium, phosphorus, glutamine, proline and glycine into the liquid along with a slew of other amino acids (protein building blocks). One of these amino acids is glutamine, which is particularly important for gut health because the cells lining the gut wall turn over rapidly and glutamine is their preferred fuel. This regular turnover of cells is what helps to repair and rebuild damaged intestinal villi (the finger-like projections where much of digestion takes place). People suffering from "leaky gut syndrome", celiac disease, colitis or Crohn's disease often have flattened or damaged villi which leads to malabsorption.
For those with a seemingly healthy gut and no history of digestive disease or disorder, bone broth should still be a regular part of your diet as it has been shown to boost the immune system in several ways. The amino acids glutamine, proline and glycine also support tissue repair and speed the healing of injuries, wounds, burns and have also been shown to decrease recovery time after surgery and major illnesses.
Bone broth improves detoxification.
Bone broth is also important for liver health and natural detoxification. Our bodies are continually detoxifying themselves from the food we eat, the water we drink and the air we breathe (not to mention the products we put on our skin or use to clean our home). This detoxification process is primarily handled by the liver (and to a lesser extent, the kidneys). Glutamine, along with cysteine and proline, is necessary for the production of glutathione which is the major antioxidant that supports the liver in its ability to keep up with our daily toxic burden.
Bone broth is budget-friendly.
Back to those three words: Simple, cheap, nourishing. Normally I bristle at the word "cheap" because I prefer the term "inexpensive" but let's get real here. Bone broth is cheap and these mineral and collagen-rich bone broths are used in nearly every cuisine around the world to nourish, heal the gut, and stretch the family food budget. This isn't a new fad, this is old-fashioned kitchen medicine at it's finest.
Bone broth: Traditional kitchen medicine at it's finest.
Click To Tweet
A few bones and veggie scraps combined with water, heat and time becomes a magical elixir and budget-friendly food with very little work. This broth can then be used in soups and stews, to cook grains or beans or just sipped from a mug when you need something warm and nourishing. You might be surprised to find out that one cup of bone broth can offer up to 10 grams of protein thanks to all those amino acids. For centuries thrifty homemakers have been relying on this kitchen staple to nourish their families in lean times and now you know why.
Save those bones and do your body some good.
Bone broth can be made from just about any leftover bones you have. I roast a whole chicken nearly every week and use the bones for broth for soup to stretch our grocery dollar. I also use beef and lamb bones from local farmers and even add chicken feet to the pot for added collagen when someone in our house is under the weather or my knees are aching from training runs or cold, wet weather. Different bones produce different flavored broths so use what you like best. And don't forget the garlic and ginger during cold and flu season!
To stretch my dollars even more, I keep a large zip-top bag in my freezer for the bits and ends of vegetables I chop each week – ends of onions and carrots, bits of fresh herbs and wimpy-looking celery and it's leaves. I don't use peppers or cruciferous vegetables like broccoli, cauliflower or kale because these give the broth an off-taste. Those vegetables are better added after cooking when you're making a soup.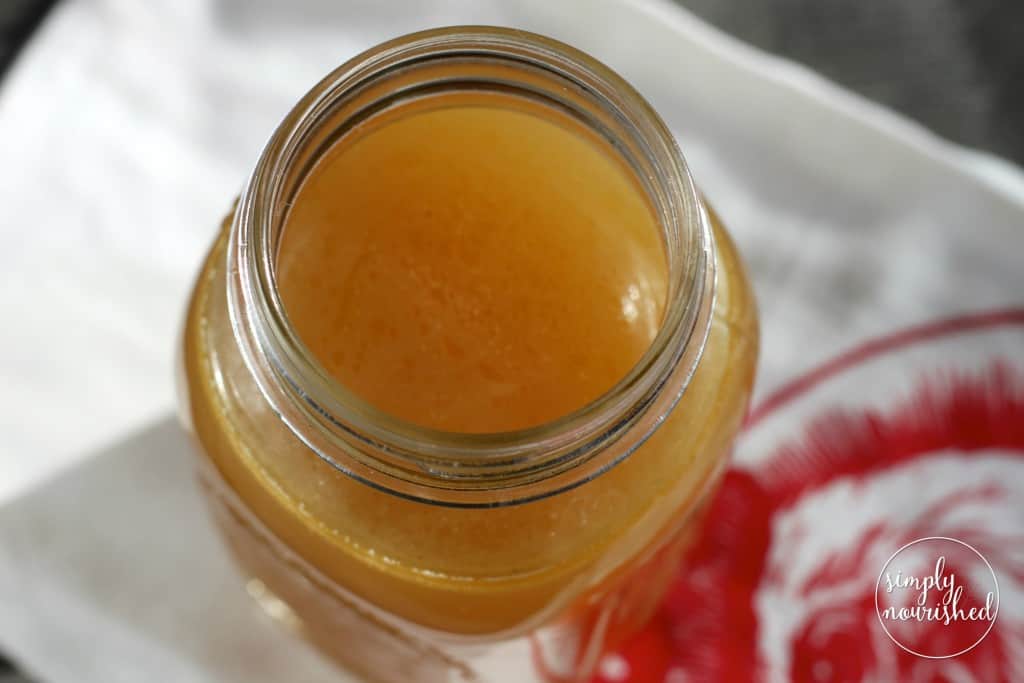 Hungry for More? Subscribe to get our newsletter delivered straight to your inbox! And be sure to stay in touch on Facebook, Twitter, Pinterest and Instagram for all of the latest updates.
Let's Get Cookin'
Bone Broth
Bone broth is revered for it's gut healing collagen and proline, lovely yellow fat droplets and intense flavor – you may never buy another box of watered down stock again now that you know just how easy and economical it is to prepare your own at home.
Author:
Prep Time: 10 mins
Cook Time: 24 hours
Total Time: 24 hours 10 mins
Yield: Varies
Category: Soups
Ingredients
2 chicken frames, without meat, about 3 pounds of chicken bones (or 1 turkey frame)
Chicken feet (optional)
2 small onions, peeled and cut into quarters
2 medium carrots, peeled or scrubbed and cut into large chunks
3 stalks celery, washed and cut into large chunks
4 cloves garlic, peeled and smashed
1 1-inch knob of ginger, washed and peel left on (optional)
1 bay leaf
6–10 peppercorns (optional)
1 Tbsp. apple cider vinegar
4 quarts filtered water, more or less, to fill the slow cooker crock
Instructions
Place bones and chicken feet, if using, into a large stock pot.
Add onions, carrots, celery, garlic, bay leaf and peppercorns.
Fill pot with enough filtered water to cover the bones.
Add apple cider vinegar (this helps leach minerals and collagen from the bones as it cooks and is a crucial ingredient).
Bring to a boil and skim the scum that rises to the top with a large spoon.
Reduce heat to LOW and simmer, covered, for 24 hours adding additional boiling water, if needed, to keep the bones submerged.
After 24 hours, remove from heat and allow the broth to cool slightly before straining through a fine-mesh strainer.
Broth may be stored in Mason jars with lids in the fridge for up to 5 days (remove layer of hardened fat before use).
Notes
This recipe can be made in a slow cooker by following steps 1-5 and then transferring the skimmed broth and bones to the crock of a 6-quart slow cooker. Cover and cook on LOW heat for 24-36 hours.
Nutrition
Serving Size: 1 cup
Calories: 50
Sugar: 2g
Sodium: 120mg
Fat: 3g
Carbohydrates: 2g
Fiber: 0g
Protein: 10g
Are you a bone broth lover? Share the love and leave a comment about how you use your broth.
SaveSave