Pull a chair up to the table because you don't want to miss this Instant Pot Raspberry French Toast Casserole!
This post was created in collaboration with our friends at FeedFeed and Driscoll's.
Will everyone just please sit down?
Now that my daughters are older and more self-sufficient they've come to rely on me less in the morning to get breakfast. Which, I suppose, is a good thing in many ways, but a lot of times it results in total chaos and less than ideal food choices (think giant bowls of cereal and puddles of milk on the counter and floor or gluten-free toast sagging under the weight of too much honey or jam).
I ask them to please sit down not because I want to micromanage them (though I do want to keep them from smearing oatmeal everywhere), but rather, I want to have just a few minutes to connect with them before I send them out into the big world and then off to after-school activities.
If you're a parent then you know it's not easy to get everyone to the table in the morning. And you can only ask so many times before you're hoarse and you drive yourself crazy so you've got to make them want to come to the table when you ask.
Lately, at our house, the secret to 100% compliance to this request to sit and enjoy breakfast together has been this Instant Pot Raspberry French Toast Casserole. My kids don't know that my ulterior motive for putting such deliciousness on the table is to hang out with them and connect, so let's just keep that between us, okay?
Finally, a breakfast your kids will actually sit down for. And even ask for seconds. #realfood
Click To Tweet
A winner every time
Sitting somewhere between bread pudding and classic French toast, this Instant Pot Raspberry French Toast Casserole is a busy person's dream. Not only is it warm, hearty, comforting, and satisfying, it can be prepped the night before so all you have to do is combine the bread, the berries and the egg custard mixture then pop it into the Instant Pot to cook while you do more important things. Like round up missing shoes, overdue library books, permission slips that need signing…you get it.
Oh, and here's a bonus: It's a great way to use up leftover bits of bread. My kids are apparently allergic to the heels of the bread and somehow there's always one more bun than there are burgers on burger night, so I just toss those bits into a bag in the freezer to add to the next batch of Instant Pot Raspberry French Toast Casserole and everyone wins.
So berry good
Aside from being easy to prepare and kid-friendly (and mom-approved), what makes this dish so popular at our house is the berries. For us, it's always Driscoll's organic raspberries because I know that when I reach for them at the store that I'm getting the finest berries and here's why:
Each Driscoll's berry begins with natural breeding through cross-pollination (not genetic modification), a technique that has been used for thousands of years by breeders worldwide. Driscoll's Research and Development teams pick out the elite parent plants and match the best berries to create even better offspring. Each year they review thousands of seedlings to identify varieties that live up to their name. Five to seven years later only a handful of the sweetest and juiciest varieties make the cut – it's not the fastest way but it's the surest way to ensure you get the finest berries.
And let's not forget about nutrients here. One cup of raspberries offers up 7 grams of fiber, a host of phytonutrients including quercitin and galic acid which have been shown to play a role in heart health and the prevention of cardiovascular diseases, obesity and age-related decline. And they're low in sugar, clocking in at just 4 grams per cup.

Not just for weekdays
Even though this Instant Pot Raspberry French Toast Casserole is easy enough for busy weekdays, it's also perfect for weekends when you want to slow down and savor life. I've served this dish for brunch with friends, made it as part of a weekend meal prep (so it's just reheat and eat when you're ready) and I've made it for new mama friends and friends returning home from a hospital stay. It's honestly such a great way to share the love because it looks fancy and fussy but as you already know, it's quick and easy to put together – and it's always delicious!
Recipe
Instant Pot Raspberry French Toast Casserole
Prep:
15 min
Cook:
16-18 min
Total:
31-33 min
Ingredients
4 cups

stale or toasted gluten-free bread, cut into

1

-inch cubes

6 ounces

organic raspberries, rinsed and patted dry

4

large eggs

1 ¼ cup

milk or non-dairy milk of choice

1 Tbsp

. maple syrup

1 ½ tsp

. pure vanilla extract

½ tsp

. ground cinnamon

⅛ tsp

. ground cardamom

(optional)

2 tsp

. organic cane sugar or coconut sugar

Butter or coconut oil

Maple syrup for serving

Optional: Vanilla yogurt, whipped cream or non-dairy whipped topping
Place the stainless steel inner pot into the Instant Pot and add 2 cups of water to it. Select the 'Saute' feature. This will start to warm the water inside the pot to help decrease the amount of time it takes for the Instant Pot to come up to pressure once you're ready to cook.

Place the handled rack insert into the inner pot.

Grease a 1 ½ – 2 quart round baking dish (a souffle dish or springform pan less than 8 inches in diameter is ideal for this) that will fit into the inner pot of the Instant Pot.

To the dish, add bread cubes and raspberries. Toss gently to combine.

In a small bowl, whisk together eggs, milk, maple syrup, vanilla, cinnamon, and cardamom (if using). Pour over bread and raspberries in the baking dish. Use a spoon to gently press bread-egg mixture into the pan to ensure the liquid mixture penetrates the bread. Allow it to rest 3-4 minutes.

Select 'Off/Cancel' on the Instant Pot. Cover top of baking dish with foil. Use additional foil to fashion a strap or handle which will run under and up along the sides of the baking dish to make it easier to remove the dish from the Instant Pot later.

Gently lower the dish by the foil handles onto the rack in the bottom of the Instant Pot.

Secure Instant Pot lid in place and flip pressure valve to 'Sealing' position.

Select the 'Manual' or 'Pressure Cook' function and adjust cooking time to 17 minutes

(I use 19 minutes because I live at 5500 feet above sea level)

When cooking time is up, use quick release to release the pressure.

Turn broiler to High and place oven rack 6-8 inches below broiler element.

Remove baking dish from Instant Pot using foil handles. Carefully remove foil covering and sprinkle casserole with sugar. Place under broiler for 2-3 minutes or until top is nicely browned.

Serve with additional berries, maple syrup, and yogurt or whipped cream/topping, if desired.
Last Step! Please leave a review and rating letting us know how you liked this recipe! This helps our business thrive so we can continue providing free recipes and high-quality content for you.
Notes
All photos and content are copyright protected. Please do not use our photos without prior written permission. If you wish to republish this recipe, please rewrite the recipe in your own unique words and link back to the source recipe here on The Real Food Dietitians. Thank you!
Dietary
What's your favorite weekday breakfasts? Got any good tricks for keeping the kids at the table long enough to fill their bellies before school? Share in the comments below.
Pin this now to enjoy later!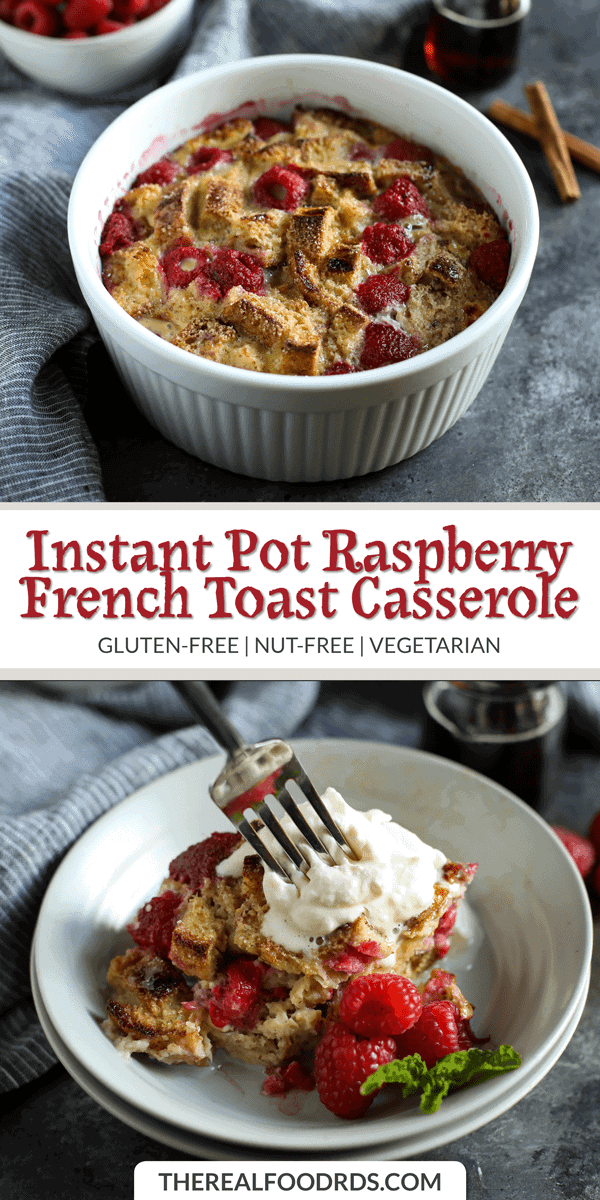 ---
This post was made possible by our friends at The Feedfeed and Driscoll's. Although we received compensation for this post, the opinions expressed here are  – as always -100% our own. Thank you for supporting the great companies we work with thereby allowing us to continue creating great recipes and content for you.
This post may contain affiliate links which won't change your price but will share some commission.