Over here at The Real Food Dietitians, we love a delicious and healthy snack to help fill those gaps between meals and to work more nutrition into our days. Selecting the right snacks can offer many benefits, including:
Getting more essential vitamins and minerals that may be lacking from regular meals
Providing sustained energy when you need it most (like during that morning and afternoon slump)
Helping you meet any goals around weight loss and overall healthy eating
Selecting the wrong snacks, however, can lead to unwanted weight gain and putting unnecessary added sugars and highly processed ingredients into your body.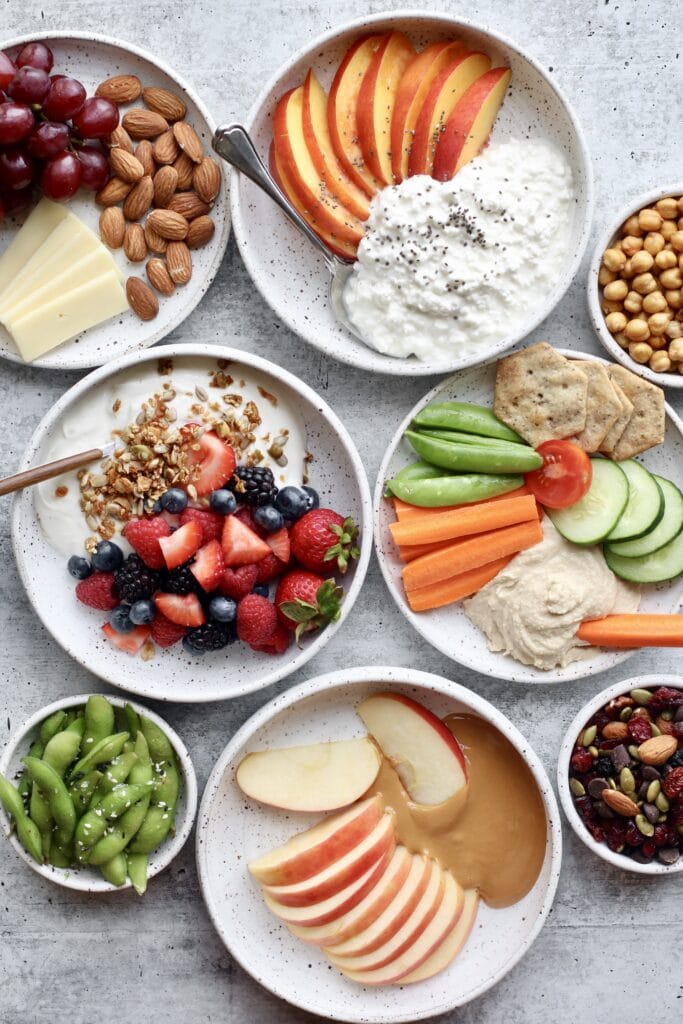 We're three registered dietitians who want to help you navigate the snack world and make the best and healthy snack choices for you. We provide both easy snack recipes that you can make ahead, as well as some whole-food snack choices that you can grab and go.
If you're in search of healthy snacks for kids, check out our post on perfect kids' snacks for back-to-school, after school, and anytime healthy snacking at home.
1. Hummus and Veggies
When it comes to good nutrition, snacking on hummus and veggies is one of the best choices you can make. This 100% plant-based, naturally gluten-free snack provides so many good-for-you nutrients like fiber, iron, calcium, monounsaturated fats from olive oil, vitamins A and C, potassium, and magnesium.
You can easily make your own hummus with our 5-Ingredient Hummus Recipe or purchase hummus in individual portions or larger cartons to portion into meal-prep containers.
Some of our favorite hummus brands are Hope Hummus, Ithaca Hummus, Oasis Hummus (regional), and Baba's Hummus (regional). Another great snack idea is to pair veggies with purchased or Homemade Guacamole. Some of our favorite veggies for dipping into hummus are bell pepper strips, carrots, celery sticks, radish slices, mini red peppers, cucumber and zucchini slices, broccoli and cauliflower florets, cherry tomatoes, sugar snap peas, and blanched asparagus.
2. Hard-Boiled Eggs
One to two hard-boiled eggs is a healthful, portable, affordable, and high-protein snack option. Use our instructions to make fail-proof Easy-Peel Hard-Boiled Eggs and package them with a homemade seasoning mix* or Everything But the Bagel seasoning blend for dipping each bite. Then, top them off with some Quick Pickled Onions for the ultimate yum factor.
For ultimate convenience, we also love these done-for-you egg and seasoning snacks from Peckish. A snack of two hard-boiled eggs will provide 12-13 grams of protein.
*To make your own seasoning mix for dipping hard-cooked eggs, combine:
2 tablespoons poppy seeds or chia seeds
1 tablespoon white sesame seeds
1 tablespoon black sesame seeds
1 tablespoon dried minced garlic
1 tablespoon dried minced onion
2 teaspoons coarse sea salt
For a snack, dip your peeled hard-cooked eggs into the spice mixture and enjoy (you only need a teaspoon of the mix per egg).
Meal Prep + Snacks = Success
When you plan ahead for your meals and snacks, you can have better success with weight loss and meeting your health goals. That's why we've designed so many great resources and snack recipes that are perfect for meal prep (cooking ahead of time). If you want to give meal prep a try, start with our free download for a Weekend Meal Prep plan. It includes the done-for-you grocery list, step-by-step instructions, and the meal and snack recipes you need to have healthful options ready to go for the week.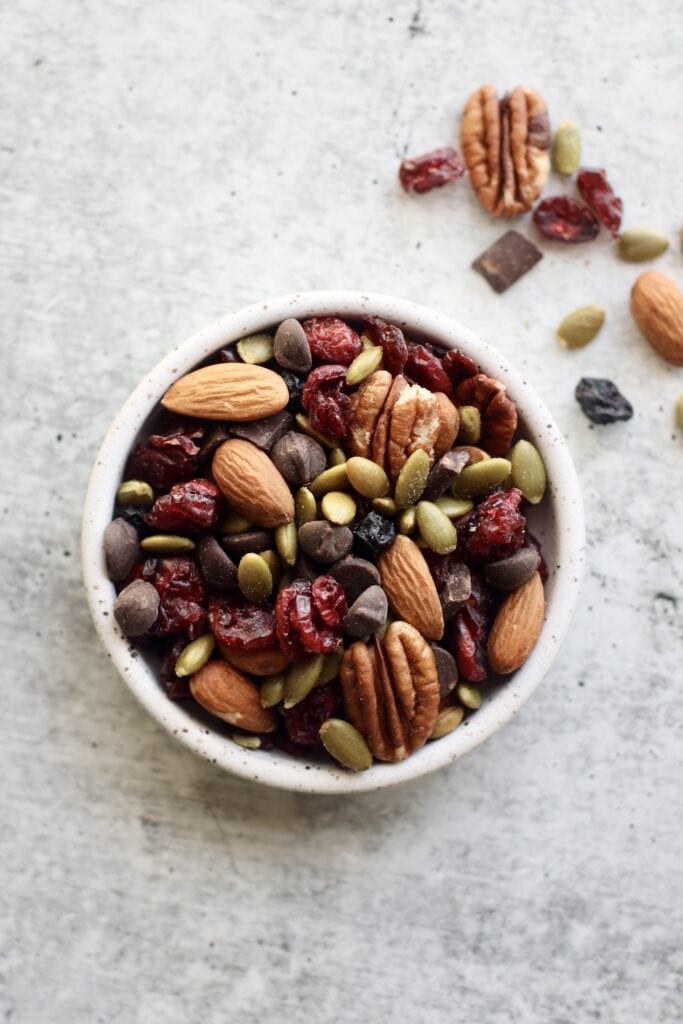 3. DIY Trail Mix
Trail mix has been a go-to snack for outdoor enthusiasts for decades, but it's not just for hikers! A good trail mix combines nuts, seeds, and dried fruits for a mix of important nutrients like healthful fats, fiber, vitamin E, antioxidants, and potassium that can be beneficial for anyone.
Making your own trail mix is super easy to adjust to your personal preferences. Use any combination of these delicious common and creative trail mix ingredients:
Almonds
Cashews
Pecans
Walnuts
Raisins
Dried cranberries
Dried apricots
Other dried fruits
4. Cottage Cheese
We love enjoying ½ cup of cottage cheese for a nutritious, high-protein snack. Keep things interesting by topping it with fresh fruit (diced strawberries, peaches, pineapple, or blueberries), chia seeds or flax seeds, and pistachios or another favorite nut.
These cottage cheese cups from Good Culture are one of our go-to prepacked snacks. You can also save some money by dividing a large carton of cottage cheese into these two-compartment containers and adding your own toppers. When you're ready for a snack, just mix it all together!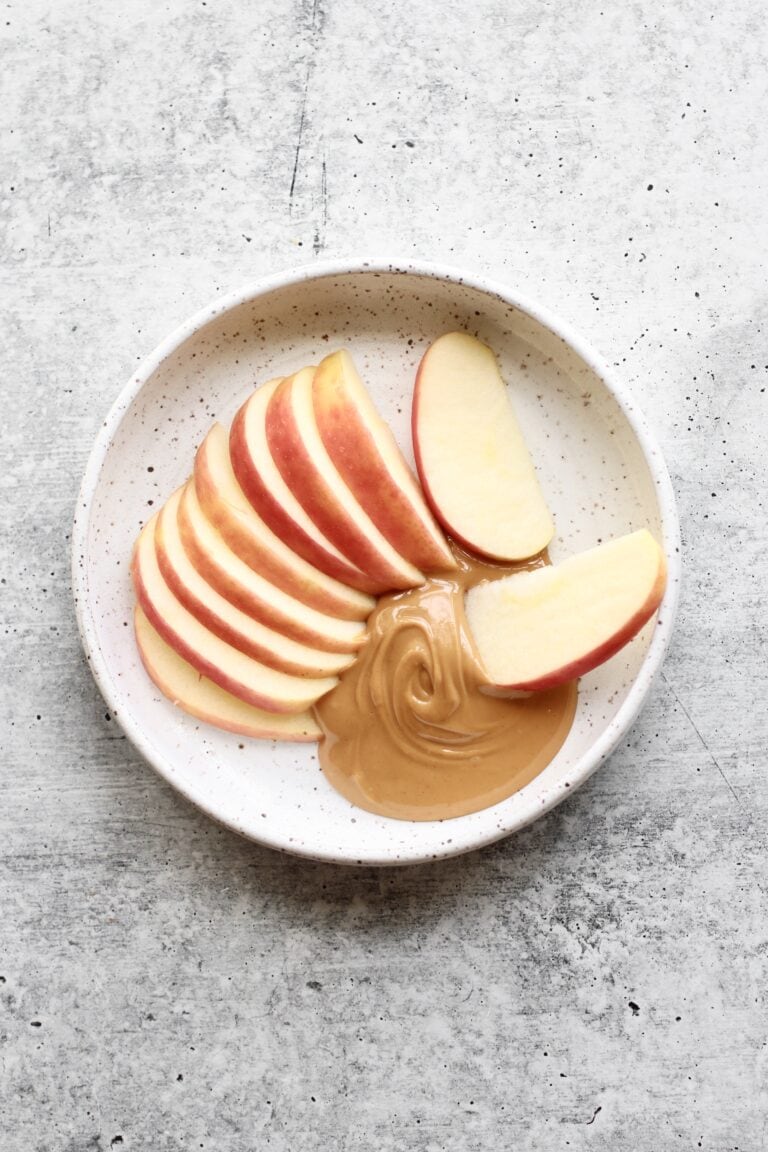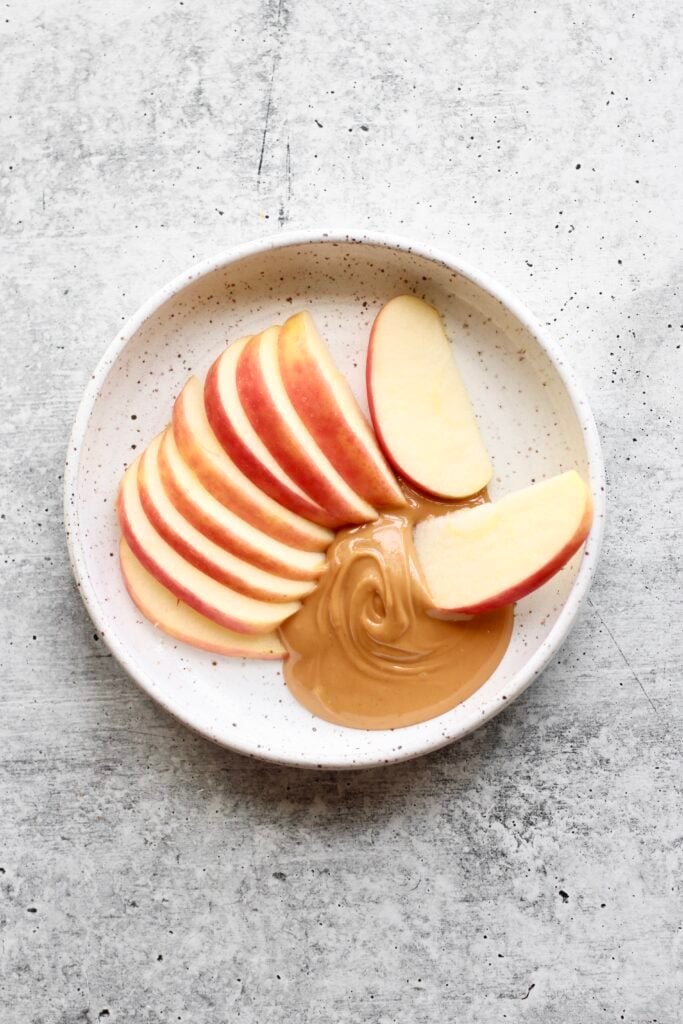 5. Fresh Fruit and Nut Butter
Fresh fruit is a popular snack because it's easy to find, portable, and delicious. Fresh fruits, such as apples, bananas, peaches, berries, and citrus are high in fiber, vitamins, and minerals, plus they're easy to throw into a purse or lunchbox.
When you select fresh fruit as a snack, we recommend pairing it with nut butter like peanut butter or almond butter. The healthy fats in the nut butter will help slow the digestion of the natural sugars in the fruit, meaning you'll have a more well-rounded snack with lasting energy.
We love these individual RX nut butter packets, which are high in protein, cholesterol-free, and sweetened with dates.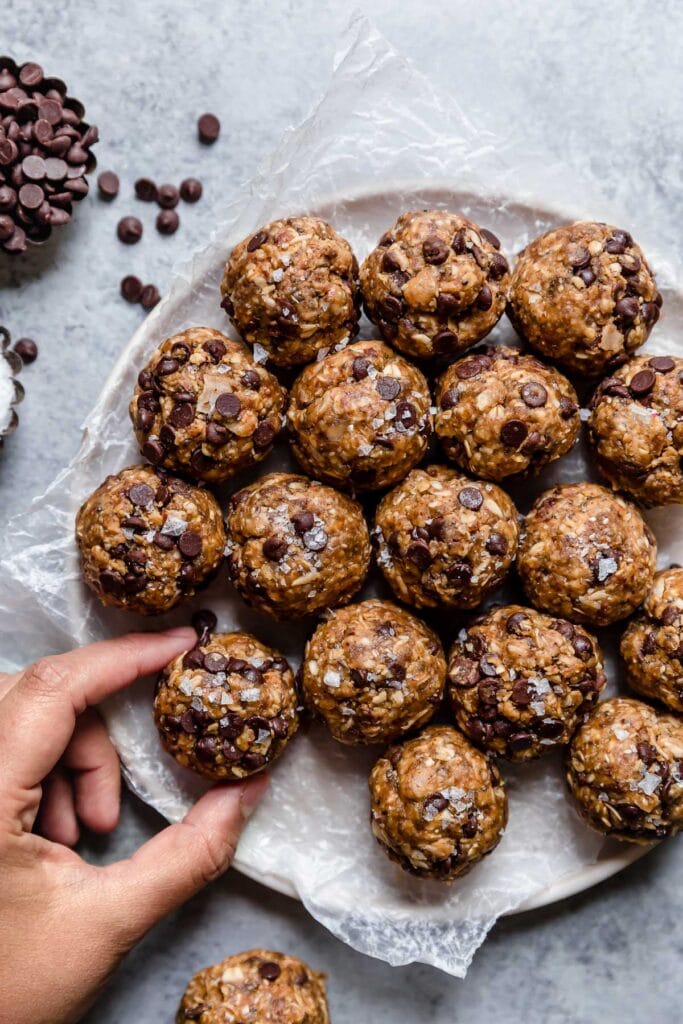 6. Energy Balls (aka Energy Bites)
One of our all-time favorite healthy snack hacks is to have a batch of one of our energy ball recipes ready to go in the refrigerator or freezer.
When you have a healthy snack like one of these energy balls recipes at the ready, you're less likely to reach for unhealthful and highly processed foods. Plus, every energy bites recipe we share is loaded with energy-supplying carbohydrates, fiber, and protein. You can also up the protein in any of these recipes with the addition of protein powder (see our favorite whey protein powders and our favorite plant-based protein powders).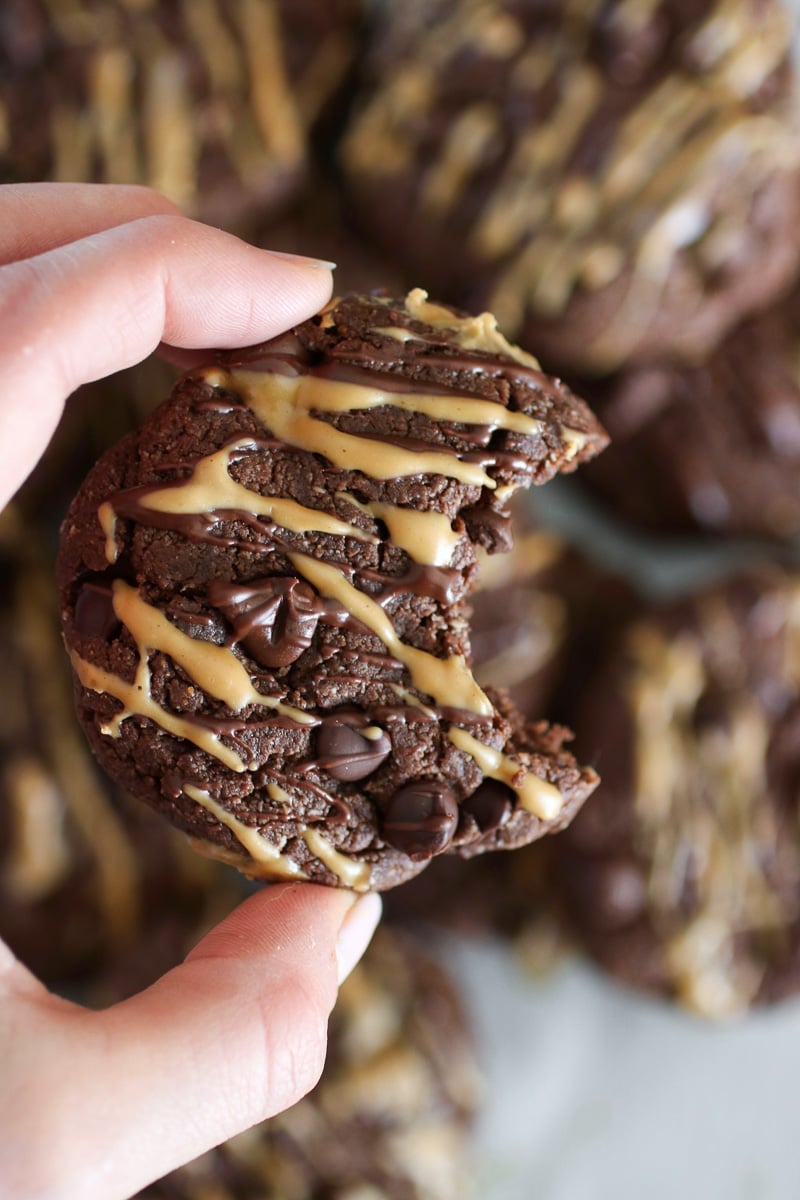 7. Protein Cookies
Transform a cookie into a healthful snack by enjoying it slowly and add some protein for staying powder. Satisfy your sweet tooth with our Trail Mix Cookies that offer 5 grams of protein each and our Chocolate Peanut Butter Protein Cookies that boast 7 grams of protein each from the addition of collage peptides.
You can typically increase protein in any cookie recipe by adding ¼ cup to ½ cup of collagen peptides or protein powder and decreasing the flour or oats by 2-3 tablespoons.Some prepackaged cookies we like that are higher in protein are these Lenny & Larry's The Complete Crunchy Cookie packs, which are a low-carb snack with 160 calories, 4 grams of fiber, and 6 grams of protein per pack.
Boost Protein In Baked Goods
Adding collagen peptides or protein powder to no-bake bars and baked goods like cookies and granola bars is an easy way to add more nutrition to these types of snack foods and slow their digestion (which helps you avoid blood sugar spikes and energy lulls). You can typically increase protein in any cookie recipe by adding ¼ cup to ½ cup of collage peptides or protein powder and decreasing the flour or dry ingredients by 2-3 tablespoons.
We love Primal Kitchen Collagen Peptides (save 20% with code REALFOOD20) and check out our Favorite Whey Protein Powders and our Favorite Plant-Based Protein Powders.
8. Edamame
Edamame are whole soybeans that get steamed in the pod. They are a nutritious real-food snack with many nutrition benefits, including high amounts of fiber, magnesium, folate, and vitamin K. A large study review has linked eating soybeans to lowered cholesterol and heart health.
For a convenient snack, you can purchase soybeans for edamame in several ways:
Already shelled and cooked whole soybeans
Frozen bags of soybeans in the pod that you steam-cook in the microwave and then squeeze and pop right into your mouth (our favorite way to eat them)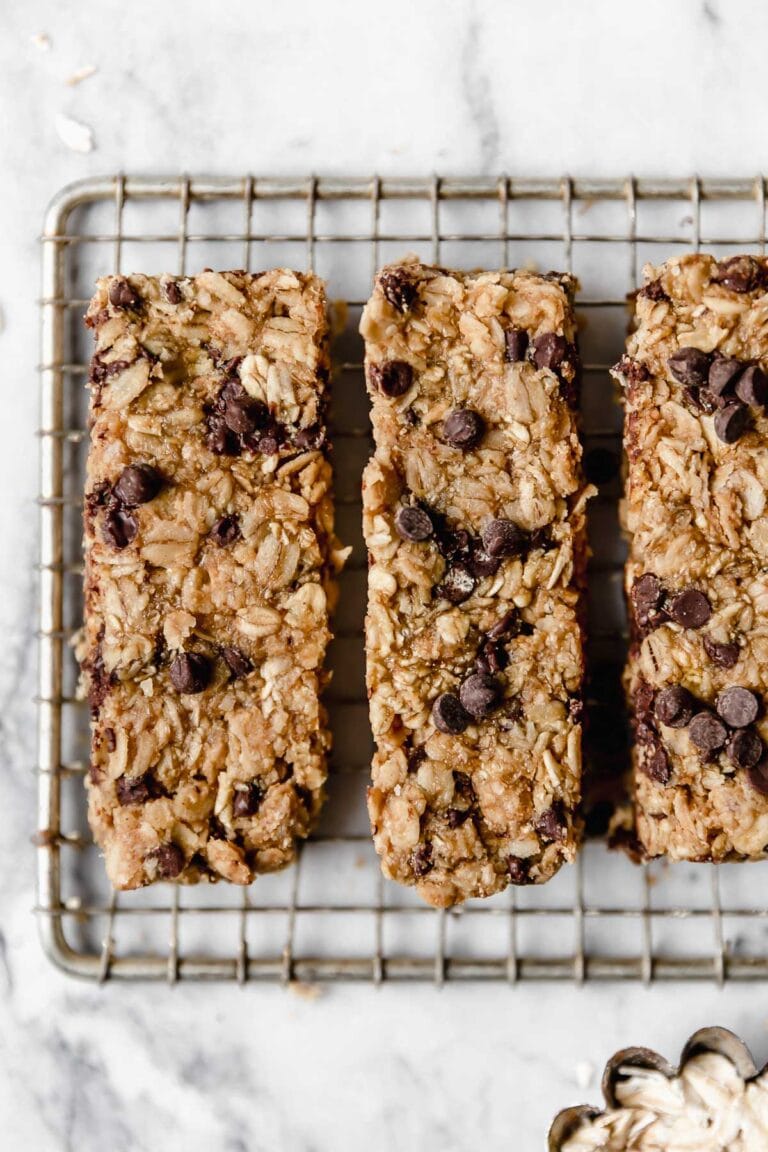 9. Granola Bars or Protein Bars
We have many delicious granola bar recipes, like these 5-Ingredient Peanut Butter Granola Bars and Chewy S'mores Granola Bars that can be made ahead for an easy-to-grab snack on the go. Made with a base of whole-grain oats and nut butter, a granola bar can provide fiber and healthy fats to give you that afternoon energy boost you're looking for.
To increase the protein in a homemade granola bar recipe, add ½ cup of whey protein powder to any recipe, or try these Mini Peanut Butter Protein Bars. Some prepackaged protein bars that we enjoy often and recommend are G2G Bars, which feature 18 grams of protein per bar. For kids' protein bars, we love the GoMacro Kids MacroBars.
10. Greek Yogurt and Granola
You can't beat the creamy-crunchy combination of a protein-packed yogurt topped with granola. This combination is one of our team's favorite healthy snack ideas.
Yogurt and granola can both be sneaky sources of added sugars, so be sure to read labels to ensure you reign in added sugars but still get the calcium, protein, and fiber you need.
We love to reach for siggi's skyr, which is strained, thick Greek-style yogurt available in many flavors and without a lot of sugar. Then, we top it with a healthy granola, such as Struesli, a favorite crispy, no-sugar, no-sweetener, grain-free granola made from tiger nuts (a prebiotic-rich root vegetable). We also like Grandy Oats Coconola and the oat-based Purely Elizabeth Ancient Grain Granola.
For an extra healthy snack punch, add some fresh berries for more fiber and antioxidants.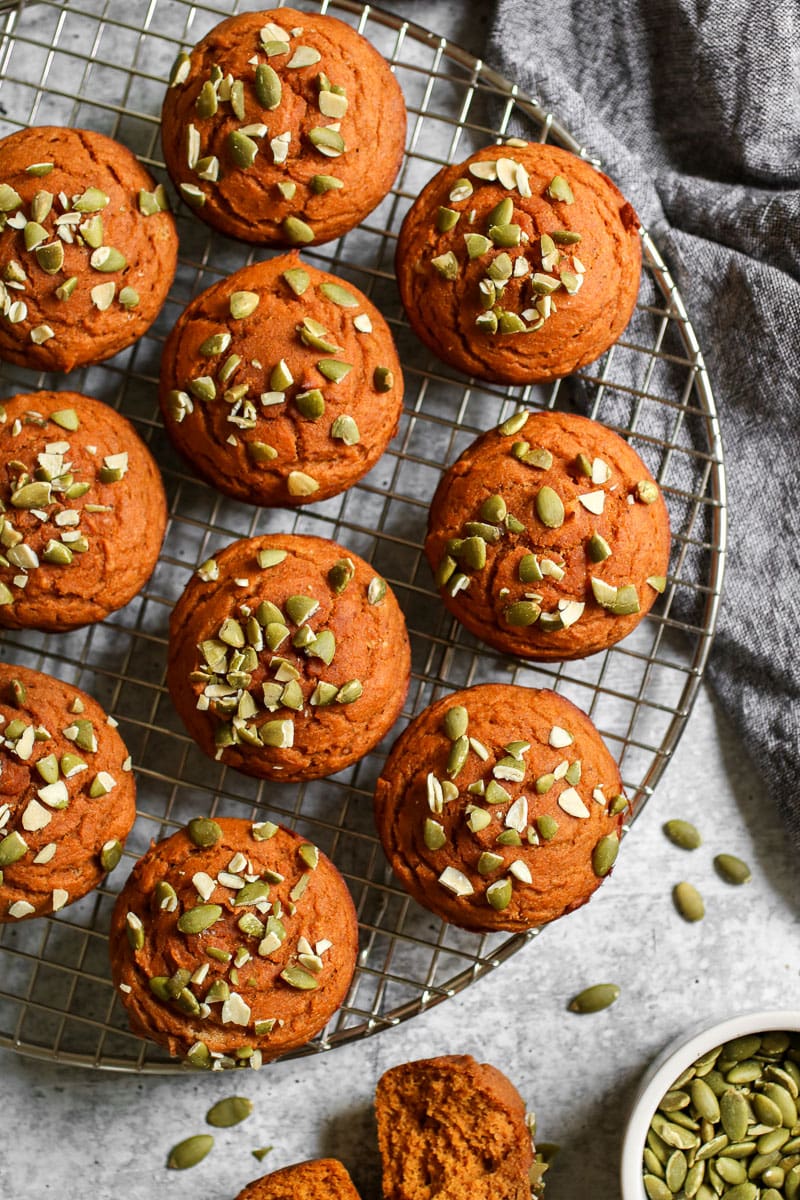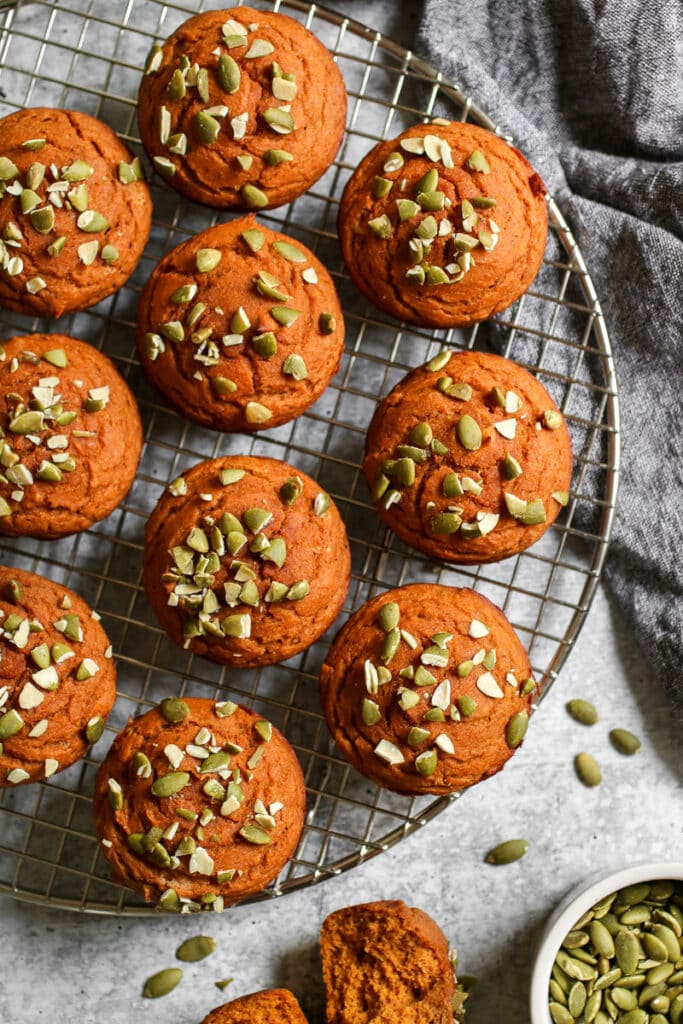 11. Muffins
Homemade muffins can be a nutritious snack to make ahead of time. That's true whether they're sweet like these Blueberry Oatmeal Muffins, seasonal like these Pumpkin Protein Muffins, or savory like these Ham and Cheese Muffins.
We love how a muffin comes with built-in portion sizes and can be customizable for your favorite flavors and any dietary preferences, such as gluten-free or dairy-free. When made with oats and fruit, muffins are a good source of fiber. When they're based on eggs or when you add some protein powder, they can also be a good source of protein.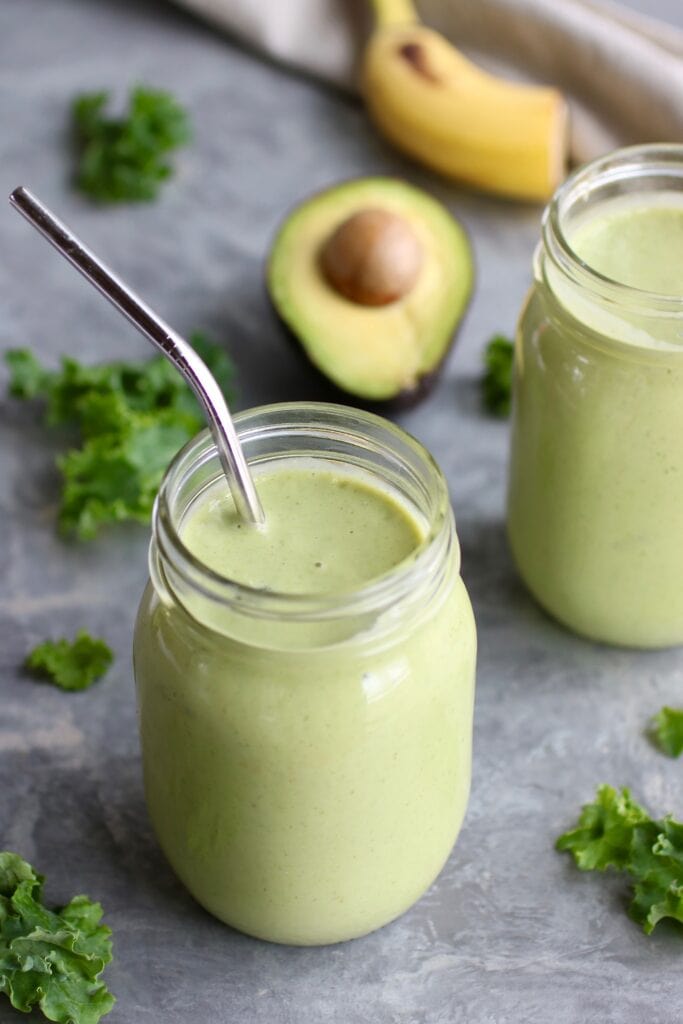 12. Smoothies
Smoothies can be part of a nutritious breakfast or an occasional afternoon snack. They're a great way to use up any fresh fruits and veggies you have around the house. Plus, smoothies lend themselves well to many mix-ins, while at the same time providing you with ample nutrition, including vitamin C, fiber, and antioxidants. When made with milk or yogurt, smoothies also can be a good source of calcium and potassium. For a snack, try our 5-Ingredient Green Smoothie or our Dairy-Free Mocha Frappe Smoothie.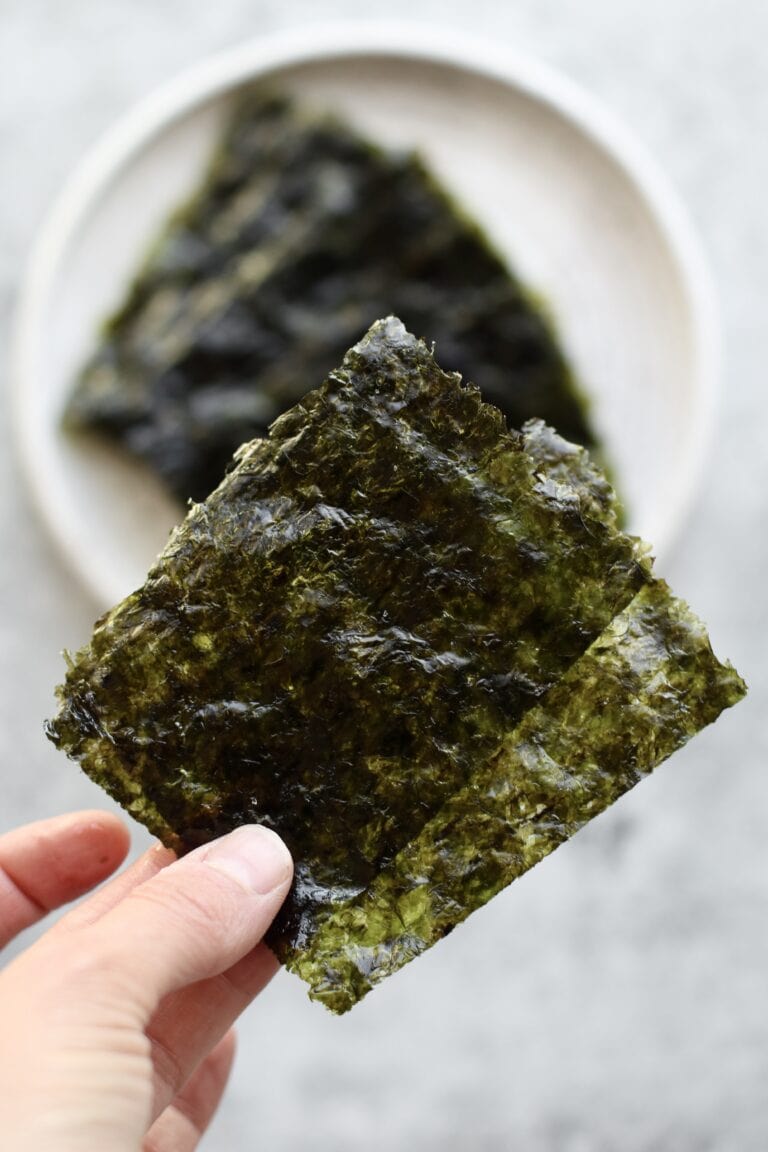 13. Seaweed Snacks
Seaweed snacks can probably be found at your grocery store, and they're very good for you! Seaweed is popular in many countries, such as Japan, Korea, and China, and is gaining more recognition in the U.S. as both a healthy and sustainable food.
Seaweed is a good source of some key nutrients, including copper, omega-3 fatty acids, vitamin B12, and plant-based protein. Additionally, studies show that the iodine and tyrosine in seaweed is great for supporting a healthy thyroid.
For an easy portable snack, we are fans of the Gimme Organic Seaweed Snacks and Annie Chun's Organic Seaweed Snacks in Sesame Flavor.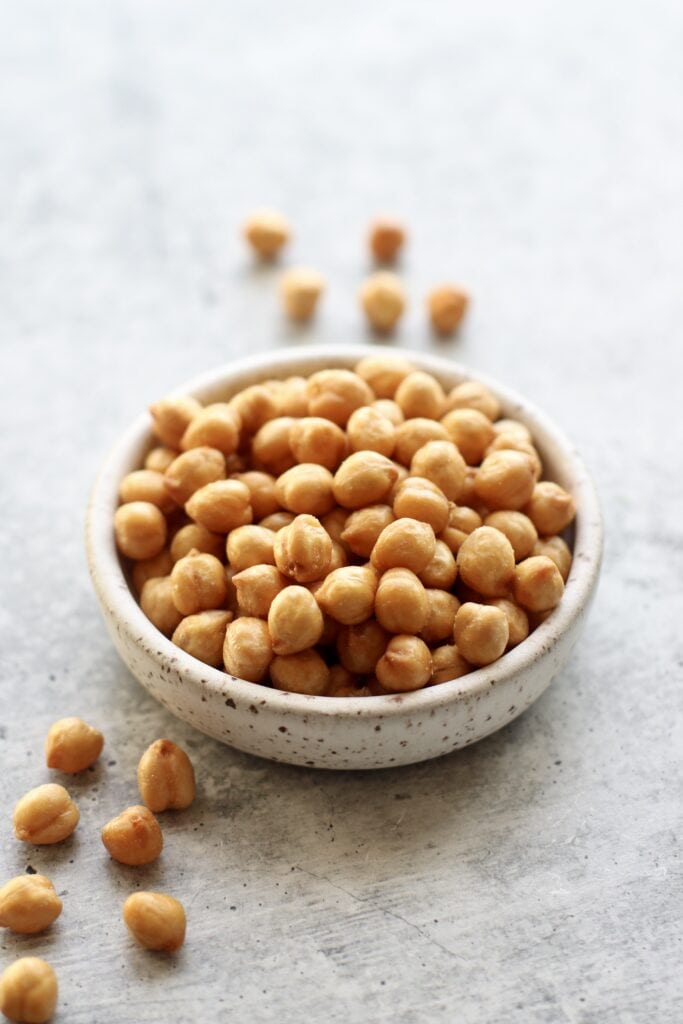 14. Roasted Chickpeas
You already know that chickpeas are good for you. But you may be wondering if roasted chickpeas are a healthy snack. Good news: They are!
Just like canned chickpeas, roasted chickpeas are a good source of fiber, plant-based protein, and many vitamins and minerals. You can make your own Crispy Roasted Chickpeas at home or purchase individual roasted chickpeas snack packs to throw into a lunchbox or purse for a nutritious snack any time.
Warning: Eating roasted chickpeas makes your thirsty, so another benefit of snacking on them is that you'll likely increase your water intake!
15. Meat Sticks
If you're not meeting your daily protein goals, adding a meat stick snack can help you get there. Meat sticks are satisfying, high-protein, low-carb snacks that come in a variety of textures, from chewy jerky style to more tender.
We like The New Primal Snack Mates for both kids and adults, which provide 7-9 grams of protein per serving, as well as Country Archer Grass-Fed Beef Sticks, which provide 8 grams of protein and don't contain any added sugars or nitrates.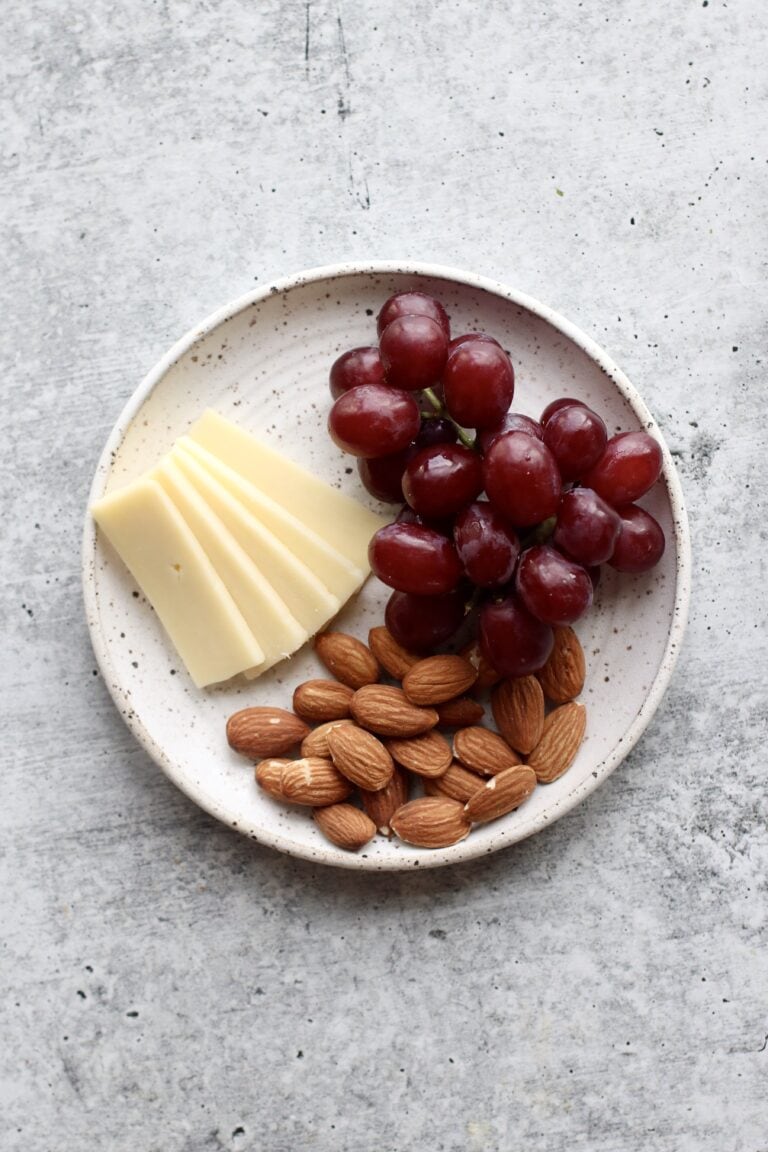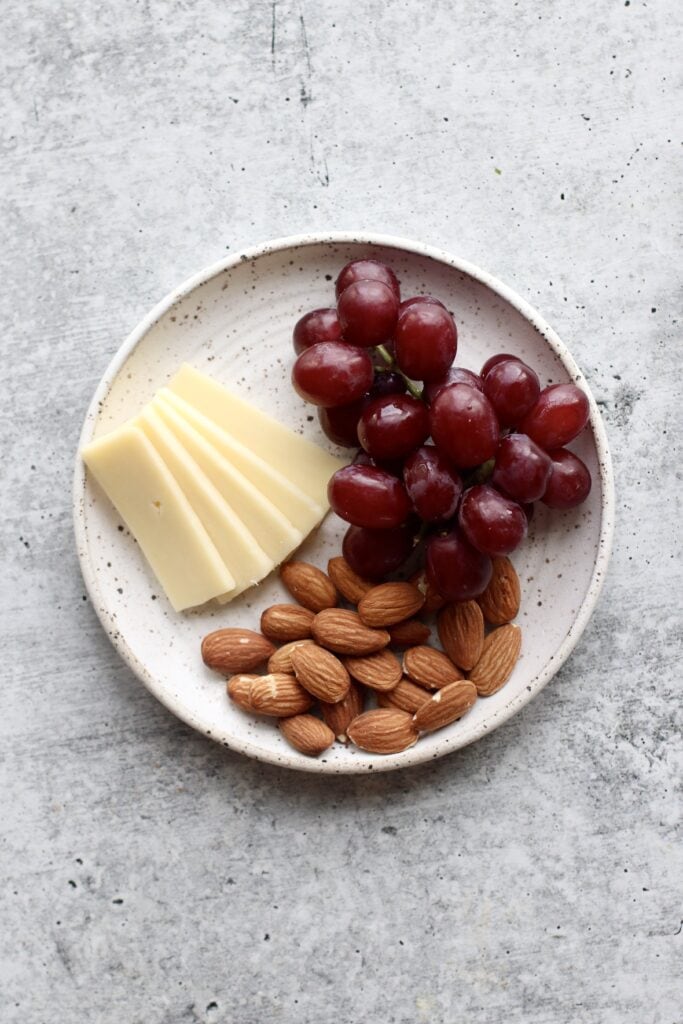 16. Mini Fruit, Nut, and Cheese Plate
A miniature and personalized version of a charcuterie board can make a healthy snack. Select a few slices of cheese, nuts, and fruit for a vegetarian snack plate. A snack like this is satisfying due to the fact that it contains a variety in textures and flavors, as well as a good balance of protein, healthy fats, and carbohydrates. We like to compose our mini cheese plate with some slices of aged cheddar, whole almonds, and grapes, but you can get creative an add your own favorites.
---
Pros and Cons of Snacking
To snack or not to snack? That is the question! The answer is a personal one that only you can decide.
To help you determine whether having a snack or two in your day will help with your overall health, nutrition, and weight-loss goals, we've listed out the general pros and cons of snacking.
| | |
| --- | --- |
| Pros | Cons |
| Snacking can help you feel more full (less ravenous) when your next meal time rolls around, which means you're more likely to eat appropriate meal portions for your body. | Snacking too much or on unhealthful snack foods can lead to excess calorie intake and unwanted weight gain. |
| Snacking can help you work more essential nutrients into your day, which may be lacking from your regular meal times. With the right snack choices, you can get more of the nutrients many people are lacking, including healthful fats (monounsaturated fats and omegas 3s), whole grains and fiber, protein, magnesium, potassium, calcium, and vitamin E. | Excess snacking may lead to meal skipping, which could mean fewer essential nutrients and whole foods in your day. |
| For people who prefer small meals or who have low appetite (due to aging, pregnancy, illness, medication, or another cause), snacking may be necessary in order to meet daily nutritional needs. | If snack choices are ultra processed, you're getting little to no nutritional benefit while increasing unwanted added sugars, inflammatory oils, trans fats and saturated fats, and too much sodium. An excess of these can lead to chronic inflammation and disease, weight gain, insomnia, and even depression. |
| The right snack choices can help you avoid blood sugar spikes and blood sugar lows, which means more sustained energy and avoiding lethargic episodes, moodiness (aka getting "hangry"), and energy crashes. | Getting into the habit of snacking whenever the temptation hits or when you're not truly hungry can create a disconnection from your hunger intuition. In other words, it can lead to habitual mindless eating and becoming a less intuitive eater . |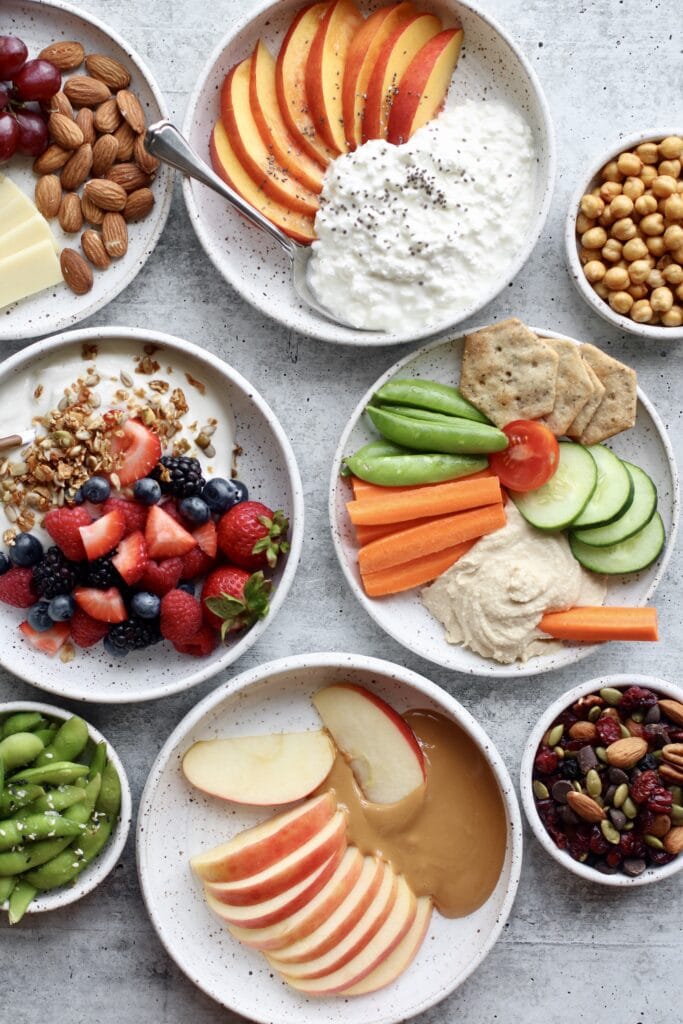 Frequently Asked Questions
pin now to reference later!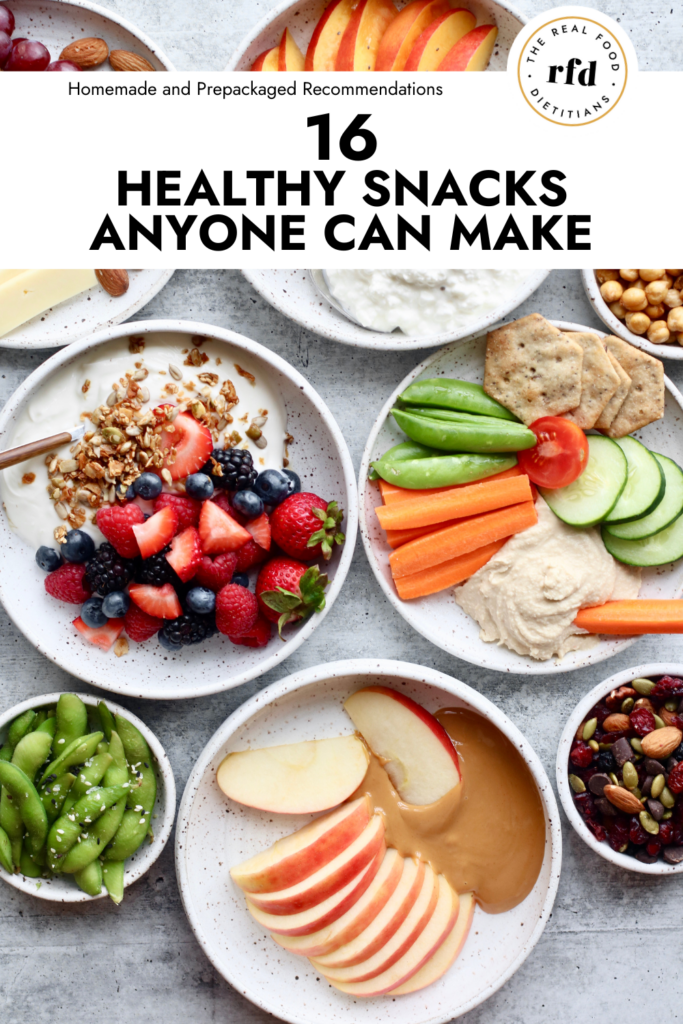 For ultimate success, we highly recommend reading the tips in the full blog post above. All photos and content are copyright protected. Please do not use our photos without prior written permission. If you wish to republish a recipe, please rewrite the recipe in your own unique words. Link back to the source recipe here on The Real Food Dietitians. Thank you!