We love that Caraway ceramic-coated cookware is designed with your health in mind. In this post we'll introduce you to Caraway Home and share our honest review of their ceramic-coated nonstick pots and pans, now that our entire team has been using them in our own kitchens for a while.
This post was created in partnership with Caraway Home.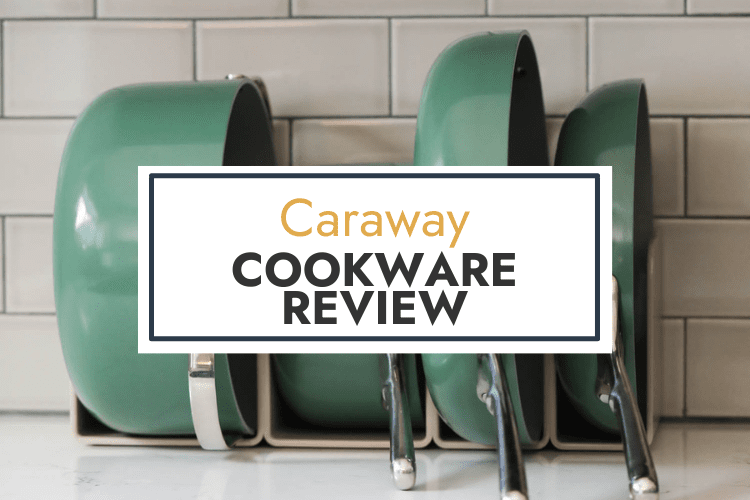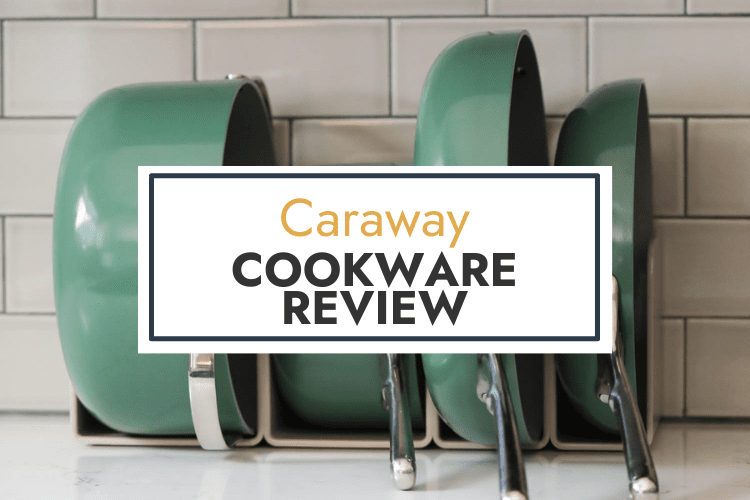 High-Quality Cookware That Lives Up To The Hype
If you're like most home cooks, you've tried dozens of pots and pans ranging from stainless steel to cast iron to those containing teflon in an attempt to find the perfect fit. We all want cookware that allows us to prepare delicious and healthy meals without the worry of PFOAs, PTFEs, PFAs or other toxic chemicals leaching into them. And we all want cookware that's easy to maintain while being perfectly non-stick so much so, that a fried egg easily slides from the pan and cleaning up is a breeze.
If you're thinking that all sounds too good to be true, then let us introduce you to Caraway Cookware. We've been using the Caraway cookware, bakeware, and storage sets in our own kitchens for quite some time, putting it to the test daily when testing recipes and feeding our families. Keep reading to learn more about why we swapped out our old nonstick pans for their nonstick cookware set, the features we love so much, why it's a safer choice, and how easy they are to cook with and clean up afterwards.
Safer Nonstick Cookware
Caraway cookware is designed with a naturally slick non-stick coating for easy cooking and seamless cleanup. Caraway products are made without any toxic materials like PFAS, PTFE, PFOA, or other hard-to-pronounce chemicals which we know is important to you and your family, or you wouldn't be here reading this.
Their high quality ceramic-coated aluminum cookware is also free of lead and cadmium that can make their way into your food.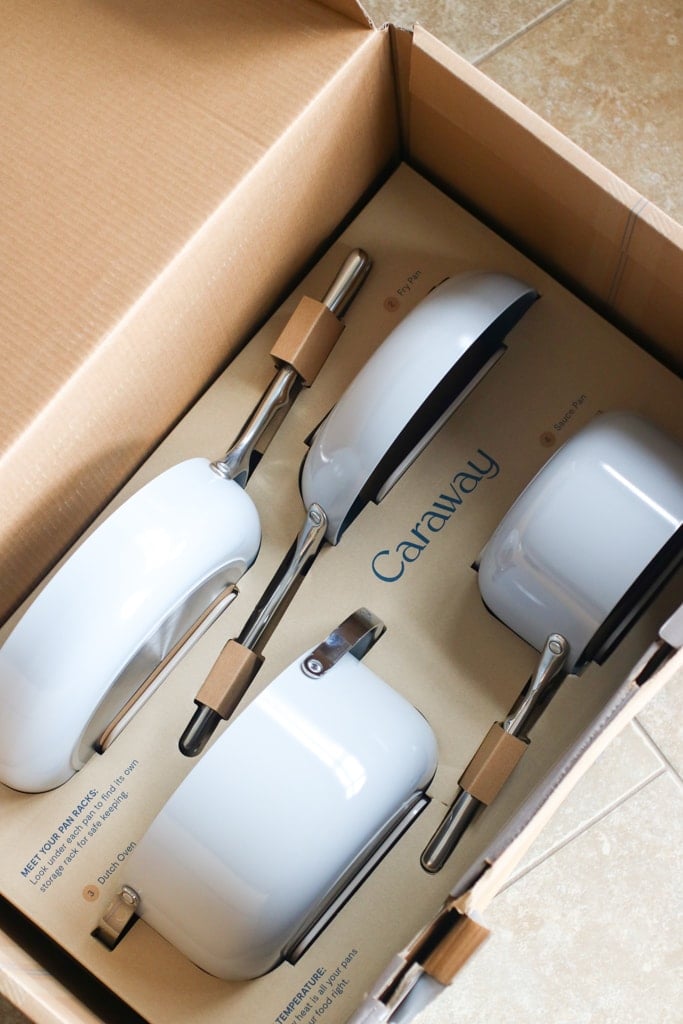 What's Inside The Caraway Cookware Set?
We tested the 7-piece set which includes:
10.5-inch Fry pan
3-quart Saucepan with lid
6.5-quart Dutch oven with lid
4.5-quart Sauté pan with lid
Cork trivets made from recycled cork (set of 2)
Canvas lid holder for hanging inside a cabinet or on the wall
Magnetic pan racks (one of our favorite features)
The Deluxe Cookware Set includes all of the above plus a Minis Duo (8-inch fry pan and 1.75-quart saucepan with lid).
The Benefits Of Ceramic Cookware
Not only is the cookware beautiful, it's versatile, and easy to use. You can go from stovetop to oven making it ideal for creating the perfect breakfast frittata or broiling a skillet lasagna. Caraway cookware is oven-safe up to 550℉. Ceramic's naturally slick surface means minimal oil or butter for slide-off-the-pan eggs and easy cleaning.
The non-stick pots and pans feature an aluminum core and work on a variety of cooking surfaces including gas, electric, and induction cooktops or ranges.
The stainless steel handles on the fry pan, sauté pan and saucepan feature a small 'bump' on their underside that functions as a tactile reminder to keep your hands and fingers from getting too close to the hot pan. We love this thoughtful feature but when in doubt, use a hot pad, especially when lifting the lids or using the second handle on the large sauté pan.
During the manufacturing process, Caraway cookware releases up to 60% less CO2 (carbon dioxide) into the environment compared to traditional non-stick coatings making them a more eco-friendly option. Additionally, all orders are free of single-use plastics and shipped in packages made from recycled cardboard.
A Few Built-In Features We Love
You can tell when a company has really thought about the design of their products. And that definitely shows when you're using Caraway products. We keep discovering more things we love about them. Here are some of our favorite features:
The pan handles have a little ridge close to the pan that indicates a "hot zone" past which you don't want your fingers to slide
The pan handles are designed to easily double as a spoon rest
The lids each include a steam escape hole and ridges for catching condensation
The magnetic storage racks come apart easily and give you many options for storing the pans safely and conserving space inside cabinets or on countertops
The sets come in colors that match Caraway storage containers and bakeware, so you can color coordinate your whole kitchen
The pans clean so easily – no more soaking and scrubbing for hours
Where To Buy
Caraway cookware is sold direct-to-consumer at CarawayHome.com. There you'll find their full-line of non-toxic cookware and bakeware sets along with other kitchen essentials such as their popular food storage collection, tea kettles, and coordinating linens. Get 10% off when you shop using the link above or click the button below.
So Many Colors To Choose From
Caraway ceramic cookware sets some in a variety of colors that look great in today's kitchens and will give yours a modern, clean feel. You can choose from colors in classics like Gray, Cream, and Navy, to bolder colors like Sage, Marigold, and Perracotta. If we had to pick one thing we don't like about the cookware, it's how hard it was to choose a color. Don't be surprised if you find yourself in the same boat! Jess has the set in Navy, Stacie and Ana have the set in Cream, and Jessie has it in Sage (shown in these photos).
If you're looking for something really eye-catching, check out their Iconic and Limited lines featuring gold and copper handles. They're simply stunning.
Tips For Caring For Your Nonstick Cookware
A little extra attention to the care of your Caraway pans will ensure they serve you well for many years to come. Here are a few do's and don'ts to keep in mind when cooking and cleaning up.
Do cook on low to medium heat – Avoid high heat to ensure the ceramic coating does not overheat which can cause the non-stick layers to wear away. You'll love how well the cookware retains and distributes heat so keep it low to extend the life of your pots and pans.
Do add oil or butter to the pan – While ceramic is naturally slick, adding a bit of butter or oil to the pan will enhance the non-stick aspect while also adding flavor to whatever you're cooking.
Do hand wash with warm soapy water – All you need is warm water, a little soap and a soft cloth to clean your cookware. For stubborn stuck-on food or light staining, Caraway recommends using a Brillo or SOS wool sponge.
Do store your cookware properly – Avoid stacking your cookware. To make storing your ceramic nonstick cookware easy, Caraway includes a set of magnetic storing blocks that keep your cabinets tidy while protecting the interior and exterior surfaces of the cookware. Lids can be stored in the included canvas lid holder mounted to the inside of the cabinet door.
Don't use metal utensils – Use only wood or silicone utensils to avoid scratching the interior surface.
Don't use spray oils – We know they are convenient but these can leave a hard-to-clean residue on your pans and can damage the ceramic coating. If you must spray, we recommend using an oil mister filled with olive oil or avocado oil.
Don't drag your pans across the cooktop surface – Instead, pick the pan up to prevent scratching the bottom of the cookware.
Our Overall Impression Of Caraway Nonstick Cookware
After many months of rigorous use, our entire team gives the non-toxic cookware our thumbs up. From its versatility to its ease of use and nearly effortless cleanup to the attractive design, beautiful colors, and smart storage solution, we feel confident recommending them to anyone looking to replace their cookware made with unsafe chemicals. While they are an up-front investment (just like with any quality set of pots and pans), with proper care they'll last for many years.
Pin This!
This post was made possible by our friends at Caraway. Although we received compensation for this post, the opinions expressed here are – as always – 100% our own. Thank you for supporting the great companies we work with thereby allowing us to continue creating great recipes and content for you.
For ultimate success, we highly recommend reading the tips in the full blog post above. All photos and content are copyright protected. Please do not use our photos without prior written permission. If you wish to republish any content, please rewrite it in your own unique words and link back to the source recipe here on The Real Food Dietitians. Thank you!