Rediscover an old favorite or find something new with our 20 Most Popular Recipes of 2019!
And just like that, another delicious year has gone by.
It's that time of year again when we share the most popular recipes of the year on the blog. Not only is it a tasty walk down memory lane for long-time readers, but it's also a chance for new readers to discover something they may have missed. This year we're sharing the 20 Most Popular Recipes of 2019 so you can revisit an old favorite or find a new one to try out – as always, we so grateful that you're here and we can't wait to create and share all-new recipes in 2020 to help you eat well and feel your best.
 Without further ado, here are the Most Popular Recipes of 2019!
This hearty, bean-free Slow Cooker White Chicken Chili was hands-down THE most popular recipe of 2019. We left out the beans and dairy to make it Whole30-friendly but feel free to add a can of white beans to the pot to add more fiber if you'd like.  (Also include Instant Pot & Stovetop directions).
While we originally shared this recipe in 2017, it really took off in 2019 earning itself the dubious award of 'Second Most Popular Recipe of 2019'. If you haven't made it, now is the time.
If you told us 3 years ago that this recipe + photo tutorial for making your own sauerkraut would find itself at the top of the first page in a Google search, we would have laughed. Well, here we are at the top of the heap with this easy-to-follow tutorial for making your own gut-health boosting homemade sauerkraut. Don't worry, it's really simple and a great way to try your hand at fermentation without having to invest in pricey gadgets.
This recipe originally made our list of most popular recipes in 2017 then made a comeback in 2019 after we added some newly updated photos and directions for making it the Instant Pot. It's an oldie but a goodie and one that makes it onto our own meal plans regularly.
This must-make dish is a true meal prep champion because you can easily double the recipe and make two meals. One for now and one to stash away in the freezer so you have an easy option later on down the line. The addition of chili powder to the ground meat filling may seem odd at first, but trust us – it's what makes this Shepherds Pie unlike any other you've tried.
Not a fan of breakfast but hate the jitters that come with too much caffeine on an empty stomach? Try this Cinnamon Coconut Latte. It's packed with healthy fats to keep you going until you're ready to eat. It's also great for those who prefer to fast until mid-morning because it's unsweetened.
Disclaimer: This post may contain affiliate links that will not change your price but will share some commission.
Don't throw those chicken or turkey bones away, make nutrient-rich, budget-friendly broth instead! Making your own broth at home has never been easier thanks to the electric pressure cooker. We keep a bag in our freezers to collect bones and random bits of carrots, celery, and onions to toss into the pot to save time and money.
Are you still on the fence about whether or not a pressure cooker is for you? Check out all of these pressure cooker-friendly meals we've created with an Instant Pot. 

Got an Instant Pot that's still in the box because you're not sure where to start? Check out these tips and tricks to help you get started with confidence.
One-pan = Easy cleanup! This easy meal is perfect for meal preps or busy weeknights because you can either make it from start to finish to reheat and eat later or prep all of the veggies, chicken, and sauce to be combined right on the pan when it's time to bake.
We wouldn't be lying if we said this is one the BEST homemade taco seasonings you'll find on the internet. It's easy to customize the heat level by using more or less cayenne pepper and it's great to have on hand in the pantry for last-minute meals like these Taco-Stuffed Sweet Potatoes, Loaded Sweet Potato Nachos, Tex Mex Sweet Potato Hash, or our One-Dish Chicken Fajita Bake.
Make the most of your precious time while making enough cooked protein for several meals. This is a great recipe for meal prep sessions when you want a pile of perfectly cooked chicken for salads, soups, and more.
Tired of toast? Off the grains? Doing a Whole30? Just want to eat more veggies? We've got you covered with these 4 ways to dress up a slab of toasty warm sweet potato. They're not just for breakfast though – they're a great stand-in for bread on sandwiches or our Stovetop Sloppy Joes (or these Slow Cooker Chicken Sloppy Joe Sliders!). The best part is that we made them meal prep-friendly so you can pre-bake a big batch of sweet potato toasts ahead of time so all you have to do is toast 'em and top 'em.
If you've got 5 ingredients and 5 minutes you're 90% of the way to a fantastic and incredibly versatile dish. It's great for tucking into tacos, piling high over rice or cauliflower rice to make burrito bowls or just serving alongside your favorite vegetable sides. Bonus: It freezes beautifully for an easy reheat and meal later on and we've got instructions for both the slow cooker and Instant Pot to give you options depending on how much time you have.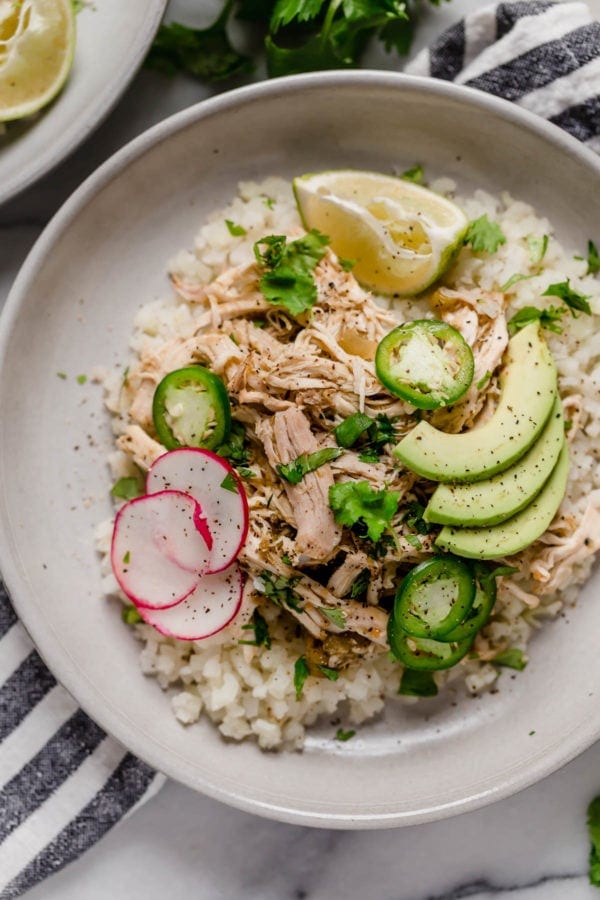 The saying, "I've made a lot of mistakes in my life, but none of them have been tacos." is pretty spot-on as far as we're concerned. We love how easy and customizable tacos are whether you're looking for a weeknight meal or something to serve for a party, these are sure to please. P.S. Don't forget to take your tacos to the next level with these ridiculously easy and good-on-everything Quick Pickled Onions. 
If you thought that going dairy-free meant giving up macaroni and cheese you were wrong! This Dairy-Free Mac & Cheese not only look like the real deal it has that creamy mouthfeel you crave. And the nut-free sauce is made with vegetables so you can feel even better about eating it several times a week (no judgment here!).
What's better than a big plate of Buffalo wings? Our lightened-up crispy BAKED Buffalo wings, of course! If you thought you couldn't get crispy wings without deep frying then check out our method – you won't believe your tastebuds. Tossed with our homemade 5-ingredient Buffalo sauce, these wings are just what you've been looking for.
True story, this was the very first one-pan/sheet pan meal we ever shared on our site in 2015. With the rise in popularity of sheet pan meals, it continues to be a favorite of ours and our readers because of it's ease, simplicity, and endless options for customizations that allow you to use what you have on hand.
This one only sounds strange until you try it! The combination of sweet potatoes and tangy, smoky, creamy chipotle and lime-infused mayonnaise is a game-changer. It's best served warm but also delicious cold for lunch. Oh, and did we also mention that there's bacon in there?!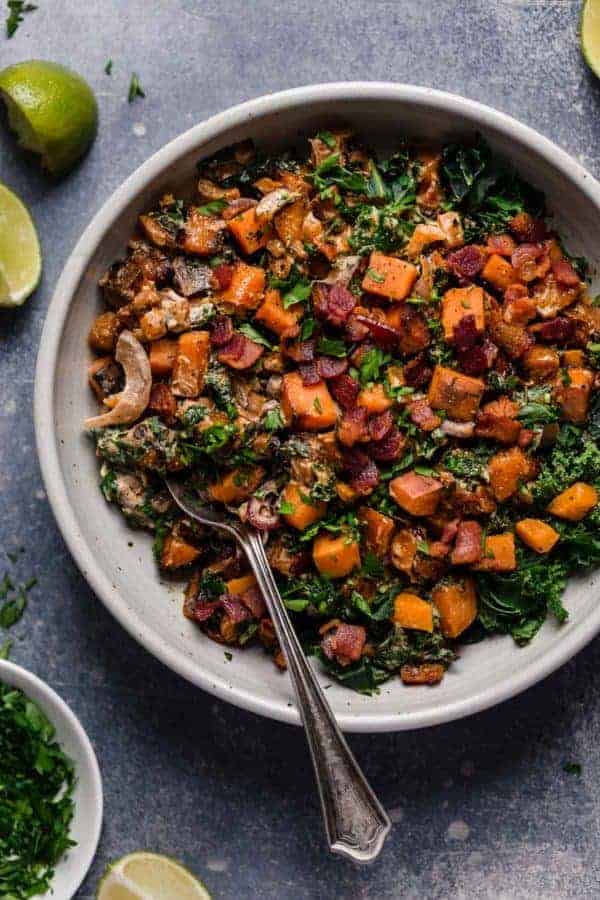 Our Paleo Granola isn't just for breakfast, it's great for snacking, too. But be warned, it's hard to stop once you stop thanks to all of its sweet, crunchy, goodness. Try it sprinkled on top of yogurt, mixed with dried fruit for an energy-packed trail mix, with a splash of your favorite milk, or right out of the jar.
This veggie-packed weeknight-perfect skillet sensation was the third most popular recipe of 2018 (right behind Slow Cooker BBQ Beef and Dairy-Free Spaghetti Squash Chicken Alfredo) so we weren't the least bit surprised to see it make this year's list. The best part – other than it tastes like an egg roll – is that you can swap the ground chicken for ground turkey or pork and use bagged coleslaw mix instead of broccoli slaw if that's what you have on hand. Oh, that and the fact that it's made entirely in one skillet!
These have always been popular but last January during our takeover of the Whole30 Recipes Instagram feed, they almost broke the internet. Not kidding! We actually had to increase the size of our server to handle website traffic the day Stacie shared on the Stories how easy they are to make. We even earned the moniker of "The Crispy Potato Ladies" which was bestowed upon us by a fellow food blogger who happens to be a big fan of these potatoes.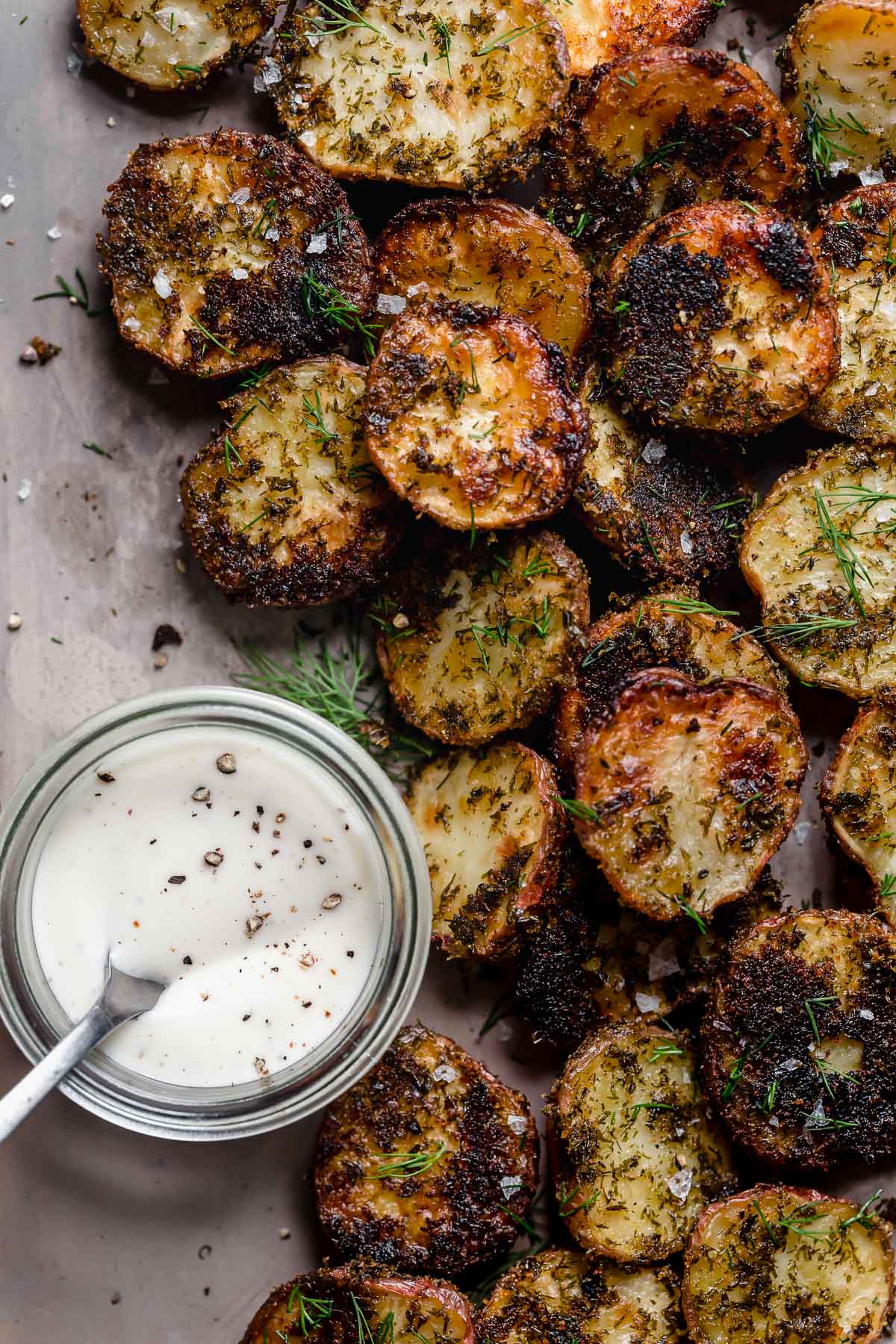 That's a wrap for 2019!
We hope you enjoyed this little trip down memory lane with us and we hope you either found a forgotten favorite or found something new to try. We're super excited for what 2020 will bring in the way of easy, delicious, approachable meals designed to fit your active and busy lifestyle.
Pin this now and make them later!