Looking for the perfect asparagus recipe to cook tonight? We've got you covered with our favorite ways to prepare this popular, nutritious, and delicious green veggie. Save this round-up of asparagus recipe ideas and refer back to it so you'll always have many ways to incorporate asparagus into meals as a side dish or even part of the main attraction. These eight easy asparagus recipes range from sautéed to grilled to roasted to baked into a quiche. Enjoy this spring vegetable year-round, especially when peak asparagus season hits from late February to June.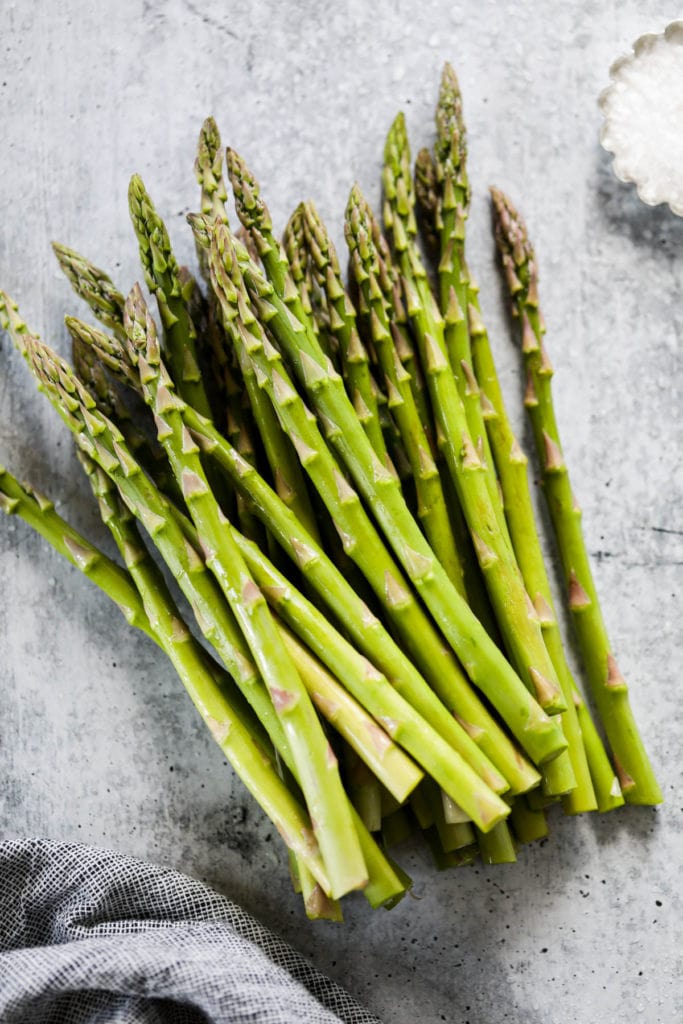 The Best Asparagus Recipes for All Your Needs
Whether you need a simple side dish or a filling main course for weeknight dinners, we've got you covered with these eight asparagus recipes. They're perfect for springtime but are so tasty you'll likely find yourself making them all year long. We'll teach you how to cook asparagus so that it's tender, crispy, and never mushy. Go ahead and stock up on this healthful veggie at your local farmer's market. You won't regret it!
Ingredient Spotlight: Benefits of Asparagus
Asparagus is what we refer to as a very nutrient-dense food, meaning that it packs a lot of nutrition for every calorie. For instance, asparagus is:
A good source of insoluble fiber

An excellent source of vitamin A, vitamin C, vitamin K, and potassium 

Rich in folate which helps form DNA for healthy development and growth during pregnancy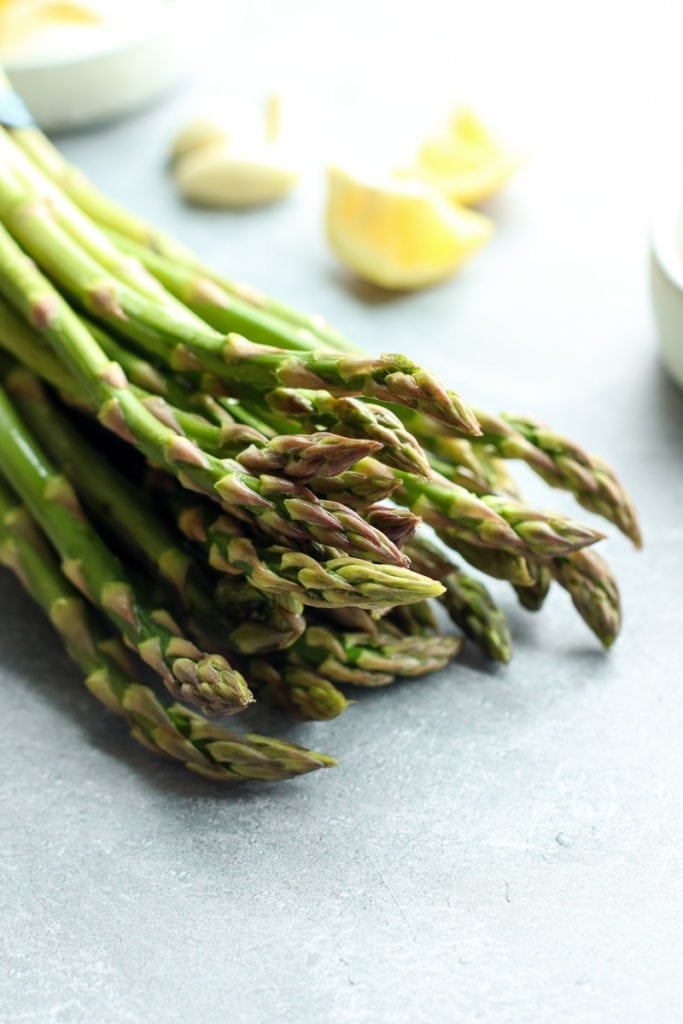 How to Choose the Best Asparagus
Choosing the best asparagus is a key component when it comes to making the tastiest asparagus recipes. For the best results, some features to look out for include:
Tightly closed tips
Consistent coloring with vibrant green, purple, or white hues free from bruises or blemishes
Uniform stalk size for even cooking. If you're planning to sauté, steam, or grill your asparagus, opt for thin asparagus stalks. Alternatively, thicker spears work well for steaming, boiling, or baking
How to Store Asparagus
If you don't plan to cook asparagus the same day you purchase or harvest it, then treat it like a bouquet of flowers.
To properly store asparagus, follow these steps:
Step 1: Trim 1 inch off the bottoms and stand the stalks up in a glass or jar with a few inches of water. Store in your refrigerator for up to 4 days, replacing water as needed. Keep the glass near the front or door area of your refrigerator (which are the warmer areas of the refrigerator) so it remains cold, but not too cold.
Step 2: Before cooking, rinse asparagus and trim off the bottom 1-2 inches.
8 Asparagus Recipes for Spring and Beyond
Enjoy these fresh recipes that show you a variety of options for how to cook and enjoy fresh asparagus.
How to Store Asparagus Recipes
To make meal prep easy, we provide specific storage instructions for each recipe in their dedicated post. However, in general, cooked asparagus spears can be cooled and transferred to an airtight container and stored in the refrigerator for 3-5 days or in the freezer for several months.
Frequently Asked Questions
Should you soak asparagus before cooking?
Some people like to season asparagus by soaking it in salty water before grilling it, but we don't find this necessary.
What part of asparagus should you not eat?
The only part of an asparagus spear you might want to avoid eating is the woody end. Thick and fibrous, it can often be tough to chew and difficult to digest. The rest of the springtime veggie including the stalks and the tips will be tender and sweet. 
What goes well with asparagus?
Asparagus recipes pair well with a wide variety of dishes and can be enjoyed any time of the day. For instance, you can add it to breakfast recipes like egg bakes and eggs benedict drizzled with hollandaise. Or, pair it with your favorite greens for an asparagus salad, toss it with stir-fry recipes, or serve it alongside meat dishes like sheet pan chicken and veggies and beef tips. 
Can you make asparagus in the air fryer?
Yes! To prepare air fried asparagus, preheat the air fryer to 375° F. Arrange the spears in a single layer in the basket. Then, mist them with a cooking oil, and sprinkle on your favorite seasonings like salt, pepper, garlic powder, and red pepper flakes. You can even add a sprinkle of Mozzarella or Parmesan cheese, and don't forget a dash of fresh lemon juice! Air fry your asparagus for 7-9 minutes or until they're slightly charred and tender, and enjoy!
When to Serve Asparagus Recipes
We're particularly fond of asparagus recipes in the springtime, but they're great all year long. For instance, you can enjoy grilled asparagus topped with lemon zest during the summer months. Then, cozy up with a bowl of asparagus soup when the weather gets a little chilly. From breakfast and brunch, to side dishes to pair with lunch, and veggie-filled dinner options, there's something for everyone.
---
For ultimate success, we highly recommend reading the tips in the full blog post above. All photos and content are copyright protected. Please do not use our photos without prior written permission. If you wish to republish a recipe, please rewrite the recipe in your own unique words. Link back to the source recipe here on The Real Food Dietitians. Thank you!