A weekend meal prep staple that will soon become your new breakfast go-to. Sweet Potato Turkey Sausage Egg Bake makes for a healthy and satisfying, reheat-and-eat kind of meal.
This post was created in collaboration with our friends at Organic Valley.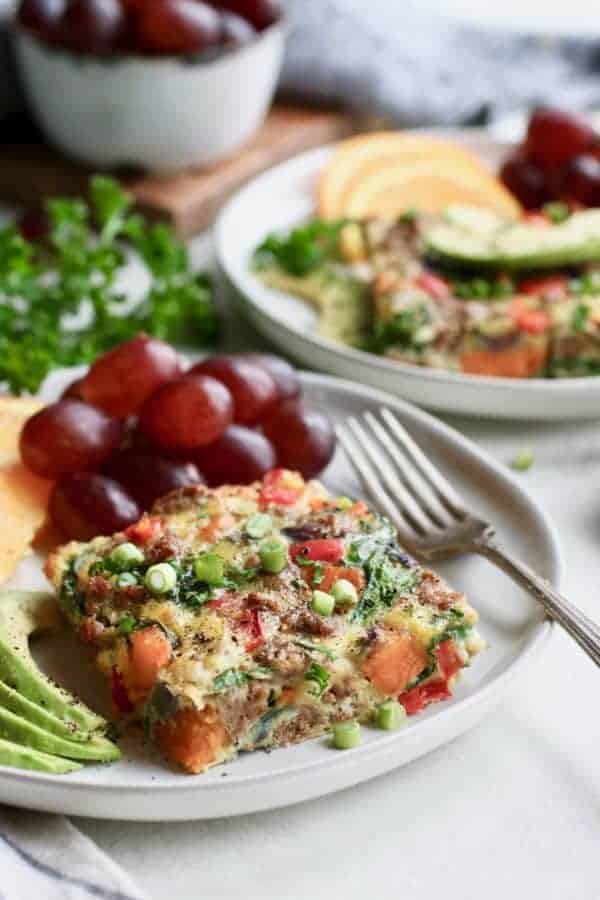 When life gets busy, simple meals and recipes are the answer – and meal prep is a must. We're a week or so into the New Year and with that comes our busiest time of the year. While sometimes the word "busy" is used in a glass half empty kind of way, that's not the case here. Jess and I thrive on "busy" because to us it means that we have an increased number of visitors on our site resulting in more people reading our blog and trying our recipes. Ultimately, it's an opportunity for us to impact more people and help them live and be healthier! But I know that Jess and I are not the only ones living in the "busy" and that's why we're all about sharing simple yet healthy recipes that don't require a lot of ingredients, time AND are meal-prep friendly!
Sweet & savory and made with just seven wholesome ingredients.
Sweet Potato Turkey Sausage Egg Bake is quick to make made with just seven wholesome ingredients including, Organic Valley Eggs & Ghee, turkey sausage, sweet potatoes, bell pepper, greens, and red onion. The sweet potatoes bring out a little sweetness, while the turkey sausage creates a nice savory flavor. You can serve this Whole30-friendly egg bake with a side of fresh fruit or a mixed green side salad, and of course, you can't go wrong by topping with a few slices of avocado and maybe a little hot sauce if that's your thing. It's one of my favorite egg bakes and one I make often as part of my weekend meal prep.
Meal prep your heart out. For real.
Weekend meal preps are saving my life right now. Well, not literally, but in a sense that when I meal prep, I eat healthy, well-balanced meals, feel really good because I'm nourishing my body with whole, real foods. When I don't meal prep…well, then it's all just up in the air.
Recently, I've been keeping my weekend meal preps short and sweet, and I encourage you to do the same if time's not in your favor. Here's how I go about these "power hour" meal preps: I choose just 5 items to prep, set a timer for 90 minutes and see how much I can get accomplished. Due to the simplicity (and deliciousness) of this tasty Sweet Potato Turkey Sausage Egg Bake, let's just it's been making a regular appearance on my meal prep menu.
Here's a play-by-play example of how one of my meal preps might go down. I start my prep by throwing an egg bake together and once it's in the oven, I move on to Instant Pot Shredded Chicken, a pan of roasted veggies, a quick salad (like Creamy Broccoli Slaw) and I always make sure I have plenty of fruit and raw veggies prepped and ready to eat. Weekend meal preps do NOT have to take 3+ hour to complete. You will be pleasantly surprised at how much you can prep in just 90 minutes. Try it!
Meal prep resources: Meal Prep Tips, Meal Prep Essential, Meal Prep Menus
Sweet Potato Turkey Sausage Egg Bake is made with quality in mind.
Let me start by giving a little shout to today's sponsor, Organic Valley. When you purchase Organic Valley products you are purchasing a product that is made with quality in mind. Organic Valley is dedicated to producing only products made with sustainably sourced, organic ingredients. Jess and I had the opportunity to visit an Organic Valley farm and saw firsthand how the animals are raised with so much love, the amount of work and labor that goes into the production and how the farmers have such a depth of pride for what they do.
We're excited to announce Organic Valley as one of our 2019 partners. Within each post, we will include soundbites of "organic" so you can better understand why you might want to choose organic foods over conventional.
What is organic food?
In short, organic produce and other ingredients are grown without the use of pesticides, synthetic fertilizers, sewage sludge, genetically modified organisms, or ionizing radiation. Animals that produce meat, poultry, eggs, and dairy products do not take antibiotics or growth hormones. From USDA.gov, "USDA certified organic foods are grown and processed according to federal guidelines addressing, among many factors, soil quality, animal raising practices, pest and weed control, and use of additives. Organic producers rely on natural substances and physical, mechanical, or biologically based farming methods to the fullest extent possible." These high standards are closely monitored to make sure all organic farms maintain good practices.
Sweet Potato Turkey Sausage Egg Bake features Organic Valley Eggs and Ghee.
Both of the eggs and ghee are staples in my kitchen and I use them almost daily. I'm especially a fan of the Organic Valley Eggs and how they have the deep yellow yolks and how the Organic Valley Ghee is so rich and flavorful. Ghee makes for the perfect cooking fat thanks to its high smoke point. The process of making ghee is like art (you can see here). While it's fun and gratifying to make your own ghee, it's also quite nice to have the convenience of purchasing a jar of ghee at the grocery store – especially one that's equally delicious!
A weekend meal prep staple that will soon become your new breakfast go-to. Sweet Potato Turkey Sausage Egg Bake makes for a healthy and satisfying, reheat-and-eat kind of meal. @organicvalley
Click To Tweet
Quality proteins, complex carbs and healthy fats!
You'll find a wholesome source of all three macro-nutrients in this recipe making this Sweet Potato Turkey Sausage Egg Bake a perfectly balanced meal.
Sweet Potato Turkey Sausage Egg Bake can be made with a pre-made or homemade turkey sausage.
Since I live in a a rural location in southern MN, I've become quite good at improvising and modifying recipes based on what I have on hand. A trip to the grocery store is at least 2 hour commitment, so not a quick task by any means. This certainly doesn't stop me from trying a new recipe though. It just means that I have to be creative and make simple substitutions. I'm always up for a good challenge!
This recipe calls for a 1/2 lb. of turkey sausage. If you don't have turkey sausage on hand or you have a hard time finding one that's made with real food ingredients, feel free to make your own. I've included a recipe below. You can substitute pork or chicken sausage if you wish.
If you're looking for additional meal prep recipes, you can find all of our favorites here.
Recipe
Sweet Potato Turkey Sausage Egg Bake
With an adequate source of carbohydrates, fat and proteins, this egg bake is a satisfying breakfast option. It's a delicious way to start the day and re-heats nicely so great for enjoying as leftovers.
Prep:
20 mins
Cook:
16 mins
Total:
33 mins
Ingredients
½ Tbsp

. cooking fat of choice (ghee, oil or butter)

1

medium sweet potato, cubed (~

2 cups

cubed)

½

lb. turkey sausage (to make your own see below*) may sub 4-6 strips of cooked and chopped bacon or 1 cup cubed ham

½

small red onion, chopped or sliced (about

1/3

–

1/2

cup)

½

red bell pepper, chopped or sliced (

½

–

2/3

cup)

3

–

4

cups spinach leaves
Sea salt & pepper
Avocado, sliced (optional)
Preheat oven to 375ºF. Grease a 9×9-inch round or square glass dish with coconut oil or organic cooking spray.
In a medium sauté pan, heat the ghee on medium-high heat. Once hot, add sweet potato cubes. Dash with sea salt. Cover and let cook for about 10-12 minutes or until sweet potatoes are slightly tender. Stir occasionally.
Meanwhile, in another sauté pan on medium-high heat, begin to brown turkey sausage if raw. If pre-cooked omit this step and simply crumble or chop.
Add the peppers and onion to the tender sweet potatoes and continue sautéing for 3-4 minutes.
Once peppers are soft and onions are translucent. Add spinach and cook for 1-2 minutes or until spinach is wilted, then stir in the cooked turkey sausage and remove pan from heat.
In a bowl, crack the eggs, add a dash of sea salt and pepper and whisk.
In the 9×9 baking dish, add the sweet potato and turkey sausage mixture then pour whisked eggs over the top. Make sure to submerge all of the ingredients so that they are covered with the eggs (see photo in post). Bake in the oven for 16-18 minutes or until center is set.
Remove from the oven and let set for 5 minutes.
Serve with sliced avocado if desired.
Last Step! Please leave a review and rating letting us know how you liked this recipe! This helps our business thrive so we can continue providing free recipes and high-quality content for you.
Notes
**To make Whole30 compliant turkey sausage. Brown 1 lb. of ground turkey. Add 1 tsp. garlic powder, ½ tsp. fennel, 1 tsp. Italian seasoning, a pinch of cayenne, ½ tsp. sea salt and ¼ tsp. black pepper.
Nutrition Information
Serving Size:

1/4 of recipe

Calories:

330

Fat:

18 g

Sodium:

480

Carbohydrate:

16 g

(Fiber:

3 g

Sugar:

4 g

)
Protein:

24 g
Dietary
---
This post was made possible by our friends at Organic Valley. Although we received compensation for this post, the opinions expressed here are – as always -100% our own. Thank you for supporting the great companies we work with thereby allowing us to continue creating great recipes and content for you.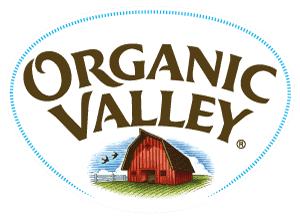 This post may contain affiliate links which won't change your price but will share some commission.
All photos and content are copyright protected. Please do not use our photos without prior written permission. If you wish to republish this recipe, please rewrite the recipe in your own unique words and link back to the source recipe here on The Real Food Dietitians so credit is given where credit is due. Thank you!