Pomegranates are a winter seasonal fruit that we get excited to eat every year. The beautiful deep ruby red of the pomegranate arils just screams holidays, and we love the tart flavor of the pomegranate juice and pomegranate seeds (known as arils) for adding color and natural sweetness to so many recipes. But it's not just the beauty and taste of this fruit that we love so much. The health benefits and Pomegranate Nutrition facts are equally impressive!
what are the main Pomegranate benefits?
When it comes to health, pomegranates have a lot to offer! Pomegranate arils (the singular "seeds" of a pomegranate) look a lot like pink and red juicy popcorn seeds. In fact, we like to think of them as "fruit popcorn!" You can eat pomegranate seeds and you can drink pomegranate juice, which is made by squeezing the juice out of the pomegranate arils. Both pomegranate arils and pomegranate juice have health benefits.
Pomegranate Nutrition Benefits At A Glance
good source of antioxidants and polyphenols
provides anti-inflammatory effects
a heart-healthy food and drink
has urinary and prostate health benefits similar to cranberry juice
may benefit brain health
Pomegranate Benefits for Your Health
Now let's take a deeper look at Pomegranate Nutrition and how eating pomegranate arils can be beneficial for your health.
High in Antioxidants: Antioxidants are beneficial compounds that circulate in your blood. They counteract the work of free radicals that, when present in large amounts, contribute to chronic diseases, inflammation, and harm to body systems. Eating foods that contain antioxidants is a good way to blunt the reign of those harmful free radicals. Pomegranates are a good source of a few key groups of antioxidants, including punicalagins, anthocyanins, and hydrolysable tannins.
An Anti-Inflammatory Food: Chronic inflammation is a precursor to so many health issues, so it's always good to eat foods that can help tame bodily inflammation, such as pomegranates. Because of its high concentration of antioxidants, pomegranates and pomegranate juice do have anti-inflammatory effects. The main antioxidant in pomegranates that works to counteract inflammation is punicalagins. Click here to read more about punicalagins.
Good for Heart Health: Any food that provides antioxidants and anti-inflammatory benefits will be a heart healthful choice, as well. Pomegranates fit this bill for two reasons: the high antioxidant content and the mineral content.
Some Urinary and Prostate Health Benefits: Compounds found in pomegranate seeds and pomegranate juice may help inhibit the formation of kidney stones. Some studies have also shown that the juice from pomegranate arils may slow the growth of prostate cancer cells.
May Be Good for Brain Health: Another type of antioxidant at work in pomegranates is a group called hydrolysable tannins (and more specifically, ellagitannins), which have been connected to slowing the progression of Alzheimer's disease and Parkinson's disease by increasing the survival of brain cells.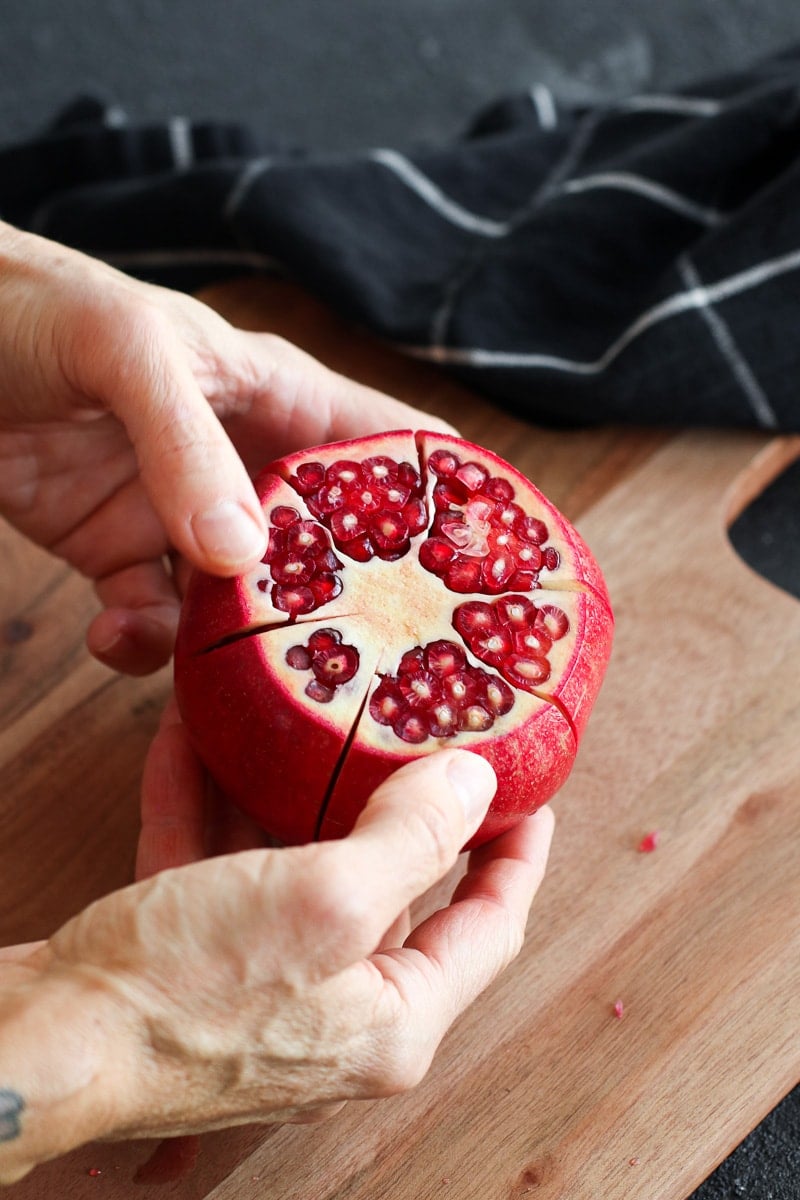 What are the Pomegranate Nutrition Facts?
Pomegranates are considered to be a nutrient dense food. Despite being a low-calorie food, pomegranate arils still provide a good amount of fiber, as well as vitamins, minerals, and antioxidants.
1/2 cup (3 ounces) of pomegranate arils / pomegranate seeds contains:
72 calories
1 g fat (0 g sat fat)
16 g carb (11 g sugars, 4 g fiber)
0 mg sodium
0 mg cholesterol
1 g protein
Pomegranates are also a great source of vitamin C and folate, and they contribute small to fair amounts of some other minerals, including potassium, phosphorous, magnesium, iron, and calcium.
How To Buy A Pomegranate
When selecting a pomegranate at the grocery store, look for these qualities:
outer rind color that is bright pink to brick red in color (not browned)
larger fruits (these will be juicier than small ones)
round with few or no flat sides or pitting (these are signs of damage)
an outer rind that feels hard (indicates less bruising)
fruit that feels heavy for its size (a good sign of ripeness)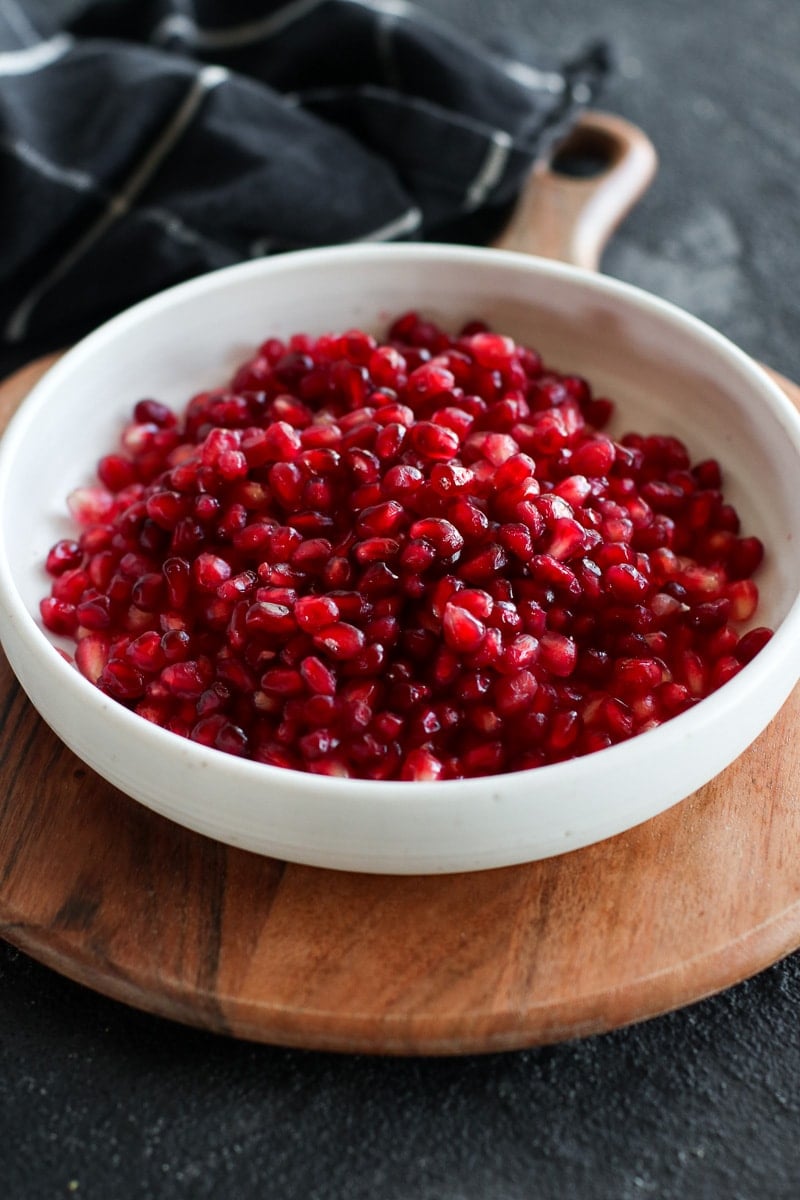 Is pomegranate juice good for you? Juice Facts!
Pomegranate juice does provide some health benefits, but not as many as eating pomegranate arils will give you. As with any fruit juice, you miss out on getting fiber when you drink the juice versus eating the fruit, and this is true of pomegranates as well.
What are the nutrition benefits of pomegranate Juice?
Similar to pomegranate arils, pomegranate juice is a good source of antioxidants, polyphenols, some minerals, and vitamin C. However, pomegranate juice doesn't contain any of the fiber benefits that pomegranate seeds provide.
1/2 cup (4 ounces) of pomegranate juice contains:
60 calories
0 g fat (0 g sat fat)
14 g carb (14 g sugars, 0 g fiber)
10 mg sodium
0 mg cholesterol
0 g protein
Frequently Asked Questions
How can you buy pomegranates?
You can purchase whole fresh pomegranates, just the pomegranate arils (aka the pomegranate seeds), as pomegranate juice, or as pomegranate concentrate.
How can you tell if a pomegranate is ripe?
You can tell a pomegranate is ripe and ready to eat when it has a deep red outer rind that feels hard, the fruit is round and large, and the fruit feels heavy for its size.
When are pomegranates in season?
Pomegranates are harvested in late August and September, and they are available in stores from October to January.
Can you eat pomegranate seeds?
Yes, you can eat the whole seeds of pomegranates. They taste both juicy and a bit fibrous, and these seeds (called pomegranate arils) are good for you. Read above for the health benefits.
How should I eat a pomegranate?
The edible part of a pomegranate is the individual seeds (or arils). You need to remove the seeds from the fruit. For more on how to cut a pomegranate, see our step-by-step photo tutorial here.
Can dogs eat pomegranate seeds?
Pomegranate seeds are not toxic to dogs. However, if a dog were to eat a lot of pomegranate seeds or some of the outer rind or pith, the dog could become sick and experience abdominal pain, vomiting, or diarrhea.
5 More Pomegranate Recipes To Try
Give pomegranate a try in these delicious recipes make from real-food ingredients.
Our photos and content are copyright protected. Please do not use our photos or content without prior written permission. If you wish to reference this content, please link back to the source here on The Real Food Dietitians. Thank you!