DIY Kitchen Tutorial:
How to Make Ghee at home and save a few bucks doing so!
Butter just got better
I know, it's hard to improve on good grass-fed butter. Its rich, creamy flavor makes everything it touches better but sometimes you want more from your butter (or less, in the case of lactose, casein, and whey). Maybe you want more concentrated butter flavor, the ability to store it at room temperature or a higher smoke point for high heat cooking. Or maybe you've started a Whole30 and miss butter on your sweet potato and veggies.
Either way, today I'm sharing how to make your own ghee at home. It's way easier than you'd think. In fact, I owe all the credit to my hubby for teaching me how to make ghee. It's his one true kitchen masterpiece (along with making the butter to make the ghee – yes, he makes his own butter). Don't worry, we'll share a DIY butter tutorial in the future in case you want to try your hand at homemade butter.
Love grass-fed ghee but not the pricetag? Make your own with this easy How to Make Ghee photo tutorial. #realfood
Click To Tweet
How to Make Ghee: A photo tutorial
Start with a large Dutch oven or stock pot with a heavy bottom. Add unsalted butter to the pan and place on the stove over medium heat. Here I've used homemade butter but any high-quality, unsalted butter will work (preferably organic and grass-fed like Organic Valley Unsalted Cultured Butter). Allow the butter to melt completely, no need to stir. Ghee is an exercise in patience and doing less.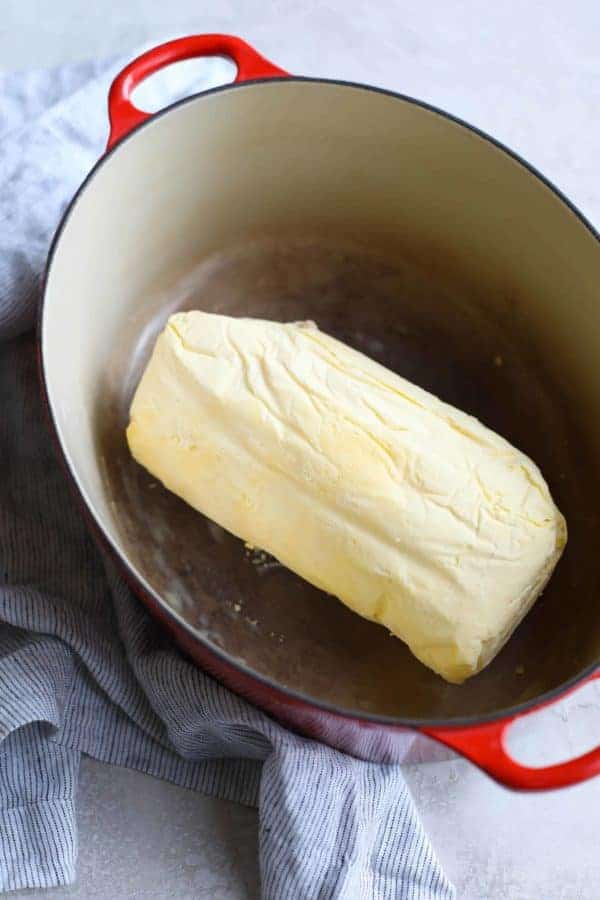 2. Once the butter has melted allow it to come to a gentle simmer. You may need to adjust the temperature down a bit to keep the simmer gentle or increase it a touch if it seems to be taking forever to reach a gentle simmer. The foam that forms on the surface is the milk solids as they separate from the liquid fat. Again, resist the urge to stir – it's not necessary. If your pot starts to boil over, you'll either need to lower the temperature because you've gone beyond a 'gentle simmer' or transfer it to a larger pot.
3. At this point, you're about halfway to ghee. You'll start to see the white foam decrease in volume and become less 'fluffy'. You'll also notice that the liquid underneath is starting to turn a deep golden color and the smell will change from 'sweet' to more 'caramelized' or 'rich'. This part can take anywhere from 30 – 45 minutes depending on your definition of a gentle simmer, the size of the pan and how deep the liquid inside is. You don't have to hover over it but don't walk away as it can go from almost there to already done in just a few minutes.
4. The ghee is done when the milk solids have settled to the bottom, the liquid is a rich, golden color and smells fragrant and nutty (the milk solids will be brown and look like dirt in the bottom of the pan). There may still be some foam left on the surface but it will be much thinner than previous and when you pull it away with a spoon or spatula you should be able to see to the bottom of the pan and the browned solids that have accumulated there. Again, the ghee should be a rich golden color if you take some out with a spoon. It will taste rich and nutty and have a very concentrated butter flavor.
5. When you've determined the ghee to be done, remove the pan from the heat and allow it to cool for a few minutes. While the ghee cools a bit, prepare to filter the ghee (this allows you to separate the liquid ghee from any browned milk solids). Fold a large piece of ultra-fine mesh cheesecloth or butter muslin to a square (about 3 or 4 sheets thick) and place it in a fine mesh strainer or colander set over a bowl or large measuring cup. I use this strainer and 8-cup glass measuring cup and it works like a charm.
6. Now carefully pour or ladle the hot ghee from the pan into the butter muslin-lined strainer. Here I used a 4-cup glass measuring cup with a pour spout to make life easier (since pouring hot ghee from a large Dutch oven can be sketchy).
7. Stand back and admire your ghee as it filters through the butter muslin. Gorgeous, isn't it?
8. Allow all of the ghee to drain through the butter muslin (you may need to lift the strainer up out of the bowl to do so). Then discard the solids (this is called the 'dirt'). Don't toss out the butter muslin though, that's reusable and can be washed by hand with hot soapy water and used again and again.
You're in the homestretch now. All you have to do is transfer your liquid gold to clean glass jars for storage. Half-quart mason jars work great here. So do jars from store bought ghee. You just need to be able to seal them for storage. Speaking of storage, you can keep ghee at room temperature in your pantry (away from direct sunlight) for 6-12 months.
Pour slowly, you don't want to waste a single drop of this golden goodness!
Once your ghee has been transferred to jars, set them aside out of the way and cover with a clean dish towel to allow them to cool and set. Once they are completely cool (I usually give them 12-24 hours) screw the lids in place and store in your pantry (or other cool, dry place away from direct sunlight or heat).
That's it! That's how to make ghee at home with just one ingredient
Now before you run off and start making ghee I wanted to share the economics of doing so. Because #budget, right?
Here in Boulder, I can get organic, grass-fed butter for $6-7 per pound so that's about $19.50 for three pounds if it's not on sale. Three pounds of butter will yield about 4 1/2 – 4 3/4 cups ghee depending on the brand you use (some have more water in them than others which can be dependent upon the brand and the time of year, quality of the milk, etc.), how long you cook the ghee and the temperature at which you cook the ghee because the term 'gentle simmer' can be interpreted differently by everyone. Longer or hotter cooking times can mean more evaporation (and thus a more concentrated ghee which isn't a bad thing) and can also mean more flavorful ghee (think 'brown butter' here).
Now, you might be thinking "$20 and an hour or so of my time for a quart of ghee?".  I get it, at first glance that seems spendy until you price out ghee online or at your local store. A 13-ounce jar of organic, grass-fed ghee will run you about $13.00 which is roughly $1.00 per ounce. When compared to my homemade ghee, which comes in around $0.50 per ounce, that store-bought ghee is twice the price!
Now it's your turn to try your hand at homemade ghee!
I know that not everyone wants to make their own ghee (or has time to do so) but my hope is that this How to Make Ghee tutorial makes making homemade ghee a little less scary for those who are looking for something slower and more artful in the kitchen or for those looking to get more bang out of their grocery budget.
Making your own ghee at home is simple and more budget-friendly than store-bought versions. Ghee can be stored for up 6 – 12 months on the pantry shelf.
Prep:
5 mins.
Cook:
60-90 mins.
Total:
1 hour, 30 mins.
Servings:
About

4 ¾ cups

1

x
Ingredients
3

lbs. organic, unsalted butter
Equipment you'll need:
Place Dutch oven on the stove over medium heat. Add butter.
When the butter has melted, allow it to come to a gentle simmer. Reduce heat as needed to keep the simmer gentle.
Continue to simmer gently until milk solids create a foam on the surface. Resist the urge to stir and instead allow ghee to continue cooking until the foam subsides and the milk solids drop to the bottom.
The ghee is done when the milk solids have settled to the bottom, the liquid is a rich, golden color and smells fragrant and nutty (the milk solids will be brown and look like dirt in the bottom of the pan). There may still be some foam on the surface but it will be much less and will be thinner. Remove pan from heat.
Line a fine mesh strainer, set over a bowl or large measuring cup, with several layers of butter muslin (or ultra-fine mesh cheesecloth).
Carefully pour or ladle the hot ghee into the strainer and allow it to collect in the bowl below. Once you have poured all of the ghee from the pan and you've allowed the ghee to filter through the butter muslin, remove the strainer.
Carefully pour strained ghee into clean glass jars. Cover jars with a clean dish towel and allow ghee to cool completely before screwing the lids onto the jars.
Wash the butter muslin by hand in hot water with a few drops of dish soap. Rinse with hot water until water runs clear. Hang to dry.
Last Step! Please leave a review and rating letting us know how you liked this recipe! This helps our business thrive so we can continue providing free recipes and high-quality content for you.
Notes
All photos and content are copyright protected. Please do not use our photos without prior written permission. If you wish to republish this recipe, please rewrite the recipe in your own unique words and link back to the source recipe here on The Real Food Dietitians. Thank you!
Nutrition Information
Serving Size:

1 Tablespoon

Calories:

135

Fat:

15g

Sodium:

0mg

Carbohydrate:

0g

(Fiber:

0g

Sugar:

0g

)
Protein:

0g
Dietary
Have you ever tried your hand at making ghee? What other DIY kitchen tutorials would you like to see? Share in the comments below!
 Pin it now & Make it later
---
This post may contain affiliate links which won't change your price but will share some commission.