Put food on the table in less than 30 minutes with these fast-and-easy tuna burgers. A Whole30-friendly recipe that's healthy and delicious and one that everyone will love!
Canned tuna gets a facelift with these Easy Tuna Cakes that are high in protein and made with just a few ingredients that you may even have on hand.
I know I know, you're  probably wondering why on earth I'm sharing an 'old school' Tuna Cake recipe like it's 1970. But…I promise you, these are not any ordinary Tuna Cake. Like our popular Salmon Burgers with Avocado Sauce, they're flakey, delicious, full of flavor and made entirely with Whole30-compliant ingredients. In other words they are gluten-free, grain-free, dairy-free and paleo-friendly, too!
In addition, we like to share our favorite go-to recipes on the blog and the ones we truly enjoy often; this happens to be one of mine. I often include these Easy Tuna Cakes in my weekend meal preps. They're quick to make, reheat nicely and taste just as good on day 4 as they do on day 1. Canned tuna is one of my pantry staples and something I always have on hand. It's an easy and budget-friendly source of quality protein and omega-3 fatty acids. Oh..and the the Roasted Red Pepper Mayo is totally optional but sure is delicious so I highly recommend you give it a try!
Easy Tuna Cakes - a fast and delicious @whole30 friendly recipe made with @safecatch tuna!
Click To Tweet
Quality matters. Safe Catch is a canned tuna you can trust!
We've all heard that canned tuna contains mercury at some degree (generally the larger the fish the more mercury it contains) and can be harmful to our health. Mercury is indeed a natural element that's found in plants and animal – that's not the concern. The concern is when levels of mercury become too high due to the industrial activity in the world today. This is when eating tuna (and other marine life) can get a little questionable. The mercury that's produced industrially makes its way to natural bodies of water and as a result increases the mercury levels of the fish that we eat. Want to learn more about how to choose the safest tuna (and other seafood)? Read this post.
BUT rest assured because Safe Catch is…safe to eat! Here's why:
Lowest mercury of any brand. Every single fish is tested and it's the only brand that meets consumer reports 'Low Mercury' criteria for pregnant women and kids.
10x stricter mercury limit than FDA.
Only canned tuna that is slow cooked which results in higher-levels of Omega 3's.
Sustainably caught.
No fillers and additives and packed in BPA free cans.
Safe Catch is available to purchase on amazon or check the sites store locater to see if it's available at your local grocery store.
Easy Tuna Cakes are made with Safe Catch Tuna.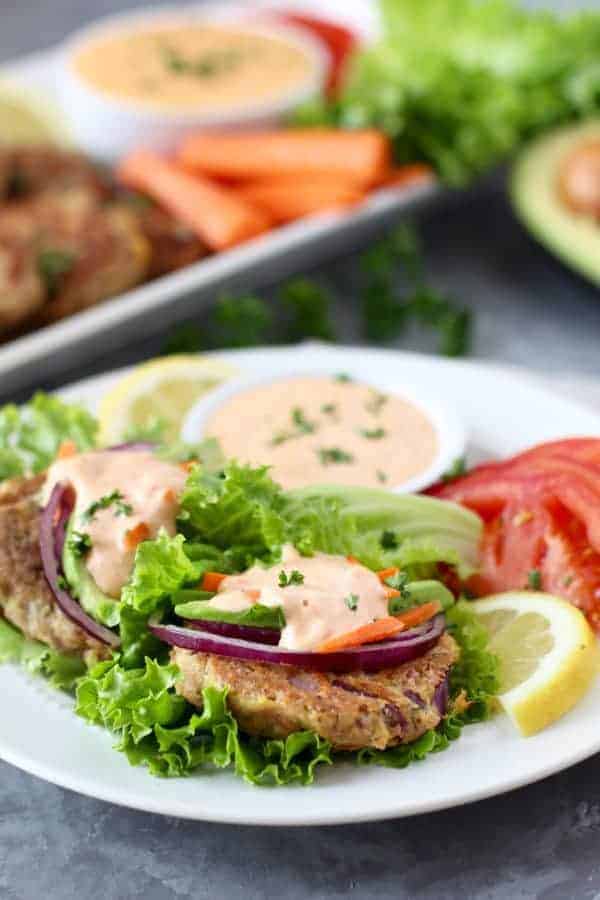 Roasted Red Pepper Mayo is where it's at!
Don't forget the sauce! With just 3 simple ingredients, this sauce is a must! Roasted Red Pepper Mayo adds a delicious burst of flavor that pairs nicely with the flavors of the Easy Tuna Cakes. It's a versatile condiment because you can also make a creamy tuna or chicken salad with it, dip raw veggie sticks into it or top it on really any burger. It's made whole30-compliant by using Primal Kitchen Foods Mayo.
Let's get cooking!
Pro tip: When making the Easy Tuna Cakes, make sure the tuna is well drained and patty the burgers in to 8 mini burgers. They smaller they are the easier they are to flip. I recommend cooking the burgers in ghee because I love the flavor and it makes the outsides of the burgers nice in crispy. Coconut oil or avocado oil are great options, too!
Recipe
Easy Tuna Cakes with Roasted Red Pepper Mayo
Put food on the table in less than 30 minutes with these Whole30-friendly, Easy Tuna Cakes that are topped with a 3-ingredient Roasted Red Pepper Mayo. A recipe that's fast, healthy and delicious and one that everyone will love!
Prep:
15 mins
Cook:
10 mins
Total:
25 mins
Servings:
4

servings (8 small burgers)

1

x
Ingredients
Tuna Cakes:
2

(5 oz.) cans Safe Catch Tuna, very well-drained (or other solid steak tuna such as albacore)

2

whole eggs

¼

 cup almond flour

¼

 cup finely diced onion

1

lemon, juiced

1 tsp

. dried dill weed

½

 tsp. garlic powder

¼

 tsp. sea salt

¼

 tsp. black pepper

1 Tbsp

. cooking oil or fat of choice for frying
Roasted Red Pepper Mayo
1/2 cup

mayo

1/4 cup

roasted red pepper (patted dry)

2

garlic cloves, finely minced
Salt and pepper to taste
Combine and mix together the Tuna Cakes ingredients (except ghee/oil) in a bowl.
Form into 8 small patties (squeeze out as much liquid as possible).
In a large frying pan on medium high heat, add oil or fat – enough to cover the base of the pan. Once the oil is hot, add the patties to the pan. Cook for 5-6 minutes on each side. Remove from pan.
For the Roasted Red Pepper Mayo, combine the ingredients in a small food processor or blender. Blend until smooth.
Serve Roasted Red Pepper Mayo on top of tuna cakes, if desired.
Last Step! Please leave a review and rating letting us know how you liked this recipe! This helps our business thrive so we can continue providing free recipes and high-quality content for you.
Nutrition Information
Serving Size:

2 small burgers (without mayo)

Calories:

207

Fat:

12 g

Sodium:

320 mg

Carbohydrate:

4 g

(Fiber:

1 g

Sugar:

1 g

)
Protein:

25 g
Dietary
We'd love to hear if you'll be adding Easy Tuna Cakes to your weekend meal prep menu! Comment below.
Pin now, make later!
---
This post was made possible by our friends at Safe Catch. Though we received compensation for this post, the opinions expressed here are 100% our own. Thank you for supporting the great companies we work with thereby allowing us to continue creating great recipes and content for you.
This post may contain affiliate links that won't change your price but will share some commission.