Add a little life to your lunch with this Curry Egg Salad.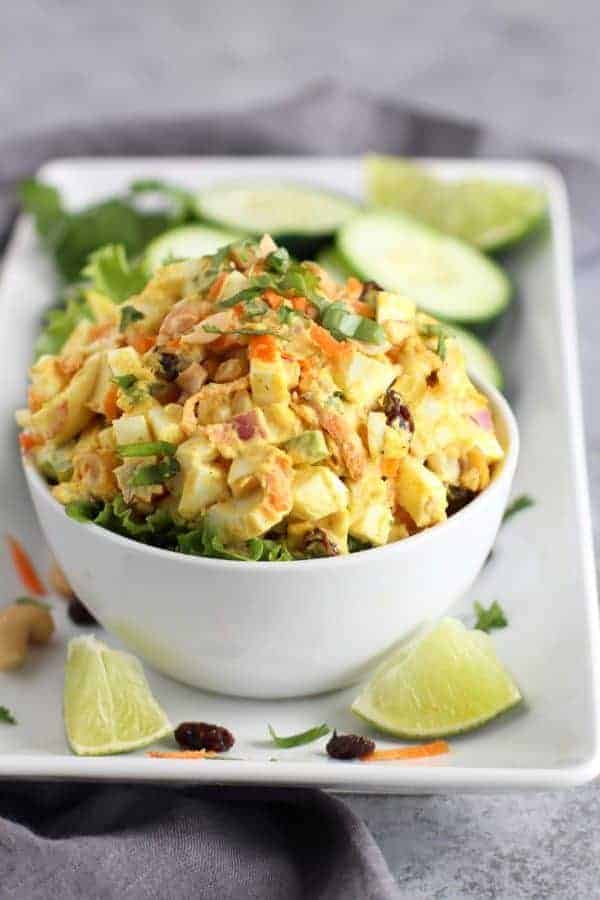 Before you jump into any assumptions about egg salad and go on with your day, you'll want to stick around because this isn't just any ol' egg salad. And yes, I agree that egg salad isn't the most exciting lunch of all but with spice blends like curry powder and tasty additions like salted cashews, raisins, lime juice & cilantro, you can turn a classic egg salad into something really delicious.
I believe that every meal should not only be nutritious but also something you get excited about and look forward to eating. Healthy eating shouldn't be boring or complicated and it's our mission to share with you really freakin' delicious recipes that do the body good yet don't require hours and hours in the kitchen. We don't have time for that and we know you don't either.
So I'm tellin' ya, this Curry Egg Salad is a recipe you'll want to try and takes the classic egg salad to another whole level. It's quick to make and perfect for your weekend meal prep.
Add life to your lunch with this @Whole30 friendly Curry Egg Salad made with @primalkitchenCo mayo.
Click To Tweet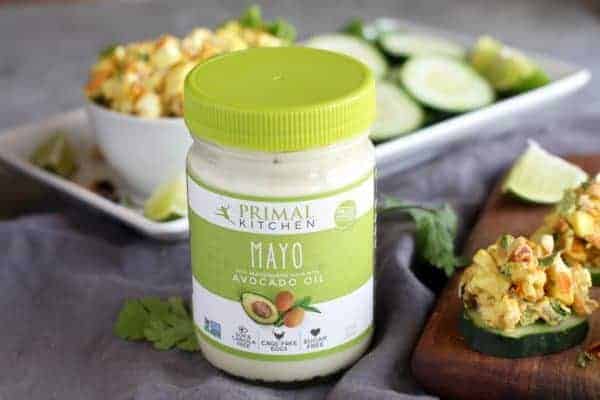 Curry Egg Salad is a satisfying recipe that's Whole30-friendly and full of flavor.
I'm a fan of all things curry. It's one of my most favorite flavors as evidenced by all of the curry recipes on our blog like Instant Pot Sweet Potato Chicken Curry, Curry Chicken Salad, Instant Pot Lamb Curry, and Curry Cauliflower Hummus to name a few.
This recipe was created during one of my weekend meal preps. I had planned to make my favorite Curry Chicken Salad so I picked up all of the ingredients for the recipe but realized after I got home that I forgot the chicken. Oooops! As some of you may know, I live a fair distance from the nearest grocery store so I'm sometimes forced to get creative and use what I have on hand. Luckily, I always purchase a couple dozen eggs so….you guessed it, I went ahead and made the curry salad but with eggs in place of the chicken. Low and behold, it turned out better than I had expected!
Mayo made with clean ingredients. Yup, it's a thing!
In this recipe I used my favorite Primal Kitchen Foods mayo made with avocado oil. While I also like to make my own mayo, it's nice to have pre-made mayo on hand for ease and convenience. Primal Kitchen Foods is top of the line when it comes to quality of ingredients. If you're looking for a mayo made with 'clean' ingredients and anti-inflammatory oils, this is the one we recommend!
Get 10% off of your Primal Kitchen Foods order by using coupon code REALFOODRDS.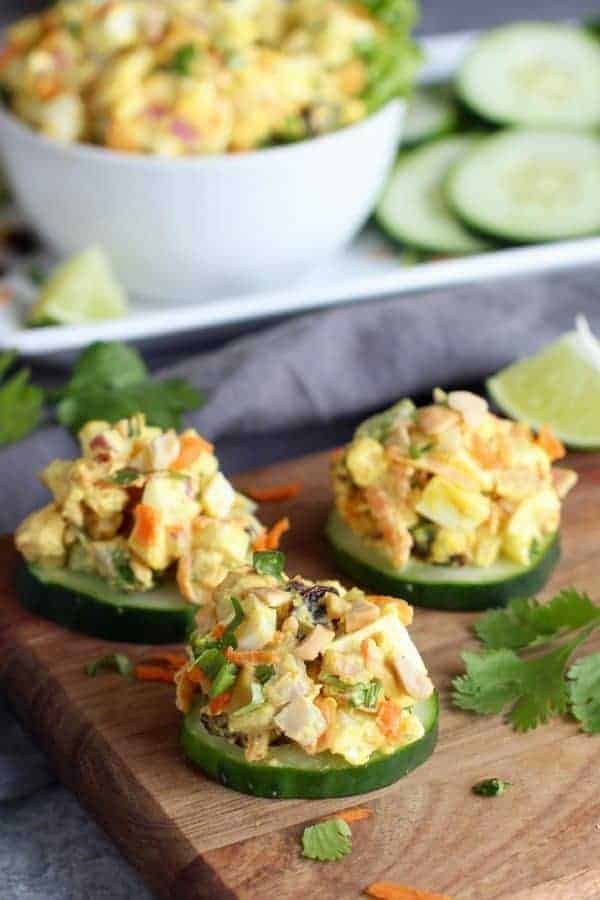 Serve Curry Eggs Salad on a bed of greens, on top of cucumber slices or tucked tightly in a crisp lettuce leaf.
Curry Egg Salad is chock full of healthy fats making it one heck of a satisfying meal. I personally love the addition of dry roasted cashews for a salty crunch and the curry powder, lime juice and cilantro adds flavor you can't beat! I can't wait for you to give this recipe a try and when you do, please let us know.
Hungry for More? Subscribe to get our newsletter delivered straight to your inbox! And be sure to stay in touch on Facebook, Twitter, Pinterest and Instagram for all of the latest updates.
Let's Get Cookin'
Curry Egg Salad
Egg salad gets a facelift! This Curry Egg Salad is screaming with flavor. Perfect for lunches or a quick post-workout snack. Serve the eggs salad on a bed of greens, on top of cucumber slices or tucked into a crisp lettuce leaf.
Author:
Prep Time: 15 min
Cook Time: 0 min
Total Time: 15 min
Yield: 4-5 servings 1x
Ingredients
8 hard-boiled eggs, chopped
⅓ cup shredded carrots
¼ cup diced red onion
¼ cup minced celery
2 tbsp. fresh cilantro, chopped
¼ cup dry roasted cashews, chopped
¼ cup raisins
¼–⅓ cup mayo
1 ¼ tsp. curry powder
¼ tsp. ground turmeric (optional)
2 tsp. fresh lime juice
¼ tsp. salt
¼ tsp. black pepper
Instructions
In a medium bowl, mix together the mayo, curry powder, turmeric, lime juice, sea salt and pepper.
Add the remaining ingredient to the bowl and mix until combined.
Serve on top of a bed of greens, on top of cucumber slices or tuck salad into a lettuce wrap. May garnish with chopped green onions, cilantro, shredded carrots or cashews.
Notes
All photos and content are copyright protected. Please do not use our photos without prior written permission. If you wish to republish this recipe, please rewrite the recipe in your own unique words and link back to the source recipe here on The Real Food Dietitians. Thank you!
Nutrition
Serving Size: 1/5 of recipe
Calories: 330
Sugar: 7g
Sodium: 400mg
Fat: 28g
Saturated Fat: 5g
Carbohydrates: 10g
Fiber: 1g
Protein: 11g
Pin now, make later!
---
This post may contain affiliate links which won't change your price but will share some commission.
SaveSave