This Creamy Cucumber Salad recipe is a light and fresh summer salad that pairs well with a variety of main dishes. Crisp veggies combine with a creamy dressing for a yummy summertime side dish that requires minimal prep time and can be ready to eat in a total time of just 10 minutes. This is a great way to enjoy fresh cucumber and makes a wonderful addition for BBQs, potlucks, and meal prep lunches.
This post was created in partnership with Primal Kitchen.
A Summer Side Dish That's Great Year Round
If you're looking for easy side dish recipes that are fresh, full of flavor, and ready in a pinch, this cucumber salad is for you! A great way to take advantage of in-season summer produce, this lightened-up classic will take you down memory lane. We've stuck with the basics: fresh cucumbers are paired with red onion, and herbs, and tossed in a homemade salad dressing.
The result is a flavorful, refreshing side dish that can easily be prepared in advance and is perfect for feeding a crowd. Enjoy it on its own, or turn it into a meal with the addition of your favorite protein.
What Does A Cucumber Salad Contain?
This cucumber onion salad uses just a handful of simple ingredients. Here's everything you need along with a few substitutions to make it today:
Primal Kitchen Whip – we love this Tangy Whip from Primal Kitchen, which is an egg-free, sweet and tangy dressing (read more about it below). You may substitute Primal Kitchen Mayo, sour cream, or plain Greek yogurt, but just note that the taste and texture of your cucumber salad will change slightly and that tangy whip is really the perfect complement to fresh cukes.
Apple cider vinegar – may sub white wine vinegar
Honey – omit for vegan and Whole30 (for Whole30, use Primal Kitchen Avocado Oil Mayo)
Garlic powder
Kosher salt and black pepper
English cucumbers – you'll need 2 regular cucumbers or 1 to 1 ½ large cucumbers. We recommend English cucumbers, as they make a good-size bite, but you can use any variety, such as Persian cucumbers or hot house cukes
Red onion
Fresh dill – or use ½ teaspoon dried dill
For the complete directions and ingredient amounts, scroll down to the recipe card below. All of our recipes include the nutrition analysis, listing calories, protein, carbohydrates, fiber, sugar, sodium, and more per serving.
Nutrition Spotlight: Cucumbers
We tend to have more garden cucumbers than we know what to do with in the summer, but with recipes like these Cashew Tuna Salad Cucumber Bites, Asian-Inspired Cucumber "Noodle" Salad, and this Creamy Cucumber Salad, we aren't complaining! We're more than happy to add them to our meals whenever we can. Not only are they affordable, but cucumbers are full of health benefits, too. For example, cucumbers are:
* Naturally gluten-free, dairy-free, nut-free, and low in carbohydrates
* An excellent source of vitamin C and vitamin K
* A source of essential minerals, including magnesium, potassium, and manganese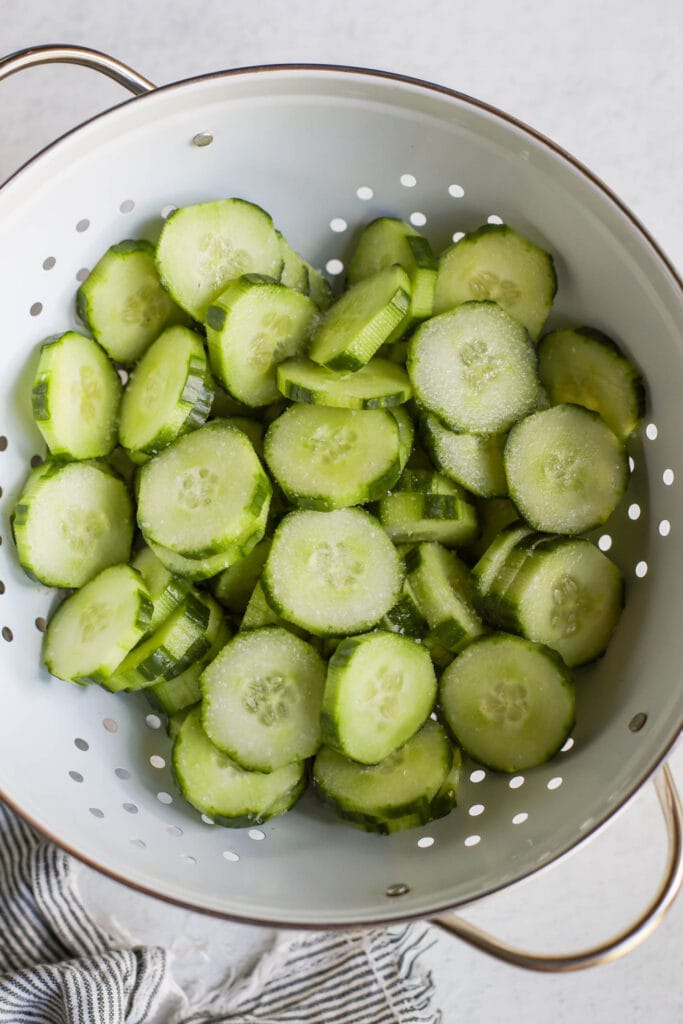 How to Make Creamy Cucumber Salad Recipe
Here are the steps to make this cucumber salad recipe today:
Slice and salt the cucumbers. Place sliced cucumbers in a colander set over a plate and sprinkle with salt. Allow to sit for 15-20 minutes then pat dry.
Prepare the dressing. Add the whip, vinegar, honey, garlic powder, and black pepper to a medium bowl. Whisk until the mixture is smooth.
Toss. Add the cucumber slices, onion, and dill to the bowl with the dressing, and toss to combine and coat the ingredients.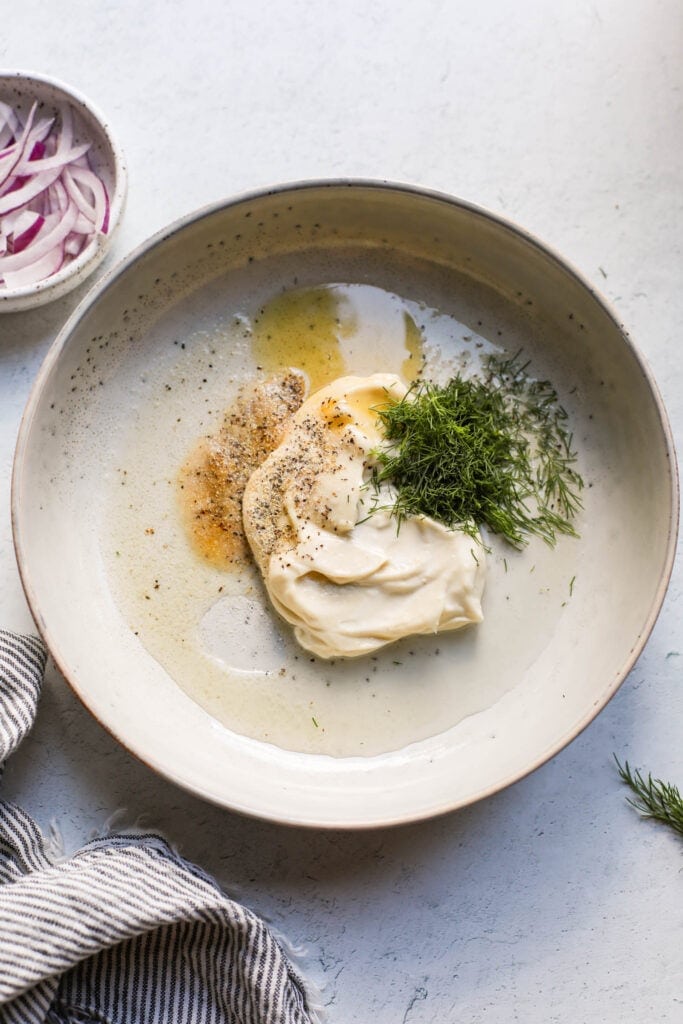 Chill the Salad
For the best results, cover the salad, and allow it to chill for 1-2 hours before serving. This allows the flavors to blend together and soak into the cucumbers, creating a stronger taste.
Frequently Asked Questions
How do you keep cucumber salad from getting watery?
If you're worried about your salad becoming watery, you can draw the excess water out through the process of osmosis. To do so, slice the cucumbers using a sharp knife or mandolin. Then, arrange the slices in a single layer in the bottom of a colander, and sprinkle salt on top. Repeat the process by layering the cucumber slices on top of each other and salting them in between. When all the cucumbers have been used, place the colander in a sink or over a large bowl to catch the excess liquid, and set it aside for at least 15-20 minutes. Then, all you have to do is drain the liquid, wipe the sliced cucumbers off with a clean paper towel, and assemble your salad!
Is it okay to cut up cucumbers ahead of time?
Yes, if you want to slice the cucumbers in advance, we recommend wrapping them in a damp paper towel, transferring them to an airtight container, and letting them refrigerate for up to 2-3 days. However, the sooner you use them, the better your salad will taste!
Should I peel cucumber for salad?
No, peeling is not necessary, and doing so removes some of their nutrients and fiber! For this creamy cucumber salad we include an optional step which removes a few strips of peel from the cucumber with a vegetable peeler before slicing it. This is purely for aesthetic reasons so if you choose to skip this step, your salad will still be deliciously perfect.
Can I add extra ingredients?
You bet! Feel free to incorporate whatever you like best or have on hand. For instance, sliced radishes make for a great addition, a sprinkle of feta cheese can help add extra creaminess and calcium, and fresh herbs can be used as a garnish to add color and a bright, herbaceous taste.
Serving Suggestions
Transform this cucumber salad into a complete meal with the addition of chicken or shrimp. Or, serve it as a side dish with main courses like: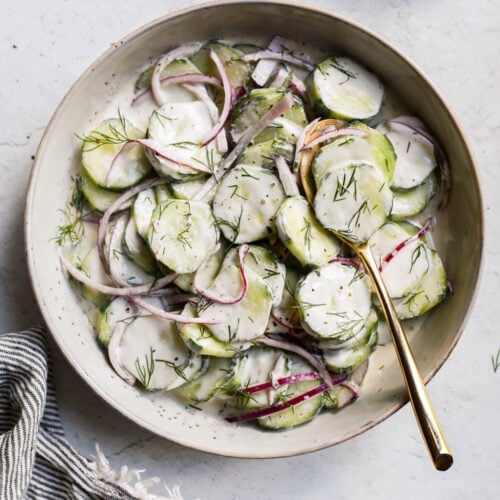 Recipe
Creamy Cucumber Salad (Easy and Dairy Free)
A nostalgic recipe with a fresh upgrade, this Creamy Cucumber Salad harkens back to the best of summers gone past. We make ours with a tangy whip and a touch of honey, plus fresh dill and, of course, those in-season crispy cool cucumbers that are the star of the show. Omit the honey for a vegan or Whole30 option.
Prep:
25 mins
Total:
25 mins
Ingredients
2

medium English cucumbers (or any variety), very thinly sliced (about

4 cups

)

½ teaspoon

fine salt

½

small red onion, very thinly sliced (about

½ cup

)

⅓ cup

Primal Kitchen Whip (may substitute Primal Kitchen Mayo for Whole30 or vegan mayo of choice for vegan)

1 ½ tablespoons

apple cider vinegar or white wine vinegar 

1 teaspoon

honey (omit for vegan and Whole30) 

½ teaspoon

garlic powder

⅛ teaspoon

black pepper

1 tablespoon

chopped fresh dill (or

½ teaspoon

dried dill) 
Wash and dry the cucumbers then cut off the ends. Use a vegetable peeler or paring knife to remove 4-5 strips of the peel, if desired (this step is optional). Slice the cucumber into ¼-inch thick rounds and place in a colander set over a plate. 

Sprinkle the sliced cucumbers with the salt, tossing gently. Allow the cucumbers to sit for 20 minutes then pat dry with paper towels or a clean dish towel. 

While the cucumbers are resting, combine the whip, vinegar, honey, garlic powder, and black pepper in a medium bowl. Whisk well to combine. 

Add the sliced cucumbers, sliced onion, and dill to the bowl and toss well. 

Serve immediately or store in an airtight container in the refrigerator for up to 4 days. 
Last Step! Please leave a review and rating letting us know how you liked this recipe! This helps our business thrive so we can continue providing free recipes and high-quality content for you.
Nutrition Information
Serving Size:

about ½ cup

Calories:

35

Fat:

2 g

(Sat Fat:

0 g

)
Sodium:

120 mg

Carbohydrate:

3 g

(Fiber:

1 g

Sugar:

2 g

)
Protein:

0 g

Cholesterol:

0 mg
Dietary
Pin now to Make Later!

This post was made possible by Primal Kitchen. Although we received compensation for this post, the opinions expressed here are – as always – 100% our own. Thank you for supporting the great companies we work with, thereby allowing us to continue creating high-quality recipes and content for you.