Banish boring burgers with these mouthwatering and insanely tender Grilled Bacon Burgers!

Is your mouth watering yet?
Mine is. I love me a good burger piled high grilled mushrooms and onions and topped with tomato and onion – all wrapped up in a big lettuce leaf or two. And I really love a slice of bacon on top if I'm going to go all out.
But between me and you, I HATE frying bacon. Ugh. So messy.
I usually bake my bacon in the oven because it's much tidier but that takes some planning ahead and these burgers needed to go down ASAP because I was feeling that summer vibe this past weekend. So here's what I did instead: I added chopped raw bacon to the ground meat (I used bison from Pederson's Natural Farms but you could use grass-fed beef, too).
Wondering if you should purchase grass-fed beef? Learn how to choose quality red meat in this post!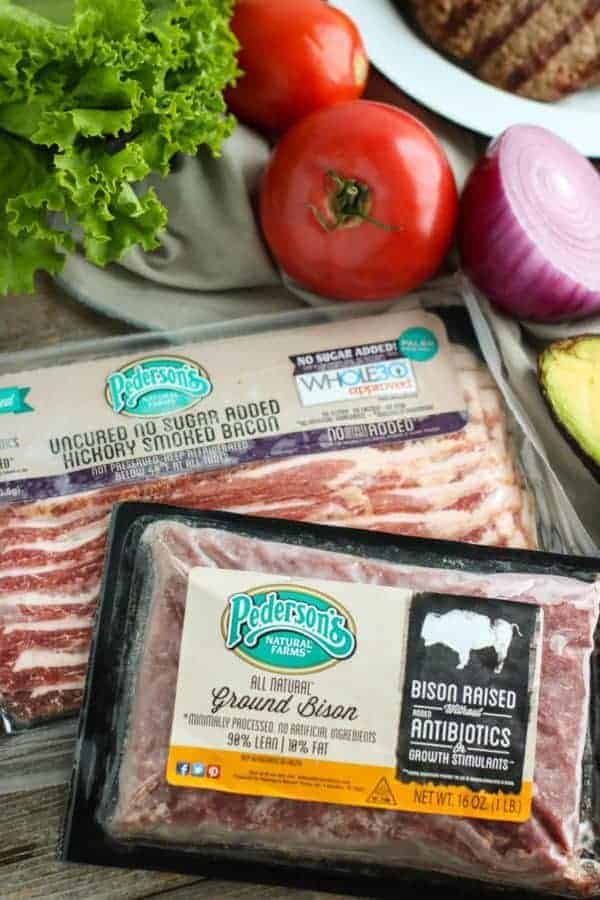 Yes. I added the bacon to the burger before it was cooked. And it was crazy amazing. The burger stayed nice and tender even though I'd cooked it all the way through. And you got the smokey bacon flavor with every bite. No more trying to balance the bacon on top of the burger and strategically trying to place it so that you get a bite of burger + bacon with every bite. You do do that, right? Surely I'm not alone in this struggle.
The secret to the BEST burger is BACON (inside the burger!) @whole30 #realfood
Click To Tweet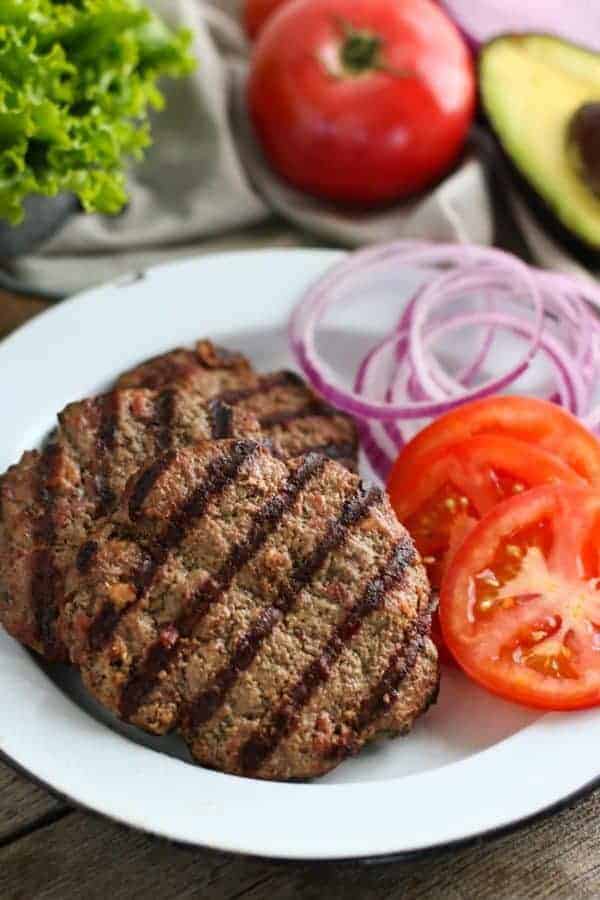 And look at those grill marks!
Grill marking is a little obsession of mine and these Grilled Bacon Burgers turned out gorgeous. I mean, c'mon. See those lines and itty bitty bits of bacon goodness there?
So good.
Oh! And the mushrooms and onions. Almost forgot about those. Man, those were good, too.
I love using the grill to prepare vegetables because A) I get to stand outside and cook, and B) they get such an awesome flavor and caramelization that's hard to replicate with a frying pan.
If you don't already have a perforated stainless steel grill pan you'll want to get one. It's how you keep your veggies from falling into the coals. This is the one I use: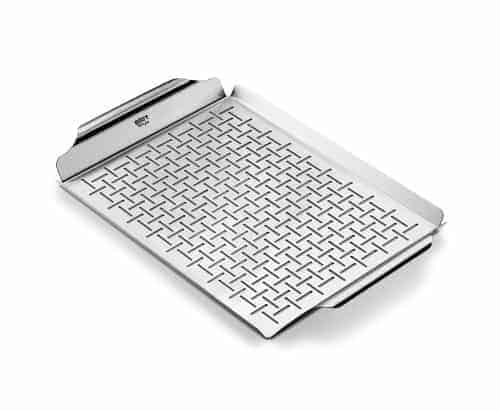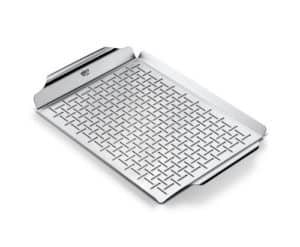 For this recipe I tossed the thinly sliced onions and mushrooms with avocado oil and a pinch of sea salt. Because both onions and mushrooms give off moisture when they cook they'll take longer to get caramelized and lightly charred on the edges than the burgers will to cook. Therefore, I grill the vegetables first then remove them from the grill and cook the burgers. If your grill is large enough you can simply slide the pan to the side then add the burgers to the grill.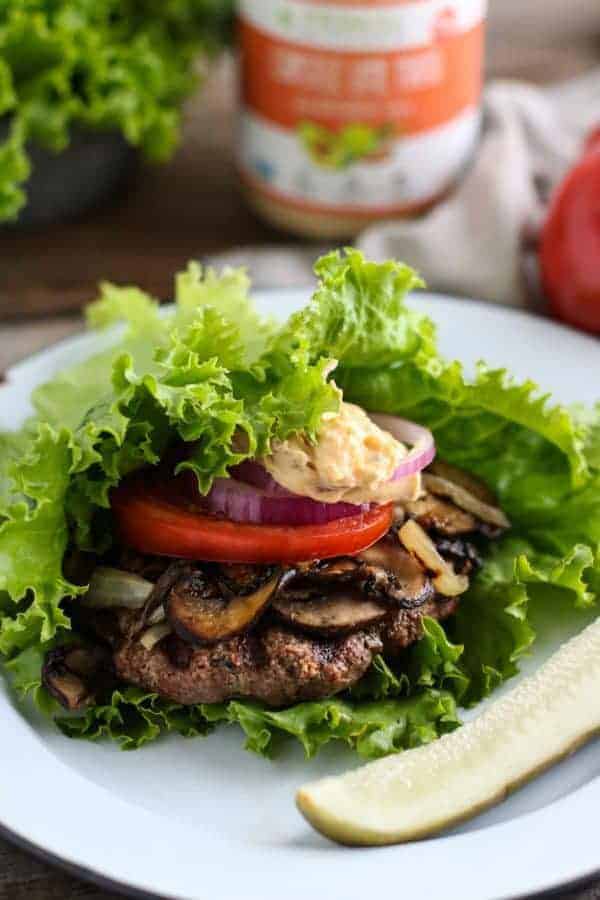 It's totally your call. However you do it, just do it. Your tastebuds will thank you a million times over. Especially if you add a dallop of something cool and creamy and Whole30-friendly like some Primal Kitchen Chipotle Lime Mayo (which, sadly, I cannot eat but I enjoy listening to my hubby 'food moan' while enjoying it on his burger. Okay, maybe I don't 'enjoy' it because I'm secretly resentful that I can't eat eggs… but you get the idea!)
Break out the bacon and brush off the grill – it's burger time!
Recipe
Grilled Bacon Burgers
Prep:
10 mins
Cook:
25 mins
Total:
35 mins
Preheat grill to high heat. While grill is heating, finely mince uncooked bacon using a large knife.
Place ground bison in medium bowl. Add minced bacon, garlic powder and black pepper. Mix well to distribute the bacon and spices throughout the ground meat.
Divide meat mixture into 4 balls and flatten into patties ½ – ¾ -inch thick patties. Place patties on a plate in the fridge until ready to cook.
Place sliced onions and mushrooms onto a perforated grill pan or into a large cast-iron skillet. Toss with oil and sprinkle with salt.
When grill is hot, place grill pan on over direct heat and cook for 10-12 minutes, stirring occasionally, until vegetables are tender and slightly charred on the edges. Remove grill pan from grill and scrape grill grate if necessary.
To cook burgers, place patties on grill grate and cook 5-6 minutes on each side or until desired degree on doneness. Remove patties to a clean plate and allow to rest 5 minutes before serving.
Serve burgers with grilled mushrooms and onions, green leaf lettuce, sliced tomatoes and other desired toppings.
Last Step! Please leave a review and rating letting us know how you liked this recipe! This helps our business thrive so we can continue providing free recipes and high-quality content for you.
Notes
All photos and content are copyright protected. Please do not use our photos without prior written permission. If you wish to republish this recipe, please rewrite the recipe in your own unique words and link back to the source recipe here on The Real Food Dietitians. Thank you!
Dietary
Pin now, make later!

---
This post may contain affiliate links which won't change your price but will share some commission.