Shredded Brussels sprouts are a hearty stand in for lettuce in this delicious salad that's studded with toasted almonds, tart dried cherries and smoky bacon.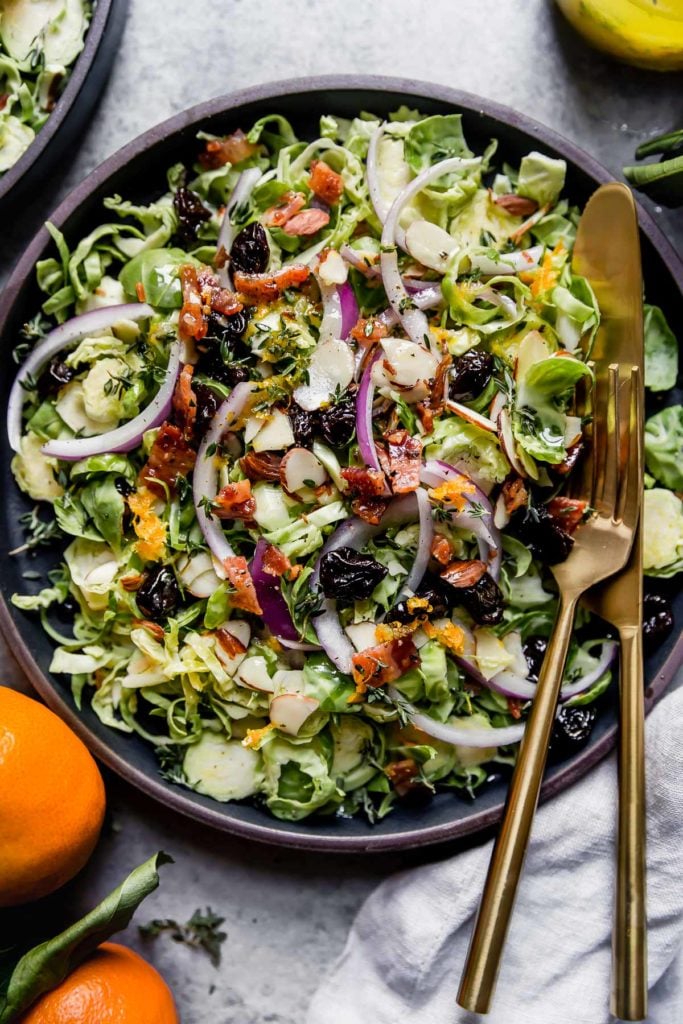 You may have already come to the conclusion that we're quite fans of Brussels Sprouts.
We've shared several recipes that call for this hearty, high-fiber, versatile veggie including Brussels Sprouts Sweet Potato Sausage Hash, Roasted Brussels Sprouts with Bacon, Sweet Potato Unstuffing, and Brussels Sprouts with Apples and Blue Cheese. So if you're a lover of Brussels like we are, be sure to check out those recipes too. And if you're not, well we suggest you give the recipes a try anyways because you may discover a newfound love for Brussels!
Today, we're mixing it up a little and instead of sharing a cooked Brussels sprouts recipe, we're keeping them in their raw state and shredding them to use as a hearty stand in for lettuce. PS: You can also use shredded cabbage or even broccoli slaw.
This recipe makes a large batch so you can either make half of the recipe or make the full recipe and enjoy the leftovers in the days to come. This salad will keep well in an air-tight container in the fridge for up to 4-5 days. Add some chopped chicken and you'll have yourself a delicious and well-balanced lunch.

Brussels Sprouts Salad with Citrus Vinaigrette – a crowd-pleasing addition to your real food table.
It's quick to make (if purchasing pre-shredded Brussels sprouts which we recommend), it's healthy, it's full of flavor, and ALL of the ingredients can be prepped a day or even two days before it's on the menu. We love prep ahead recipes!
Quick Tip: If using whole Brussels we recommend using a food processor with the shredding blade OR thinly slicing them with a knife (you'll get a little arm workout with this method).
This salad is a great addition to a holiday meal or weeknight dinner. You're going to love the flavor combination of the citrus vinaigrette with the smoky bacon (because bacon!), red onions, tart cherries, and toasted almonds. Deliciousness with every bite!
Citrus Vinaigrette – a go-to salad dressing and marinade.
Citrus vinaigrette not only adds amazing flavor to this Brussels Sprouts Salad but it's also quite versatile and can added to any salad and also makes for a tasty meat marinade. Make this vinaigrette during your weekend meal prep and enjoy on salads or as a marinade for meat throughout the week. So good!
We make citrus vinaigrette with fresh orange and lemon juice, shallots (or garlic), yellow mustard, fresh herbs and our favorite Primal Kitchen Avocado Oil (may use olive oil).
The Primal Kitchen Honey Mustard Salad Vinaigrette can be used as a tasty alternative for the Citrus Vinaigrette if you prefer to use a pre-made dressing. Note: Primal Kitchen Honey Mustard Vinaigrette is not Whole30-friendly but the Citrus Vinaigrette is!
For 10% off all Primal Kitchen products use coupon code: realfoodrds
Brussels Sprouts Salad + goat cheese = OMG!
If you're feeling real fancy! Add 4 oz. of crumbled goat cheese to this recipe. We love the distinct flavor, slightly tang and creaminess that goat cheese adds to this salad. But if goat cheese isn't your thing, you could also try shaved parmesan.
However, if you're on a Whole30 or follow a dairy-free lifestyle, pretend we never recommended the addition of cheese 😉
We hope you enjoy our Brussels Sprouts Salad with Citrus Vinaigrette as much as we do!
Hungry for More? Subscribe to get our newsletter delivered straight to your inbox! And be sure to stay in touch on Facebook, Twitter, Pinterest and Instagram for all of the latest updates.
Let's Get Cookin'
Brussels Sprouts Salad with Citrus Vinaigrette
Shredded Brussels sprouts are a hearty stand in for lettuce in this delicious salad that's studded with toasted almonds, tart dried cherries and smoky bacon.
Author:
Prep Time: 15 mins
Total Time: 15 mins
Yield: 10 servings 1x
Category: Salad, Whole30
Ingredients
Salad Ingredients:
24 oz. Brussels sprouts, shredded – may purchase 2-10 oz. pre-shredded (also known as shaved) Brussels sprouts or substitute shredded cabbage
6–8 slices crisp cooked bacon, chopped
1 cup sliced red onion
⅔ cup dried cherries, unsweetened (may substitute cranberries or raisins)
⅔ cup sliced almonds, toasted
4 oz. goat cheese, soft & crumbled (optional – omit for dairy-free and whole30)
1 cup citrus vinaigrette (or pre-made Primal Kitchen Honey Mustard Vinaigrette-not Whole30)
Citrus Vinaigrette:
1 small orange, juiced
1 tsp. orange zest
1 lemon, juiced
2 Tbsp. finely minced shallots (may substitute 1 Tbsp. minced garlic)
1 tsp. yellow mustard
3/4 cup avocado or olive oil
2 tsp. fresh thyme, minced (may substitute an equal amount of tarragon, basil, rosemary or oregano or 1 tsp. dried herbs of choice)
Sea salt and pepper to taste
Instructions
Shred Bussels sprouts using the shredding blade of a food processor or slice thinly with a knife.
Place Brussels sprouts in a large bowl and combine with chopped bacon, red onion, cherries, almonds and optional goat cheese.
Whisk together vinaigrette ingredients.
Add vinaigrette immediately before serving and toss well to coat.
Notes
This post contains affiliate links, which means we receive a percentage of the sale if you use the link to make your purchase. This does not change the price of the product. This income directly offsets the cost of web hosting and maintenance so we greatly appreciate your support.
Nutrition
Serving Size: 1/10 of recipe (~2/3 cup)
Calories: 162
Sugar: 7 g
Sodium: 112 mg
Fat: 7 g
Carbohydrates: 18 g
Fiber: 3 g
Protein: 8 g
Comment below and let us know what's your favorite way to prepare Brussels!
Pin now to make later!
---
This post may contain affiliate links which won't change your price but will share some commission.