What's in your grocery cart is the number one indicator of what will end up on your plate. So, it makes sense that filling your cart with nutritious foods will improve health. Of course we love to fill our carts with a variety of whole and real-food options, including plenty of fresh produce. But for one of the most antioxidant-rich options out there, we head right to the frozen case. That's where you'll find a variety of blueberries, called wild blueberries that are only available in the frozen case. Read more about what wild blueberries are, their health benefits, and how wild blueberries compare to typical cultivated blueberries.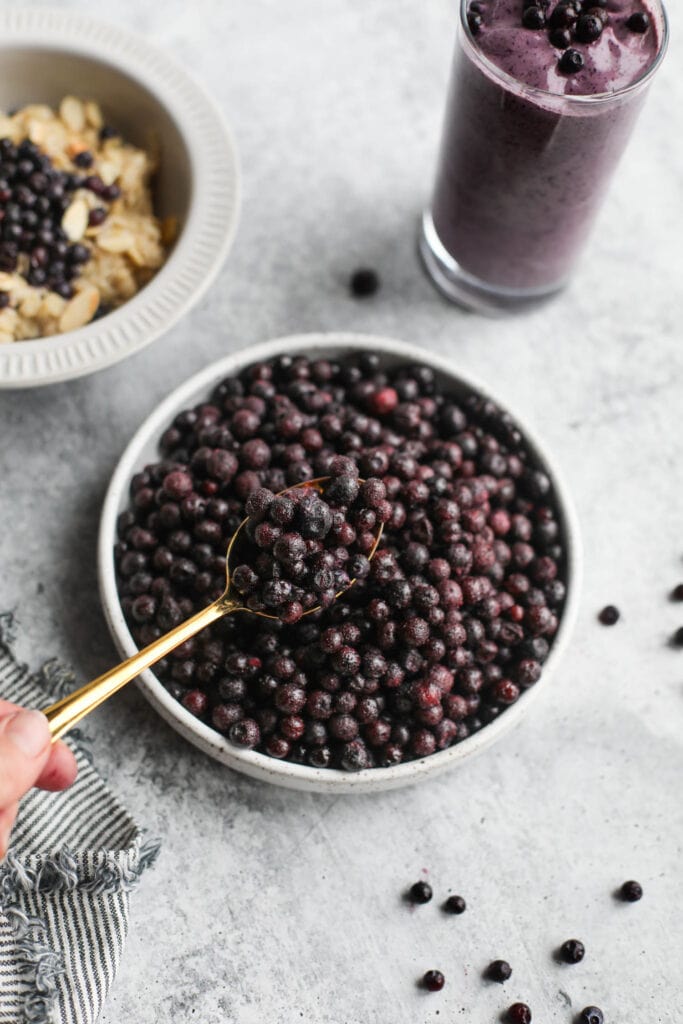 This post was created in partnership with Wild Blueberries of North America
What Are Wild Blueberries?
Wild blueberries are one of just three indigenous fruits that are native to North America. They are a type of natural-growing berry that grows on bushes and has an extensive underground root system. This type of berry is considered wild and natural, and they grow happily on a desolate plain known as The Barrens of Maine. They first started growing in Maine more than 10,000 years ago following the retreat of glaciers in that area of the U.S.
Wild blueberries truly are a naturally occurring crop that grow today similar to how they've grown for thousands of years. Unlike other types of produce, they have never been hybridized or genetically modified to enhance or alter their naturally occurring benefits and great taste.
Where Are They Grown?
Wild blueberries are harvested in Maine. Many of today's wild blueberry growers have been in the business and part of independent, family-owned farms for many generations. The oldest commercial wild blueberry processing company dates back to 1874.
Who First Discovered Them?
The Wabanaki Tribe of Native American peoples were among the first humans known to use fresh and dried wild blueberries for food and their healing qualities. Today's wild blueberry farmers are independent, family-owned growers, many of whom harvest the berries on the same barrens their ancestors did, and using the same natural growing and harvesting techniques handed down through the generations.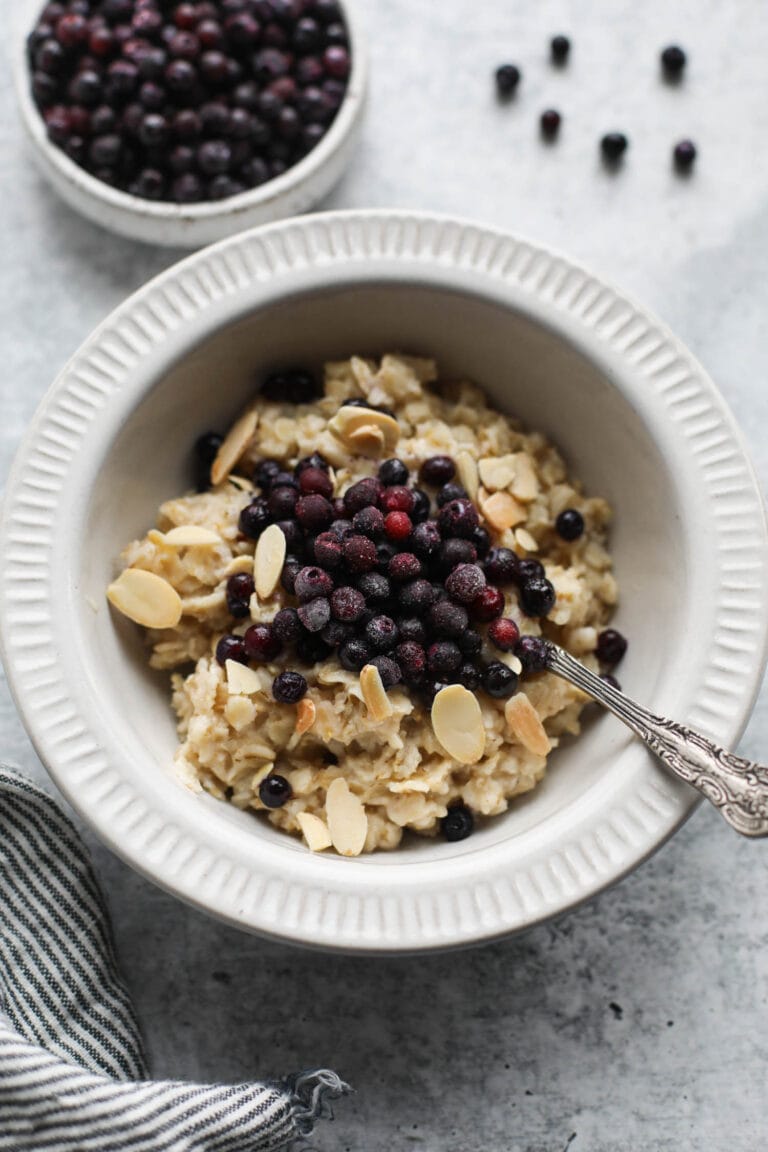 What Do They Look And Taste Like?
Wild blueberries have a sweet and mildly tart taste. In each field there are thousands of different varieties and you'll see berries ranging in colors from pink and dark blues to light and dark purple. It's this diversity that gives wild blue berries their intense, delicious, sweet-tart taste and spectacular blend of complex flavors.
See The Harvest
See how these superfruits are grown and harvested, and meet some of the Maine farmers who grow wild blueberries in this video.
5 Health Benefits of Wild Blueberries
Studies show that wild grown blueberries are a very healthy fruit choice and one of the most nutritious foods you can buy. The antioxidant and anti-inflammatory components of these superfruits have been scientifically connected to better brain health, gut health, heart health, cancer prevention, reduced risk of diabetes, and urinary tract health. Here are five stand-out reasons to eat more wild blueberries for health:
Very high in antioxidants: Wild blueberries have one of the very highest concentrations of antioxidant polyphenols, along with other plant-based foods like dried peppermint, cocoa powder, dark chocolate, black currants, and hazelnuts.
A naturally low-sugar fruit: Wild blueberries have 30% less sugar compared to cultivated highbush blueberries, and contain just 2.5 grams of sugar per ¼ cup. They are also considered a low glycemic food, scoring 53 on the glycemic index.
Top source of manganese: One cup of wild blues will provide you with 200% of the recommended intake of manganese, which is an essential mineral. Your body uses manganese to help regulate blood sugar and to maintain healthy skin and bones.
A fiber-rich berry: You can get 25% of the daily recommended intake of fiber just by eating a cup of delicious wild blueberries. In fact, they contain 72% more fiber than regular blueberries, due to the higher skin-to-pulp ratio of these indigenous berries. Fiber is an important nutrient to reduce the risk of heart disease, improve digestion, regulate blood sugar, and lower cholesterol.
Good for your brain: Emerging research has connected wild blue berries to better brain health. The high anthocyanins in wild blues, when consumed often, could have a positive effect on cognitive performance, including memory, response times, concentration, and mood.
Wild Blueberries Nutrition
Here is a breakdown of the common nutrients in a 1-cup serving of wild blue berries:
80 calories
0 g total fat (0 g saturated fat)
0 mg cholesterol
0 mg sodium
19 g total carbohydrate
6 g dietary fiber
10 g sugars (0 g added sugars)
0 g protein
24 mg calcium (2% of the Daily Value)
1 mg iron (6% of the DV)
95 mg potassium (2% of the DV)
1 mg zinc (10% of the DV)
4 mg manganese (170% of the DV)
How to Buy The Healthiest Berries
If you live outside of Maine, it's hard to get your hands on fresh wild blueberries. So instead wild blueberries are flash frozen right after being harvested and can be found in the frozen food aisle of your local grocery store. You can typically purchase them in 3-lb resealable bags (for example, Wyman's Wild Blueberries is a common brand you'll see). One of the benefits of these blueberries is that you can get your hands on them year round. 
Find them in the frozen produce section of most supermarkets and grocery stores, and look for the word "wild" on the package. Once home, store the frozen blueberries in your freezer and scoop out what you need to eat or add to a recipe.
Find Them In The Freezer
For the healthiest blueberries you can buy, head to the freezer case. Buying frozen wild blueberries is a great way to always have great-tasting blueberries on hand that deliver the most nutrition bang for your buck and can be used in many ways.
The Best Ways to Eat Wild Blueberries
There are so many ways you can get more wild blueberries into your meals. Some great ways to enjoy them are added to smoothies, served over yogurt or oatmeal, or added to baked goods, such as baked oatmeal, muffins, and cake. You can also enjoy wild blueberries in savory ways, too, such as a berry vinaigrette, as a condiment sauce for grilled meats, or added to a pilaf or cooked grain salad. Wild grown blueberries are also great for snacking, either frozen or thawed. For example, put some frozen wild blue berries in a small dish and enjoy them with a spoon as a "natural Dippin' Dots" that kids and adults will love to eat on a hot day.
Frequently Asked Questions
What is special about wild blueberries?
Wild blueberries are one of the few fruits that are native to North America. They are an incredibly nutritious type of berry, with high amounts of flavonoid polyphenols, which are a powerful type of antioxidant.
How long do wild blueberries last? 
Wild frozen blueberries that are properly stored in the freezer will last for 6 months or more.
What's the difference between blueberries and wild blueberries?
Compared to ordinary blueberries, they have 72% more fiber, 33% more anthocyanins, twice as many antioxidants, and a more intense blueberry flavor. Ordinary blueberries are larger, lighter blue in color, and often have less sweetness, especially at certain times of the year. This type of blueberries also has a more intense blueberry flavor, smaller size, and darker blue-purple color.
How many types of blueberries exist? 
Many people don't realize that there are two types of blueberries, wild blueberries and ordinary blueberries, and that they are very different. Wild grown blueberries are not planted and grown all over the world like ordinary blueberries, but are a place-based, indigenous fruit (just 1 of 3 native North American fruits) that spread naturally where mother nature put them thousands of years ago when the glaciers receded. Wild blueberries are found predominantly in the frozen fruit aisle of the grocery store and are available fresh only during the summer harvest season in New England.
What are other names for wild blueberries? 
The botanical name for wild blueberries is vaccinium angustifolium. And they are sometimes referred to as lowbush blueberries. Regular blueberries, like those you'll find in the fresh produce section of your grocery store, are sometimes referred to as highbush blueberries.
Are wild blueberries healthier than regular? 
Yes, they have a higher antioxidant capacity, more fiber, less sugar, more iron, more manganese, and a more intense concentration of bioactive plant compounds than ordinary blueberries do.
Is it safe to eat wild blueberries?
Yes, if you are lucky enough to be around blueberry fields during the blueberry season, you can eat wild fresh blueberries right out of the fields. They are naturally resistant to many native pests and diseases, which is one of the reasons this fruit has flourished as one of our native fruits for many generations.
What are some of the health studies done on wild blueberries? 
There have been dozens of health studies examining the effects of eating wild blueberries on human health and their nutritional benefits. Some of those include studies on antioxidants, studies on brain health, and studies on metabolic health (blood sugar, triglycerides, LDL cholesterol, blood pressure, and more). You can read more about the scientific research on these most nutritious blueberries here.
Pin It Now To Reference Later
This is a sponsored post. Although we received compensation for this post, the opinions expressed here are – as always – 100% our own. Thank you for supporting the great companies we work with thereby allowing us to continue creating high-quality recipes and content for you.
For ultimate success, we highly recommend reading the tips in the full blog post above. All photos and content are copyright protected. Please do not use our photos without prior written permission. If you wish to republish a recipe, please rewrite the recipe in your own unique words. Link back to the source recipe here on The Real Food Dietitians. Thank you!