Rain or shine, start your day with this Sunrise Super Smoothie. No really….do it!

Spring time = smoothie time!
Oh wait, that's everyday for me. I enjoy smoothies all year round! During my visit to Jess's in Boulder, Colorado this past January, we worked on recipes….tons.of.recipes (for you!). In fact, we managed to crank out about 20 recipes in just 5 days and a dozen or so of them were smoothie recipes. Seriously, that's what I call a recipe/work binge…it was epic! We also spent some time, while we enjoyed our recipe creations, working on our new coaching service, coming your way soon. And P.S, Jess will be visiting me in Minnesota in just a few weeks (so excited!)–so send your recipe requests our way by commenting below!
Back to smoothies….some individuals don't care for smoothies because they'd rather chew their food and that's cool but I'm not one of those people. I love smoothies and I've even converted Jess to be a smoothie lover too (go me!). And I'm not talking about the sugary loaded fruit and juice smoothies. Oh no–I'm talking about smoothies that are balanced with proteins, fats and carbs, lower in sugar and tasty too. Smoothies are easy to make, you can drink them on the go, you can plump them full with insanely nutritious superfoods (like in this Sunrise Super Smoothie), and they're easy to digest and absorb producing instant energy.
Now you may know I'm not a fan of 'food rules' because they drive me crazy, but when making smoothies I do have a few general, I'll call them 'guidelines', that I suggest following and they include:
Always include a veggie…always.
Always include a healthy fat (avocado, coconut oil, coconut milk, mct oil, nut/seed butter, hemp hearts, etc.). Healthy fats will keep you full, fuel your metabolism, help to maintain stable blood sugars and are necessary for absorption of certain fat-soluable nutrients.
Always include protein (one with no artificial ingredients and sweeteners). Like fats, protein helps to keep you full longer, helps to maintain stable blood sugar and a healthy metabolism, it also helps with muscle recovery (perfect for after intense workouts) and the list goes on.
I like to start my day off with a smoothie and may even have a second one in the afternoon especially if I completed an intense workout, which I usually do two to three days a week. Side note: After a much needed break from intense workouts in efforts to heal and balance my hormones. I'm now feeling 'regular' and hormonally healthy again. Yay! So I recently started a weight lifting program and have been working out with a trainer 2 days/week – not going crazy but feeling stronger and more fit everyday! Sometimes your body just needs a break – be sure your always listening to it so that you can stay on top of your health.
Anyways, if you've ever had an Orange Julius smoothie with 62 grams or more of sugar (that's 15 1/2 tsp. of sugar–sheeeesh!) and loved it, then you MUST try this Sunrise Super Smoothie! A much much MUCH healthier option with only 12 grams of sugar (3 tsp.) coming from natural ingredients, the orange and carrots. Perfectly sweet!
Sunrise Super Smoothie is complete with these powerhouse, inflammation fighting, immune boosting, detoxing superfoods!
Carrots – The beta-carotene, fiber, vitamin C, B vitamins and potassium in carrots support the immune system and heart health, aid digestion, improve oral health, support detoxification and improve the health of your skin. Carrots are great for snacking on the go and adding a little sweetness to your morning smoothie.
Citrus – excellent source of vitamin C, aid digestion and encourage the production of bile, help maintain normal pH levels in the body and help flush toxins from the body. Adding freshly squeezed citrus to your water, to a smoothie or using it with olive oil to dress a salad is an easy way to get more citrus into your life. 
Ginger – Ginger root has powerful antioxidant and anti-inflammatory properties and supports digestion by increasing the speed at which food empties from the stomach into the intestines (thus decreasing the incidence and severity of heartburn). Add freshly grated ginger to a stir-fry, blend it in a smoothie or make a morning tonic with lemon juice, ginger and hot water to rev up your metabolism and start your digestive juices flowing. 
Turmeric –  Curcumin, the main ingredient in turmeric, has powerful anti-inflammatory effects and supports the immune system in its ability to fight infection and repair cellular damage. It's also high in antioxidants that protect cells from oxidative damage caused by environmental pollutants (and those in our food and water, too). Curcumin is also known to have pain relieving properties on par with non-steroidal anti-inflammatory drugs. Add a few thin slices to your morning tonic or smoothie for an exotic and earthy twist. 
Hemp Hearts – Hemp hearts are high in omega fatty acids. They have a 3:1 balance of omega-3 and omega-6 fatty acids, which promotes cardiovascular health and contain anti-inflammatory properties. They are high in gamma linolenic acid (GLA), an essential fatty acid also found in egg yolks that has been shown to balance hormones naturally. Add hemp hearts to protein smoothies, salads, or on-top of full-fat yogurt.
Optional Collagen – Collagen is important for skin, hair and bone health and also provides amino acids which are important for gut healing (and optimal gut health) and detoxification. I aim to consume about 2-3 Tbsp./day. Add a scoop of collagen to coffee, tea, soups and smoothies for a boost of the amino acids glycine and proline, which support the detoxification process.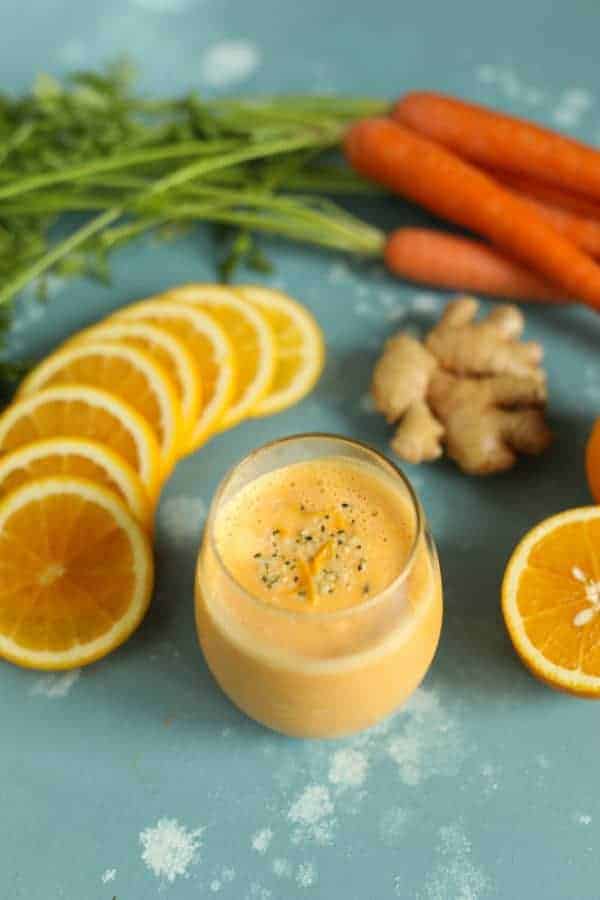 For real, give this Sunrise Super Smoothie recipe a try and reap all of the amazing benefits from the superfoods listed above…it's a must
You're going to love the earthy, citrus flavors of this smoothie. And the slight kick from the turmeric and ginger will really wake you up and get your day started on an energetic note.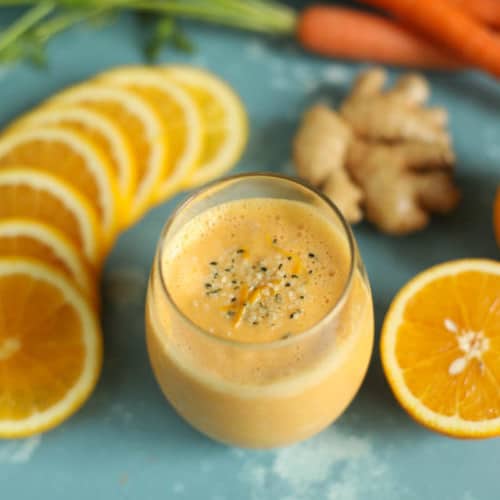 Recipe
Sunrise Super Smoothie
A smoothie that combines our favorite powerhouse ingredients! A great way to start your day!
Prep:
5 mins
Total:
5 mins
Ingredients
8

–

10

oz. unsweetened almond or coconut milk

1 cup

ice

2

small carrots

1

medium orange

1/2 cup

pineapple, fresh or frozen

2 Tbsp

. hemp hearts

1 tsp

. fresh ginger, minced (may substitute

¼ tsp

. ground ginger)

½ tsp

. fresh turmeric, minced (may substitute 

¼ tsp

. ground turmeric)

1

–

2

scoops protein powder of choice
Optional: 2-3 Tbsp. collagen peptides (omit for vegan ) or other protein powder of choice
Place ingredients in a high-powdered blender and blend until smooth.
Last Step! Please leave a review and rating letting us know how you liked this recipe! This helps our business thrive so we can continue providing free recipes and high-quality content for you.
Notes
All photos and content are copyright protected. Please do not use our photos without prior written permission. If you wish to republish this recipe, please rewrite the recipe in your own unique words and link back to the source recipe here on Simply Nourished Recipes so credit is given where credit is due. Thank you!
Nutrition Information
Serving Size:

1/2 of recipe

Calories:

240

Fat:

8 g

Sodium:

180 mg

Carbohydrate:

22 g

(Fiber:

6 g

Sugar:

12 g

)
Protein:

20 g
Dietary
So what did you think…you like this recipe? Do you have any smoothie 'guidelines' that you follow? I'd love to hear!
---
This post may contain affiliate links which won't change your price but will share some commission.